Focused on Dance
Ever since its establishment in 2006, Taneční aktuality, o.p.s. (hereinafter referred to as TA) the organization that stands behind the www.tanecniaktuality.cz online dance magazine, have served as a means of presentation of the dance discipline towards the public. They are a key organization to the Czech dance scene; connecting different artistic genres, reflecting on the discipline, providing information and aiding communication and cooperation. Among their members can be found mostly excellent graduates of art schools, professionals in theoretical field as well as dancers with years of practice, who have the potential to channel dialogue with artists and public alike.
Project Focused on Dance supports discussion and dialogue, mutual respect towards different dance bodies, proponents of different genres or methods of work and creation. It motivates individuals in the industry to communicate, speak their opinion and advocate for dance and at the same time it passes these opinions onto the audience of dance productions. Project consist of these three goals: to encourage audience development in the form of informal discussions with the audience and artists, strengthen the dialogue throughout the discipline and polish the expertise of dance critics. Debates are aimed at the audience of dance shows, while roundtable discussions to educated public and seminars to writers of dance critics.
Goals and assets of this project can therefore be seen in a whole spectrum of activities: from motivating and supporting the writers of dance critics through consultations, discussions and creative writing seminars, to hosting debates and meeting the audience as well as potential readers. The idea that is reinforced is that the reviewer is at the same time a co-creator of cultural discourse, discouraging him from shutting himself away from all the events bitterly. Thanks to this approach all the editors are in turn invited to other discussion seminars, media debates etc.
Dialogue between critics and dancers together with the educated public about the significance of dance critique as well as general position of dance in cultural politics in CR is still an undervalued platform that is capable of uniting requirements for the discipline and their proclamation. Among the basic steps figure spreading the awareness towards the public audience, sparking dialogue, expression and cultivated reflexion of dance. All levels of the project are equally accessible to all without difference and for free, the debates are conducted bilingually or translated to English.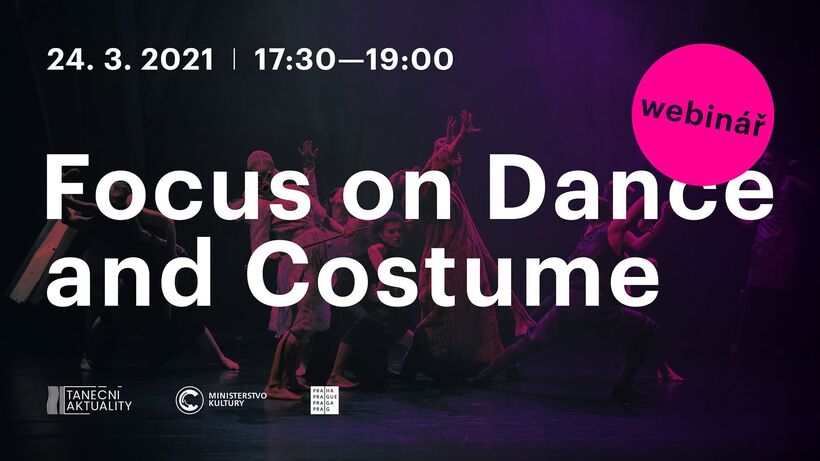 1) Dvě deci o TAnci
The editors have focused on organization of debates with the audience of festivals hosted by our partner organizations. The aim was to induce an informal atmosphere in a nearby café or buffet, as the event name suggests (Two noggins on Dance). In a concrete example of a work and artist or a body we showcased the process of dance creation in the context of a whole discipline. The audience therefore had the opportunity to not only pose questions to artists but also reassess the thinking of contemporary art and how to reflect on it.
February 1st 2019 – debates with audience in Prague as part of Malá inventura.
February 21st 2019 – venue in DOX after Útočiště performance by Farma v jeskyni group.
February 26th 2019 – in Studio ALTA after Nostalgiáda directed by Karel Vaňek.
Both debates were hosted by deputy editor in chief of TA, Petra Dotlačilová.
May 2nd 2019 – debates with audience in Ostrava on the grounds of Movefest at Cultural centre Cooltour:
Thursday 23. 5. after the Jouni Ruuth performance of Nahkanaama (Leather mask)
Friday 24. 5. after performance by Cie Circoncentrique – Respire
Saturday 25. 5. after performance by Holektiv – Božena
Debates were hosted by editor and director of TA society Daniela Machová and interpreted into English/Czech by Jana Bitterová and Tereza Cigánková.
June 3rd 2019 – debates with the audience on the grounds of Dance Brno
20. 6. after performance of Lithuania national ballet Vilnius: Der Prozess
22. 6. after performance of Spellnound Contemporary Ballet: Rossini Ouverture
Debates were hosted by editors of TA Petra Dotlačilová, Lucie Dercsényiová and Ivana Kloubková.
October 4th 2019 – debates in Ponec at "4+4 Days of Dance in Motion" festival
9. 10. after the performance of Niv Sheinfield's Oren Laor
11. 10. after the performance Trajal Harell
Debates were hosted by the editor in chief of TA Josef Bartoš and Lucie Hayashi.
November 5th 2019 – debates with the audience in Prague at the New Generation festival
22. 11. 2019 after performances Po-minutí, Cursus rerum, Prarazit
23. 11. 2019 after performances Čerešně, What water was
Debates were hosted by founder of TA, Lucie Hayashi.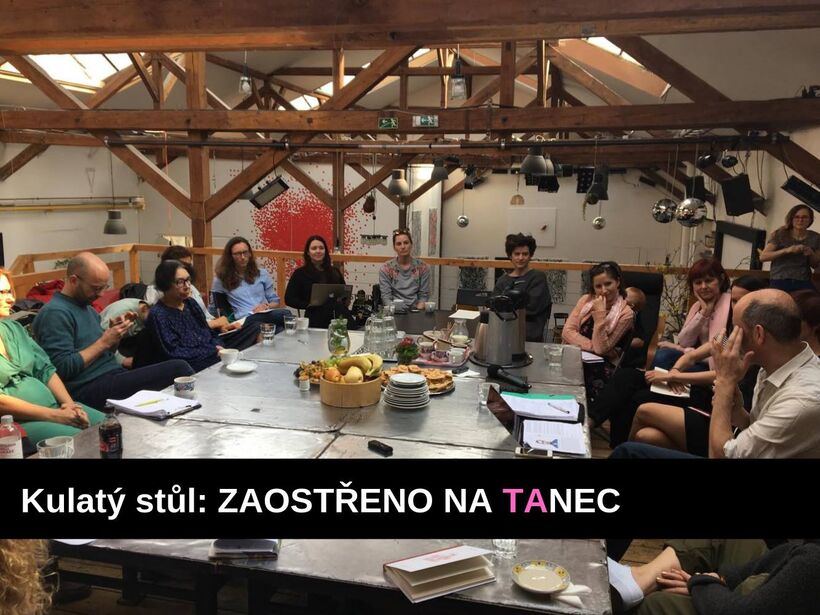 2) Round tables and encounters
1. Round table on the reflexion of contemporary dance in Alta April 9th 2019
Taneční aktuality answered the current demand of artists for re-evaluation of methods of reflexion in contemporary art, which was sparked by a discussion of artists and creators on Facebook after the publication of a review by editor in chief Josef Bartoš. The co-organizer was Studio Alta.
A former director of Alfred ve Dvoře and Artistic Director of Bazaar festival Ewan McLaren was asked to host the event. Among those who accepted the invitation to the debate were about twenty of the most important personas in the world of dance. How it went is best described in a reportage by Lucie Štádlerová: Quo Vadis, dance critique? from 22. 4. 2019. (attached). Original available from: https://www.tanecniaktuality.cz/reportaze/quo-vadis-tanecni-kritiko
QUO VADIS, DANCE CRITIQUE?
April 22nd 2019 REPORTAGES
Author: Lucie Štádlerová
Photo: Michal Hančovský.
Dance critique finds itself at the crossroad of life, as revealed at the roundtable meeting in Studio Alta on April 9th. The initiator of the morning discussion were Taneční aktuality, supported above all by Lucia Kašiarová, the Director of Alt@rt. She is not indifferent to the future of dance critique and she wishes for collective communication through text and art. It would seem she isn't the only one. There have been several statements on Czech art critique lately from contemporary artists such as Jiří Havelka (and his three-part series on critique, an interview with Dora Hoštová in Taneční aktuality and so on.
The round table was attended by artists and critics from different companies or medias and even freelancers. The meeting was successfully hosted by Ewan McLaren, a long-standing director of Alfred ve dvoře theatre and played the role of a conducter between the two 'orchestras' – the artists and the critics.
As mentioned multiple times, mostly from the artists, one of the biggest issues hindering the progress of dance critique is the lack of erudite and experienced dance critics. In their view those who are capable of writing a critique reflecting on a history of said company, put it in the context of said piece and argument it all successfully – are very few.
Critics replied with citing the ridiculously small amount that they receive per hour of work on the critique. That therefore pushes them to seek other opportunities and lose the benefit of complex confrontation with the critique. Young students of theatre theory then don't want to write, because they fear negative reception of their first fruits. In short it is nothing but a vicious cycle!
To bridge over to how we can help the contemporary dance critique we recapitulated several facts from its beginnings. It was most accurately summed up by Jana Návratová (journalist, editor, cultural manager, curator in the field of dance and motion theatre), who was reminiscing on how critique of the current (after-revolution) dance has been shaping hand in hand with the contemporary dance. It was an age where dance critics and artists together cooperated to create terminology and shape the text, that was being born after each performance. There wasn't an evening when one wouldn't go to the theatre and subsequently sit in front of the computer until late and create texts. These texts through thinking about dance helped shape the scene and name itself. The support from the side of critics was abundant and through time merged with the evolution of contemporary dance. On the other and Návratová says that back then the discipline lacked at least some critical distance, or detachment of the critic from the said piece, which is also needed for a good and balanced critique (as is also mentioned by Jiří Havelka in his texts).
The editor-in-chief of World and theatre magazine Karel Král then draw everyone's attention to the fact that review and critique are genres of journalism with a clear definition (see Encyklopedie praktické žurnalistiky – editorial note).
There is most likely a widespread resignation on the dance critique on the part of dance creators. It most likely doesn't provide what performers expect it to. As Tereza Ondrová mentioned (dancer, pedagogue, choreograph), based on the their writing it is possible to predict which author will commend a certain dancer and which one won't. Others say some texts feel immature, fragmented and don't contain logical arguments.
Is it therefore fitting to ask where and how to set out, so that together we can also further the dance art? As heard at the plenum, it will require us to grow up, shake off our fears and stand firm on our opinions and our medium even if it costs us a negative critique. Critics also begin to understand that to be a critic means to have the courage to say one's mind and accept feedback.
Zuzana Žabková (Slovakian performer, artist and a producer) added that art and text should communicate together, both being a medium to convey something in their own right. On that point the critics opposed however, that the question remains whether the art itself speaks in such a language to be understood and eventually could be appraised. Dance is much more of an abstract discipline than other theatre genres. The current age favours multi-genre performances which often transcend us, dance critics, in several areas. How then should we handle this trend? Here Zuzana Žabková reminisces through her studies at the University of Giessen in Germany, where it is a custom for dancers and critics to discuss theoretical topics together, and so learn to understand the other. This creates a critical platform of a sort. To strive to achieve something of that sense could be the recipe to help dance critique move forward.
An important interjection also came from Zuzana Smugalová (pedagogue, critic), who remarked that we need to remember that a critique has a long-term impact. A text that becomes a property of some medium is easily traceable and therefore always alive. It faces polemics and critique again and again.
After the two-hour session in Alta it became clear that what is needed is to communicate together more. Communicate through text and performance, force one another to think critically on different topics and polemize. Everything in relevance to the other side and to the audience.
In general it seems that a machine-like description of technique or over formulating something that had been written a thousand times before is not a satisfactory form of critique. It is highly valued if the critic is capable of stepping outside of himself and admitting what the said piece evokes inside him – albeit risking making a fool out of himself, as Karel Král sums up. And it is even more valued if the critic conducts some historiographic work and evaluates the past, appraising what we already saw before, what is new and what would the piece be comparable to. A correct critique should provoke and ignite discussion and critical thinking – for which it needs the art piece that begs to be written about. That is the only way to grow for all of us…
2. Round table on dance in cultural politics June 3rd 2019
The organization of this round table by Taneční aktuality was likewise inspired by current events: voice of artists following the innovation of the grant system in CR, continuing research and analysis of cultural creative industries for Ministry of Culture in CR (where dance plays an important role), crises of professional dance organizations Vize Tance and Dance Association CR and not least protests against the policy of Minister of Culture and divides that have accumulated in the dance world following the fall of PKB, breaking the promise to the house of dance and others.
It was decided to organize a roundtable discussion on Dance in cultural politics on the day of a homonymous conference that was called in the afternoon by Lucie Hayashi, an expert on and active representative of dance in cultural politics. The aim of the event was to identify the key issues in the current field and decide on a possible consensus on the main points by experts that would be conveyable to unions in regards to forming a strategy for the cultural policy. Thanks to the cooperation with HAMU it was possible to invite important figures even from more distant regions and connect the theoretical views with effective roundtable debate. "I consider giving space to representatives of the dance field essential for defining the key steps, that would form the foundation of these conceptions.", says the organizer Lucie Hayashi in a published press release. She declares that it is precisely the fragmentation of opinions and inability to reach a consensus on key priorities that hinders the effectuation of vital points in cultural policy towards dance. Mutual understanding and an ongoing debate could become the driving forces to reach the desired goal.
The afternoon program was made of three short presentation panels, which dealt with topics such as national versus regional cultural politics for dance, innovation of grant system to cultural subjects and strategic methods to better the position of dance in cultural politics in CR. The symposium speakers were Jana Adamcová, Jana Bohutínská, Libor Kasík, Petr Kiška, Yvona Kreuzmannová, Jana Návratová, Antonín Schneider, Adriana Světlíková and Roman Vašek. The afternoon saw a roundtable discussion, giving space to vital questions that have arisen from the morning conference. The part of debate host was given to Jakub Deml, who has lately among others also hosted a discussion on the future of professional organization Vize tance (Vision of Dance).
Mgr. MgA. Lucie Hayashi, Ph.D. studied Dance Theory at HAMU and Japanese Studies at FF UK. She is the founder and editor of Taneční Aktuality magazine. She works as Assistant director at National Opera in Prague and secretary at Dance department of HAMU, where she also teaches the basics of dance management and production. She makes part of Dance Association of Czech Republic, Dramaturgic Council of Czech Dance Platform and a member of Grant Commission of Ministry of Culture Czech Republic for professional dance and nonverbal theatre, festivals and international cooperation. Apart from dance journalism, PR and production she engages in anthropological research of Japanese dance, is a regular speaker at international conferences and publishes scholarly papers.
Conferences as well as the debate were made into audio-visual record. The output will be in form of transcripts, articles and expert study. Even though the timing of the event prevented many political figures, dance experts and representatives of the field from coming despite their interest, the meeting was more than successful. 34 attendees signed the attendance list in the course of the day, including regional representatives (Ostrava, Trutnov, Jihlava, Val. Meziříčí, Brno and others). At the end of this event everyone expressed feelings of thankfulness and left with hope for the future of the discipline.
Immediate reaction can be assessed thanks to the column by Daniela Machové from June 5th 2019. https://www.tanecniaktuality.cz/sloupky/kdo-si-vytahne-cerneho-petra
WHO DRAWS THE "OLD MAID"?
5th of June 2019 COLUMNS, Author: Daniela Machová
Dismisal of the Minister of Culture is an occasion to highlight the position of dance in the Czech Republic. Who knows, maybe his successor will listen more to the needs of the dance industry… This was the context in which in the nick of time came the conference called Dance in cultural politics in the CR, that took place on Monday June 3rd on the premises of Galerie HAMU. Speaker contributions encompassed a wide range of dance and movement genres and were based on experiences from different locations around the Czech Republic. Despite that the opinions and positions of speakers on possible solutions to current issues of the dance and movement art were largely in sync.
This field is above all missing finances, an indepth analyses of its status and needs, broader public awareness and interest. But also adequate support and understanding by politicians, as well as the respect and conditions comparable to other forms of scenic art.
We often hear that the reason for the unsuccesful state of this field is among others the fragmantation and disunity not only the dance and movement community that is unable to unite and pull together.
The afternoon roundtable discussion suggested otherwise. It became clear that in spite of different starting positions and interests, thirtysome members of different organizations showed an effort to find a common ground, fight fot a common goal and define clear points that are vital to further development and stabilization of the field.
Needless to add, however, that apart from hope and optimism, skepticism also took place. Debating is lovely, but solves nothing. To act is what's needed! And at that moment a play of 'Old Maid' started between the participants. Who is gonna draw it? Who is gonna be the one to take over the inniciative and the responsibility to negotiate for the whole industry? The weathered and experienced were as if running out of energy and hope that it would really going to change anything. The youngsters on the other hand lacked courage and experience. And everyone lacks time, since fight for the emancipation of dance industry is a long distance run. But the hope dies last! So when and where do we meet next to come further together?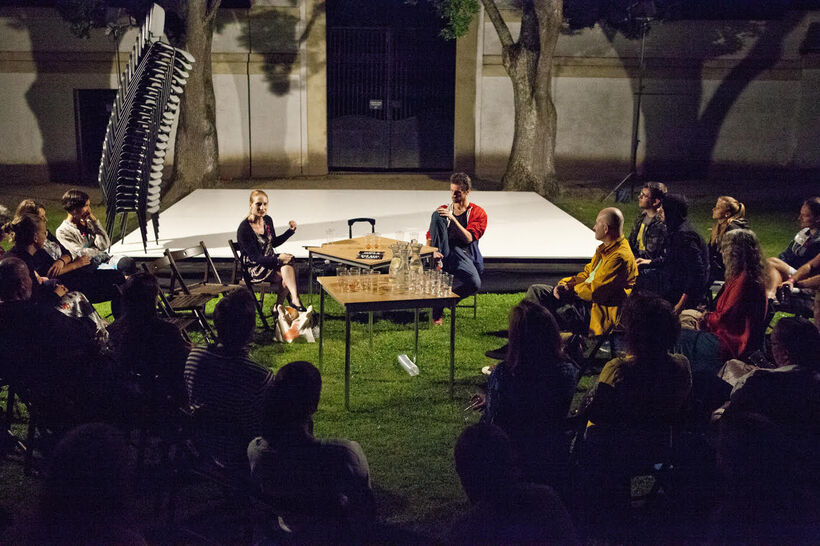 3) Dance journalism seminars
a) Copywrite worksho - promotion slogans, headings and titles – lecturer Štěpán Benyovszký
The editors of Taneční Aktuality felt insufficient education in their ability to attract the public through a catchy title or subtitle in an article, promotional slogan in the heading or a simple project name. Even though the word prowess should be tied to their domain. We therefore decided to ask Štěpán Benyovzský, a dramaturg, librettist and director, who apart form regular work with the Dekkadancers body makes his living through copy writing in an ad agency. The seminar took place between October 26th and 27th and took about 12 hours in total.
b) Consultations of critical reflexion
During winter, Taneční Aktuality made it possible for some of the internal and external editors to participate on individual consultations with capacities from theatre critics: with Karel Král (editor-in-chief of The World and Theatre magazine) and with Jitka Pavlištíková, editor and journalist. External correspondents had a chance to consult their texts with Lucie Hayashi. This activity's aim is not only to support the editorial work of Taneční Aktuality. It also helps in setting the dialogue about reflexion of dance throughout the artistic genres and cultivate people who not only write about dance, but also publicly speak and debate about dance – hence further educating the artists and the public alike.