Coppélia: Hijinks Ostrava style
May 2020 marked 150 years since the world première of the ballet Coppélia. Over the one and a half centuries, the piece has become a staple in the repertoires of almost all world ballet companies, including Czech ones. It stands out from the living heritage of the mid- and late-19th-century ballet due to its comic character and an emancipated heroine who is the main driving force of the piece. The Ostrava ballet company is bringing a modern and fresh take on Coppélia by the Italian choreographer Giorgio Madia, which had its world première in Wroclaw in 2013.
Madia's version of the ballet classic seems not to over-respect the traditional staging ideas, as the choreographer lets his imagination run wild. The basic structure remains untouched, Madia's movement vocabulary, though, differs a lot from the original version. He builds on the classical ballet technique but dares to develop it and twist it; some scenes seem to even parody classical ballet steps. Here and there he draws inspiration from gymnastics – cartwheels, summersaults evoking floor exercise; one of the unforgettable steps in the final pas de deux is a simple forward roll. These features may look like "clumsy" wilfulness but within the context of the piece they work very well and correspond with Léo Delibes' music libretto. It is a strange paradox – the choreography sometimes looks awkward, dance sequences do not match, and the performance still runs smoothly.
It is not by accident Europe knows Madia not only as a top choreographer, but also as a stage director whose works include several opera projects. In Coppélia, Madia focuses on giving detailed portrayals of the main characters, the most important one being Swanhilda – a woman who is courageous, a bit mischievous and cunning. Michaela Vápeníková – who is, by the way, the only Czech dancing the principal role in all the three casts – uses the full potential of her character without crossing the fine line between acting and playing caricatures. She proves to have an exceptional talent for comedy, and a sense of the grotesque. She uses natural mime, every gesture – be it a simple shoulder shrug or a reproachful arm gesture – provides a punchline to the given situation. In the second act, she enjoys constant role-switching when she imitates Coppélia's puppet-like movements only to slip into her real Swanhilda's character seconds later (unfortunately, her changing into Coppélia is not clearly depicted and it may confuse the audience at the beginning of the scene).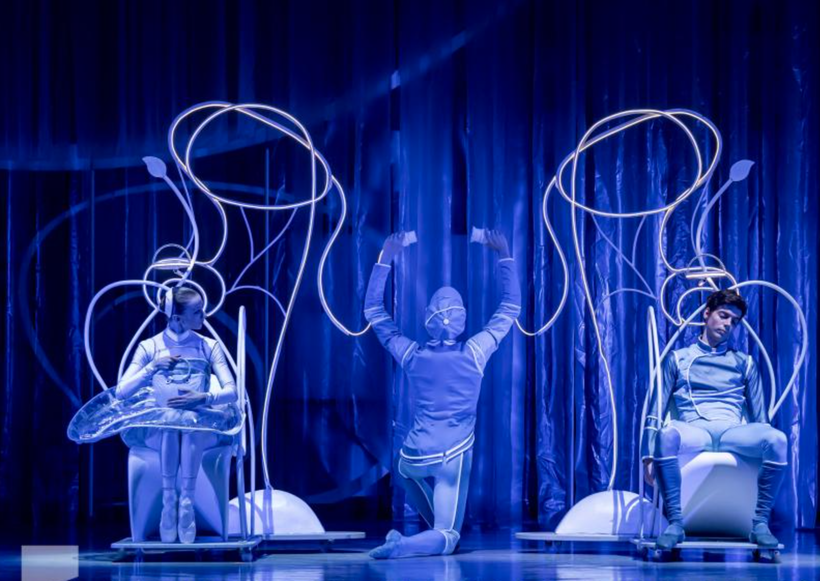 It is not easy for Koki Nishioka as Franz to shine beside such a temperamental partner, and although he demonstrates impeccable technique, his acting is a little flat. But there is chemistry between the two throughout the entire performance. Madia incorporated many comic exchanges into his ballet and more than one quarrel ends with a kiss, sometimes the choreography is so made that the two lovers are glued together by their lips and cannot get away from each other. Madia also pays attention to smaller parts – for instance, the suit of Swanhilda's friends who break into Coppélius' workshop is made of gutsy, cheeky girls, except for one who is nervous, shaking with fear and building up her courage way later. On the contrary, the way Madia reimagined the character of Coppélius (Takafumi Tamagawa) is a little unfortunate. His Coppélius is a young, melancholic inventor rather than the traditional spiteful old toymaker, which in fact diminishes the difference between the carefree world in the square and Coppélius's detachment, eccentricity, and sourness inside his house. Other characters are not so well defined. The lieutenant has a flashy solo in the first act (Mario Sobrino delivered an impressive performance), but neither Hanah Nash as Coppélia nor Réka Kiss as Olympia were given much space to present their skills.
Madia's Coppélia is saturated with youthful spirit, incessant teasing between the girls and the boys, culminating in the last act which in the original version serves as a plotless divertissement. Madia succeeds to fill it with new situations and vivid action – for instance a skilfully choreographed dance étude of the wedding festivities when the guests must first survive lengthy speeches before they start partying hard (including some fooling around under the wedding table). Madia is also merciful to Coppélius as he gives him a chance to find a girlfriend amid the final gleeful celebrations.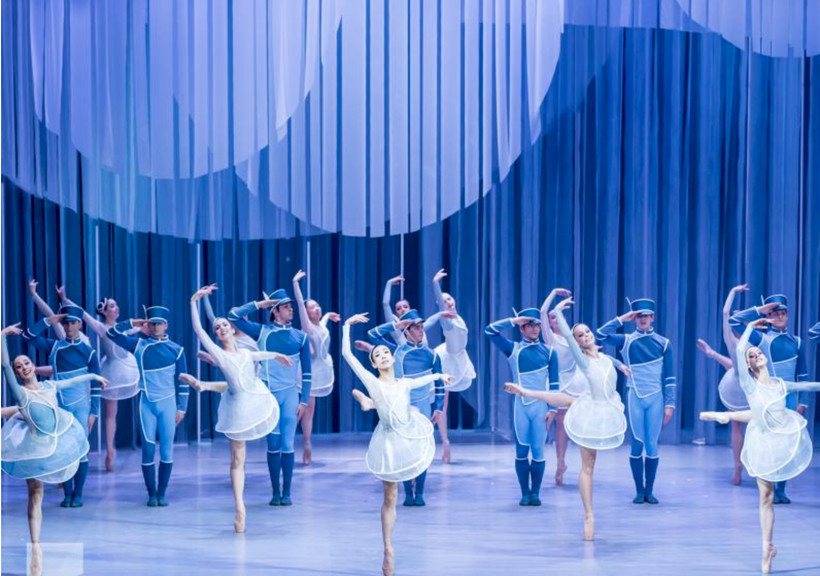 Apart from Madia's specific directing and choreographic style, the production is characterised by Domenico Franchi's set design. Except for a few features, Franchi works with curves and parts of spirals (for example spiral-shaped armchairs in Coppélius' house or white lines on the costumes; the plastic lamellas contouring the upstage space also come in form of spirals). The colour that dominates the design is blue (in combination with white) and its various shades and hues – from purple to turquoise and grey-blue. No other distinct colour can be found on either the sets or costumes. The dancers' attires are distinguished only by delicate details, which makes it difficult in some crowdy scenes to spot the main characters. The uniformed blue-white costume design does not suit Coppélius in particular, as he is to represent the main antagonist, so different from other villagers. The functionality of transparent and half-transparent materials can also be doubted, especially the plastic sheet which blurs all the action taking place in the second plan (such as entering Coppélius's house). Regrettably, the wall made of plastic lamellas also blurs the refined image of a gigantic cabinet in which limbs and body parts are stored for puppet-making (partly props, partly heads and limbs of real dancers). Coppélia in Ostrava is dissimilar of most contemporary ballet revivals. It does not respect staging traditionalism, but on the other hand, it brings no original interpretation reflecting the current situation, no shocking experiment. Spiced up with exaggeration and wit, this version of Coppélia is more of an "in-between" creation which seeks its own ways of expression.
Written from the premiere held on 20 September 2020, at the National Moravian-Silesian Theatre, Ostrava.
The Original text in Czech was published on 1 October 2020.
Coppélia
Music: Léo Delibes
Libretto: Giorgio Madia, based on works by E. T. A. Hoffmann
Choreography and direction: Giorgio Madia
Sets and costumes: Domenico Franchi
Assistants of the choreographer: Duilio Ingraffia, Adriana Mortelliti
Music direction: Adam Sedlický
Premiere: 19 Sep 2020
Translated by Tereza Cigánková.
Sun
Mon
Tue
Wed
Thu
Fri
Sat
31
1
2
3
4
5
8
9
10
11
12
13
14
15
16
17
18
19
20
21
22
23

24

DIS PLA Y předpremiéra

Jitka Čechová, Tereza Lenerová

Plzeň, Moving Station

25
26
27
28
29
30
1
2
3
DEJTE NÁM TIP NA PŘEDSTAVENÍ