Imprint of Dance at Flora Theatre Festival in Olomouc
After two years of unfavourable conditions, Olomouc became a mecca for theatre artists, performers and dancers for a few days. The anticipated 25th edition of the Flora Theatre Festival took place here, which from the point of view of the dramaturgy brought unknown but world-renowned works from the field of dance and performance art to the Czech audience.
Of rivalry and kinship

Long time no see! was about the identity of two European women, the difference of two national cultures whose identity is based on languages that come from the same language family. Beatrix Simkó, born in Hungary, and Jenna Jalonen from Finland, a long-time resident, created a multi-genre work based on introducing the otherness and sameness of two nations. They do not avoid stereotypes and generalizations; they present everything with a great deal of humour and cynicism. The work though, or rather the research on it, has been in the making since 2008, so it does not lack the necessary distance and does not appear pathetic.
Both performers studied dance, which dominates the work. Their physical condition is admirable, they also work with precise rhythm, which gives the whole expression a swing and flair. Body play, stomps, clapping, repetitions of rhythmic etudes permeate the production at irregular intervals and are also a kind of binding element.
The rivalry between the two cultures pervades the work, the similarities and differences are many. All it takes is for the two performers to begin to speak, to engage in dialogue, and even the untrained ear will recognize that each speaks her own language, but the structure, grammar, rhythm, and even intonation is very similar. They outbid each other with words and sentences. They articulate to hold an imaginary line with the dance rhythmization. Finns and Hungarians are also united by vodka, only the percentage of alcohol in it seems to be very different. Rivalry fills every step, competing for greater resilience, better language, less isolation, better quality time.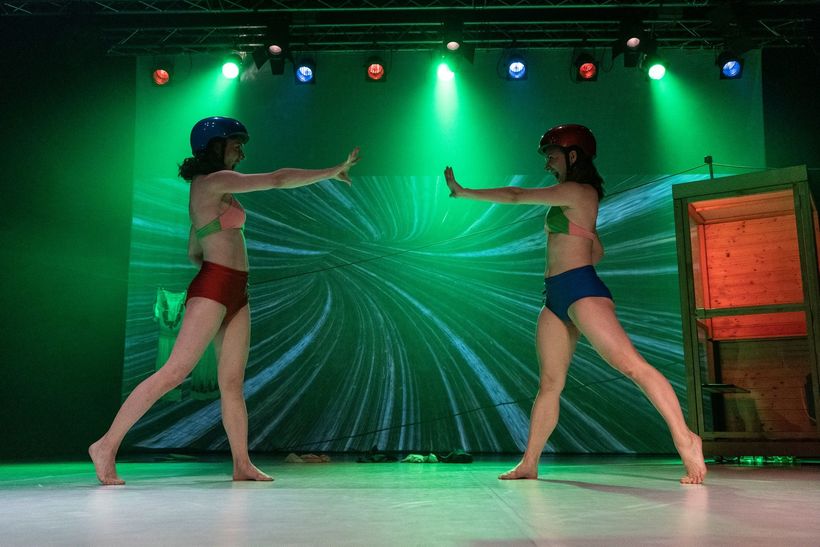 Props and costumes also play an important role in the performance, and a presentation of photos from the landscapes of Finland and Hungary alternates on the screen. Costumes in all variations of disguise reinforce national identity. The most striking prop was a wooden Finnish sauna, which the performers climbed into after a challenging verbal and physical battle. While the Finnish Jenna knows the habits and principles of a proper sauna and has a different approach to nudity, the Hungarian Beatrix takes a very long time to undress. After all, she prefers the Turkish baths, the pride of Hungary. Vodka, whether Finnish or Hungarian, eventually dissolves all inhibitions and the sauna turns into a very pleasant, shared experience.
The viewer will experience many such battles between cultures and languages. The relationship between the two women evokes an association of kinship: they are not like sisters, but they are like cousins. The well-chosen instruments elevate the work into a compact and closed message. Even though it works with various abstract symbols, it is well understood and does not leave the viewers uncertain of its incomprehensibility. The performers show that dance-performative art can be attractive, sexy and can appeal to a wide and uninformed audience. Long Time No See! is rounded off with eukonkanto, a national sport: a race of men with their wives on their backs but hanging upside down. Overlaid on this work then is a theme of a certain isolation and coexistence between different nationalities. The performers probably had no idea how these themes would resonate with people two years after the premiere.

An hour of positive energy
From the field of movement-performative art, the festival was also attended by the Vienna-based artist Michael Turinsky. His performance Precarious Moves could be classified as a reflection on living with a physical disability, its impact on the quality of life and interpersonal relationships. Turinsky arrives on stage in a wheelchair and pushes himself off with his feet. He carries with him a table with gin and tonic, his favourite drink to help relieve muscle tension. He wins over the audience with his first entrance, setting a comfortable atmosphere that encourages a desire to be around this joyful man. Almost at the beginning, when he asked someone to fold a paper boat, a woman rose without hesitation and entered the stage. She chatted very naturally with Turinsky while folding the origami. It was as if they'd known each other for years.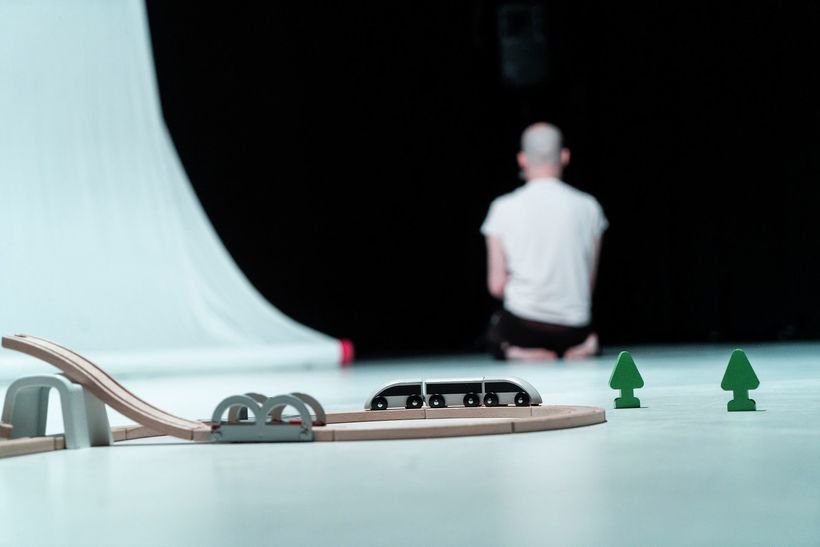 From the ceiling hung a white screen stretched like a descending ramp. The canvas served as a place to project the credits, as well as a "changing room" and a storage area for Turinsky's belongings. He went there several times during the production, mostly on his knees.
Precarious Moves is divided into three acts, Tree, Wood and Wind. Each has its own energy and carries a different message. Tree delivers a packaged statement, in fact a lecture performance, about living with a disability and people's reactions to difference and the inability to be independently mobile. Turinsky presents it with great confidence, looseness and truthfulness. The philosophising tendencies of the polemic are concretised by the building of a children's wooden railway. The pace is very slow, contemplative but certainly not boring, just like his speech. The satisfaction comes when the last piece is inserted into the correct cut-out. Moreover, throughout the performance Turinsky never forgets to educate us on what choreography is.
Wood brings a wild ride in a red car and an interpretation of an original song that evokes the manifesto of a young boy slowly growing into a man. He drives around and around in a child's car, singing. The song is based on a repetition of words that suggest what kind of confession it is: "I feel, I long, I fall, I'm a lover, I crawl, I can't stand it...".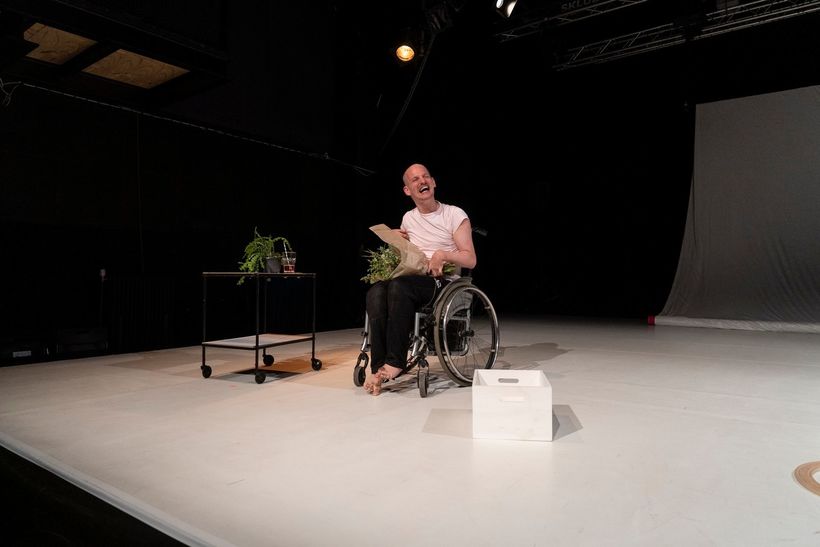 Wind is purely a dance piece, a calm vision of flight, of fluttering wings, of an upper body that remains presented to the audience from behind the whole time. Turinsky works with the utmost concentration and very slowly moves closer to the audience.
The production of Precarious Moves is not a lament, it is a joyful, relaxed probe into the life of a wheelchair user, into their everyday woes, but also their joys and thoughts on very intellectual topics. In his work, Turinsky demolishes myths, speaking openly about his disability with a great deal of cynicism and irony. Throughout, he stays in contact with the audience, smiling and being a messenger of positive energy, which in the current times with negative events all around, caresses and warms.
Both performances were great dramaturgical choices, timeless and well crafted. I believe that they will resonate with the audience of Flora Theatre Festival for a long time to come.
Long time no see!
Concept and choreography: Beatrix Simkó, Jenna Jalonen
Sets, photo, video: Dániel Dömölky
Sound: Ábris Gryllus
Text: András Vinnai
Costumes: Emese Kasza – MEI KAWA
Lights: Dániel Dömölky, Balázs Krisztián / András Váradi
Production: Dániel Dömölky, Balázs Krisztián / András Váradi
Performers: Beatrix Simkó, Jenna Jalonen
Written from a performance on May 12, 2022 at the Flora Theatre Festival.
Precarious Moves
Concept, choreography, texts, performing: Michael Turinsky
Music: Tian Rotteveel
Stage and costume: Jenny Schleif
Lights: Sveta Schwin
Photo and video: Michael Loizenbauer
Dramaturgical advice: Gabrielle Cram
Production: Anna Gräsel / groundworkers.at / Michael Turinsky Verein für philosophische Praxis
Coproduction: Tanzquartier Wien and HAU Hebbel am Ufer
Premiere: 11 January 2021
Written from a performance on May 15, 2022 at the Flora Theatre Festival.
Translation: Kristina Soukupová.