15.03.2011 21:24
Rozhovory
Účastníci České taneční platformy: DOT504 - Lenka Vágnerová
DOT504 / Lenka Vágnerová & Pavel Mašek: Mah Hunt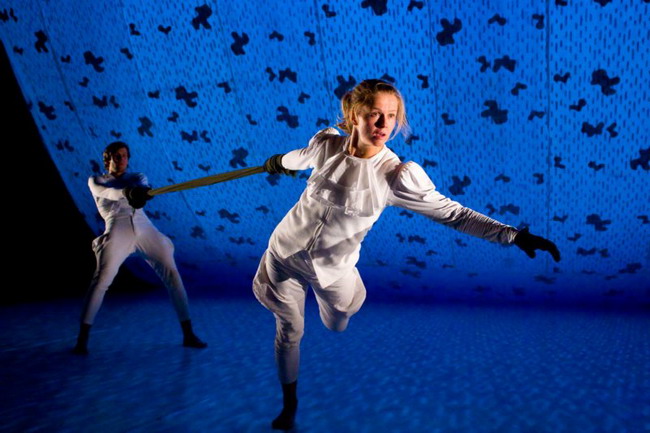 V čem je tato choreografie jiná / nová, než vaše předchozí díla?
Tématem, a hlavně je to duet, což přináší velmi intenzivní a koncentrovanou práci pouze dvou lidí. Velkým přínosem bylo pro nás setkání s Jakubem Kopeckým, který vytvořil pro představení scénografii a light design.

Jak vznikla a jak probíhala spolupráce na choreografii s Pavlem Maškem? A kdo přišel s námětem?
S Pavlem spolupracujeme již několik let a dlouho jsme uvažovali o tom, že vytvoříme duet. O námětu jsme si povídali dlouho před uvedením. V počátcích jsme se zajímali hlavně o to, jak jsou zvířata lidmi lovena, což je v mnoha případech velmi znepokojující. Masové vybíjení, nehumánní způsoby, týrání a bezohlednost jsou při lovu samozřejmostí. Stejně tak je a byl lov na mnoha místech světa velmi rozšířený a oblíbeným způsobem lidské zábavy. Sledovali jsme také pravidla lovu mezi zvířaty samotnými.
Samotnou choreografii jsme posunuli do jakési smyšlené budoucnosti, kde už nežijí žádná zvířata, můžeme se o nich dočíst pouze v knížkách. Jedná se o zvláštní pouť dvou lidí, kteří se rozhodli sami na sobě zkusit, co to lov byl a hlavně objevit pocity, které lovec i lovený mohou zažít. Posedlost a vášeň lovce, na druhé straně strach a panika loveného. Postupně se mezi nimi paralelně začne budovat vztah.

Překvapila vás nominace na Thalii právě za tento projekt? Vedle balerín je udělení ceny za tanec moderní tanečníci celkem nevídané...
Velmi příjemně mě překvapila a mám z ní velkou radost. Myslím, že cena Thálie už nechce být pouze striktně baletní cenou a postupně si otvírá cestu i k jiným formám. Moderní repertoár se stává nezbytnou součástí i kamenných divadel. Je ale pravda, že současný tanec, jak ho vidíme například v divadle Ponec, není pro ceny Thálie úplnou samozřejmostí.

Byla jste někdy na lovu? Lovena? Odrážejí se v choreografii nějaké osobní zážitky, nebo berete jen "z druhé ruky"?
Lvy ani žraloky jsem osobně ještě nelovila. V létě lovím často komáry!

Co vám přinesla práce na tomto představení? Máte z jeho přípravy nějaký zajímavý zážitek?
Nejdůležitější pro mne bylo soustavné hledání. Nejen pohybového materiálu, ale celkové formy představení. Kam až ve významu zajít a co nechat naopak odlehčenou hříčkou. Nechtěli jsme se tématem dostat do jakýchsi morálních nátlaků na diváka, chtěli jsme téma pouze předhodit ve formě, o které může divák přemýšlet sám.

Česka platforma – to by měl být výběr toho nejlepšího ze současného českého tance – jak vnímáte současný český tanec v porovnání s vašimi zkušenostmi ze zahraničí?
Současný tanec u nás dosáhl za posledních pár let velkého pokroku, vzniklo několik velmi silných skupin a představení, máme mnoho skvělých interpretů. U tanečníků někdy postrádám větší otevřenost v hledání i přijímání rozličných cest a forem. Co mě často zamrzí je, jak je u nás viděn tanečník jako umělec. Nejenom po stránce finančního ohodnocení, podmínek, ale hlavně v samotném vnímání společnosti.
DOT504 / Lenka Vágnerová: Perfektní den aneb Mr Gluteus Maximus
Pro mnohé diváky bylo překvapením, že jste pro toto představení k DOT504 přizvala Václava Janečka. Jak k tomu došlo? Měla jste nejprve ideu postavy, ke které jste hledala vhodného představitele nebo jste se naopak nejprve rozhodla spolupracovat na představení s Václavem Janečkem, a tím se vytvářela jeho role či podoba celého představení?
Myšlenku oslovit Václava jsem měla v hlavě už velmi dlouho a poprvé mě to napadlo na jeho hodině klasického tance. Václav je neuvěřitelný performer a tanečník s výjimečnou energií. Lákalo mě spojit naše odlišné taneční zkušenosti a najít cestu, jak spolu kompaktně fungovat. Většina tanečníků zná Václava jako pedagoga klasického tance, ale já jsem chtěla pro něj najít v představení absolutně odlišnou polohu s jiným pohybovým i výrazovým slovníkem. Až poté co Václav souhlasil se spoluprací, jsem začala hledat téma, které by nás mohlo nejvíce spojovat. Péče o tělo je pro každého tanečníka každodenním rituálem a prostředí lázní mě vždy fascinovalo. Od začátku jsem věděla, že chci představení postavit na Václavovi, a proto jsme mu postupně jeho roli formovali přímo na tělo.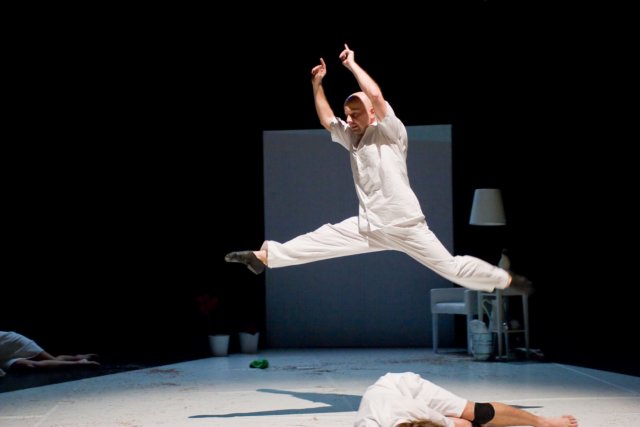 Inspiraci k tomuto představení jste si přivezla z nějakého pobytu v lázních?
Sama velmi často do relaxačních center chodím. Bazén, sauna, masáže… Všechny tyto procedury mně přišly vždy velmi pohybové až taneční. Zvláštní, až rituální atmosféra těchto center, to jak se lidé vzájemně potkávají, vyhýbají, pravidla podle kterých se řídí…
Se scénografem Jakubem Kopeckým jsme hodně mluvili o čase i prostředí, kam představení zasadit. Kostýmy, scénografie, projekce i hudba tvoří v představení zásadní roli a vytvářejí hororovou i poetickou atmosféru.

Jaká je vaše nejoblíbenější lázeňská procedura?
Miluji teplo, takže sauna a masáž (samozřejmě už jenom ta od Václava :-)).

Stíháte vnímat během představení, jak na vás působí atmosféra v sálu, jak se diváci smějí a baví?
Určitě je vnímám, ale je pro mě důležité zůstat v roli a nevypadnout z prostředí, které na jevišti vytváříme.

Liší se nějak provedení a atmosféra představení v divadle Ponec, kde mělo premiéru, a v NoDu, kde bude uvedeno na Platformě?
Nemohu říct. Na Platformě budeme hrát v NoD poprvé.

Má Václav Janeček rád Vincentku?
Určitě, pije ji hlavně, když se chystá na koncertní verzi představení.
Autor: Lucie Břinková
Taneční kalendář:
*pro další akce vyberte den (měsíc) v kalendáři
Taneční aktuality.cz
, jejímž autorem je
Taneční aktuality o.p.s.
, podléhá licenci
Creative Commons Uveďte autora-Neužívejte dílo komerčně-Nezasahujte do díla 3.0 Česko
.
Vytvořeno na základě tohoto díla:
www.tanecniaktuality.cz