Dimitris Papaioannou: "I am a better painter on stage than on paper"
After long negotiations, the curators of the TANEC PRAHA festival have finally managed to get the world-famous Greek director Dimitri Papaioannou to come to the Czech Republic. He will present his new work Transverse Orientation for three nights on the New Stage of the National Theatre, which has become a partner of the festival again after many years. Papaioannou, became famous for his spectacular opening and closing of the Greek Olympics, and it was not easy to find a stage that could accommodate his scenically demanding production. He builds his stage works on visual poetry, and although he always works with a specific framework, he does not like to offer the audience guides to interpretation. So, we asked him primarily about his way of creating, which is very unique.
You have travelled practically the whole world with your works, yet this is your first time in Prague. Do you find the Czech Republic somehow unique for you?
Apart from the beauty of the city there is nothing I can comment on because I have met very few people. So I can get an opinion after I see how my work interacts with the public.
In one of the interviews, you called your choreographic position a "hybrid form of being" and admitted that you did not consider yourself a choreographer like other choreographers are. Nevertheless, you work with excellent dancers and you are one of the most prominent contemporary choreographers. Have you reconsidered your view of yourself as a choreographer?
No, I cannot be considered choreographer as I am not educated in the dance field. I cannot sit next to Kylián or Forsythe because they know how to choreograph - I don't. And I do not consider my work to be theatre either, because I do not work with a text. So although I believe in the clarity of forms, there is always something in between. And that is me. Not that I believe in hybridity, but because this is the best what I can do. I believe in creating vibrations on stage. In any form.
Transverse Orientation was preceded for the first time by an international open call for dancers. How was the selection of dancers for this work? What are the prerequisites for the dancers you want to work with?
I like them to be able to move, to be talented in movement, and then when I meet them, I must see their creativity, their charm, the way they take directions and the way they endure long working hours. But after that I need to select from these also the people who interact best with other people. Sometimes I like to have more people who look similar because I like the audience to be confused. Sometimes I seek specific physical features that we need for something very special. But I usually do not have a story beforehand, so I do not know what I am looking for.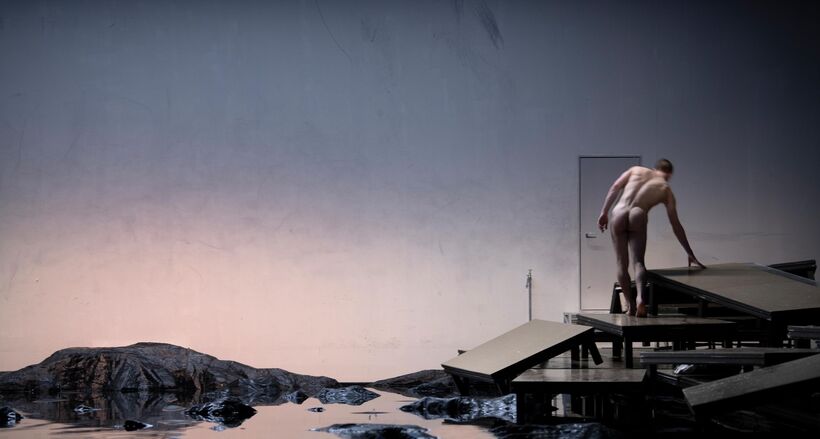 So you have not defined a topic from the very beginning? Can you describe the creative process then?
I have some ideas, and then I get inspired by the personalities of the dancers. They willingly or unwillingly influence me. Someone might influence me only by the way they eat their lunch, in other cases someone inspires me by their creativity during the rehearsal process.
How do you create your movement material?
My movement material comes just from the possibilities of the human body. For me it has a broader expressive range through movement than through speech. I was a shy child in a school focused on athleticism, so I escaped to painting a lot. Later, after I took my first dance classes, I was mesmerized by it and I found out I could be a better painter on stage than on paper.
In your works you use references of works of art, Greek culture and myths which speak to the present through archetypes. How about your new piece, do you work again with a parallel between history, myths and the present?
I use a lot of history of western art, not specifically Greek - but if I use Botticelli who painted Venus, it is actually Aphrodite. In this piece there are some archetypes as well, but the bull as an archetype of masculinity is not exclusively Greek, it can be found in all the oldest mythologies in the world. In turning the bull into Minotaur I am specifically pointing towards archaic Greece, so in a way yes, but not exclusively.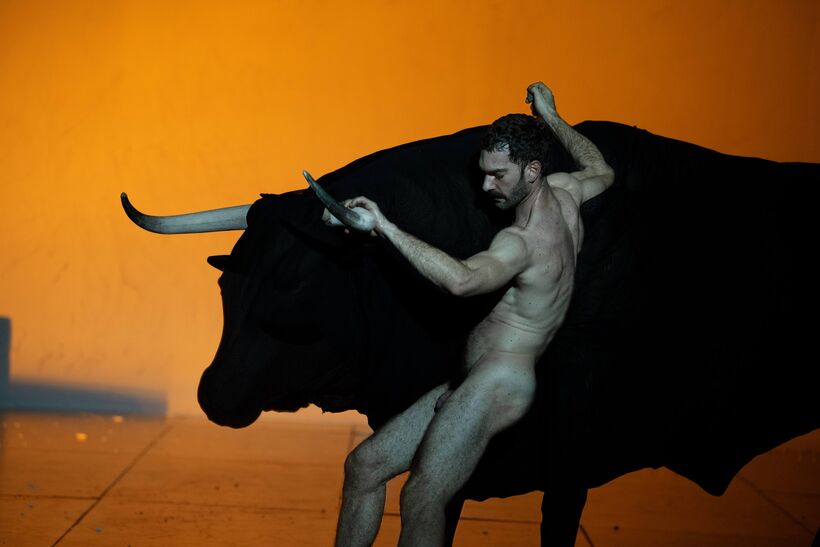 What is the role of water on stage?
I have been using water for a very long time because it is very real. I like theatre to be completely fake because it is not real. We make a deal with the public that it is fake. Water is a contrast, it is a very feminine element of the Earth, almost a platonic one. I love the way it is reflecting light and mirroring. I find it fascinating, so whenever I can, I work with water.
How are visual images and tricks in your works created? What is your collaboration with artists (scenographers, costume designers) like, when you yourself are strongly influenced by art and in several of your works you are also the author of the set?
The artists that usually work with me know that they collaborate with someone who has the ability to comprehend visually and that I have a strong concept that all the other talents have to align with. But there have been some cases when I worked with artists who made strong work around which I created my dramaturgy.
What about this piece?
It is a collaboration with a sculpture and costume designer. They align around the concept I have created. To be precise I have hints of concept and within the procedure I make the decisions.
A significant turning point in your choreographic work was Primal Matter, in which you decided to abandon expensive productions and discover possibilities through sobriety and simplicity. This piece eventually became a trilogy with Still Life and The Great Tamer. Is Transverse Orientation a continuation of this trilogy?
No, it is not. These principles of simplicity are in Great Tamer and Since she, but Transverse Orientation has become a bigger and complex production again – and hopefully the next one will deny it.
You can say then that your works are becoming more technologically and financially demanding again?
I found myself expanding again and I hope I will deny this afterwards again.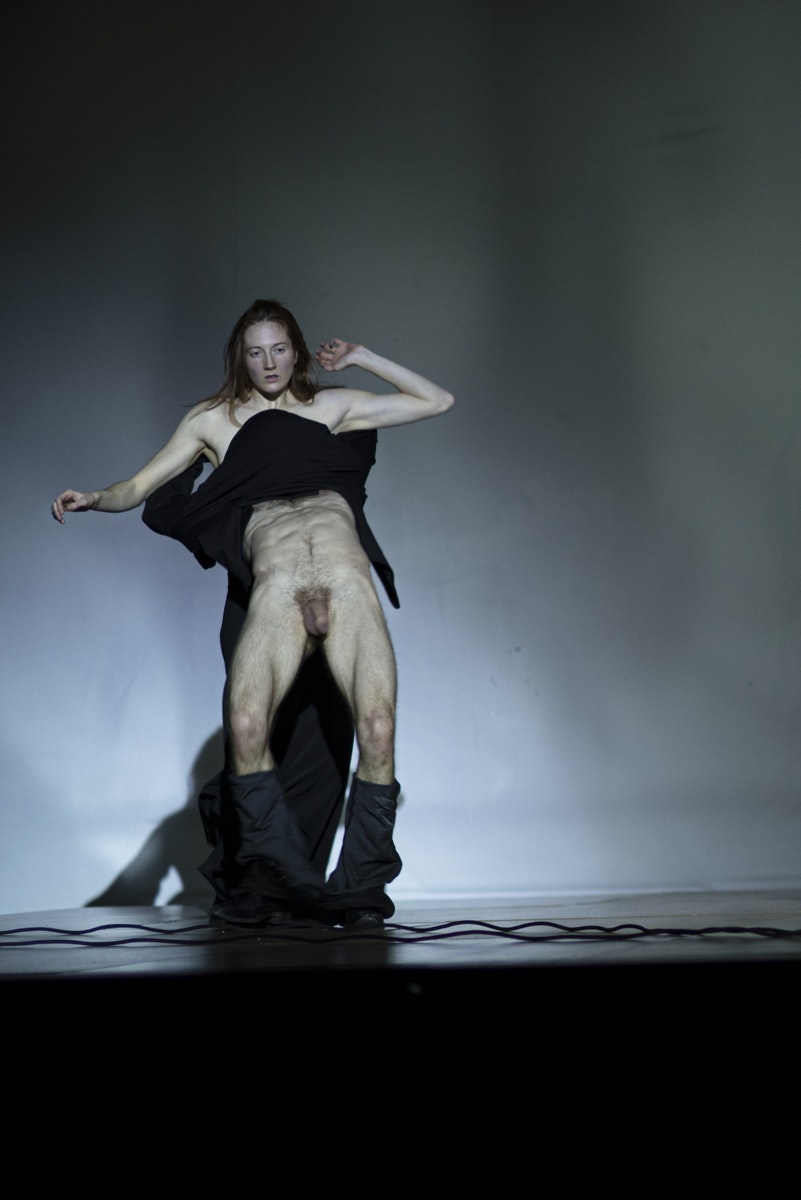 Does it mean you are already planning a new production? You're just about to kick off your tour with Transverse Orientation.
No, I am overwhelmed by the Covid delay, the tour also had to be condensed. In the end I will spend three years with Transverse Orientation. In the meantime, I have also created a piece called Ink that is planned for touring as well, so all I can think of right now is to stop. I do not have any plans for the next work. But I know that a year from now I will have a clearer brain. I am blessed to be travelling a lot, but it is also like kind of being chained to my own work. There is a sense of freedom I always have to revaluate with myself. Even thinking of new work brings me anxiety.
How much do you rework the piece when touring?
Oh, a lot. I rework it in every city. I find the piece usually meets itself after 5 or 6 touring cities. I can work only with the hope of improving, not a hope of conserving.
So you do not send an assistant to prepare it for you?
No, I am always present. Whenever you see my show, I am always there. So you can boo me. (laugh)
Interviewed 11th June, Prague.
Dimitris Papaioannou (*1964), born in Athens gained early recognition as a painter and comics artist, before his focus shifted to the performing arts, as director, choreographer, performer, and designer of sets, costumes, make up, and lighting. He was a student of the iconic Greek painter Yannis Tsarouchis before studying at the Athens School of Fine Arts. He formed Edafos Dance Theatre, in 1986 as an initial vehicle for his original stage productions, hybrids of physical theatre, experimental dance, and performance art. Originating in the underground scene, the company challenged perceptions and gained an expanding number of dedicated followers. Medea (1993) marked the company's transition to big theatres and is considered its iconic work. Papaioannou became widely known in 2004, as the creator of the Opening and Closing Ceremonies of the Athens 2004 Olympic Games.
Restarting in 2006, with his production '2', he found himself in the odd position of creating avant-garde works in major theatres in Athens that enjoyed record-breaking long runs, with over 100.000 tickets sold. In 2009, he began using this platform to create theatrical experiments on a large scale: Nowhere (2009) for the inauguration of the renovated Greek National Theatre and Inside (2011) for the Pallas Theater. In 2012, stripping down his work to bare essentials, he created Primal Matter for the Athens Festival, with him back on stage after a ten-year absence. On the same quest for simplicity, he created Still life in 2014, the first work that toured extensively in Europe, South America, Asia, and Australia. In 2015, he created the Opening Ceremony for the Baku 2015 First European Games.
Papaioannou's 25 productions range from mass spectacles with thousands of performers, to intimate pieces, and have appeared in a wide variety of venues, from his famous underground squat theater in Athens, to the ancient theatre in Epidaurus, and from Olympic stadiums to Théâtre de la Ville – Paris, and Teatro Olimpico in Vicenza.
In 2017, he created The Great Tamer, his first international co-commissioned work with ten co-producers, including the Festival d'Avignon.The Great Tamer made an international tour until 2019. In 2018, Dimitris became the first artist to create a new, full-length work for Tanztheater Wuppertal Pina Bausch. Sinse She premiered on 12 May 2018 in Germany. In 2020, during the lockdown of the Covid 19 pandemic, he created Ink and expanded again in the Transversal Orientation (2021).