Dominik Vodička, 2019 Thalia Award winner: "I never thought I could win something."
He enrolled at a conservatoire only to improve his pirousettes. He devoted all his childhood and teenage years to Latin-American dances and believed he would do it forever. But eventually, he fell for theatre, and last autumn, he achieved one of the highest accolades, the Thalia Award in the category of Dance and Physical Theatre. Just by the way, he became the King of the Dance Floor in the popular TV show StarDance, where he partnered the actress Veronika Kubařová. I met the twenty-three-year-old Dominik Vodička in the changing room of the Na Vinohradech Theatre in between two runs of The Nutcracker. "Finally the last Nutcracker, I do nothing in it," he remarked (he danced the soldiers – editor's note). We talked the beginning of his dance career, why people thought dance was for girls, and the Prague Chamber Ballet.
How does ballet technique go together with ballroom dance?
At first, it was hard for me to distinguish between the two techniques, but eventually I found my own inner style which suited me and which enriched both my Latin and ballet techniques. When I started the conservatoire, I had some bad habits from Latin dances. So they wanted to correct my stiff arms, and this and that… Step by step, I learned how to do it, so now when I'm on stage, I dance a different technique than I do on the dance floor.
Which muscle group do you use in classical ballet but not in Latin-American dances?
In Latin dances we usually carry the body up straight, but in ballet and contemporary we strain the thighs a lot and also back muscles in lifts. In ballrooms dance I'm struggling with heels at the moment. When I teach, I wear shoes without heels, but in StarDance they wanted us to have original shoes with 3.5 cm heels. So I felt my ankles were a bit unstable and my feet were not used to the shoes.
How did you feel when you returned to Latin-American dances after so many years?
It was nice to do Latin-American again. I didn't take StarDance as a competition, it was pleasure and a new experience to be part of the show. So from the very start, I tried not to expect anything and I enjoyed every moment.
Which of the two awards do you value more?
Of course the Thalia. For me it was an unattainable dream that came true. I don't want to diminish the importance of StarDance, it was a great success, of course. But I see it as a great success of my dancing partner, Verča Kubařová.
Putting aside ballroom dance, do you feel better in classical, neoclassical or contemporary style?
I feel best in Petr Zuska's choreographies, he calls them "dance theatre". It is a fusion of nonverbal theatre, dance, and his expression coming from the heart, which is closest to me at the moment.
After finishing elementary school, you went to a conservatoire. Why Dance Center Prague?
Because they offered me an individual study plan, so I could pursue full-time career in Latin-American dances. Originally, I only went there to improve my pirouettes. I wanted to give my body a different shape and let it develop in a different way, to stand out from other dancers. It never came to my mind I could join a ballet company, or even win something.
How did your teachers view the fact that you were studying at a conservatoire and at the same time doing competitive ballroom dance?
They were very critical. When I started the school, I believe they thought: "He''s going to quit soon, when he gets bored." But I persisted, I wanted to do both. At that time, it was possible but later I had to decide – ballet or ballroom.
What decided then?
The world championship. The whole time I was doing ballroom dance I felt there was something I didn't like but I couldn't say what it was. The moment I started performing with the school company I found out it was much more enjoyable for me, there was no pretense. At the world championship we didn't do very well and I realized it was more about money and the people you trained with. I said to myself I wanted to dance in the theatre where the audience can either applaud or leave.
How did you feel when the Prague Chamber Ballet was about to close?
It was crazy. I couldn't understand how these days a company with such a long history could just disappear. That the Ministry of Culture was so ruthless and let it die. If there were thousands of companies like PCB in Prague and the Czech Republic, I wouldn't say a word, but the only two companies that hire new dancers are the National Ballet and Prague Chamber Ballet. When dancers finish school, where should they go?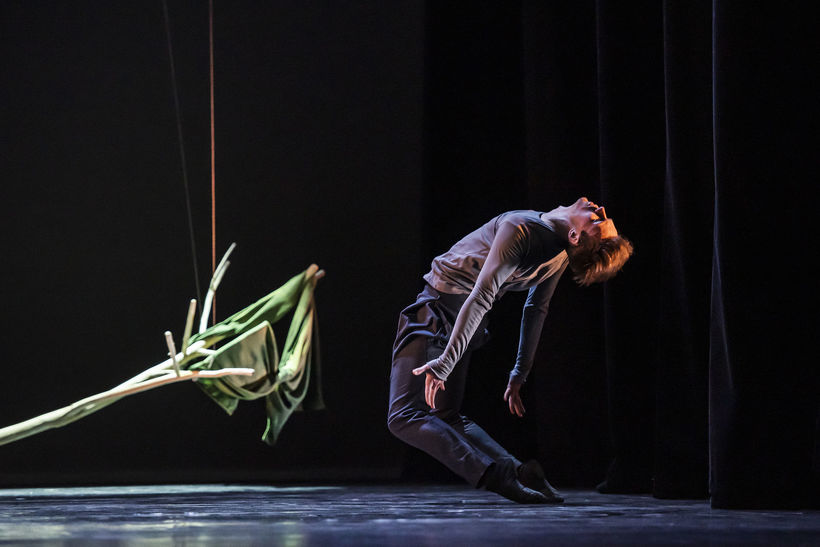 Do you think more people go to see you dance in the theatre now that you have won StarDance?
I think so. My fans write to me, they tell me they have tickets. StarDance is the most popular TV show, with 2 million people watching the finals. Kytice sold out in a week.
Is Kytice your favourite production?
For sure. It was my first collaboration with Petr Zuska. He taught me a lot. Even though I wasn't a mature artist, and still am not to this day, he cast me as the lead character and was patient enough to coach me. I'm very grateful for that.
How would you describe the ballet?
A journey through hell which ends in redemption. At the end I feel absolute dedication and giving myself fully to the piece. The music itself is incredibly powerful.
It is impossible to not understand dance
Why do you think dance is an outsider art in terms of mainstream entertainment?
It's an interesting question. People tend to think, and I don't know why, that they don't understand dance. When they go to the theatre, they think: "I will not understand dance." It's a nonsense. Dance is the only thing we can understand. You don't need language, you don't need anything, you just arrive at the venue, see movement, and you can find something in it. You must understand it because it evokes emotions. If you go to see a play and you don't understand the language, you are doomed. That's what makes dance special, and it's sad people don't know it. Classical ballet might seem unnatural to some people, nothing but poses and technique. But Kytice or Carmina Vetera are based on clear stories and symbols, you can just sit down and watch.
Are you trying to to popularize ballet?
I'm not a pushy type. I didn't search for StarDance either, I waited until they gave me a call. But of course, I would love to promote dance, I feel it still has little support, and I'd like to fight for it. That's why I'm trying to help my alma mater in media. Because culture is often neglected or nobody actually cares.
What are your plans after you finish your dance career?
It's always been my dream, since I was a little boy, to open a dance school, to leave a legacy. As an old man, I would come there to see how it's working. It's hard to start sup uch a thing but you shouldn't be afraid of anything.
Dominik Vodička (born 1996)
He graduated from Dance Center Prague in 2017. The same year he joined the Prague Chamber Ballet where he dances in productions such as Kytice, Ej lásko, Růže, Rekviem, Po zarostlém chodníčku and Holoubek. In 2019, he was nominated for the Thalia Award (Dance and Physical Theatre) for his role in Petr Zuska's Kytice (A Bouquet of Czech Folktales). The same year he won the TV show StarDance. Dominik Vodička is a four-time vice-champion of the Czech Republic in Latin-American and standard dances.
POSLEDNÍ KOMENTÁŘE
SOUVISEJÍCÍ