Dustin Klein, choreographer of One Flew Over the Cuckoo's Nest in Pilsen: "The size of a stage or company does not matter."
The Pilsen ballet company has prepared another compelling title for youth and adult audiences. Miloš Forman's Oscar-winning film One Flew Over the Cuckoo's Nest, based on Ken Kesey's famous novel (translated to Czech as Vyhoďme ho z kola ven), has been adapted into a dance performance by the young German choreographer Dustin Klein. It was his first time working in the Czech Republic and so I asked him a couple of questions.
How did the idea of you working with the Pilsen Ballet emerge?
I met Jiří Pokorný (artistic director of the Pilsen Ballet, ed. note) at a premiere in Regensburg after writing him an email to introduce myself. So we met in person and had a nice conversation. And then, about one year later, he called me one Sunday and told me he had a project he wanted to tell me about. He asked me for something crazy, funny and wild to create for the Small Stage of the Pilsen theatre. I offered him three concepts, one of which was the Cuckoo´s Nest, as I knew Miloš Forman was Czech and from Pilsen. He liked the idea. Maybe because it is full of humour.
What is your pesonal connection to this topic?
I like pieces that tackle serious topics, but are not taken too seriously and have a certain funny twist. I think of myself as a person who is quite funny but I also like to look deep into subjects, objects and human connections. So I thought this was something I could present to the audience in an understandable and accessible way.
Speaking about audience, have you done any target group research?
Well yes, and at one point I got really scared because obviously doing Miloš Forman´s Cuckoos Nest in Pilsen was like doing Mozart in Salzburg. Everybody here knows it, has seen the film and so they have a personal connection to the piece. So I think the expectations are quite high. I doubted the idea for a while but as we started, I was quite clear about adding my own touch to the story, and reinterpreting the original book and film. I felt the public could use some light parts of the story, and as I went on working, I felt I was in the right place, connected with Pilsen.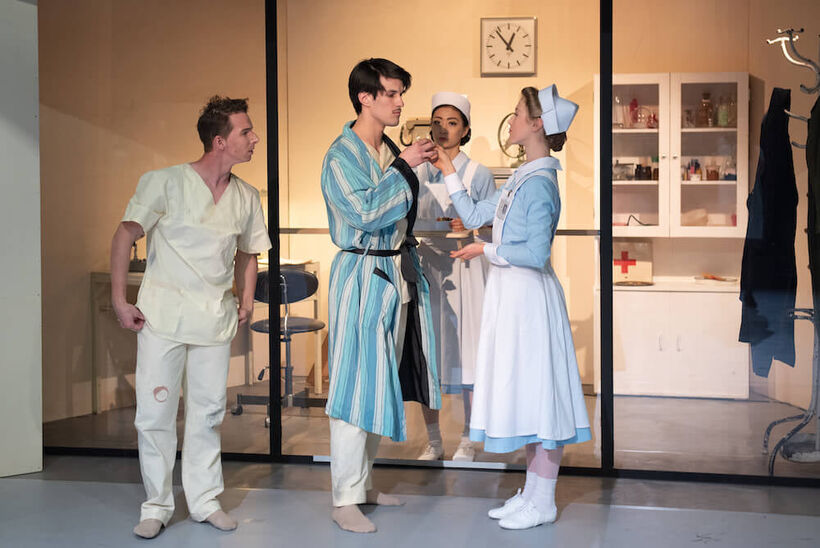 Did you write the concept and libretto yourself?
Yes. I always do it myself, because then it is easier to explain to dancers what I want. But I had the film to lead me and sometimes to lean against. For example the scene in which the patients are queueing to get the medicine - I imagined what could have happened there and built up a few different jokes and situations.
What about the cooperation with the sound designer? It was clear the music was created exclusively for the piece.
Simon Loveman is my long-time friend, we grew up together and we share a similar sense of humour. We have done a lot of projects together. I told Simon I wanted a sound collage rather than melodic music, the sound was supposed to create a setting for the scenes. Actually, in the film there is only one moment real music is played (when Rachel plays a record at the clinic). And then there is the scene of stealing a bus and enjoying radio music. In our version of Cuckoo's Nest, we actually used old records of my father's rock band from around this period. It was a very nice journey, creating this piece.
It sounds like the preparation took quite a while… How much time did you spent on it?
We worked for about six months before coming to Pilsen, to make the sets, costumes, and music. I did not want to come to Pilsen unprepared so I put a lot of effort into the pre-rehearsal phase and doing everything right. But it was also fun. And the rehearsal process was very refreshing.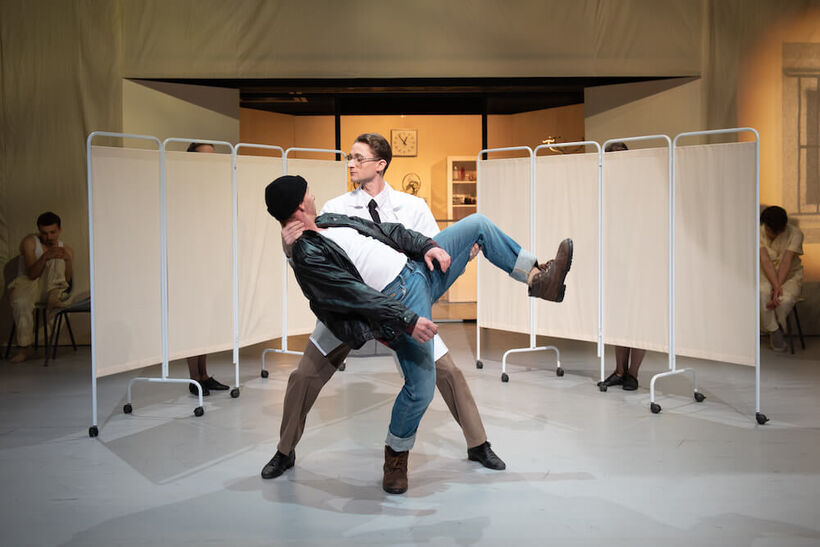 Even during Covid?
Well I worked on several projects during the coronavirus and there were places were people came to the studio with a stick and objected that it was not 1,5 meters between the dancers etc. But in Pilsen, we got tested all the time, and thanks to that we could take the masks off and face each other and touch each other. They were all very open, very eager, like a sponge. I have worked with lots of companies and usually there was an issue from somebody. But here, everyone was present, open, always in a good mood, and the atmosphere was very pleasant. And I'm not speaking about the dancers only. Also the costume makers, set makers, staff, everybody was very helpful. I think they all believed in the project and had fun. I felt really happy.
Did you feel limited by the size of the Small Stage?
I think the size of a stage or company does not matter. A stage is a stage, dancers are dancers, my work is my work. I can do a shit piece on a big stage with a bad company. It is always very relative. I do not care about size. Of course, it is an honour if I can work in Hamburg or Munich on large stages, but I think the quality of a piece is more important. The Small Stage in Pilsen is very intimate, and I like it.
Yet you cannot let the dancers use the space and dance more.
I was told the measurements at our first meeting, I knew what I was creating and for what stage. So I kept in mind not to overcrowd the group scenes and also use the possiblity to have a nice atmosphere for an intimate duet. Because a love duet can get lost on a large stage, it is not easy to make one there.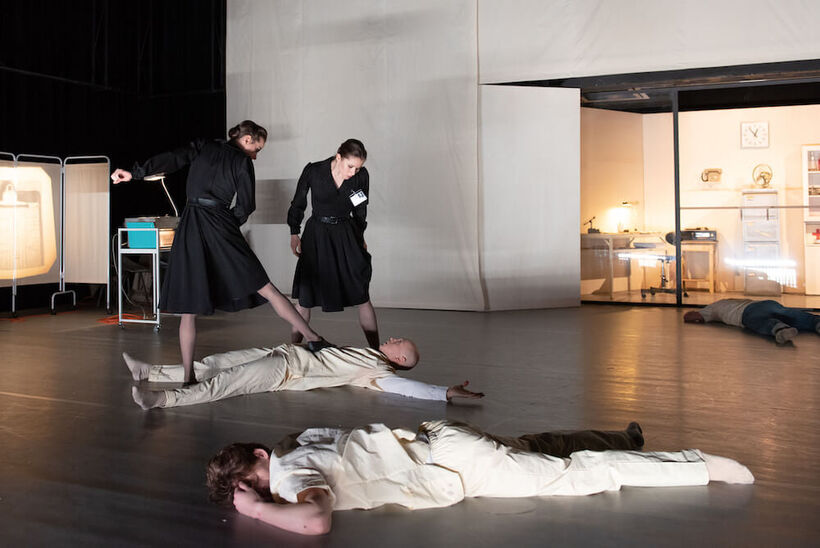 Were did your movements come from?
Obviously the film and the setting gives us a certain structure of an idea how the people would move. And then there is the dancers, their acting and movement. Richard and Sara were amazing, Richard as McMurphy being almost like a clown trying to bring chaos to Sara´s / Rachel's strict discipline. At the first rehearsal, we watched the film together with the cast. Justin Rimke as Billy, the shy guy, could really adapt to the character's body language, such as chewing on his necklace. As a viewer, you may not notice these details, but subconciously they make it work.
But I get inspired by many things: film, nature, animals, general behaviour... or just normal things I see in life. For example, I exit a train station and see a beggar walking barefoot and watching me... I remember these images and then I put them into a ballet choreography.
How do you feel the topic is connected with the current pandemic situation?
It has a great connection. Depression is a big issue in Germany and I see it among many people, both old and young. Lots of people have ended up (or will be) seeking mental health services... For me it was very important not to make fun of someone' situation, but to reflect it as a comedy drama. It is not funny that some people are scared of their sexuality or appearance, but it is funny that McMurphy tries to make them laugh... There is a really fine line which is not to be overstepped between creating funny situations and making fun of someone. But I am positive that we did not cross this line.
Are you planning any collaboration with the Czech dance scene in the future?
I am, actually, but it is too soon to share any details. Anyway, I am looking forward to it!
Dustin Klein (*1986)
Born in Germany, Dustin Klein began his dance training at his mother's dance school in Landsberg am Lech before graduating from the Royal Ballet School in London. After starting his professional career in Dusseldorf at Deutsche Oper am Rhein, Dustin moved to the Bavarian State Ballet in Munich where he is currently a soloist and performs in numerous productions working alongside acclaimed choreographers.
Since 2012 Dustin has been choreographing his own work for both international dance and opera companies including the Bavarian State Ballet and Bavarian State Opera in Munich, Stanislavsky & Nemirovich-Danchenko Music Theatre in Moscow, Bundesjugendballett in Hamburg and Origen Festival Cultural in Switzerland. Through continuing to develop his own innovative style of choreography, he has been awarded the 'Bundesjugendballett Hamburg Production Award' at the 33rd International Choreography Competition in Hannover, the 'Audience Award' at the 34th Bayerische Theatertage in Regensburg, and both the 'Ellinor Holland Art Prize' and the 'Cultural Sponsorship Award' from his hometown Landsberg am Lech. His style of work is highly collaborative across different mediums, regularly working with composers, graphic designers, film makers and computer animation as well as set and costume designers.
Source: https://dustinklein.de/