Interview with ballet master Curtis Foley: "I like going into institutions, shaking them up a little and giving them something new and fresh"
Meeting a young artist, who has devoted his time and energy to dance teaching and coaching of professional dancers, is a truly uplifting experience. The more so because this man likes busting olds myths and brings contagious energy with him to a ballet studio, along with discipline and challenge. Vancouver-born Curtis Foley has danced with companies such as The Royal Winnipeg Ballet or the unconventional New York ensemble Les Ballets Grandiva. After he retired from the stage to become a ballet master and dance coach, he decided to explore and rethink the possibilities of classical ballet technique. The Ostrava Ballet dancers had the opportunity to work with Curtis for a couple of weeks in October when we also met to speak about the open-hearted Canadian's life and career.
My first question is rather obvious… Are you having a good time in Ostrava? Are you getting a nice response from the dancers here?
An excellent response. I'm finding them so open and hungry; I think they've been craving a challenge, a change of energy, and they are thriving, and excelling so quickly. I see the light in their eyes! We are just working and feeding on each other, so every day it's more and more familial, it's a community, and I feel we are working together really well.
How much time have you spent with them already?
This is the middle of the second week, I'm here for three weeks now and then I'm coming back in the spring for two months.
What do you especially focus on in your classes? In other words, what defines you as teacher and a ballet master?
For me it's probably three things that separated me as a dancer and separate me as a teacher: precision, speed and change of dynamics. I want to help dancers to be able to go fast and then immediately go slow, to go up and then to go down, as opposed to just being on one level. And by building up that dynamicism within their movement, it makes them more versatile to do anything. You can say 'go fast now' and 'go slow', as opposed to 'this is fast, then that is slow'. I make them go fast, slow, fast, slow! And that builds up a masculature that is very good for them to be able to change back and forth quickly.
These days, many teachers and choreographers use the body-mind approach and the power of imagination in their classes. Are you one of them?
No, I'd say I'm much more practical of a person. Oddly, I work in the arts, but I don't find myself that artistic. I'm much more mathematical and technique-based. I definitely give them analogies, for example how a chef cooks, how another profession would have approached this, to make it a little bit more relatable or in the real world. I normally talk from the cerebral point of view and the physical point of view. I agree with the connection between body and mind but its more about: 'Tell yourself that you can do it. And force yourself to do it. And you will'. Your mind comes at play because you have confidence.
How much did your own training and career shape your way of teaching?
I'd say that my class and way of teaching is a rebellion of my life. I retired very early from performing because I wasn't happy with the quality of training and coaching that was often out there. And I thought to myself: I don't want to continue to do it that way so why don't I stop and do it a new way. So, I spent a few months doing nothing and just talking with people who were above me, who did inspire me and who did challenge me, and who I had a lot of respect with. I just absorbed information from the select few people. I was very fortunate to be given a job at the National Ballet of Portugal. And I would sit in the main piazza and create classes, because I was just teaching classes in the morning. I built up this repertoire of what I found to be beneficial to the dancers, to take them from the beginning of the class and plies to grand allegro.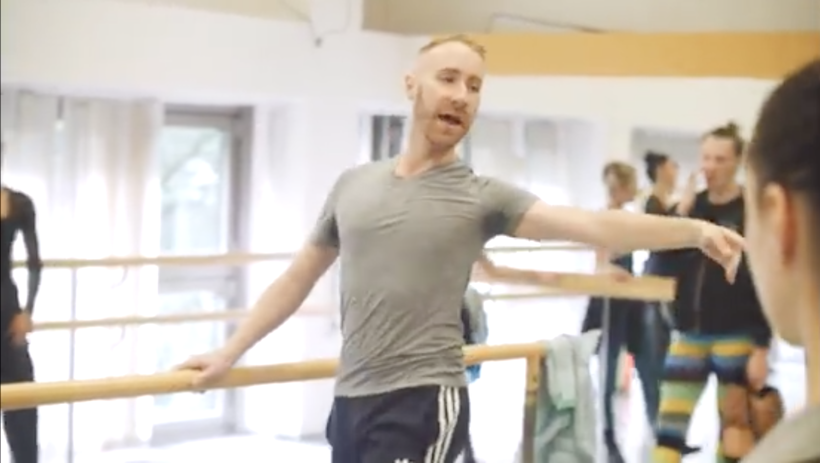 Do you still write things down?
I used to write things down like ten years ago, and I would look at the dancers, study them, and I would see what I did wrong and I would recognise it immediately so that I would never make the same mistake again. Even if it might do something, it wasn't working 100% and I'm someone who needs it to be perfect. And it was never done perfect to me and so I wanted to make it perfect for them. It was a lot of research, trial and error – it's taken so many companies and schools, and so many moments for me to self-reflect and be like: You know that wasn't my best. And now, luckily, I can go and do that, and I never think about it. I don't have to worry, I haven't written anything down in years, it's just I now know exactly what they need and how to get them there and that's the greatest feeling.
Could you name the exact people who influenced you and inspired you in your career?
The former artistic director of the Ballets the Monte Carlo, his name is Jean-Yves Esquerre and I would say he's the only person who told me about the structure of a ballet class. Him and I sat with a bottle of wine one night and we talked about getting the dancers form the beginning of the class to the end of the class, and the things that he thought were essential in that. Most of them I agreed with, some I didn't, but we talked about it, and that night I learned so much because it was open and honest and it was someone who I had watched teach and he very much teaches the way I do - he takes the room in his hands and he controls it. And I think when you do that, you're able to get the dancers to be as confident and trustworthy as possible because they know they are being taken care of. And then I have the female counterparts of that, they taught me how to be kind and loving. I fuse those two things together because I hate when a man is a man and a woman is a woman. We are all people and we need the whole spectrum. My big mentor when I was growing up was the Canadian Evelyn Hart – she was just one of the most generous, musical, gifted artists of her generation.
You've worked with companies all around the world. To put is simply, can you see any big difference between dance training in Europe, the US and Asia?
That varies company to company. It depends on many factors. Is that company full of foreign dancers, or is that company full of a nationalistic approach to dance? Is that company performing more contemporary work, or more classical work? In America, they're fast, they're known for their speed, in the UK they're known for their cleanliness and the reserve. The Russians (and Eastern dance companies and dancers), I find them more rigid, close-minded, often their personality as well., The French are very regal, precise, and delicate. The way a country is governed is often the way the dancers are trained.
You also danced with New York's Les Ballets Grand Diva for some time. In this company, male dancers take up female roles, but in not that serious way. What was the most challenging aspect of female ballet technique? Was it the pointe shoes?
It was the pointe shoes. Everything else was exactly the same. Again, I don't approach life or ballet to be so gender specific, When I was in Warsaw (a ballet master for three years), the female masters taught the females, the male masters taught the men. And I broke those rules, I said 'No, I will teach everybody'. Ballet is ballet, humanity is humanity. The only difference, in my opinion, between training a male and a female, is pointework. Otherwise, I'm not that big, not that masculine, so it was easy to make those other transitions, and comedy came relatively natural to me as well as lyricalism. It wasn't as hard as one would expect.
Which role with Les Ballets Grandiva did you fall in love with?
I loved doing Balachine's Serenade. I'd never expected to be one of the girls standing as the curtain opened with my hand up. It's such an iconic moment in the classical ballet. As a boy, you can say: 'Oh. that's so beautiful but I'll never get to do it'. It's like being a swan – everybody loves being a swan.
Are you interested in choreography as well?
No, I focus on training and coaching.
Do you have any exciting teaching and coaching projects ahead?
All of them are exciting. I love going into an institution and shaking it up a little bit. And giving them something new, fresh, something they haven't probably seen before. Well, I'm not very conventional.
Curtis Foley
Vancouver born, Curtis Foley, trained at Canada's National Ballet School and then graduated from The Royal Winnipeg Ballet School. He performed with The Royal Winnipeg Ballet Company, The Banff Centre and New York City's Les Ballets Grandiva in most of the major classics, as well as works by Georges Balanchine, Crystal Pite and many others. With a career that brought him on the stages of Singapore, Sydney, Tokyo and Auckland, he was also featured in live performances of the popular children's television show, The Toy Castle. In the summer of 2009 he was invited to perform in the Chicago Dance Festival alongside the stars of American Ballet Theatre and Alvin Ailey. Since retirement, he has traveled extensively, teaching for The National Ballet of Canada, Stuttgart Ballet, Ballet Zürich, The National Ballet of Portugal, The Royal Winnipeg Ballet, English National Ballet School, The Alberta Ballet Company, The Banff Centre, New Zealand School of Dance and Tiroler Landestheater Innsbruck. He has conducted master classes in his home country for Simon Fraser University and The Canadian Dance Teacher's Association, and was Ballet Master at The Banff Centre in 2011. Before moving to Warsaw was the Resident Teacher for Ballet BC in Vancouver, where he also continually sits on the jury for The BC Arts Council.
Source: Teatr Wielki
Video of the ballet training of Ostrava Ballet Company with Curtis Foley ZDE.