Interview with Michal Krčmář: "Even ballet evolves and changes with every generation".
I'm meeting Michal Krčmář after more than three years. We are in Brno, where he is preparing for his guest appearance in Jaroslav Slavický's renewed première of La Bayadère. This was the main topic of our conversation, which also turned to the changes in Michal's life and his satisfaction with the Finnish National Ballet, and also to how welcoming a baby daughter has impacted his approach to dance.
Guesting has always been a part of your career, Czech audiences will now be able to see you in Brno's La Bayadère. How did this happen?
It started a year ago when Mario Radačovský contacted the director of the Finnish National Ballet, Madeleine Onne. I had enough time to manage everything. Mario has known me since I was a student and he knows he can trust me. I've always liked his approach to work, so humane and down-to-earth. Everything was nicely organized. We agreed that I would arrive on Monday, 14 October, which would still give me a lot of time to rehearse.
But the plans have changed, and that's why we're meeting right here in Brno.
Jaroslav Slavický wanted me to come on Saturday 12. My arrival was very hectic, I missed the weekend with my family which was supposed to see my daughter for the first time. That's why I was surprised the choreographer himself didn't come to the rehearsal, but Ivan Popov, who had previously danced this role, was very helpful. Jana Přibylová showed me the changes in the choreography, but they were quite few, so these was no need for extra rehearsals.
Perhaps for the first time in all my guesting, I experienced such a different approach and way of working. Here, the preparations typically begin long before the première, and Mr. Slavický asked for even more time, as he usually works with students. It was a bit uncomfortable for me, but Jaroslav Slavický has taught me a lot and I really respect him. Last year I even appeared on his birthday gala show, I danced the Swan Lake pas de deux with Nikola Márová . After one rehearsal (laughing).
I suppose you can master the role in so few rehearsals because you've already danced Solor in many versions of this ballet...
I have done Makarova's version multiple times, it is in our repertoire in FNB. I have often danced the choreography of Thomas Edur and Yevgeny Neff with the Estonian National Ballet. And then Javier Torres's version with the Czech National Ballet. The first two Bayadères are similar to Brno's production, Javier's choreography was slightly different, but the changes could be learned within two days.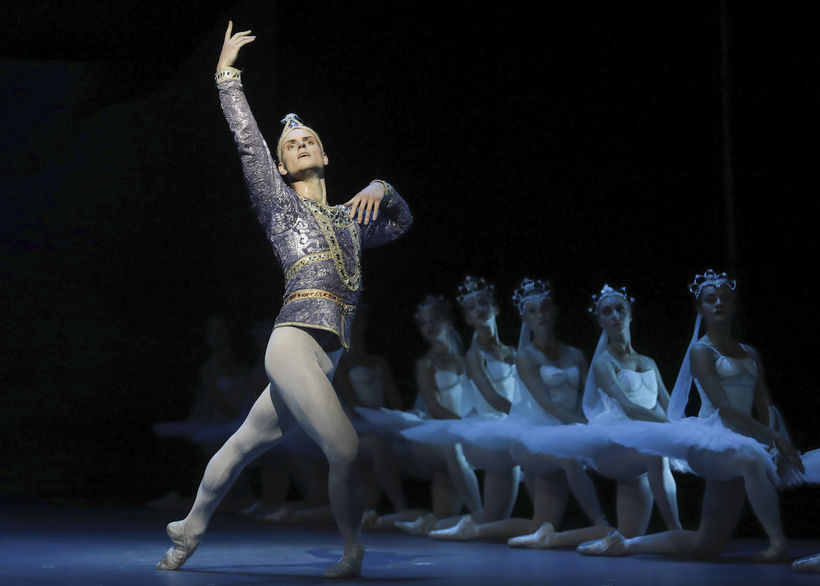 Compared to other productions of Petipa's ballets, La Bayadere is usually staged in a narrative and rather conservative way.
It's true, I cannot imagine otherwise. Maybe there can be more male dancing. After all, there were hardly any male corps de ballet scenes in the original version. In this respect, I can see development, but the ballet would not be the same, as its power lies in the feminine element.
What are your impressions of Brno's La Bayadere?
I think every bigger company should have a big ballet production in its repertoire, something for real ballet lovers. Luckily, we have someone like Jaroslav Slavický who guards the classical ballet tradition. I can't imagine the future without him. But everyone must be replaceable, so it's natural that ballet evolves and changes with every generation.
I will dance with Eriko Wakizono and Ivona Jeličová, I definitely can't complain about the choice of dance partners. I haven't worked with the rest of the company yet, but I've never had problems with that. I love to learn languages, so on top of English and Russian, I'm learning Italian thanks to my wife. It's much easier then to fit in a new team wherever you come.
You are giving guest performances all around the world, while being very busy as étoile with your company. How can you juggle all this?
Kenneth Grave was open to it, even adapting the repertoire and programme to when I was supposed to do premieres and when not. In Finland we know the cast several months beforehand, which makes planning way easier. I'm starting my ninth season in Helsinki and they know that they can count on me and are very helpful. Our current director is Madeleine Onne and more than an artistic director, she is a great manager. She realizes my guesting is a way of promotion for the entire company, so I'm very grateful she lets me go. Of course, if for example La Bayadère returns in January and the Royal Ballet's Carmen comes in February, she asks me not to make any deals outside of FNB.
Your daughter Sofia was born recently. Female dancers often say that motherhood has changed them, not only in their attitude to work but also in expression. How do you feel as a new Dad?
I think that before, career problems hit me more often. But now I have a daughter and I realize that we are here for the next generations, we want them to live in a better world and maybe find a remedy for our failures... Although the ballet world seems complicated, it is petty above all. Previously, I was working a lot for roles, wishing to dance Grigorovic's Spartacus. Now I got a much better gift than Spartacus, and that's my daughter. The roles come and go, I do my job, but I don't really care what will happen next. I still have ten years left for Spartacus (laughs).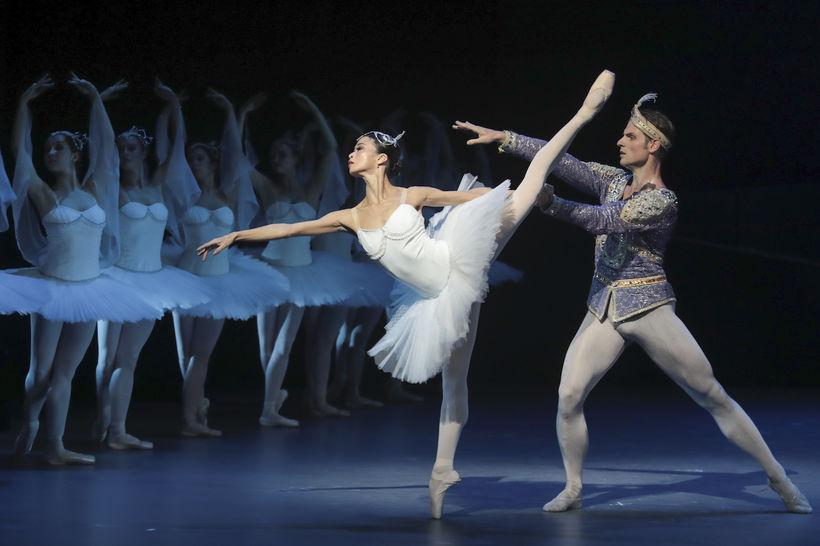 The artistic director Kenneth Grave left the Finnish National Ballet two years ago after a major "Me too"affair. How do you feel about this situation now?
These things are terribly disgusting to me, but unfortunately in the world of ballet they are often taken for something normal. In Finland, Kenneth Grave's affair became public and he withdrew from his position almost overnight. No chance to even say goodbye. Kenneth was a great boss who was able to raise the level of the ensemble, bring the stars, and the Finnish National Ballet began to be seen in the world of dance. In my opinion, he should have avoided two things in his career – making choreographies and treating the girls in the company the way he did. Otherwise, he would have been a fantastic director, a leader of the world's best ballet companies.
Sadly, similar things (maybe even worse) happen in Czech ballet companies and it's a public secret. But in the Nordic countries, thanks to strong unions, this is closely watched. Noone can be punished by losing a role after they decide to speak out... Dancers have their rights which are guaranteed. That is why I cannot imagine working anywhere else, in this respect Northern Europe is so much advanced. I know that we can always communicate and find a peaceful solution in case of disagreement. My contract is secured until I'm 44 years old. But I am not the type who would artificially prolong a career knowing the performances are not good enough anymore.

So you haven't considered going freelance?
I did at one point of my career, but it's quite complicated, you know. You can to hire an agent who is usually expensive, or you can do all by yourself which takes time and energy. Freelancers must plan their season long ahead and sometimes their take up too much work. Then they end up rehearsing for shows and having no time for training and morning classes, which affects their technique and stamina. I try to balance hard shows and easier shows and have enough space to recover and get back into shape. It's definitely not always possible to plan like this. My motto is "work smart, not hard". If I have a problem, I practice to fix it, not not to push through the pain, as Russians do for instance. Thus I didn't need physiotherapy or massages in the last five years.
So Finland follows the Western tradition? Its geographical and historical situation places it somewhere between the East and West...
Maybe because of its historical experience, Finland stays aways from the Russian tradition. It's an absolute West, the American and French techniques prevail, and theatres draw inspiration from London's Royal Ballet.
You're 29 and the end of you career is still far away; yet, are you thinking about the future?
When I finished school I dreamed of becoming a ballet director. As I'm getting older, I'm letting go of this idea. After I finish my career, we would like to buy a house on the beach in Sicily where my wife comes from. And I'm going to do some ordinary job (laughs). Well, that may be the ideal plan, but we don't know what the future holds. Years ago, I thought I'd move away from Finland because of the weather. But you can survive the weather, especially when you realise the social conditions that Finland offers. The support for families with children and the level of education is amazing. The taxes might be high, but the state takes care of you. No wonder Finland is the happiest country in the world.
Michal Krčmář was born in 1990 in Prague, Czech Republic. He graduated from Prague State Conservatory in 2009. He started his professional dance career as a soloist with Bohemia Ballet (Prague Dance Conservatory Company). From 2010, he was engaged with Prague State Opera as a Principal dancer and the Finnish National Opera as a Guest Principal Artist. He was also a Guest Principal dancer with the Pilsen Ballet and National Moravian-Silesial Theatre Ballet in Ostrava. In 2011 he was appointed Principal dancer with the Finnish National Ballet in Helsinki, Guest Principal dancer with Estonian National ballet, Grand Theatre in Poznan and the Czech National Ballet. In August 2015, he was promoted to Étoile at the Finnish National Ballet. In 2016 he was awarded the Edward Fazer Prize for the most useful dancer of the Finnish National Ballet.
His repertoire includes many roles, such as Prince Désiré and the Bluebird in Sleeping Beauty, Prince Siegfried in Swan Lake, Solor in La Bayadere, Basilio in Don Quixote, Franz in Coppelia, Prince in Cinderella, Konrad in Corsaire, Armand in Lady of Camellias, Vronsky in Anna Karenina, Albrech in Giselle, Prince in Nutcracker, Oberon in Midsummer Nights dream, Spartacus, Onegin, Romeo and Des Grieux is Manon etc. He has collaborated with contemporary creators including Jiří Kylián, John Neumeier, Nacho Duato, Jerome Robbins, Carolyn Carlson, Deatmar Seifert etc.
Michal also performed at many major international events, including the Gala performance of the world ballet stars in Sochi (Russia) during the 2014 Olympic Games, the Festival of World ballet stars Seoul (Korea) in 2015, at the Okamoto Ballet Festival Fukuoka (Japan) in 2016 and 2018, the Turku Ballet Gala (Finland) in 2018, and many other places in Portugal, Italy, Germany, Japan, Russia, Austria, Slovenia, France, Estonia, Slovakia, Poland, Colombia, Cambodia, Hungary, China, etc.