Jiri Bubenicek on the premiere of The Trial: "Kafka basically laughs at life."
The Royal Swedish Ballet in Stockholm is preparing for the fifth and last premiere of this season, which will take place on the 17th of May 2019. It is Jiri Bubenicek's new feature play The Trial, where he also made his choreographic debut with a local group of dancers. As you can tell by the name, this ballet performance has been inspired by the novel of the same name, written by the Prague author Franz Kafka. One week prior to the premiere, during the first day of the stage rehearsals, I got the unique opportunity to see the newly created piece and speak with its author at the Opera cafeteria.
What gave birth to the collaboration between you and the Royal Swedish Ballet?
Nicolas Le Rich and I have known each other for a long time – I have been a guest dancer at the Paris Opera (editor's note: where Le Riche performed as a solo artist in the years 1990-2014), a city in which I have also presented some shorter choreographies. After he had become the chief of the Royal Swedish Ballet, I happened to meet him on a street in Dresden where he was holding summer dance courses. He was interested in my choreographic work – at that time, I had already made several feature pieces. He asked me to send videos of my work to him, after which he approached me regarding creation of a new play.
So, you got a free hand on the project's theme?
Yes, completely so. I suggested four ideas, which is what I usually do when a theater proposes a collaboration to me. I like to suggest both classical and modern titles to work with. And he liked the one with Kafka…
Would you like to tell us more about the play as well as your personal relation to Kafka's work?
The Trial does not have a simple storyline, but I like to bring something new and unseen to the scene. I love Giselle, La Bayadère, Swan Lake - ballet pieces in which I danced for many years – but I don't think that we should stay trapped in the past. We should look forward, to the future. I come from Prague, I am not a Jew but I grew up in a Jewish quarter. I walked the same streets as Kafka and I even attended the same school as he did, the one on Masna street. During the time before the revolution, Prague was fairly empty, compared to what it looks like today – crowded with tourists. It seemed dirtier and not as pretty as today. It had a Kafkaesque atmosphere to it. Later on I started reading his work frequently.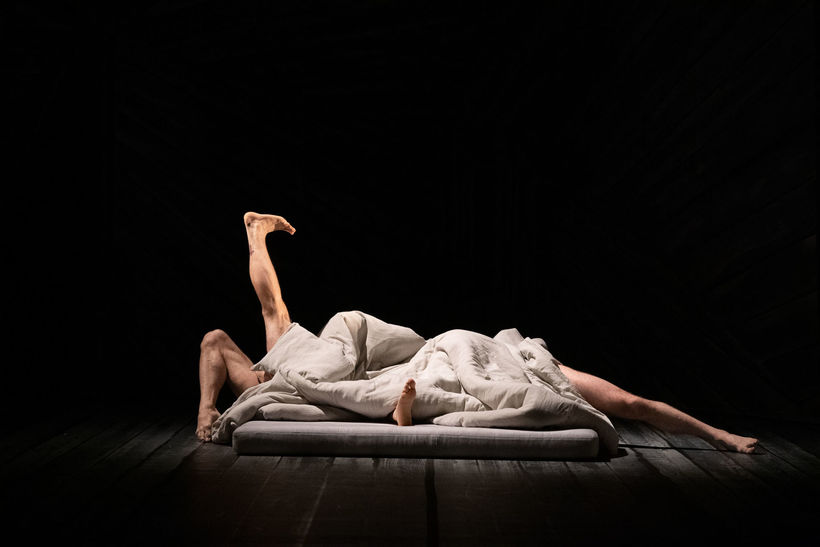 The Swedish are well-educated and many of them know Kafka and Prague. And for those who have not read Kafka yet, my dream is for the play to inspire them to do so. Kafka has an image of a dark and mysterious author, but the more I study him, the more fascinated I get by how he works with psychology. The play will feature many characters and colours.
Furthermore, this ballet piece is not only an interpretation of The Trial, there are also moments and pieces from Kafka's other books as well as his life. For instance The Metamorphosis, which like The Trial begins in bed, or Kafka's memories of youth depicted in Letter to His Father.
The Trial is, to me, all about existential questions. Josef K. doesn't know why he has been arrested, what he did, he is constantly looking for the purpose of it all. Same as when we ask ourselves what the meaning of life is. Sometimes it is absurd, sometimes we get stressed over nothing, one could even say that we have created the church to get the answers. At the end of The Trial, there is a dialog between Josef K. and a prison chaplain in a cathedral, in which the chaplain tells Josef that he's the only one who can answer his own questions.
You mentioned that you not only wish to show the audience the depth and anxiety, but also the colourfulness of Kafka's world. Where do you think that it lies?
I've heard that when Franz Kafka and Max Brod read The Trial out loud, they laughed a lot. Many of the scenes are absurd. So, he basically laughs at life. Even though his life was hard, he had a strict authoritative father, eating disorders, he was weak and ill, he couldn't even get married because of his fear of failing as a husband… And all of this is reflected in his work. Which i salso why I tried to incorporate Kafka's life moments into the play.
The musical accompaniment includes a collage of compositions, but also the Finnish "shouting choir" Mieskuoro Huutajat. How did this collaboration come to exist?
I discovered this choir while I was living in Hamburg – back there I attended many theatres and various alternative events. I visited their concert while they were guest performing at Schauspielhaus, where they were just shouting. It really caught my attention and I have wanted to collaborate with them ever since. I thought they were a good match for this piece, so I am glad that it all worked out. They, actually, shout out the essential parts of The Trial that we picked out.
Otherwise, eighty to ninety percent of the music included is composed by Alfred Schnittke, mainly because I feel that it captures the story perfectly. Kafka is sometimes folklore, everything is a little "crazy" – and the music is just like that, sometimes heavy, other times melodic. I also use Jewish music and various sounds, which, according to my opinion, match Kafka's persona, for example the sound of a writing machine.
The play's musical accompaniment is complicated as it includes both live music played by the orchestra as well as recorded music, sounds and noises. Which means that the conductor has to not only lead the orchestra but also the music technicians who play the recordings. We have been preparing for this for a very long time and today is the first time that we're rehearsing with the orchestra. It has been going very well so far.
The inscenation is a bit of a family project, your brother Otta and your wife Nadina Cojocaru have both taken part in creating it…
Yes, Otta has created the scenography, which features a ramp, that the dancers use to slide down to the scene, and also the projection. Nadina studied modern dance and choreography in Moldova, after which she moved to Osaka, where she worked with clothes and textile design for a large textile company. Therefore, she understands different materials, patterns and fashion very well. We have a similar taste and understand each other in many ways, which is why I like to cooperate with her. She has created the costumes for my plays Metropolis, Chapeau and now The Trial. We even consult the scenography and the overall dramaturgy together, which is the case with The Trial. Even our youngest daughter, who is only four months, gets to participate in the preparations, as she's always with us at the theatre or the costume atelier.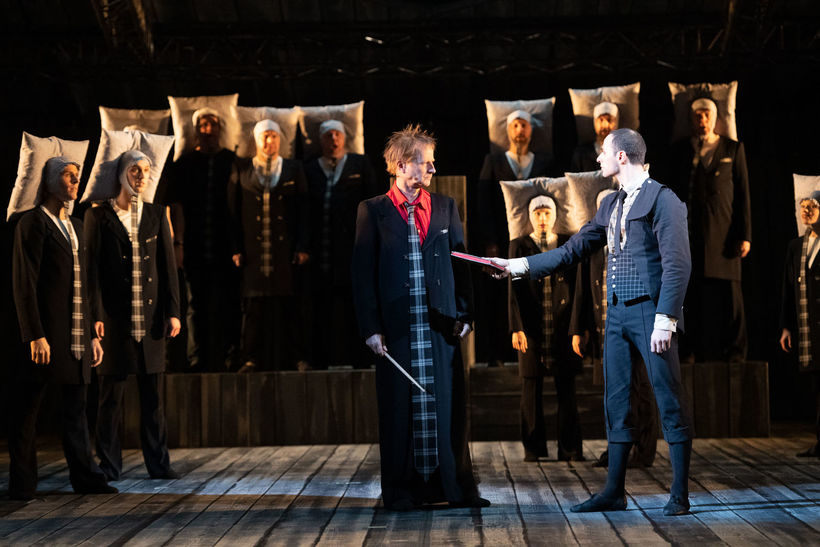 You have already suggested that you have been more interested in modern/contemporary dance lately, which we can tell from one part of the rehearsal… is this a new direction that you would like to move towards?
I try to make a unique style for almost each theatre. As an artist I danced all the different styles without any problem. Lately, I have created a classical Carmen for a theatre in Rome, because it was well suited there. In Zagreb, I made a modern Metropolis piece, My Homeland (Ma Vlast) in Prague was, again, a little more classical. I wouldn't like to be labeled into one box. Moreover, I still enjoy learning new things, which is why I attended a course in contemporary dance this summer in Spain, as an example.
I have an interest for new themes, contemporary theatre. Lately, genres have been gradually merging, for instance the circus in the Czech republic, which I find beautiful.
How did you enjoy collaborating with the Royal Opera team?
The technical team here is brilliant, they made everything perfect and in time, it works. The dancers are also very talented and a good group of people. The only negative part is that the last premiere of the local group was only a month ago (Escapist by Alexander Ekman), so the dancers have been very busy rehearsing for two plays at the same time. Last month we had a lot to catch up on, but I think we did it.
Do you watch the current Czech dance scene? Would you like to comment on the situation around the auditions for the chief of the National Theatre's ballet, which you participated in?
Recently, I have not spent much time in the Czech republic, but the internet allows me to keep myself somewhat informed about what's been going on there. I hope to get to see something during my upcoming vacation.
As for the audition, I felt disappointed in the way they communicated with us. The director of the theatre promised the same thing to all of us, Daria Klimentova, Filip Barankiewicz and me, he even told me several times that he was planning to publicly announce it. So, I though that I would get the position, so did Daria… It was dishonest behavior. Had he told me "Jirko, I've changed my mind" in a straightforward manner, I would have accepted it. I don't mind that I didn't get the job, I am still a big fan of Prague ballet and the National Theatre, they are a great team and they are working their butts off. It seems like they are really evolving, I keep my fingers crossed for them. Even though I don't think that Prague should be a Stuttgart affiliate (?), every ballet should have its own image. We'll see how this works out.
So, if you get a chance, would you be interested in collaborating with the ensemble? Or another one, within the Czech republic?
As of now, I really have a lot of work and too little time. But never say never! If there is an opportunity, good conditions and an interesting story comes up…
What are your plans for the future?
First of all, my family and I are planning a long vacation, since I already have made four full-length ballet pieces this year. Each of them takes two months to prepare, so I haven't really been home for almost a year. Which is why I even cancelled several things to get some rest. After that, I will be preparing Prokofjevov's Cinderella for a smaller ensemble in Florence. I am looking forward to it, because they are modern, so I will be taking a different direction again. I am planning to make this a one-act ballet piece.I have also been offered an opportunity to create Manon for an ensemble that I hadn't cooperated with for a long time. And other interesting collaborations that I am excited about. But I prefer not to talk about projects that have not yet been officially announced, or contracts that haven't been signed. I guess that I am superstitious! :)
Jiri Bubenicek (born 1974)
He comes from a circus family and, together with his brother Otta, they have become two of the most successful Czech dancers. In 1993 he graduated the Dance Conservatory of the City of Prague, after which he worked at the Hamburg State Opera, where he, two years later, became a solo dancer and made many big roles come to life. Since 1999, he has also been a choreographer. In 2006 he moved to Dresden, where he got the position of the first ballet solo artist and a choreographer at Semperoper. Since 2009, he and his brother Otta have arranged independent pieces, such as Bubenicek and Friends or Bubenicek Ballet World, later on they created the brand Les Ballets Bubenicek.
Currently, he works as a freelance choreographer. He has made choreographies Toccata for New York City Ballet, Le Souffle de l'Esprit for Zürich Ballet, Unerreichbare Orte for Hamburg Ballet, Carmen for Teatro dell'Opera Roma and many others.
In cooperation with The Czech Center Stockholm.