Krzysztof Pastor on Dangerous Liaisons: "Eroticism in dance is important but not scandalous anymore."
Dangerous Liaisons is a well-known eighteenth-century epistolary novel and a 1988 movie classic, but it has also been adapted for theatre many times and in various forms. The Polish choreographer and current Artistic Director of the Polish National Ballet, Krzysztof Pastor, along with the Latvian composer Arturs Maskats, made their balletic version of Pierre Choderlos de Laclos's literary master piece in 2006, first performed by the Latvian National Ballet. This season, the National Moravian-Silesian Theatre Ballet company in Ostrava is remounting the successful choreography. In the middle of busy rehearsals and preparations, we asked Krzysztof Pastor about the creation of the piece, the key elements of his choreography, and about his collaboration with Ostrava ballet ensemble.

When you created Dangerous Liaisons along with Arturs Maskats (co-author and author of the music libretto) thirteen years ago, how much were you inspired by the original form of letters? Did it show in the choreography or dramaturgy of the piece?
With Arturs, the then Artistic Director of the Latvian National Opera, we considered many subjects, also contemporary ones, but then we decided for Dangerous Liaisons because it is still topical, like jealousy, betrayal, or intrigues. First, we watched the movie starring Glenn Close, John Malkovich and Michelle Pfeifer (1988 movie Dangerous Liaisons, directed by Stephen Frears – editor's note). They are fantastic in the movie and the costumes and scenery are also very appealing. Later, I read the novel by Laclos, too. We could do the ballet in form of letters, but we decided not to, as it is very complicated to put on stage. We wanted to tell the story more like in cinema. I wrote the libretto, discussed it with Arturs, and we agreed that it must have been very simple (we kept all the elements of the story but for the stage purposes we had to make it very clear). Afterwards, Arturs wrote his music score.

Many scenes in your ballet take place at a ball, or they picture preparations for a ball. Why have you highlighted these social occasions?
For high society, the ball was where it all happened, where people plotted, observed, where they met, looking for husbands, wives, or lovers. Today, all this happens on the internet, but back then, people had to meet, and of course it was the upper-class and aristocracy. In the movie there is a scene – we have it in our ballet too – showing a performance. A counter tenor is singing (Arturs wrote the song as part of the score) and all characters are present, Valmont, Merteuil, Cecile and Madame de Tourvel, but they are just exchanging looks; they are linked but it's just a game. Not only balls but also theatre performances were social occasions and places where people could observe each other or signal across the auditorium.

How much did you feel inspired by Maskats' music itself? Did it generate new ideas or open new doors for you?
I was inspired by both the subject and Arturs' score. He was very interested in the period and its music, there is a clear inspiration by Baroque and Late Baroque music, but you can also hear some folk tunes. And I must say I love his music, now I have a chance to hear it again, it's a very good score. It's quite accessible to audiences because in fact, it's contemporary theatrical music, written for wide public, not just for connessaires of contemporary compositions. It's appealing which makes it also valuable. We find it important sometimes not to bring the ballet too high, but lower it down, so people come to see it and then we can work on something more ambitious.

In cinema and theatre adaptations of Dangerous Liaisons much attention is paid to period costumes and sets. Is this element also stressed in your piece?
I remember I was impressed by the movie, it's stunning. But most importantly, our version is a dance adaptation, we had to set some things to make them danceable. In addition, we don't have the same budget as in cinema, so we had to make some adjustments. We cannot switch, for instance, from the palace to the garden, and though it's possible to create a trip (travelling through places), we opted for something very simple. We perform in the same space and leave it to audiences' imagination. However, the costumes are period.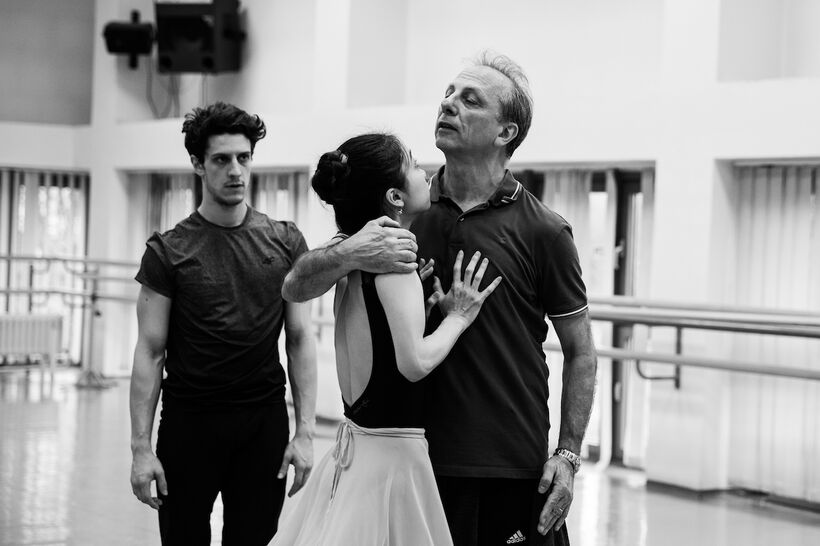 Foto: Anna Rasmussen.
People from various countries have seen your ballet. Though Laclos's story is generally well-known, have the reactions been different? And is the subject still shocking these days?
Difficult to answer. It's true that audiences are different in every country, the biggest difference is between Europe and the States. Nothing new under the sun, though – many artists in the past had to deal with the double standards, such as Kurt Weil or Stravinsky. I've done pieces that were very successful in Europe and I've done the same in the US but it didn't work at all. Within Europe the differences may not be so huge, but they exist. Polish audiences have a very different taste from Dutch audiences. Dutch audiences are very progressive, they love contemporary art, while the Polish are more traditional.
And if Dangerous Liaisons is still shocking? Well, to create a scandal nowadays is very difficult. Some people try very hard but it's not necessary, the scandal for scandal. However, I think eroticism is part of dance. It doesn't have to be vulgar, but I think it's very important. Even in Swan Lake, when swans stand in those positions, they are statically sublime. It's not about upfront eroticism but it's something every person can feel. If it's done with good taste, the audience might not understand right away, but it has a huge impact on them. So, it's important but not scandalous anymore.

Has the piece developed somehow since the world premiere? Have you done any significant changes or adjustments to the choreography or dramaturgy?
During the first staging, I was involved completely in the creation from the very start. During the second and third staging, ballet masters were with the companies. Here in Ostrava, it's still work in progress. But of course, when I see something that doesn't work, I adapt it and shape it to the dancers. Of course, we want it to stay close to the original, but the performance always comes alive with the lives of the artists who dance it. So, it's important, if time allows, to work with the dancers.

In one of your previous interviews you explained that your choreographic style was based on neoclassic as well as modern dance techniques and that in Dangerous Liaisons you wanted to define the characters through clear and poignant gestures. Could you give any example? Are Marquise de Merteuil's moves different from Madame de Tourvel's, for instance?
It's always difficult for me to define my own style. It sits very strongly on ballet technique, and neoclassical ballet, but it's influenced by many modern techniques which I'm not even aware of. It's simply my life experience and I always like to introduce gestures. It's not traditional ballet pantomime, but rather signs that the audience can recognise - such as very clear separation or gestures that are more natural, or sometimes even symbolic. For example, if you want to say: 'I don't want to see the world around me', you cover your eyes. These are simple things, but the gestures push the narrative forward and each character uses them differently.

When you rehearse with dancers in the studio, do you want them to go beyond steps and focus on other aspects of the piece? I mean, for instance, understanding the relations between characters, the historical context etc.?
The drama is very important. In every ballet, the contact between dancers is crucial and it must happen already in the studio. I cannot accept that someone says: 'You'll see! It'll be there'. I want to see now! We must know where we are guiding the role. Though it can be different in each performance of the same ballet, but we must go somewhere. We cannot stay within something that isn't my intention. Dancers should be versatile artists and that's why it's so hard to make the cast.

The list of your works is extensive, you've created abstract as well as dramatic ballets. Are you working on a piece at the moment? And what is your biggest inspiration right now?
I've just finished a piece – the choreography Our Chopin to two piano concertos by Frederick Chopin. In 2018, Poland was celebrating the 100th anniversary of regaining the independence. For this occasion, I wanted to do something valuable - for dancers, for myself and for the audiences. I think Chopin is sort of universal value. He is a Polish composer, but his music is universal. I invited the British choreographer Liam Scarlett, because I wanted to have a different perspective, somebody who didn't have the same feeling about my country. And for me it was a moment of reflection: What's independence? What's patriotism? What are our ambitions as a nation? Are we the East or the West? Where are we aiming? Polish people always deal with these problems. I based the piece on four colours: white – innocence or purity; red – the past or communism (but also the Polish flag), black – Nazism, fascism, destructive forces which re-emerge in Poland from time to time; and finally, gold – nouveau rich, consumerism, and lack of ideas.

Krzysztof Pastor (born 17 December 1956 in Gdańsk, Poland) is a Polish dancer, choreographer and ballet director. He was resident choreographer with the Dutch National Ballet in Amsterdam from 2003 to 2017 and director of the Polish National Ballet in Teatr Wielki – Polish National Opera, Warsaw, since 2009. In 2011 he became artistic director of the ballet of the Lithuanian National Opera and Ballet Theatre in Vilnius. Pastor's ballet Dangerous Liaisons was staged in Brno National Theatre in 2011.
---