Mário Radačovský: "It's necessary to take risks, we can't expect to be always successful."
Mário Radačovský, a Slovak native and the current artistic director of the Brno National Theatre ballet, has been the head of the second biggest Czech company for five years. Having another half-decade ahead of him, Radačovský has bold plans for the company. At the end of the passing season we talked his visions, the Czech education system, as well as the difficulties he must face on the way towards a world-class company.
When you became the director of the Brno ballet, what plans did you have in mind for the company? What did you want to achieve?
When I found out the second biggest company in our country is deeply underfunded, I was shocked. It's not all about money but you need some solid foundation. My goal was to build a European-level company, and so inevitably, these conditions must have changed.
But we had improve almost everything. I took over a company whose repertoire featured productions with an average lifespan of twelve years, in one case even forty years. Honestly, I was surprised Brno audiences were still faithful to ballet art.
Are there any goals you haven't achieved yet?
Of course, a lot. I wanted to hire an agent who would have acted on our behalf abroad. It would have been easier for us to travel. So far, it's been about my personal contacts.
Then there's the question of a closer collaboration between the dance conservatoire in Brno and the company. The present system isn't working, the school and the theatre should be joint institutions, communicating on daily basis. For example, it should be possible for the best students from the 7th and 8th grade to perform in our productions, provided they are chosen by a choreographer. In addition, these students will almost certainly be offered a contract with the company as they know its repertoire and inner operation. And for a director, it's a big advantage.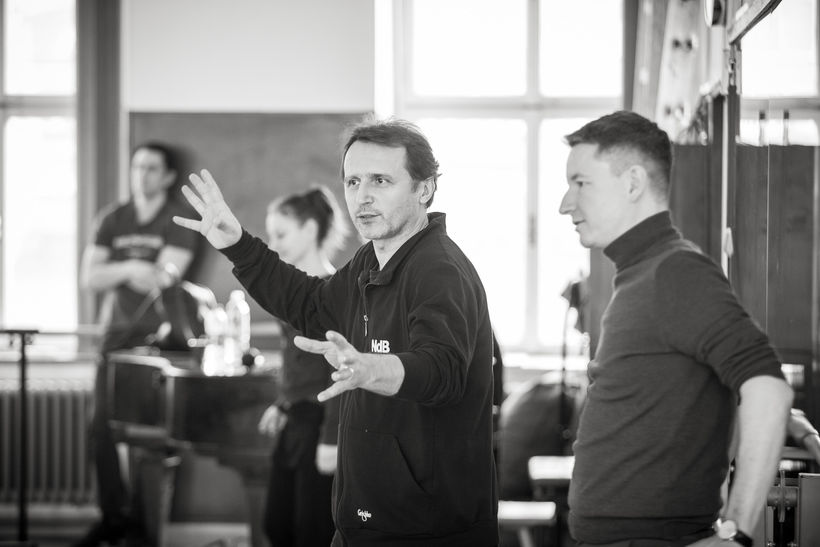 An education system in which schools are funded 'per student', is a way to hell. Anyone can be admitted to a conservatoire, even those who are not talented, only to secure enough financial support for the institution. It leads to producing graduates who register at the employment office right after finishing school. It's unfair for the children, as well as their parents and teachers.
You tackled this issue last year in an interview for Taneční aktuality (here), saying that you were planning to establish a junior company, NdB 2. How is this project evolving?
The concept is ready and now it's up to the municipal authorities to decide if they will provide us with the necessary funds. Back in the 1980's and 90's, Brno had a ballet company formed of seventy members, compared to today's forty-six members. The junior company would dance primarily in classical titles or perform their own repertoire. In this way, young dancers would gain valuable experience, rehearsing every day with company dancers. After two or three years, they could join the main ensemble. I think we lack such a concept here, though it represents a natural transition between school and professional life.
Right after assuming the position of artistic director, you proclaimed (here) that the following season would be diametrically different. What exactly did you object to in Lenka Dřímalová's previous leadership?
The diametrical change was meant to happen in the stabilisation of the company as such. I've known Lenka for a long time. She has great insight into modern and contemporary dance production, on which she also focused during her Brno years, inviting choreographers such as Rami Be'er or Itzik Galili. On the other hand, the classical repertoire was made slightly inferior and neglected. I resolved to balance the company's repertoire and encourage classical productions. I must admit that until that time, the company had been hardly able to perform such a repertoire on an acceptable level.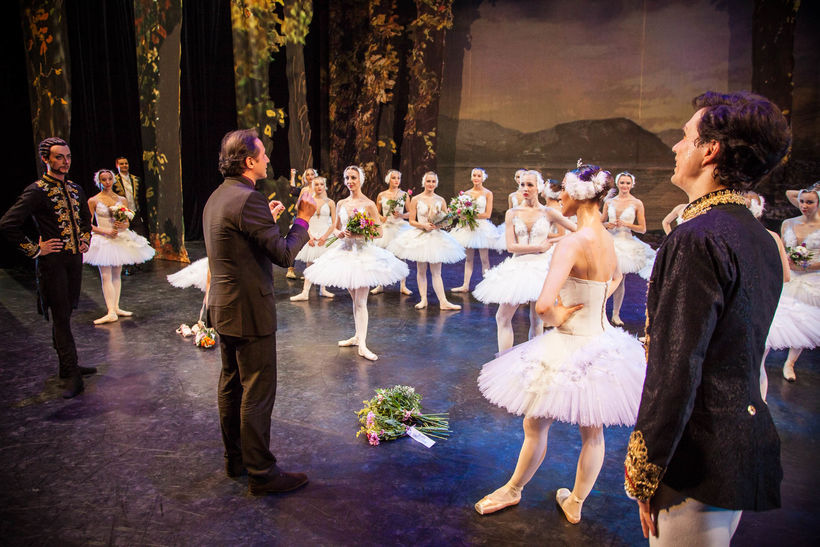 What's the Brno company's status among other Czech ensembles?
I think we are the second most important ensemble in the Czech Republic. In some respects, we are breathing down the Czech National Ballet's neck. Of course, they have better opportunities but if I compare their version of Petite Mort to ours, I believe our artists dance it better. Not because we have better dancers, but because we are closer to how Kylián's choreographies should be performed – from the heart. It's not the visual side that matters most, although it's the one that is most often exposed and prioritised.
What are the company's weaknesses?
Currently, the weakest point is the male part of the company, more precisely the first soloists - we have practically none at the moment, that's why in this season I have invited foreign dancers, such as Vadim Muntaghirov from the Royal Ballet. We can boast excellent soloists and demi-soloists, but no first soloists. Again, the financial aspect is involved. Simply, we don't have enough money to pay the best ones to stay in Brno.
And the company's main asset?
I think it's the mindset of its members. They want to achieve something, and they are ready to make sacrifices in order to reach their goals. I can rely on them and trust them, which makes my work way easier and fondles my soul. It's priceless.
What are your plans for the next five years?
I want the Brno ballet to become a world-class company. And I don't want to answer the question: "Where's Brno?" anymore. When discussing staging his choreography, Nacho Duato once asked me: "And where are you working now, actually?" We are planning to have one of the season's choreographies tailor-made to our company in the next five years. It will enable us to travel more, as so many companies around the world stage Kylián and Duato. It's necessary to take risks, we can't always expect to be successful.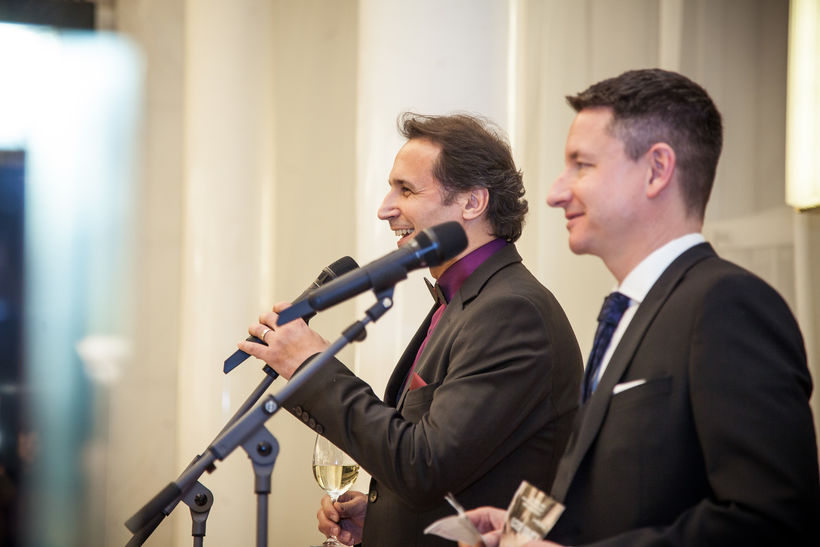 Mário Radačovský
ne
After graduating from the Eva Jaczová Dance Conservatory in Bratislava, he joined the Slovak National Theatre Ballet in 1989, becoming a soloist in a very short time. In 1992, he received an off er to dance in Jiří Kylián's Netherlands Dance Theatre in The Hague, but before joining he first had a half-year contract with The Ballet of the National Theatre Brno as a soloist. Working at the NDT, he met some of the most important choreographers of his time, including Jiří Kylián, Mats Ek, Nacho Duato, Ohad Naharin, William Forsythe, Édouard Lock and many others. In 1999 he accepted another foreign offer and became the first soloist of the Les Grands Ballets Canadiens in Montreal, then returning to the Slovak National Theatre Ballet in 2000 as a guest soloist and later its artistic director in 2006–2010. He founded the ensemble Ballet Bratislava, which he led until its dissolution (2011–2013). From the 2013 season, he has been the artistic director of The Ballet of the National Theatre Brno. In 2018, he finished a master's degree in choreography at the Academy of Performing Arts in Prague.
He began to create as a choreographer in 2002 at the Les Grands Ballets Canadiens in Montreal. Radačovský's first work was the miniature The Letter, followed by Inspiration (2002) and Train Station (2004). After returning to the Slovak National Theatre, he introduced the ballets Change (2005), Meeting the Swan I. (2007), Warhol (2007), 68 (2008) and Everest (2009). In the Ballet Bratislava then for example Monos (2012), Queen (2013) or the musical Mata Hari (2013). But most of his choreographies were created outside of Slovakia: Bolero (2006) at the Jeune Ballet du Quebec in Canada, Romeo and Juliet (2011), Black and White (2012) and Beethoven (2015) at the Grand Rapids Ballet in the USA and Compulsive (2013) at the Diablo Ballet in San Francisco. He introduced other choreographies in theatres in the Czech Republic: Fateful Loves (2012), Together (2016), dance version of the famous musical West Side Story (2017) and Romeo and Juliet (2019) in the National Theatre Brno, the Slavic Quartet for the Prague Chamber Ballet (2014) and Carmen for the ballet of the J. K. Tyl Theatre in Pilsen (2016).
Abroad, he prepared the premiere of the Piano Concerto of Rihards Dubra in the Latvian National Ballet in Riga (2014) and the musical Maria de Buenos Aires for the National operetta in Bucharest (2010).
DEJTE NÁM TIP NA PŘEDSTAVENÍ