MICHAL ŠTÍPA: "SITTING HELPLESSLY IN THE AUDITORIUM IS A BRAND NEW FEELING FOR ME."
How is the Czech ballet star, long-time first soloist of the National Theatre in Prague, getting used to his new role? And which way does he want to direct his company and dance scene in Haná? He agreed on giving a short interview on the eve of the second premiere of La Bayadère, the first production under Michal Štípa as the artistic director of the Moravian Theatre Ballet.
Are you content with your first premiere?
The premiere of La Bayadère was successful, I think, the dancers did their best and I feel satisfied, but not relieved. Today, the same cast are dancing the second premiere, the dancers are already tired, so hopefully no one will notice. The second cast will premiere on 26 March. But the busy time is not over yet. Ten days after the premiere we are supposed to revive The Sleeping Beauty for guest performances in Opava, which were commissioned long time ago. The production was staged two years ago by Hanka Vláčilová, who did the choreography, and Robert Balogh, who directed it. The company has changed since then, so we need to rehearse it all over again. We also prepare three gala nights. So, the stress is not over and will not be any sooner.
Why did you choose this title?
It was chosen by the previous director and I just took over the dramaturgy. I was against it first as I was afraid of such a huge production. I believe La Bayadère belongs to big theatres, because of its large group scenes, lavish sets and high demands on dancers. Here in Olomouc, we have only a few soloists, and they can't take enough rest because one day they dance a title role and the next day they dance in the corps de ballet. We had to leave out many parts of the ballet, as the company consists of only 32 dancers, instead of the ideal 60. But thanks to this, the whole ballet became "easier" for the audience. The first part lasts 65 minutes and the second part only 32 minutes. Our La Bayadère finishes with the Kingdom of Shades, before the wedding scene. The reason is again the company's limited budget and number of dancers. But I think we were fighting quite bravely.
the premiere, but last week you held an audition. Are you planning on any changes?
Yes. I'd like to bring the company to a higher level, especially its technique, and I'd like them to start working differently. The dancers must try various styles, keep learning and not just follow the well-beaten track. I'd love to invite different choreographers and make our work more exciting.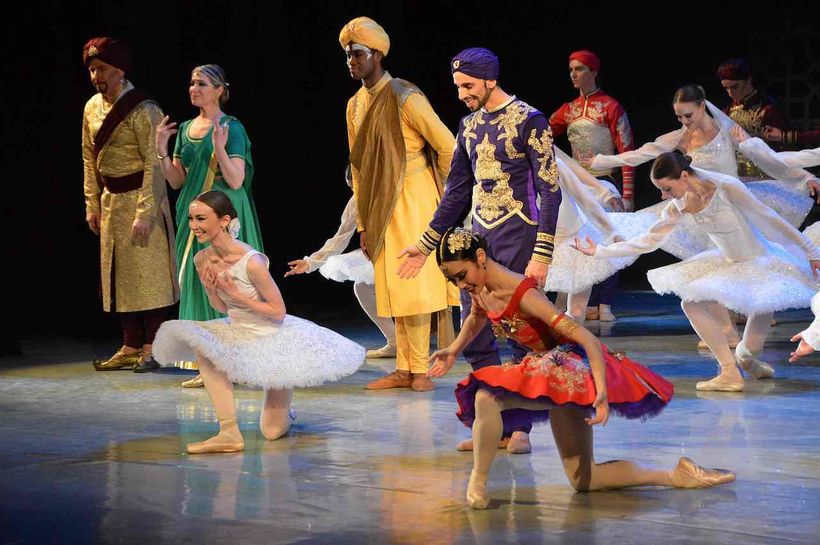 What is your dramaturgical vision then?
For the next season I've chosen one classical title, to motivate the dancers and anchor them in the classical technique. We opted for Giselle, though we are going to present a slightly different version than is generally known.
What do you mean by "different version"?
It's going to be the classical version with the original choreography, under my direction and in a bit different style, including the décor… but it's a surprise! The second production of the next season is Krvavá svatba (Blood Wedding) by Alena Pešková, it's a modern piece. The audiences have much to look forward to.
And trends for the upcoming seasons?
I don't want to anticipate or promise something. We will try to feature one classical title and one modern production, though the word "modern" might be misleading because there are so many types of modern dance today. I'd like to prepare the audience gradually for this dance style. The audiences in Olomouc prefer the traditional repertory, there aren't many young spectators, although it's a university city. The overall theatre attendance is good, but I'd like to motivate the next generations of balletgoers. That's why we plan to organise off-programme activities and events, such as ballet workshops where people could sneak peek into the backstage and get familiar with classical ballet.
Do you feel good in the role of a choreographer? Does it fulfil you?
I don't see myself as a choreographer. I rely on original librettos and choreographies of original works that I only adjust, retouch, rework or stage in a bit different manner. I wouldn't dare to choreograph a full-length ballet, don't even want to. I prefer inviting other creators.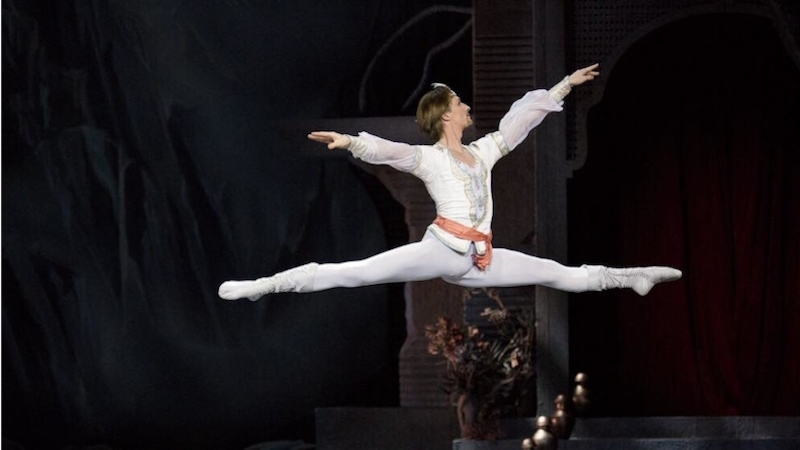 And don't you miss the stage?
I didn't even have time to think about it. It's been only three months, plus I can dance at the gala nights. It worries me a bit if my body is still fit enough after those couple of months. But I feel the time will come when I miss the stage. But now I'm too busy to have these thoughts.
You've been in that position shortly, yet I must ask: How do you feel as an Artistic Director?
I stepped into the position on 1 January and on that very day I started to stage La Bayadère. I've spent most of the time in the studio, and during lunch breaks, in between two rehearsals, I sit at the computer and try to do some "directing". Of course, it's all new to me. In addition, I must do everything on my own, I write work plans and lead rehearsals. I'm in need of a secretary, of more ballet masters and others. The responsibility for the whole company, the stress that doesn't vanish after the premiere (!), it costs many a sleepless night.
What did you struggle with most?
What's completely new to me (and very unpleasant) is the nervousness I feel for my dancers. When a performance kicks off, I become a spectator, I can't do anything but watch and keep my fingers crossed. It's to know that I can't help anything, that it's up to the dancers and I can't interfere when something happens on stage. To sit helplessly in the auditorium is a completely new feeling for me.
Michal Štípa (*1979)
He was born in Brno. In 1990 he was enrolled at the Dance Conservatory in Brno, from which he graduated in 1998. He joined the Brno National Theatre ballet company where from the very start he appeared in numerous solo roles in key productions of the ballet repertory. In 2000 he was promoted soloist. During his seven-year career with the Brno company, he started giving guest performances in the National Theatre in Prague where he became soloist in the 2004/2005 season. After a couple of successful seasons of dancing mostly title roles. he was promoted first soloist in 2009.
His elegance, natural grace. ideal physical proportions and mainly partnering skills, reliability and technical dispositions rank him among "danseurs nobles". Thanks to his natural stage presence and acting skills he proved to be able to grasp challenging dramatic roles, requiring deep self-reflection.
In the National Theatre he has impersonated numerous roles of the classical as well as modern repertories and has been awarded many prizes at international competitions.
In 2018 he decided to leave the company in Prague. The same year he also accepted the offer to become Artistic Director of the Olomouc ballet company, where he started on 1 January 2019.