Natalia Adamska, Francesco Fasano: "Sometimes the best idea is to go with the flow"
Natalia Adamska and Francesco Fasano, soloists of the National Moravian-Silesian Theatre ballet company, are enjoying a successful time in their careers. Earlier this season, they were both nominated for the Thalia award for their performance in Jiří Pokorný's Carmen (premiered May 2022) and Natalia took home the prestigious prize. In retrospect, how do they see the crucial moment in their professional lives and what are they up to in the present season? You find out in the following interview.
The Thalia jury appreciated your exceptional portrayals of Carmen and Don José - the leading characters in Jiří Pokorný's ballet which he had created exclusively for the Ostrava ballet company. Was there anything you struggled with when preparing for the roles?
Natalia Adamska: For me, the process and the choreography were both very challenging, I had to think about many things at once - the dancing, movement quality, technique. Also about portraying Carmen and connecting with other people on stage, because we are a team and create the atmosphere together. I struggled a lot to be grounded and have enough strength in my legs. It was painful, and it still is because we are switching from one repertoire to another. It took us some time to understand the context of Carmen and what Jirka Pokorný actually wanted from us. We spend a lot of time talking, brainstorming ideas, finding ways. For example, we were working on our duet – a very delicate one - until the premiere night.
Francesco Fasano: At the beginning, it was very hard for me to understand what the choreographer expected from us, and to get into his style, technique and movement wise. But as the rehearsals went on, it got better and I found it much easier. We already moved together as a group, we got the idea and it was amazing. In the company, we always support each other, but this time, it was special.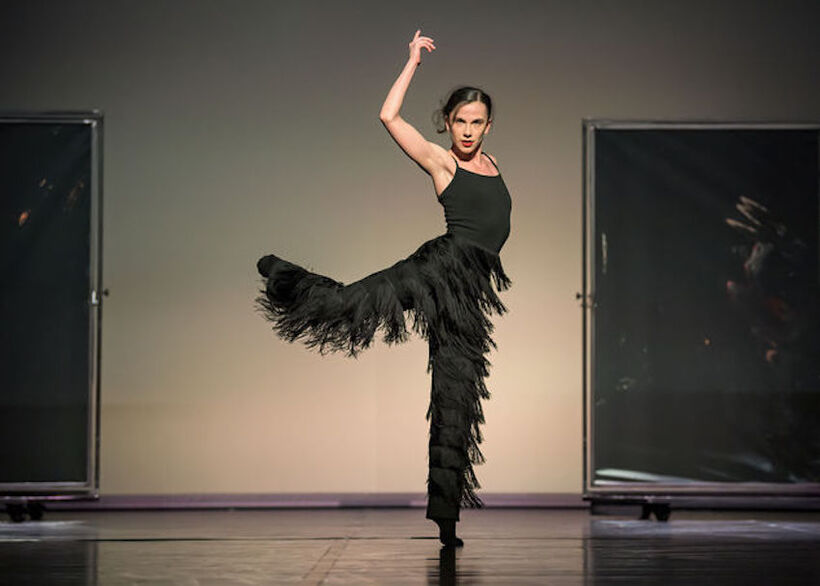 Creating a role in a ballet is not only about learning steps. What else does it take? And how did you prepare for your parts in Carmen?
N.A.: Every role is different - mentally and physically - and so is every preparation. It depends whether you dance on point or not, whether you are in a classical ballet or a contemporary piece. As for Carmen, I prefer to relax my joints, feel the floor with my toes, feel more grounded and strong in my legs; I also like to watch other casts to see how they dance it differently and to take some nice things from them – for me, watching can be more beneficial than doing the steps. I can see the spacing on stage, because when I'm dancing, I can only hope people are where they should be.
I know that it's impossible to settle a character perfectly, you get better and improve something every day. It's a never-ending story. But sometimes the best you can do is to go with the flow, forget about everything and feel the character.
F. F.: For me, preparing for a role is always a struggle, especially if it's a demanding one. So I ask the choreographer and I create my own ideas and try to get as much information as possible. It's a process for me to find what I want the character to be, to the point when I'm said it's OK. The music in Carmen helps me portray the feelings, it's so beautiful and to dance on top of it is such a good experience. I think that in this ballet, the feeling is more important than dancing. If I do everything perfect but don't feel what I should feel, it's not a good show. So as Natalia said, sometimes the best idea is to go with the flow.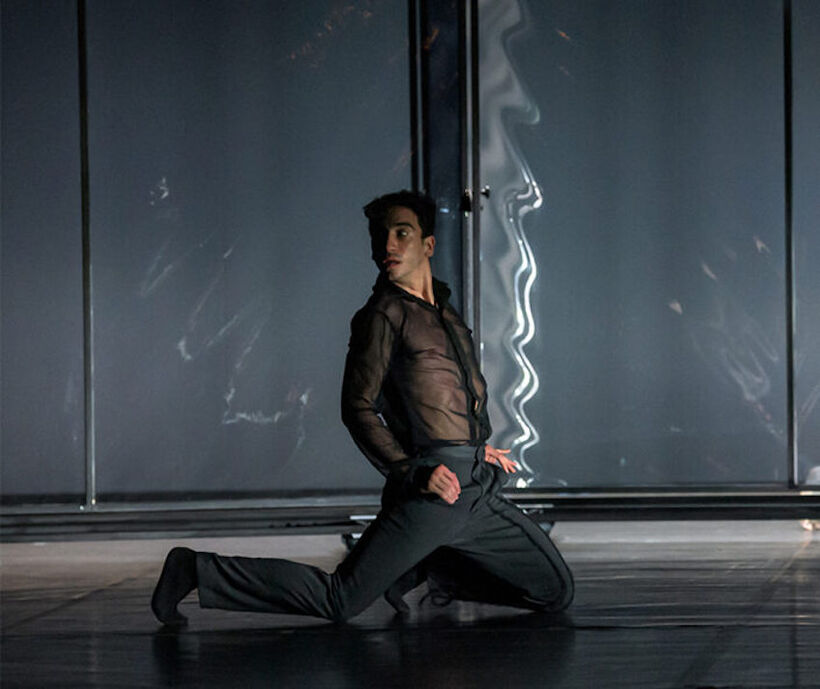 You impressed both audiences and critics by the perfect harmony of your pas de deux. What do you think makes a good dance partner?
N. A.: It's hard to say because everyone is different. With Francesco, it was easy, we really clicked. We didn't have to think too much, it went very easy with the flow. Maybe it was because in Carmen, we created many things together withJirka, for example the main duet. We rehearsed it together, suggested some things and we were very comfortable. But in general, if two people really want to dance together, they have to think ahead, adapt and be smart about the connection and the organic movement. Only then they can look good together.
F. F.: It's important not to be ashamed to trust the other person, put down everything you have so the audience can see. Be real and connect.
What did you take from the collaboration with Jiří Pokorný?
N. A.: After Carmen, I realised it's important to be myself and trust myself. I'm a human being first and then a dancer. And I try to bring that on stage.
F. F.: I grew up so much during the time with Carmen. I feel different now, much better, and I take Jirka Pokorný as an inspiration. He's incredible. For example, when he was showing us something, we often said: We can't do that! But he trusted us and showed us that we can. I'm grateful for this experience - it was one of the highlights of my career.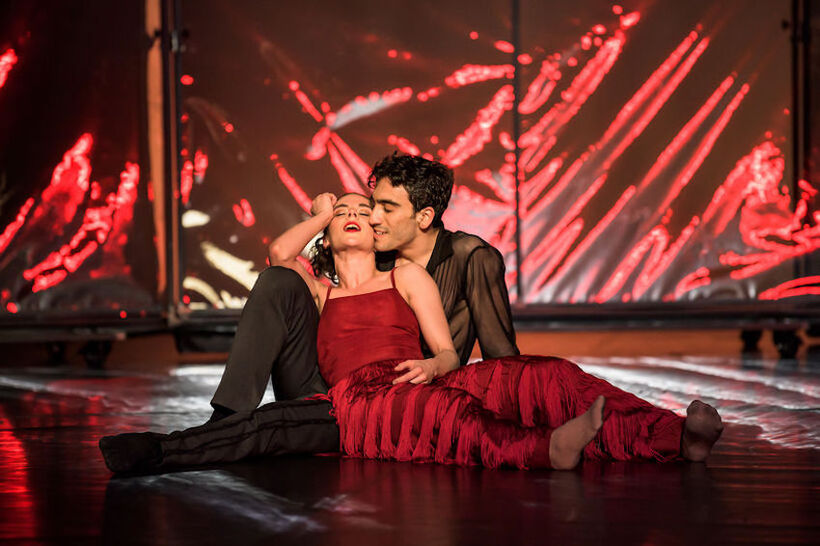 Do you think that awards such as Thalia have an impact on a dancer's career?
N. A.: They do, but it depends how a person reacts. Some people might say – ok, I've done everything and now I can chill. But someone else can say – I'm grateful and I want to continue and get better. It changes something for sure, in a bad way or a good way. It's good to be proud but not in an arrogant way, because a prize is just the beginning. Luckily, I see no jealousy or changed behaviour around me, my colleagues even attended the ceremony in Prague to support me. Anyway, the award is for the whole company. Without them, we wouldn't have been nominated.
F. F: I agree with Natalia - it can a beginning or an end. But of course it's fulfilling. And nothing really changed around us.
What kind of artist do you want to be? Do you stick to any goals, visions or rules?
N. A.: For me, to have balance is key. But it's not always easy to find.
F. F.: I try to be positive, interact with people and make them smile. I see myself doing this for the rest of my career. I want to lift everyone up, and even if I have a bad day, I try to pull myself up . Positivity in our work is crucial. What we do is hard and sometimes it doesn't feel good. And if everyone is down, it might get a bit heavy. So let's keep it positive and it's going to be easier. I think this way right now.
What do you do when you don't dance? How do you balance hard training and everyday life?
N. A.: I like to listen to different kinds of music. I love board games. Every month we invite friends over and we play together. When I come home, I try to switch off and not to think about work. But it's good to prepare myself for another day. So again, I'm looking for balance.
F. F.: It's important for me to have social life. I love listening to music as well and playing with my dog!
You both joined the National Moravian-Silesian Theatre ballet company early in your career. Why did you choose Ostrava?
N. A.: When you build up a team, make some nice connections, and find friends and people who support you, it's hard to leave. We grow together and the repertoire is good for us. We have balance – a bit of everything, contemporary dance as well we classical ballet. And also very good ballet masters and coaches.
F. F.: There are good choreographers here and I love the repertoire, it's one of the main things that brought me here. I like how we work as a team, some days are good, some not, but we are in it together.
And finally – what are your wishes and dreams for the year 2023?
N. A.: I would love to stay healthy and appreciate every day in the theatre. There are so many dancers looking for a job and we have the privilege to do what we love. I want to be aware of it and take care of my body so that I can enjoy dancing as long as possible.
F. F.: I want to keep doing what I'm doing now – working hard, getting better and being myself.
Natalia Adamska
She was born in 1998 in Bydgoszcz, Poland. From 2009-2014 she studied at the National Ballet School in Gdańsk and from 2014-2017 at an independent dance school Tring Park School for the Performing Arts in London. In the ensemble The Encore Dance Company of Trink Park company, she received an annual opportunity to work with a wide range of choreographers and develop her study experience and skills.
In April 2017 she joined the ballet of the National Moravian-Silesian Theatre and since 2017 she has been a corps de ballet with soloist obligations. Her fragile, youthful appearance, technical sovereignty, and natural acting expression predestine her for the roles of young girls. She drew attention to herself especially in the female duet in the production of Rossini Cards choreographed by Mauro Bigonzetti and in the role of a friend Swanilda in Giorgio Madia´s neoclassical ballet Coppélia. She received the Thalia Award for the role of Carmen in the performance choreographed by Jiří Pokorný for the seasons 2020–2022. The award went to her confident and very complex performance, thanks to which she is able to present an absolutely confident, convincing, and beautiful character of a modern girl full of passion, love, and freedom in the production from the very first moment. "Her Carmen is undoubtedly an extraordinary revelation on the dance scene this past season," the ballet jury concluded.
In September 2022 she took the opportunity to continue in the ballet ensemble of the National Moravian-Silesian Theatre as a soloist with a corps de ballet obligations.
Francesco Fasano
He was born in Brindisi, Italy where he received his ballet education in Centro Arte Danza (2009-2014). From 2014-2018 he studied at a ballet school in Basel, Switzerland (Ballettschule Theater Basel) under the guidance of Mrs Amanda Bennett, an American pedagogue and artistic director of the school. During his studies, he had the opportunity to cooperate with Ballett Theater Basel under the artistic guidance of Richard Wherlock, a British choreographer. He danced several solo parts in the ballet The Nutcracker and in choreographies of world artists, such as George Balanchine and Heinz Spoerli.
His first engagement in 2018 brought him to German Oldenburgisches Staatstheater (led by Antoine Jully, the artistic director). He had the opportunity to portray the roles in choreographies of the artistic director of the ensemble, but also of well-known authors, such as Martha Graham - Dark Meadow Suite or Jacop Godani - A.U.R.A.
He has won several awards for his dance performance, including first place in both categories (classical and contemporary dance) in the competition Youth America Grand Prix Paris 2017 in Paris. In 2018 he took part in a prestigious choreographic project Prix de Lausanne with the choreography of Grinding the Teeth made by Goyo Montero; at an international competition Youth America Grand Prix in Lincoln Centre in New York he was selected as one of 12 top dancers.
In 2021/2022 he joined the ballet ensemble of the National Moravian-Silesian Theatre as a corps de ballet with soloist obligations. Since the beginning of his engagement, he has appealed to the Ostrava audience not only for his interpretive and technical skills but also for his distinctive charm. He is making a name for himself in the field of classical ballet as well as in any other style and genre of the broad spectrum of contemporary dance theatre. He can be seen on the stage of the National Moravian-Silesian Theatre, such as in the role of the Chevalier Danceny in the ballet Les Liaisons dangereuses (Dangerous Liaisons) choreographed by Krzysztof Pastor, Bob Cratchit in the ballet The Nutcracker - A Christmas Carol, or in the role of Don José in the play Carmen, choreographed by Jiří Pokorný, for which he was nominated for the Thalia Award for the seasons 2020-2022, which is his biggest individual creative success so far.
In September 2022 he took the position of the soloist with corps de ballet obligations.
Source: https://www.ndm.cz/en/person/8674-adamska-natalia.html
Source: https://www.ndm.cz/en/person/12206-fasano-francesco.html