Petr Zuska on postponed première of Radio Free Cunning Little Vixen: "Creating a choreography to spoken word in specific and tricky."
The preparations of the production of Radio Free Cunning Little Vixen were cut short by the COVID-19 pandemic days before the première. The South-Bohemian Theatre commissioned the Czech choreographer Petr Zuska to create a new work for the ballet's repertoire. His dance-theatre piece, based on Rudolf Těsnohlídek's lyrical fable The Cunning Little Vixen, is now scheduled to premiere in autumn. In the following correspondance interview you can take a sneak-peek into what was happening in the South-Bohemian ballet studio before the lockdown.
Why did you choose Rudolf Těsnohlídek's lyrical fable from 1920?
Today's kids have videos, tablets and mobile phones, I used to listen to fairytales on vinyl records. One of them was The Cunning Little Vixen, it was an "extract" from Těsnohlídek's writing, read by Karel Höger. Forty years later, I remember almost every single word, including Karel Höger's phrasing and the Brno dialect he used so well. It's basically a dream come true to bring this story to the stage.
It is the second adaptation of a literary work you did recently – a year ago it was Karel Jaromír Erben' Bouquet of Czech Folktales. What is your relationship to literature? How does it inspire your choreography?
I'm definitely not a bookworn. I read when I have time, irregularly, but it doesn't mean I don't have a strong relationship to literature and poetry. Sure, many inspirations come from literary sources. But it's a coincidence that A Bouquet and The Cunning Little Vixen were created only a couple of months apart.
How much does the original content consist with the plotline of the upcoming premiere?
I would say they agree to a large extent. Of course, it's dance theatre which uses expression tools different from the literaterary ones. However, even though I left out some longer passages, I tried to maintain the logical continuity of the story, also because it has an immense outreach to the present and I'd hate to "botch" Těsnohlídek's work.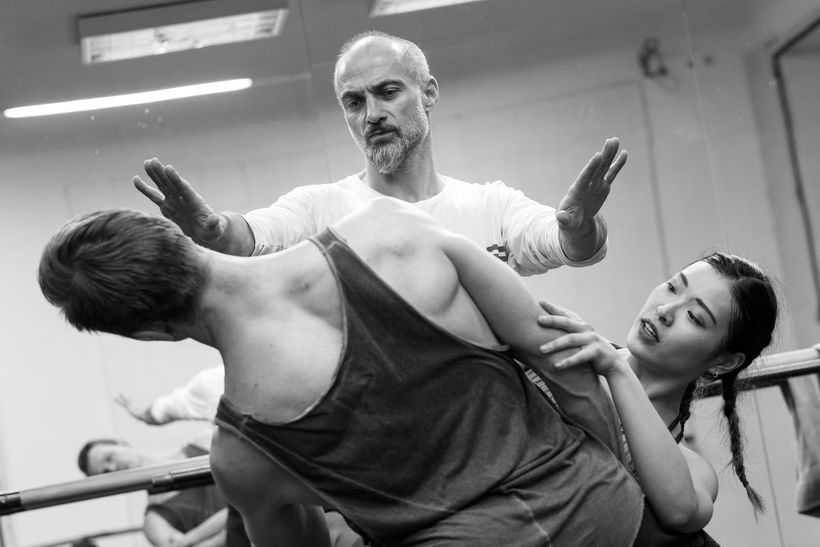 The invitation to the premiere talks about an unconventional approach. What precisely is unconventional about the new production?
The essential thing is that the spoken word forms about 60% of the music score. I utilize Höger's voice as music. And then it's about many interesting directing ideas, dramaturgical shortcuts and deliberate digressions. The piece is full of so called "alienation effects", plot twists, funny and absurd moments. Naturally, they only work in contrast (but also in harmony) with the poetic and lyrical character of the whole narrative. It's all framed by Jan Dušek's simple but dynamic scenography and Pavel Knolle 's original costumes.
Těsnohlídek used a fairy tale theme. Can we expect a production targeting the youngest audiences?
Much like Těsnhlídek's story, the production is not meant exclusively for children audiences. In all smart and wise fairytales, children can explore some layers and adults can see what's hidden underneath. Like Exupéry's Little Prince, for instance… However, I strongly disagree with the opinion that children are less perceptive or sensitive than adults. The opposite is true. Radio Free Cunning Little Vixen is a piece for the whole family.
Choreography-wise, what is it like to work with such a theme? Is the movement vocabulary somehow specific?
Creating a choregraphy set to spoken word is specific and tricky. Text is more rugged than music and most importantly, it conveys a concrete message. I like to work with text, it's not my first time. I enjoy getting further and closer to it which might result in some specific dynamism, parallel messages and, last but not least, very funny moments. And whether I created something new and original? There's something new and never-used-before in each new piece, but to be honest that's not what I care about. I'm much more interested in directing and theatrical "innovations". After all, every choreographer who has a style can be recognized. In this piece, I will be definitely recognizable.
The title of your work refers to the Radio Free Europe. Is there any connection?
I worked on the dramaturgy, structure and theme with Štěpán Benyovszky and he introduced some key ideas. For example, we wanted to use the original radio recording and he said it would be nice to set the piece in a "real" radio studio. This, by the way, is one of the production's specific features. I came up with the title – it evokes the famous radio station and also symbolises one of the essential things The Cunning Little Vixen is about – freedom.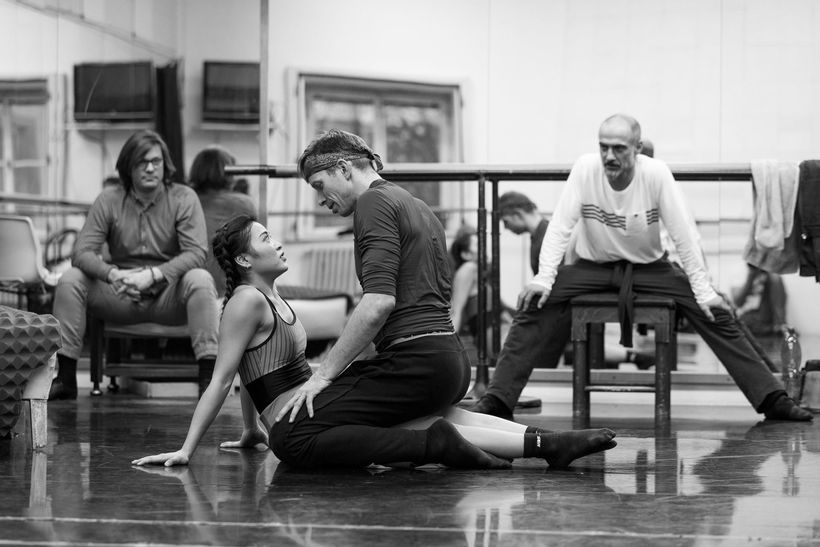 You have decided for Karel Höger's voice-over from the 1960's. What is so special about this recording? There exists a high-quality 2010 recording from the Cesky Rozhlas Radio.
Karel Höger invested maximum effort into this project, he also asked for some extra frequencies when he was not sure about his performance. I think it shows in the result. And then there's the archaic way of speaking, regardless of the Brno dialect. Well, in 1962, the Czech language sounded different than today. This is also interesting for me. I don't know the 2010 recording, it's certainly great, but my "childhood dream" is associated with Höger.
There is an operatic version of the story by Leoš Janáček. Is it also part of your piece? If not, what can you say about the music score, directed by Zbyněk Perla?
I love Leoš Janáček and some fragments of his compositions (Suite for Strings and Sinfonietta) will appear in the piece. But I deliberately avoided his opera The Cunning Little Vixen. As a contrast to Höger's words, I needed instrumental music. Other,wise, the score combines music by various composers - apart from Janáček there's Smetana, Dvorak, Mozart, Beethoven, Mahler, Bach, Vivaldi, Saint-Seans, Ravel, Debussy, Rimsky-Korsakov, Borodin, Glazunov and Tchaikovsky. I hope i didn't forget anyone… they are all composers who died more than seventy years ago, so there's no risk of copyright issues. It took me three weeks to make the selection. Then I spent more than two weeks with Zbyněk in the cutting room over texts, music and many other sounds and noises we wanted to include in the score. I've never done anything so difficult.
It is not your first time working with the South-Bohemian Ballet, two years ago you created the award-winning ballet Keys from Nowhere for the ensemble. What makes you return to České Budějovice?
I come back mainly because of the company's artistic director Lukáš Slavický who I've been close friends with for more than twenty years. But it's not only this. The South-Bohemian Ballet is a great international company with many wonderful personalities and though it has changed a bit since the Keys of Nowhere, the important features remain: quality, good team and positive creative atmosphere.
What are you planning right now? What can our readers look forward to?
My diary's full until 2022. I have productions scheduled for local as well as foreign companies, in the field of ballet and dance theater, but also opera direction and drama. However, at the moment we are all facing something so unprecedental that I don't want to go into detail. Most of the dates of my future premières remain unchanged, but some of them have been postponed and there are a couple of question marks. I would like to give you clear anwers but nobody knows what's gonna happen in a month, so….come what may.
Petr Zuska ( born 1968)
Petr Zuska studied choreography and non-verbal theatre direction at the Academy of Performing Arts in Prague, graduating in 1994. He launched his professional path at the Ladislav Fialka Pantomime at the Na Zábradlí Theatre in Prague (1987–1989). A significant phase in his career was his engagement at the Prague Chamber Ballet (1989–1992 soloist; from 1994 guest artist).
Between 1992 and 1998, he was a soloist of The Czech National Ballet in Prague. In 1998 he was engaged by the Munich Ballet, and in 1999 he joined the ballet company of the Augsburg Theatre. In 2000 he was named a soloist of Les Grands Ballets Canadiens in Montreal. Throughout his career as a dancer, Petr Zuska performed in classical ballets, yet he primarily appeared in works by renowned contemporary Czech creators, including Jiří Kylián, Pavel Šmok and Libor Vaculík, as well as foreign choreographers, such as Alvin Ailey, Gerhard Bohner, Robert North, Mats Ek, Hans van Manen, Christopher Bruce, Ohad Naharin, Nacho Duato and Itzik Galili and others.
From 2002 to 2017, Petr Zuska was Artistic Director of the Czech National Ballet in Prague. During his time as head of the company, he produced for the National Theatre six feature-length ballets and numerous other, one-act, pieces.
Since 1990, Petr Zuska has created choreographies for more than 50 productions for both foreign and Czech companies. In addition, he has collaborated on directing and choreographing several drama productions. He currently teaches at the Department of Nonverbal Theatre of the Academy of Performing Arts in Prague.
The numerous prestigious accolades Petr Zuska has received for his performances and choreographies include the Thalia Prize (1993 and 1997), the Prix Dom Perignon (1999), the Original Choreography prize within the Modern Dance Competition (2006, 2008), the Choreography of the Year (1996, 2002), the Czech Literary Fund Prize (1993,1994), the Opera Plus Prize (2015, 2017) for his achievements as the head of the Czech National Ballet and for 25 years of choreographic work and for the choreography Tremble, and the Czech Ministry of Culture Award for his achievements in dance theatre (2017). In the choreographic competition Balet 2019 he won the award for the choreography of the full-length ballet A bouquet of Czech Folktales, created for the Prague Chambre Ballet.
Translated by Tereza Cigánková.
DEJTE NÁM TIP NA PŘEDSTAVENÍ