Radim Vizváry: "I'd love to revisit the idea of Mr Radok and Mr Svoboda that Laterna magika is a multimedia theatre and a space for experiment."
A half a year ago, Radim Vizváry was invited for collaboration by Laterna Magika, initially to represent the Czech Republic at Expo and create a brand-new piece, and eventually to become Laterna's artistic director. What are the visions and fears that follow this quiet and humble artist on his way to restoring the company to its original glory, knowing that it will literally become homeless the next season? We discussed all that in a zoom meeting over the Vltava, during a brief call between HAMU and the National Theatre.
You just returned from a rehearsal for the new show Zázrak (s)tvoření. How is it going?
It's going great, I have an excellent team. I have chosen five dancers, one acrobat and a mime artist who will portray the leading role of a boy. It's a multi-genre project, the main object-prop being paper. And instead of film, we use animation.
What was the dancers' response when you made them step out of their comfort zone and started teaching them mime, acrobatics and maybe a bit of puppetry?
You should better ask them but it seems they are having fun. They are working really hard which I like very much. I was afraid they were only used to follow instructions, but they proved me wrong. They are inventive, and so we are creating the piece together.
Laterna's most recent premiere was made in collaboration with the Czech National Ballet. Are you planning on more such collaborations?
On the contrary, I would like the company to become more independent. I want to prepare a new dramaturgy and create a platform for new talents and give them an opportunity to flourish. Of course I will carefully pick artists and allow them to invite their own teams and performers. I want to be in touch with a circle of permanent guests but I will not prevent creators from bringing in their own performers.
Are the workshops going to be open to the public?
Yes, I'm planning on opening the Laterna magika Studio which will host workshops for the public, for children and adults alike. The open class programme for professional artists will be maintained as well. I want Laterna magika to become a space which breathes creativity. In general terms, I would love to open it to the world again.
To the world inside as well as outside the Czech Republic?
Yes, although I got my first feedback from Japan. They were very surprised Laterna magika still existed (laughs). And so I put this on my to-do list – restoring Laterna to its original fame and prestige since it would be a shame to bury it forever.
Do you have any inspiration from abroad for your visions?
When I used to lead workshops in Berlin, I saw many similar projects. And also the use of interactive digital arts (in combination with dance crews) in commercial shows, for instance in Friedrichstadt-Palast.
Your way to Laterna wasn't straightforward either, you got there via abroad, where you staged a piece for Expo.Two years ago, Mr Potužník – the general director of the Office of the General Commissioner of Czech participation at the General World Exposition EXPO – called me and suggested a theme for the 100th anniversary of R.U.R premiere celebrations. I prepared the concept of Robot Radius and teamed up with Miřenka Čechová who I got to work with again after five years. Then we had an idea to join forces with Laterna magika, and when the director of the National Theatre, Jan Burian, offered me the position of artistic director, the circle closed. If Robot Radius succeeds, it might appear in the repertoire as a touring production. Maybe, with time I'll be able to find someone to share the leading role with me.
Do you intend to maintain the current repertoire?
Within my concept, I would like to gradually replace the existing repertoire with a new one. It is important for me to search for a more progressive use of new technologies which are available but not employed that often, for example hologram, motion capture and other digital audio-visual technologies.
What do you mean by Laterna magika's "poetics"? You tend to refer to it repeatedly…
For me, it means searching for the right blend of technology and multi-genre theatre in order to create a new virtual reality… It's like a miracle. A wow moment. Something intangible and magical. As if you were standing in a landscape and looking at stars. The feeling is full of mystery and awakens some archetypal emotions and existential sensations in you. It feels like you encounter something for the first time and even though you know it, it's so unreal and incredible that it makes you dream.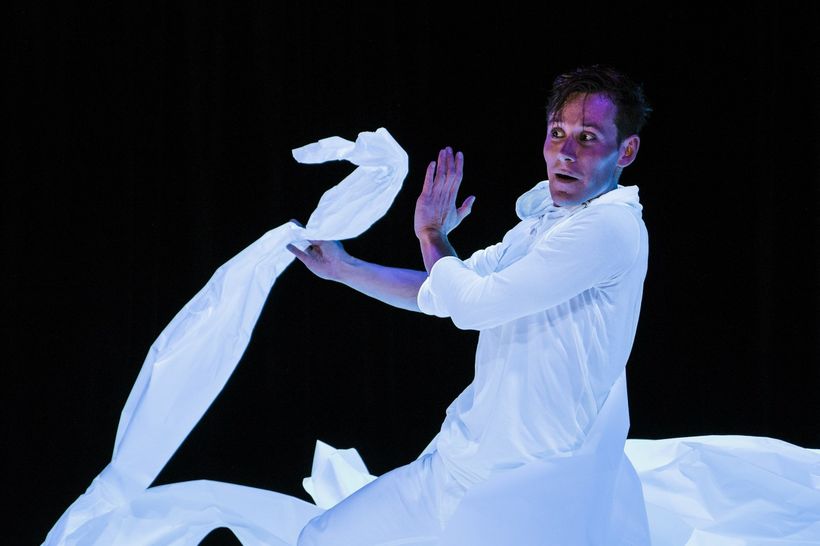 Do you think Laterna magika has the potential to surprise or attract today's audience by something new and magical?
Maybe by creating an original poetics, a dramaturgy which will not compete with other National Theatre companies, with other independent scene subjects etc. It should give new opportunities to mime art, new circus. contemporary dance and puppetry and create a new form in which these genres are not subordinated to other disciplines. And through technologies, it should create something new that will amaze the audience. I would love to bust the assumption that Laterna magika is 'dance with projections'. I would like to revisit the original intentions and thoughts of Mr Radok and Mr Svoboda who said that Laterna was a multimedia theatre and a space for experiment. I want to resurrect this idea and transform it into a reality using today's artistic tools across all genres - not only theatre, but also other domains such as science, technology, and environmental politics which is a new topic. We should also change the way we think about scenography and stage materials – those might be replaced by digital formats, for instance.
The extensive reconstruction of the New Stage is due to start in 2022 and is expected to last at least two years. What are Laterna magika's plans for this period?
I'd love to start more immersive theatre collaborations and site-specific projects, I'm tempted to organise tours at home as well as abroad. I began to communicate with the Signal Fest and suggested that we team up for the festival's upcoming anniversary edition, which is planned to take place in Prague 2 and Prague 10. We might find an interesting space there as well.
But you also need a venue to rehearse and prepare at…
Yes, I know… but I've been here for just a while. So the main question is whether we are going to rent a space or not. So far I believe that once our home stage is closed, my colleagues from other theatres will help us and block a few dates for Laterna magika.
I think that thanks to the reconstruction and the sort of homelessness we will find ourselves in a kind of virtual reality which can cultivate creative thinking, without letting live art disappear. We'll have to rely on the human factor rather than comfort (space, warmth, money…). Basically, I see it as a challenge. We have to realise that in post-covid times, people's thinking will change and new a type of audience will emerge.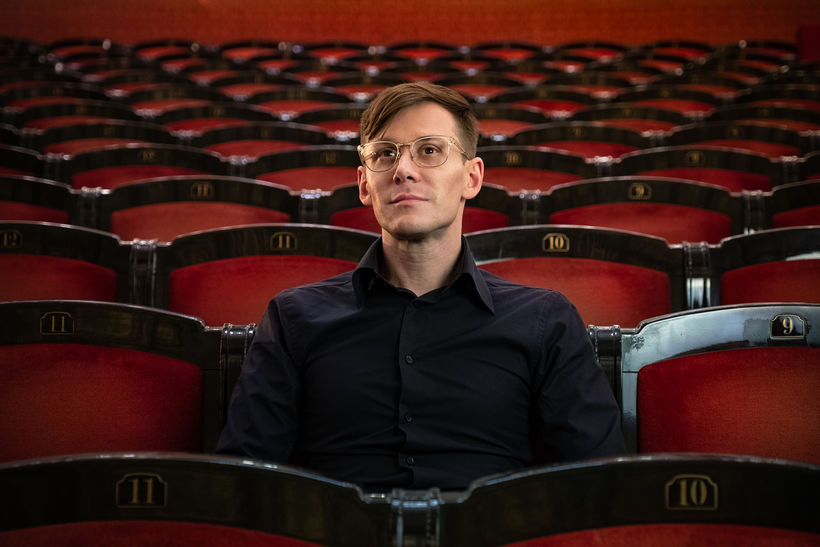 What type?
People are missing art right now and maybe they'll have a different perception. The audience will be like tabula rasa and we will be able to shape them. Maybe they will demand more interactivity and the possibility to become part of a performance. Theatre which breaks the imaginary wall between the stage and the auditorium might work for them, so we can connect the space and invite them to join in. I would like to think in this direction.
The most important thing is not to be afraid. To take risks. Of course, we all make mistakes and I like making them because they can teach me a lot.
What is your biggest fear? You are facing the challenges of a leading position and a permanent job for the very first time.
I have many fears, because I tend to be sceptical towards myself. I fear letting people down. I don't want my dreams and visions to fade away and miss the mark. I'm also afraid it might destroy me, both physically and mentally, because I want to continue teaching at HAMU and perform with the Losers Cirque Company in our new theatre Bravo!. I still need the stage. I don't have my own kids and so have to invest my energy elsewhere. I have adopted the whole company and I will take care of them and treat them like my own children. But I'm also stubborn and ambitious. And it pays off, you see. I tried it with pantomime - many people discouraged me and told me it was a "dead genre". But I believed in it, I didn't give up and popularised it after more than 10 years.
Let's hope then you will do the same with Laterna magika…
Yes, I can see a certain parallel, I hear the same comments. But maybe that's why the universe chose me, maybe I have a special talent to "exhume" nearly-forgotten genres and visions… (laughs).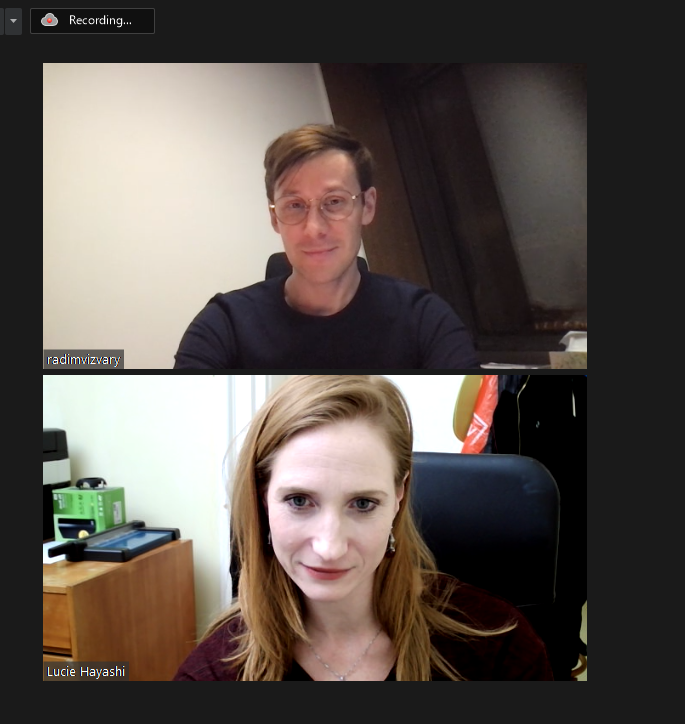 Radim Vizváry is a mime, writer, stage director, choreographer and teacher. He is one of the most distinguished figures of contemporary physical mime theatre in Europe. He studied at the Faculty of Music and Dance of the Academy of Performing Arts in Prague. He has received the 2016 Thalia Prize in the ballet, pantomime and dance category for his one-man show Solo, the Polish Perla prize for his production Lorca, and he has won many other accolades in the Czech Republic, Europe and the USA. Since 2014 he has been listed as a noted artist in the Oxford Encyclopaedia. He received two nominations for the Divadelní noviny Prize for the productions Uter Que and VIP. In 2018, the International Theatre Institute awarded him its medal for a long-term excellence and exceptional contribution to performing arts. As a stage director and choreographer, he has to date created or co-created more than 100 productions. As a performer, he has presented his artistic achievements across Europe, in the USA, Asia and Africa. In his own works, he has mainly focused on pantomime, developing it in line with the contemporary trends, and occupied himself with nonverbal theatre, including as an educator and theoretician. Radim Vizváry is the artistic director of Mime Prague, the president of the international Mime Fest and the artistic director of the Artists in the Streets international festival in Tábor. He has collaborated with NDT/Korzo Theatre in the Hague, the University of Arts in Helsinki and numerous other prestigious institutions. At the National Theatre in Prague, he has created the choreographies for the productions of Janáček's From the House of the Dead, Martinů's Juliette (The Key to Dreams), Shakespeare's A Midsummer Night's Dream and Britten's Billy Budd. As a director, he staged the National Theatre Opera's 2017 adaptation of Donizetti's farce Viva la Mamma and Prokofiev´s The Love for Three Oranges in 2019. Vizváry currently works with a new circus artistic group Losers Cirque Company, rebulding a new stage for circus and pantomime, Divadlo BRAVO! / Bravo Theatre (former Braník Theatre). Since January 2021 he has been the Artistic Director of the Laterna magika ensemble.
Source: https://www.narodni-divadlo.cz/cs/profil/radim-vizvary-1609468