Renata Sabongui: "I try to hoist my sails towards positive energy."
She arrived at our meeting right from the Dance Department (HAMU) where she had been selecting applicants for an exchange programme in America which she organised. Slender, energetic, outstanding figure. When she took off her coat, I must have admired her outfit – a black knit and leggings with tiny stones. She immediately offered to get me one next time she went to America. Spontaneously, all excited, just because it would have made me happy. She answered my questions with the same enthusiasm. She is a really busy lady. In the past, she even taught character dance to Bill Clinton's daughter. She has invited Mikhail Baryshnikov to perform in Prague and hosted Cambodian king in her living room. Renata is like a magnet - she attracts people. She radiates positive energy and optimism that gives her youthful charm and nobody would guess she is celebrating an important life anniversary. Prof. Božena Brodská would add: "Oh, girl, ballet preserves youth."
An eternal globetrotter
I called you to arrange our meeting just a day after you had returned from America. You were there on holiday or on business?
I worked there. I gave Pilates lessons in New York (at NYU Tisch Shool of Arts – editor's note). I couldn't recharge my batteries, you know, Americans can really exhaust you.
How are American students different from students at HAMU, where you also teach Pilates classes?
Americans want to absorb as much as they can. They are not afraid to communicate, they are more assertive and don't have any blocks. It's given by the language as well, they can communicate in English everywhere in the world. Our students are, I'd say, less confident. Every time I taught abroad, as a foreign I had to have higher qualifications than other teachers, or be better at the starting line. I've always been proud of being Czech and of what I've learned here. We have so many skilled and talented people and an interesting history and we do not value them. We are envious, instead of being able to communicate and push things forward.
You are a secret benefactor of the exchange programme between HAMU and the NYU Tish School of Arts. Today, it's not a problem to travel and choose among schools. Are students interested in the exchange?
They are, because our students couldn't afford to pay for a flight ticket, pocket money, scholarship. It's a one-for-one exchange, I can't support more applicants – when American students arrive at HAMU, even if there are more of them, I can partially cover theatre tickets price and other costs related to their study. It's nice to see the programme has been running for eleven years. Under the communist regime, I could travel, because my mum lived abroad. But I could only teach and perform via Pragokoncert and they took a major part of the salary. I would travel with cans in my backpack and sometimes I couldn't even afford to buy a coffee. So I know how hard it is without money.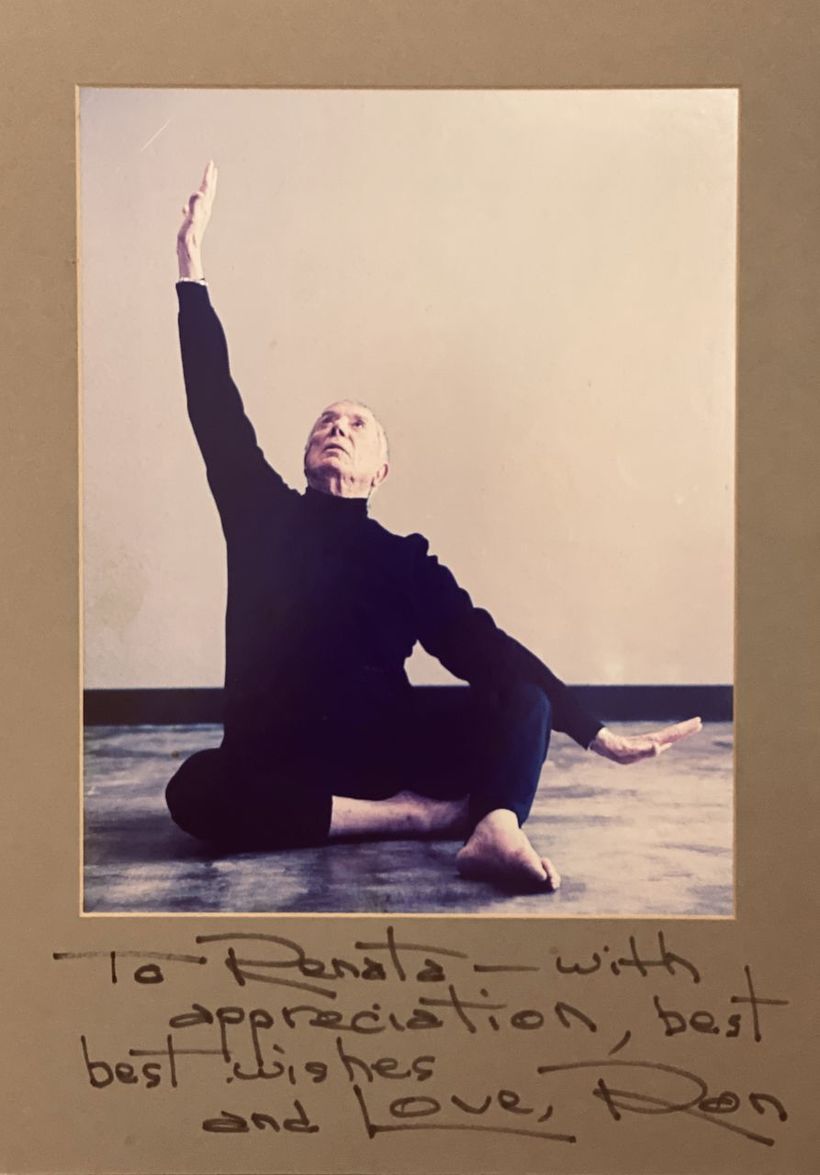 You have been teaching Pilates for a long time, you got your license in America in Ron Fletcher's programme. What got you interested in this method?
The most interesting thing was that I was told about Pilates in Norimberk where I was teaching at a ballet school. They told me they would love to learn more about a method that had been allegedly created by a German who had emigrated to the US. They asked me if I was able to meet someone who did it in America and gain some information. I was lucky enough to come across a group of people trained by Fletcher himself and get into a class taught by a dancer. Because Pilates can also taught by physiotherapists and fitness trainers. But it's a very different approach and if I had got to a class led by a physiotherapist, I would have given up Pilates for good. Physiotherapists are used to working with one client, they are not used to teaching a group, so the class has no rhythm, it's a bit disorganised. I was really lucky.
I met Ron in person thanks to Ája Vrzáňová who later became the godmother of my son. Ron discovered her in an ice revue – he saw an ice skater, a beautiful woman, circling the rink in an arabesque, wearing trousers. He said: "I want her!" and talked her into joining the rival revue.
Later, you opened your own studio and a Pilates training centre. Have people always been interested in getting certified? Today, there are many modifications, for example yoga-pilates classes. Yoga is very popular.
The interest in Pilates is still huge. One of my fellow teachers, Kathy Grant, direct trainee of Pilates, didn't like when the system was modified. She said: "If you want to do it differently, call it differently." It's interesting that dancers embraced the method much later. Dancers are used to certain way of working from school and they think they understand their bodies.
I've been to dance conferences about health in Helsinki and Montreal, where many teachers claimed they could do with what they had learned at school. But today's young generation is different – they drive more, walk less, kids are less physically skilled, spend less time outside, on monkey bars. A five-year-old should have five hours of physical activity a day. And which child has it… Australian educators – who are very open-minded – have been dealing with this issue - lack of physical activity – for more than twenty years and all students there must complete Pilates training. They have carried out a survey which shows that dancers do not end their careers because they have problems with their hips, or knees. The study was going on for twenty years, so it already has some value. It's available for public on the web. (australianballet.com.au, Dr. Sue Mayes – editor's note).
Why is Pilates so unique? What made you interested?
It's amazing how a person who is stiff can train along with someone who is hypermobile. They learn how to work inside their muscular system, how to work with their joints, spine, how not to destroy their joints, which is a problem of most dancers. The same exercise in Pilates brings an individual physical benefit to each person at the same moment and you don't have to instruct them separately.
Pilates works specifically with breathing…
Did anyone at school tell you when you should have inhaled? Nobody, right? Before a back bend, you breath in, when you bend forward, you breath out. Dancers are very flexible, they often have problems with the lower spine, they bend too much and can't turn, just because they lean backwards – if they inhale laterally, they never bend backwards and they turn and jump better. Pilates teaches how to work consciously with breathing, which eventually becomes automatic. Muscle imbalances are equalized. I can give a simple example: many of us have one shoulder lower than the other – result of carrying heavy bags. Everybody complains about their shoulders. But we can work with breath and breathe through the right side of the chest, if the right shoulder is lower. The same applies to the pelvic floor that we need all life long for sex and incontinence, only the ratio changes with age.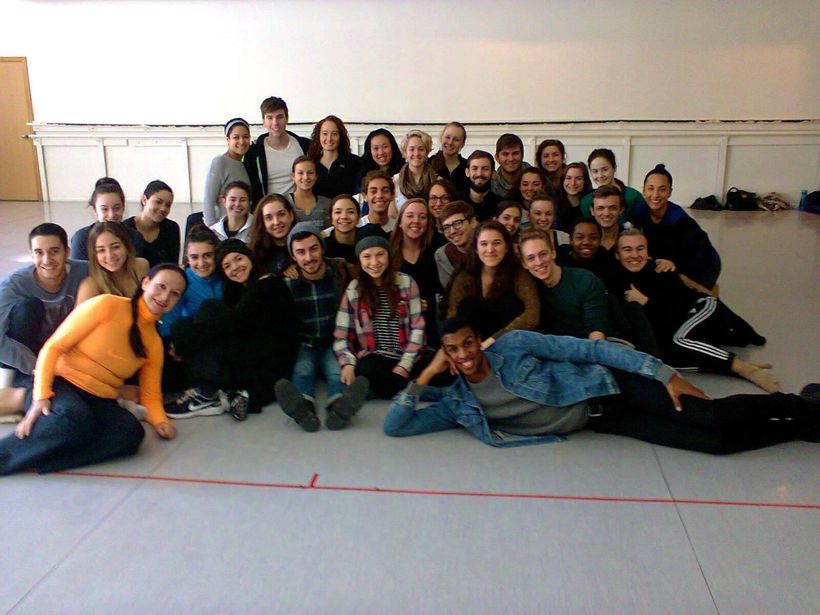 Life-changing decisions
Let's get back to the beginning of your dance career. I read you started dancing at age nine in Cairo, when your mother married an Egyptian.
At age six I started to attend ballet classes in Příbram where I was born. I also took ballet lessons with Miluška Nečasová at Vinohrady, and then at the National Theatre preparatory school with Naďa Sobotková. My grandpa was amazing, he would come home from work, get a snack and drive me all way from Příbram to Prague to ballet classes, twice a week.
My step-father was a socially established, well-to-do man, but as a child, anywhere I went in Cairo, I had to be accompanied by an Arab nanny. I was unhappy and lost, so at the age of ten I decided to leave my mother and return to my grandma and grandpa and do ballet. But my parents didn't allow me to study at the Academy of Performing Arts, they wanted me to do something "normal". They stopped supporting me financially and I had to make my own living. That's why I like helping people, since at that time it was my grandparents who helped me.
You've always wanted to become a ballerina?
Yes. A ballerina or a teacher.
Both dreams have become true, you studied at a dance conservatory in Prague and later you studied dance pedagogy at HAMU?
First, I studied dance theory. I passed my final exam from theory subjects with excellent marks and Zdena Kárnecká, the then vice-principal, told me I should have studied at university. Originally, I wanted to study history of theatre, film and television, but the course opened every two years, so in the meantime I went to HAMU. I started my studies along with Helenka Kazárová and after a year, we changed places. I completed four semestres of dance history and theory and simultaneously I was studying dance pedagogy.
What is the most important quality of a teacher?
That you can be happy about your pupils' achievements, that you can help them move forward, show them the way. I don't want my students to be my copies but I lead them towards being an original. I stay in touch with many of my former students. To this day, I send Christmas and Easter cards to all my teachers. Unfortunately, they are fewer and fewer…
What problems do dancers deal with most often?
They can't stabilize their bodies, especially the lower abdominals. When they are doing the open leg rocker (rocking backwards with legs straightened in the V shape, hands holding the outer ankles – editor's note), they either don't come back up or fall over into a centre split. I tell them: "Try to understand that the point is not to have super-flexible joints. You need to get adequate muscular strength to maintain you joint range. Now you are young but once you get older, your muscles will loosen and you will carry yourself in a mesh bag," (laughter)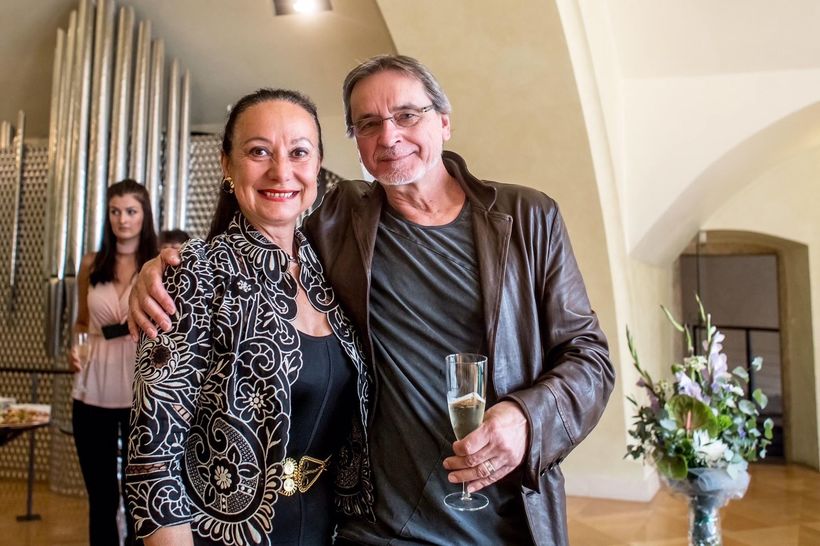 Production and dramaturgy
For some time you also worked as the PR manager and dramaturge at the National Theatre in Prague.
The then director of the National Ballet, Vlastimil Harapes, called me and asked if I could stay for two or three months. He wanted to stage Americana and needed help. Eventually, they extended my contract until the end of the season. I helped negotiate contract conditions with America. Americans have very expensive copyrights and people still make the same mistake – they pay the money they want. But in the States, not even a new car costs as much as is advertised. They haggle, that's what my first husband, an American lawyer, taught me. He helped me a lot, he advised me how to get part of the choreographies for free – we were a new territory for them which opened the way to the East Block.
What would you like to see in the Czech National Ballet repertory, if you were a dramaturge again?
It depends. It's not just what I would like to see, but what company I have. Today, the Czech National Ballet consists of artists of various nationalities and schools. It's hard to handle such diversity. Ivan Liška (the current artistic director of Bayerisches Junior Ballett München – editor's note) told me once: "People in the company must communicate. We don't have many Germans here, but everybody must learn German, as the company is funded by the Bavarian state," That's interesting.
But otherwise, I would choose Giselle. I love this ballet. Anna Karenina would be interesting, too. I would consider having some original Czech titles in repertory, something to the music by Bohuslav Martinů, Oskar Nedbal etc. Now a wonderful mixed bill dedicated to Jiří Kylián is on. Kylián is incredibly deep. When building a repertory, you must respect the specific culture and philosophy. You must be able to understand it and transmit it.

What is your motivation, where does your indomitable energy come from?
Sometimes, I feel super weary. And I'm thinking about negative things at 3 in the morning, when I can't sleep and my head is working and taking out problems stored in those little drawers in my brain during the day. But I try to see things positively, negation can be very frustrating. Of course, I have ups and downs, but I try to hoist my sails towards positive energy.

Mgr. Renata Sabonqui, PhDr. was born on 10 February, 1960 in Příbram. She is a ballet mistress, university teacher, producer and manager. She studied at a dance conservatory and from 1979 to 1983, she studied dance pedagogy at the Academy of Performing Arts in Prague. From 1987 she worked as a dance teacher in Tanz Theatre Linz in Vienna and in Franzözische Ballettschule Passau, later she was the director and founder of the dance department of the Music School Freiberga Neckat in Germany, and a ballet mistress in The Washington School of Ballet in Washington D.C. She became the dramaturge and PR manager at the Czech National Ballet in Prague and the artistic and expert adviser to the National Theatre director in the projects of collaboration with the United States. From 1998, she headed the Foreign Department of the National Theatre in Prague and as the first woman in history she was nominated to become the director of this institution. She collaborated on the project Prague 2000, European Capital of Culture. As a dancer, she has performed for example in the National Theatre in Prague and Karlín Musical Theatre, and featured in the movies Rusalka, Pan Tau, Orpheus, and others. She has founded Sabongui Pilates Academy, teaches at the Academy of Performing Arts in Prague and gives Pilates classes for adults at the dance conservatory in Prague. She was the first Pilates instructor in the Czech Republic, having brought the method to the country in the 1990's. She is the only European who got her license directly from the famous teachers Ron Fletcher and Lolita San Miguel who had been certified by Josef H. Pilates. Apart from five Pilates DVDs, she has published two books – Pilates pro usnadnění početí and Národní divadlo? Alfa a omega mého života!.
Translated by Tereza Cigánková.