Sergio Méndez Romero and Sawa Shiratsuki: "Respect is the key to a great partnership."
The 2022 Thalia Award winner, Sergio Méndez Romero, is currently one of the brightest stars of the Moravian Theatre Olomouc ballet company. Delivering an outstanding performance in Petr Zuska's Sólo pro tři (Solo for Three), Sergio has impressed both audiences and the professional jury. He is supported along the way by another exquisite young artist, his partner on and off stage Sawa Shiratsuki, who dances the leading female role in the same ballet. I asked the dance couple about their experience rehearsing the successful dance theatre piece inspired by a trio of legendary poets-songwriters, about their time with the Olomouc ensemble and also their plans for the future.
Solo for Three is a piece which asks a lot from dancers in leading roles. Your performances were rewarded with a lot of praise, but was there something you struggled with when rehearsing your parts?
Sergio Méndez Romero: Solo for Three is one of the most complete performances I have ever seen, it demands the lead dancer to be good at many different things. He needs to act well, be vulnerable, technically strong and dynamic, but also able to connect three very different artists (Brel, Vysockij and Kryl). And of course, he must be a solid and reliable dance partner. When I first started working on this role, the biggest challenge was to maintain it throughout the performance and become versatile. The songs in French were especially hard to portray, but it was so rewarding!
Sawa Shiratsuki: The role of Ona represents emotions such as love, hate and desire, but she can also symbolise destiny and life and death matters in different parts of this piece. So the biggest challenge for me was to show all that, to complement the main role and the situation by bringing a certain emotion.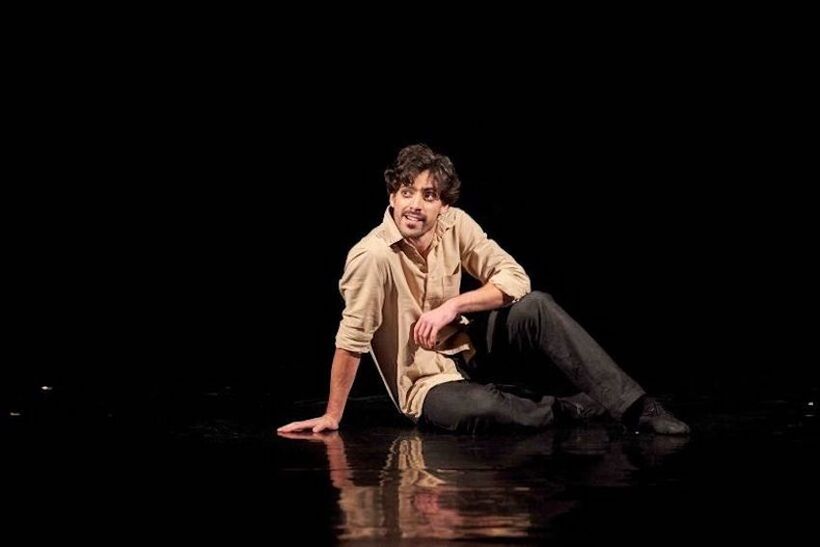 Creating a dance role is not only about learning the steps. What else does it take? And how did you prepare for your parts in Solo for Three?
S. R.: Yes, learning the steps was just the beginning, as each part of the performance requires a different way of moving and a different feeling, so you have to slowly implement those things into the role. If I don't know exactly what to do every time I dance, the audience can't understand. I also need to create links between individual parts, so it becomes a full story, not just a series of short episodes. The help and guidance coming from the teachers was crucial.
S. Sh.: Because this piece talks about life, and emotions, the more experience you have in real life, the easier it is to connect with real emotions, I'm still young, so it was great that I had really good guidance from the assistant of the choreographer. I feel like every time I come back to this role I can add more from my real life experience, which I love.
You look so comfortable dancing together on stage . What do you think makes a good dance partner?
S. R. and S. Sh.: I think we both agree that respect is the key to a great partnership, to understand who is leading each moment and to fully trust the person next to you.
Especially because we are a couple in life and on stage, we really take care of that respect, whenever we work together, we always support each other and try to get the best out of each other. And we have managed to get a great partnership so far.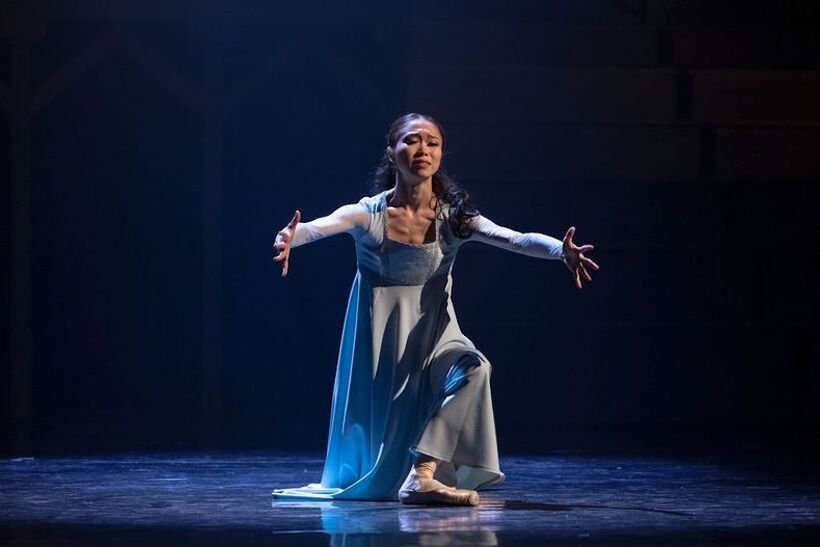 What did you take from the collaboration with Petr Zuska and the work on Solo for Three?
S. R.: I learned that it's important to be natural on stage - just a human being telling a story and making people feel a certain way. That is what helps us connect with the public. I feel like the ballet world is going away from that, but whenever I perform Solo for Three and I see the reaction of the audience, I understand that it's simple, and the story always wins.
S. Sh.: That a dancer has to become the role, and not just pretend it. That's why I enjoy doing this piece so much - I don't have to act it out, I can just live the moment.
Do you think that awards, such as Thalia, have an impact on a dancer's career?
S. R.: I think they do. Personally, I can feel the love from many people supporting me. Sometimes a dancer is on stage and doesn't have the opportunity to talk with the public and connect in a normal way, but this prize has given me a chance to change it. I think we should do it more often regardless of winning a prize or not – we should let people know who dancers are in real life. However, in my daily work, nothing has changed, I still come to the theatre every day and try to be my best version.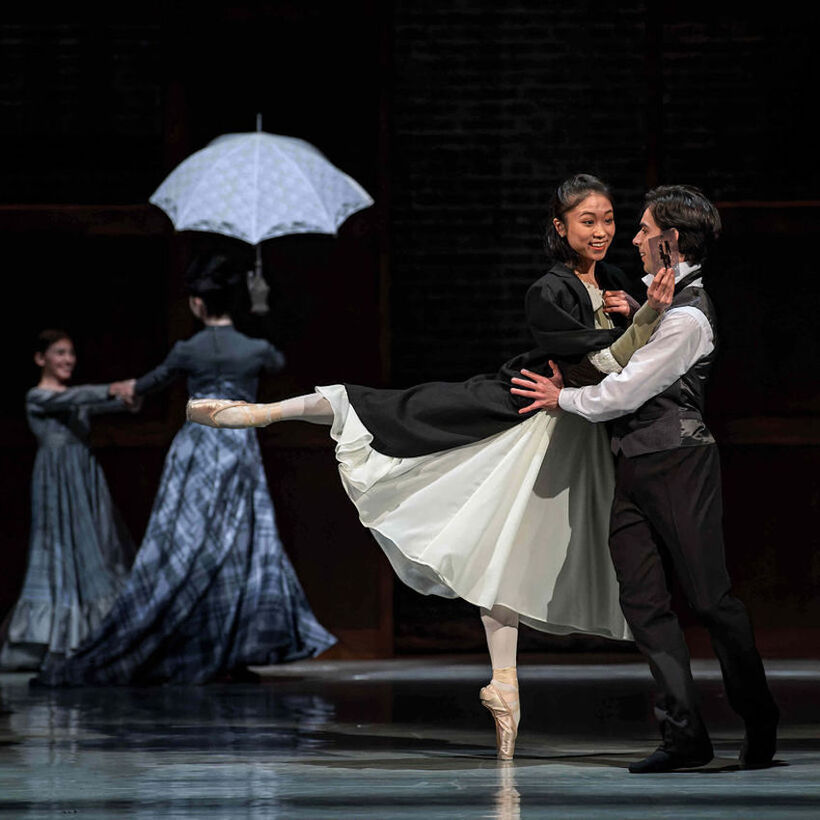 What kind of artist do you want to be? What are the goals, visions or rules you stick to?
S. R.: I never give up and I always try to be the best version of myself and that is also who I want to be as a dancer. I'm not the tallest, the best technically, neither the best actor, but I bring a certain, energy and presence on stage that shows who I am, which makes me unique as a dancer.
S. Sh.: I try to be a dancer that attracts the audience and engages them fully throughout a performance, and for that I have to be the one enjoying it first. I believe that whenever I don't have a good time or go 100% in a show, the audience can tell.
What do you like to do when you don't dance? What helps you balance hard training and everyday life?
S. R.: I have a passion to help others. In my time outside of the studio, I'm working on my YouTube channel where I share my experience as a dancer and some tips that helped me in my career and life. I love my job so I don't find it difficult to work all day, but sometimes I also need to disconnect and have a relaxing time, go to a wellness or have a glass of red wine.
S. Sh.: I love cooking and I'm obsessed with good tasting food but at the same time I try to find balance between healthy and tasty things, so I can give my body the nutrients it needs. Juggling theatre and private life is quite a challenge for me, because I give my everything to dance and then it is difficult to switch off, but like Sergio I always enjoy a good glass of red wine.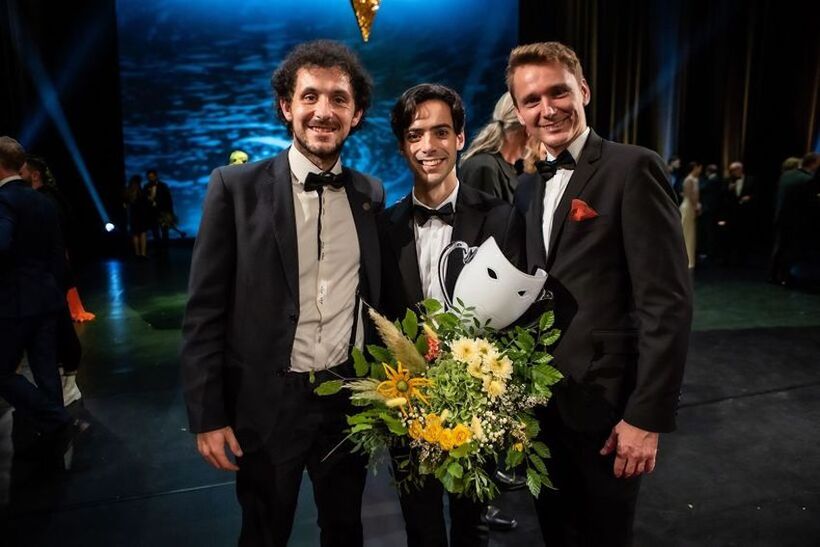 You joined the Moravian Theatre ballet company after a few seasons spent with the Ostrava ensemble. Why did you choose Olomouc?
S. R. and S. Sh.: We both felt like we needed something new so we were looking for a place with a different repertory that could help us grow as people and artists. The change was incredible. Ostrava was our home and we will always be grateful for everything they did for us, but the Olomouc company had more of a classic repertory and very strong narrative ballets. Olomouc is also a different kind of city, small but cute, with many small cafe places, and young energy, and we love that.
It might be a bit late for New Year wishes, but what do you want 2023 to be like for you?
S. R.: I want health, full theatre for every performance, and opportunities for personal and professional growth.
S. Sh.: I want to stay healthy, find a good balance between my work and private life and have the opportunity to dance live performances regularly.
Sawa Shiratsuki
She was born in Tokio where she also got her dance education. Between 2014-2016 she was studying at Staatlichte Ballettschule Berlin and in season 2016/2017 she accepted the offer of contract in Leipziger Ballet company in Leipzig. She got several awards e.g. bronze medal at Internationales Tanzfestival Berlin – Tanzolymp in 2015 and 2016 and she is also finalist of Youth America Grand Prix competition of 2014.
In 2019, she was promoted to soloist with the National Moravian-Silesian ballet company. She danced the roles of Konstance Bonacieux in Three Musketeers, Kitri in Don Quijote, Odetta – Odilia in Swan Lake or Madame do Tourvel in Dangerous Liaisons. She is currently a soloist with the Moravian Theatre Olomouc ballet ensemble.
Sergio Méndez Romero
He was born in Madrid, Spain, where he also got his dance education. In 2012 and 2013 he won two Spanish international competitions and thanks to them he was a host at ballet gala in Bavarian State Opera.
In 2013/2014 season he was a demisoloist of ballet theatre in Sibiu, Romania, at spring 2014 he got contract in ballet NDM where he was named as soloist with company obligation in 2016/2017 season and moreover in 2018 as first soloist for the 2018/2019 season. On stage he performed main roles of d'Artagnan and Aramis in Three Musketeers, Benn and Prince Siegfried in Swan Lake, knight Danceny in Dangerous Liaisons.
He is currently a soloist with the Moravian Theatre ballet ensemble.
Sources:
https://www.ndm.cz/en/person/5494-mendez-romero-sergio.html
https://www.ndm.cz/en/person/9031-shiratsuki-sawa.html
https://www.moravskedivadlo.cz/balet/umelci/