"We don't want to monetize the artistic experience", says Petr Dlouhý about Pay What You Can
Studio ALTA has come up with a new "pay what you can" admission system. The audience can now choose from five price offers regardless of the seat they end up occupying. In this way, the organisation's management is trying to respond to the difficult social situation after the coronavirus pandemic, as well as using the novelty to communicate its own values. On the occasion of the introduction of the new concept, I reached out to Studio ALTA's curator Petr Dlouhý, with whom we discussed motivation, fear, and expectations.
Can you briefly introduce the "pay what you can" system?
This system offers a suggested price level that you would normally pay when visiting the theatre, and then two lower and two higher amounts. The incoming spectators can choose the level that best suits them. The prices are set to be in equal proportion either way from the recommended one. For example, if a ticket cost 200 CZK, the gradation to the lower offers would be 150 CZK and 100 CZK and to the higher ones 250 CZK and 300 CZK. The balance on both sides is very important to us, it represents the basic principle of "pay what you can". We didn't want to increase the upper levels disproportionately, so that there would be no "status buying".
What did you use to calculate each price level?
This is based on our experience and intuition. We first determine the middle, recommended price that a ticket would cost in the original mode, and then determine the others from there. But of course, we are just at the beginning and maybe over time we will figure out some specific procedures.
Do the spectators actually have the option to pay what they want?
No, we didn't want to proceed to that. When we talked to colleagues at Kaaitheater in Brussels, where this system is already in place, we agreed that predefined levels felt better. This comes from the experience with voluntary admission. When the audience is forced to put a financial value on a work, it can make the paying audience feel uncomfortable.
At the same time, the pre-defined amounts are not named in any way. Only the recommended price is highlighted, and people can then choose the rest under the categories of "pay what you can".
It might even be an interesting experiment to pay after the show.
We have thought about that too, but we don't want to evaluate a work of art as a product. We don't want to monetize the art experience. On the contrary, our system works with a reciprocal, participatory idea and a vision that we all participate in the performance, even those who buy tickets.
In the press release you claim that the classic categories of full and student admission have been surpassed. What do you mean by that?
This is based on our experience, but also on listening to the actual social situation of the people who, for example, attend ALTA. Using myself as an example, I already work and have my own background, but the price of 400 CZK for admission seems quite high, especially if I want to visit the theatre several times a month. I would have to think it over. Moreover, I feel that the system of full and student admission only works because nobody has questioned it yet. I see it as a handed-down tradition that we grew up with, but suddenly a pandemic came along and showed that things that worked before don't necessarily work today.
How do you work with the spectators not being afraid to pay "too little"? How do you deal with the pressure of the social situation?
Our aim is to move away from privileging certain groups or stigmatising others. We strive to make the ticketing process as trustworthy and safe as possible. We do not have specific rules though. Rather, we talk as a team about what the system really means to us, what we are trying to achieve and what we expect from it. Based on that, people then develop an understanding and hopefully the right intuition in their day-to-day behaviour.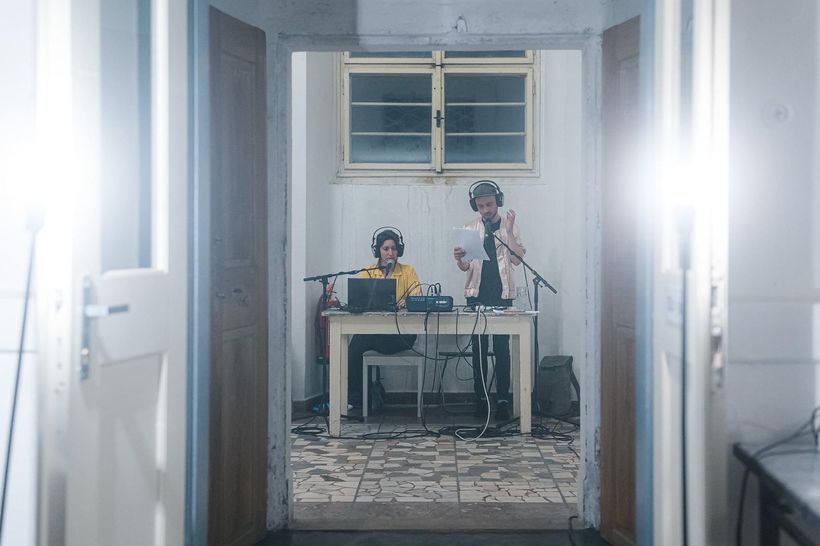 In terms of financial planning, this can be a very uncertain item. Over the years you certainly know the average attendance, which in the case of normal admission could be multiplied by the amount per ticket. Now you really won't know where you stand...
Studio ALTA finds itself in a very specific position because it has a low-capacity auditorium that can accommodate a maximum of 50 people. Therefore, the income from admission fees is not such a crucial item in the budget as for other entities or theatres. And this is what gives us the opportunity and the position to try it at all, it is a privilege that we are aware of. But it is also our free choice, which we balance in other budget items.
You are the first theatre in our industry to implement such a system. What led you to this change, what was the decisive moment?
This was preceded by last year when Studio ALTA had all events for free. It was a way to re-establish a relationship with the audience that was broken during the pandemic. Later, however, we thought about how the move to paid admission would affect the audience. And it just so happened that I was in Brussels at the time and visited the Kaaitheater, where "pay what you can" was already working. I was very interested because I felt user-safe myself. So suddenly there was an opportunity to critically evaluate the classical admission system and to think about how to set up our system so that our audiences also feel safe in this new situation.
You took the complete opposite approach, because most organizations did fundraising concerts or other fundraising activities.
I think it's perfectly legitimate to reach out to the community around the organization to help you. But we chose a different path.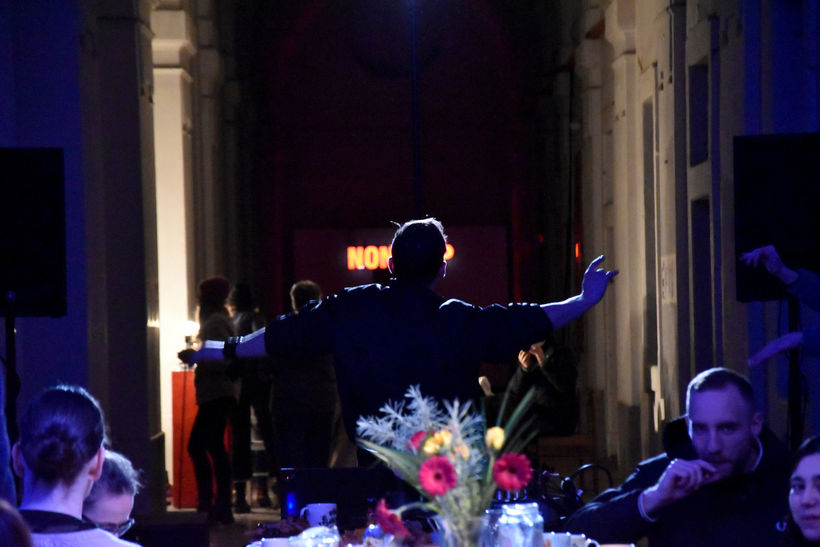 How does this idea fit into Studio Alta's long-term concepts?
Often, the team comes to the realization that the theatre's programming represents only a small slice of the opportunities to communicate the organization's values. In fact, there are many other means, and one of them may just be the newly set admission fees. So yes, I would say that's one of the ways we're realizing Studio ALTA's long-term vision.
To implement such a system, you need to have a lot of trust in your audience. Do you also have concerns that it might not work?
Probably just the fear that the system might create some social pressure. But we hope that people will find themselves and find security in this system, as I did. It's also about habit, it's not going to happen overnight.
At the same time, we have a lot of trust with each other within the team and we agree that such steps make sense, even though they may be uncertain.
Alternatively, do you have any "crisis scenarios" if the novelty fails?
It is too early for a crisis plan. We believe in our audience, and at the same time we see no reason why a similar system could work abroad and not here. Of course, when we talked to the Kaaitheater people, the first questions were about the financial balance sheet. They say that the results are very similar for both systems. In addition, we've learned that it has brought them a new audience as well, so we see the benefits rather than any fear so far.
On the other hand, is there anything you are looking forward to?
We look forward to giving our spectators confidence. I feel like suddenly the relationship will be different, caring in both directions.
Does the change of the system affect the dramaturgy of Studio ALTA?
We do not consciously adapt the dramaturgy to this novelty. I think we'll learn as we go what works and what doesn't. Of course, it's more of a risk because it's something unknown, but at the same time I don't think it's a drastic change. In any case, I would see a return to the classic entry fee system as a step backwards.
Petr Dlouhý
Curator of live art, producer, researcher and cultural organizer. He is a resident curator at Studio ALTA in Prague, the interdisciplinary series Y events produced by Theatre X10 and the international festival Performance Crossings. He initiated the residency and experimental space Cross Attic and curated the intercity project PRALIN, which connected the Prague and Berlin independent scenes between 2017-2021. In addition to his curatorial practice, he is a member of the platform and research project RESHAPE in Europe and co-author of the Arts and Theatre Institute's research and publication on the Czech independent scene after 1989.
His focus is on international collaboration, finding new boundaries and environments for presenting independent performance art, connecting and creating long-term relationships between local and international organisations and artists.
Since 2020, he has been intensively engaged in strategies to redefine the role of art institutions for accessibility and to design individual artistic processes within sustainable boundaries of production and productivity.