"When working on a new piece, I enjoy even the pre-première stress" says Marika Hanousková about her new role as Liberec Ballet's Artistic Director
I met Marika Hanousková in one the Liberec theatre's changing rooms, right after the reprise of Margaux Thomas' The Little Prince. This dancer, choreographer and ballet mistress is to become the new artistic director of the Liberec ballet company in August, succeeding Alena Pešková.
How do you enjoy dancing The Little Prince?
Exupéry's The Little Prince is a lovely fairy tale, full of metaphors and timeless ideas. It's a beautiful role which has demanded a certain preparation. I observed children, how they move, how they sit, and behave naturally. To embody a little child is something very different from the dramatic characters of adult women, such as Gazdina roba or Štěpka Kyliánová in Oil Lamps.
In a few weeks, you will take over the position of the artistic director of the Liberec ballet company. Have you auditioned or you were named directly?
There was an official audition and out of all the candidates, the committee chose me. It feels strange to become my colleagues' boss, but the company will be joined by many newcomers who will see me as their director from the start. And my other colleagues must to get used to it (laughing).
What does the position mean to you?
It's a big challenge. I'm looking forward to taking up this job and at the same time I feel huge respect and responsibility. When I joined the Liberec company ten years ago, I didn't expect I would stay with it for so long and the city would become my home. First, I wanted to get back, closer to my hometown, to Prague. But after a couple of years I suddenly found out Liberec was my home and the theatre was my family. The director of the theatre is open to my ideas and tries to support the company. Right now, we are finishing plans for our India and New York tours.
Otherwise, it makes me very happy. I love working with people and I'm pleased if my work with the company shows on stage. I've been assisting choreographers and staged several productions and the upcoming season will be truly colourful. Many dancers are leaving, and new ones are coming. More than a half of the company will be replaced. We have plenty of work ahead of us – re-rehearsing and teaching the present repertoire, presenting three ballet premières and two opera premières, and a lot of touring. We are a small company and we have no double casts. When someone falls ill or gets injured, it's more complicated than in other ensembles…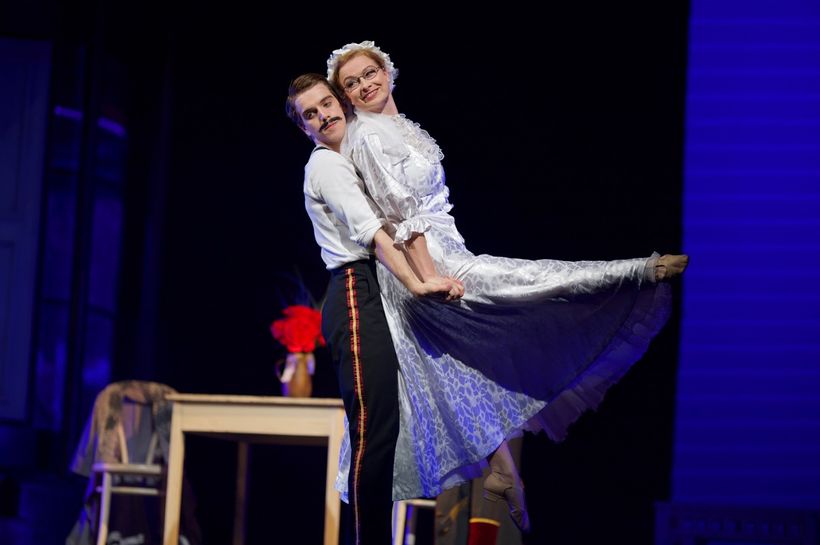 You currently work as a teacher, choreographer and dancer. What do you enjoy most?
I love it all – working with people fulfils me most. But I invest too much time into everything I do, I'm very accurate and that's where I get way too busy. When I lead a ballet training, I do care the dancers are properly warmed-up, have fun and get ready for a rehearsal. I want to give them energy, smile and good vibes, so they can love their job and feel motivated for more hard work. Most of all, I love rehearsing my own choreographies. I know how the piece is structured, I'm perfectly familiar with every single step. I enjoy the birth of a new piece, how it takes shape and comes to life. I even enjoy the stress that precedes every premiere.
Are you planning to end your dance career and become "only" a director?
I need to finish the productions I'm dancing in at the moment, and then I think I will retire. But if any choreographer wants me, I will gladly return to the stage.
As a choreographer, do you prefer choosing your own subject or being given a clear task?
I prefer choosing my own subject. If I'm invited to work somewhere and given the freedom to bring my own theme, I always try to take into account the theatre's present repertoire – what kind of production it needs. In Liberec, for instance. I'd like to focus on young audiences. I feel it's something we're missing here.
And what does the creative process look like?
I always try to prepare the choreography beforehand, but I don't need to write it down. I have some structures in my mind that I adjust to the dancers while rehearsing in the studio. I want people to have fun while we are creating a piece and I focus on acting and stage expression as well. and That's what consumes most of my time. The dancers tend to imitate my gestures and my style of dancing when building a choreography in the studio. But I don't encourage them to copy me. It must come from their own natural expression.
Marika Hanousková
Marika Hanousková was born in Prague. She took up ballet classes aged 6 at Ján Nemec Private Ballet School, and in 2000 she enrolled in the First Private Dance Conservatory in Prague from where she graduated in 2008. During her studies, she participated three times in the Summer School (Jiří rebec) in Česká Skalice. She appeared in several school productions, for example The Nutcracker and The House of Bernarda Alba. After graduation, she joined the Liberec ballet company, where is danced roles such as the chamber-maid Nanette (Marie Antoinette), Madame de Volanges (Dangerous Liaisons), Mary Wigman (Harald – Hvězda se vrací! – Harald- Star is Back!), solo of the Snowflake (The Nutcracker). Currently, she appears in ballet productions (Periphery, Oil Lamps, Gazdina roba) and in musicals (Sugar). With Veronika Fišerová she has formed a creative duo signed under the successful dance project Café Reichenberg for which they created the choreographies Poslední schůzka (Last Meeting) and Christian Platz. Hanousková's latest works include The House of Bernarda Alba (2014), Jekyll & Hyde (2016), The Snow Queen (2016), The Little Mermaid (2017), and The Taming of the Shrew (2018). Presently, she studies choreography at the Academy of Performing Arts in Prague, in August 2019 she will be appointed director of the F. X. Šalda Theatre ballet company in Liberec.
DEJTE NÁM TIP NA PŘEDSTAVENÍ