Who's behind SPOLK?
I have met up with the members of the SPOLK collective in a virtual space. Their project called S dovolením (Excuse me!), though still a work-in-progress, caught my attention shortly before the autumn closure of theatres. The company is made up of five emerging artists, graduates and students of the Duncan Centre Conservatory. They are the promising "new blood", ready to stir the calm waters of our dance scene and bring a new kind of energy. Therefore, I talked to them about their way to dance and working together in the dance industry.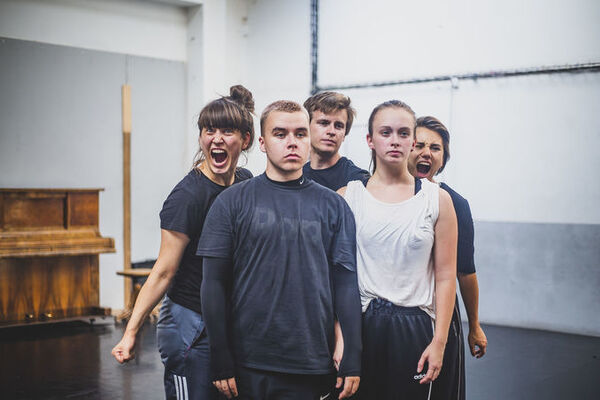 SPOLK: Ester Trčková, Adam Kmenta, David Králík, Žaneta Musilová, and Kateřina Jabůrková. Photo: Anna Benháková.
How did your dance journey begin? Tell us about the key moments that ignited your passion for dance and movement.
Kateřina Jabůrková: My way to dance was quite natural, as a kid I would climb everything – trees, cabinets, scaffolding. I would also throw myself into every sport. I attended aerobics and disco dance lessons at school where we also did a bit of street dance. Later, thanks to my friend, I joined the Prague dance group Dancers 4 You, where I trained in street dance until I entered Duncan Centre. Alongside dance, I did aikido which helped me understand the principles of contemporary dance.
Žaneta Musilová: I grew up in a small town, remote from the contemporary dance world, though I was surrounded by art at ZUŠ Bystrá. My mum was the principal of this art school and I felt part of it, too. I was interested in all fields of art – dance, singing, piano, visual arts, and drama. But dance was the most important, that's why I decided to do it professionally at age 15. I also received a lot of support from my dance teacher Hana Malíková.
Ester Trčková: As a kid, I attended lots of different courses. However, I left most of them over time and eventually only trained in dance. I gained my first dance experience in Lenka Švandová's classes at ZUŠ Charbulova. She awakened the love and passion for dance in me and when I was deciding what to do in life and choosing a school to go to, I realised it was important to do what I really loved. And I enjoyed dancing so much that I decided it would be my career.
David Králík: It wasn't initially my decision, my parents signed me up for Lenka Tretiagová's classes at the Children's Studio when I was four. When I got older, I started to attend Lenka's classes at Dance Studio Light where I train to this day. Besides creating dance pieces, attending international festivals and other things, I was introduced to some important personalities of Czech contemporary dance and theatre even before I entered Duncan Centre, which definitely affected my career choice.
Adam Kmenta: I discovered my passion for dance when I was training in a dance school and became interested in street dance and, later, physical theatre. I was still very much into these disciplines when I started to study at Duncan Centre.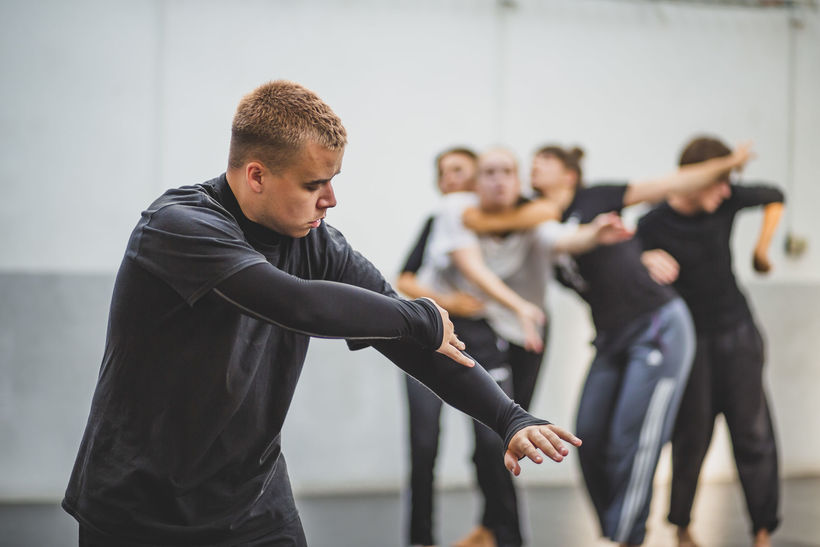 Why did you choose Duncan Centre? Which personalities have influenced you the most and how has the school enriched you?
KJ: Life actually threw this opportunity my way. I discovered Duncan Centre at Schole Pragensis, but it was my mum who did some research. I was applying to the Waldorf Grammar School, but I went to the Duncan auditions to try an interview before taking my entrance exam. At the auditions, though, I fell in love with Duncan and changed my mind.
All my teachers have influenced me greatly (and each of them in a different way), namely Dora Sulženko Hoštová, Monika Částková, Marta Trpišovská, Petra Hauerová, Nina Vangeli and Ondřej Novotný. They helped me enter the creative world of theatre and contemporary art.
ŽM: I learned about Duncan just by chance. Of course, I immediately liked it and couldn't imagine studying anywhere else. Looking back at it, I think that if I hadn't been 15 and enjoying immense support of my parents, I would have been more afraid to study that far away from home.
The school has influenced me not only as a dancer, but also as a human. I can think of many people who have come into my life and affected it both positively and negatively. I can recall the words of Dora Sulženko Hoštová, who believed that as a dancer you had to make sacrifices. When we were ill or couldn't dance, she sent us home, but she never let us do things by halves. Subconsciously, I adopted this approach in my private life as well. Monika Částková would always support me and teach me to defend my decisions because they shaped my personality in a certain way. I would also like to mention Eliška Benešová – as a teacher, she became one of us and opened a way for us, however difficult, to understand the sense of movement. And of course there are many other people who have left a mark in my life .
ET: I entered Duncan Centre when I was 19 and just graduated from high school. It was my dream school, so nothing could discourage me from studying there. Obviously, it was harder for me in many respects, but I would never change it. Studying at Duncan takes a lot of time and energy, but it gives you a lot, too. Not only on the professional level, but also on the human level. I'm especially grateful to those coaches who - apart from teaching us how to dance and choreograph - emphasised the importance of being open-minded and enjoy the movement.
DK: I applied to Duncan because I was previously dancing in Dance Studio Light. I was attending an 8-year grammar school so it wasn't necessary for me to transition to secondary school. However, Lenka Tretiagová suggested Duncan and so I gave it a try and got accepted. At that time I started to feel like dance was something I wanted to do and explore in the future. The fact that I was admitted to Duncan just confirmed it.
It's hard to say who has influenced me the most, there are so many inspiring people at Duncan. With some of them, I get on better that with others but it's great to have the opportunity to know them all. And I think that's what makes Duncan special – the diversity. Besides dance, it teaches us responsibility which is crucial for me.
AK: The main reason I chose Duncan Centre was that it's the only secondary school in the Czech Republic that teaches dance differently than other secondary dance schools or conservatoires. I've been mostly influenced by my friends, fellow Duncan students, who showed me what it was like to study at a conservatoire. As for the teachers, I would cite Dora Sulženko Hoštová and many others. The school equipped me for a professional dance career and it made me the dancer I am today.
How did your collaboration start? I suppose you were in the same school projects and productions. How did the idea for a five-member dance group come about?
ŽM: All members of the group are, or were, schoolmates. When we were studying at Duncan, we often helped one another to make choreography or we performed in one another's works, but it was not the only thing we had in common. We were getting to know each other, and found out that we had very similar mindsets and sense of humour and we enjoyed our time together. I think we can really benefit from this connection. We didn't actually intend to set up a five-member dance group, it just happened naturally. As for the first impulse to start a project together, it was a line we were all standing in. A small dramatic scene occurred because someone was trying to jump the line and we all had the same idea to bring this situation on stage.
ET: Yes, it started as a friendship and we also collaborated on our final choreographies. Duncan is great because it encourages cooperation. I remember exactly what we were doing on the day we came up with the idea to start a dance collective. We were having a contemporary dance class with Eliška Benešová who wanted to encourage us and told us not to wait and start a dance group, though we were still in school. I can recall we were discussing it on our way to lunch and from that moment on, I kept thinking about it.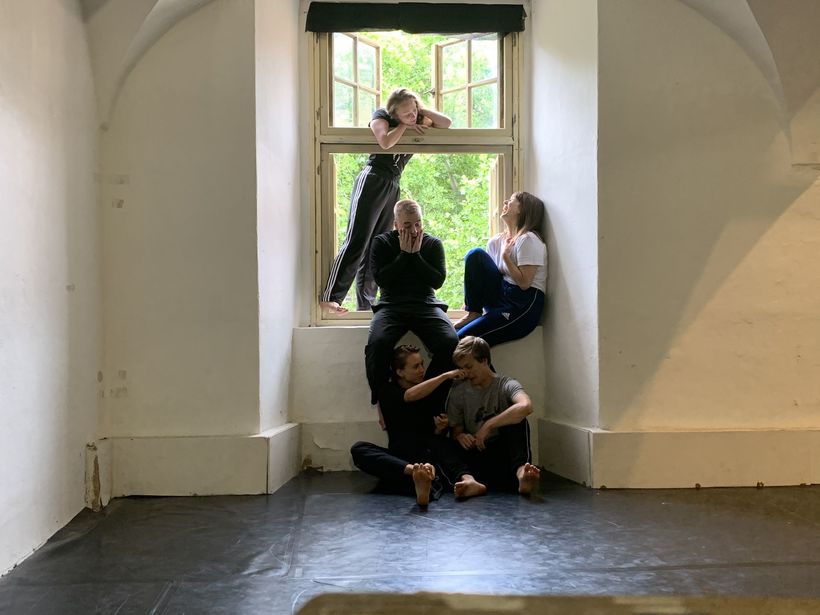 What does the creative process look like? Do you divide work in the team, is any of you the "boss" or you decide in a democratic manner? What are the pros and cons of being part of such a collective?
KJ: Each of us is unique but together we make a team. The roles are not divided and usually it's not even necessary to make decisions. We have to try out all possible ways and ideas to find out what works best for us. The main disadvantage is time management. Everything takes us so much longer, compared to dance groups led by one single person. But otherwise I see no downsides, we have a lot of respect for one another and we can take on various roles and responsibilities if necessary.
ŽM: Each of use prefers a different way of creating movement. It's not an obstacle and sometimes the distinct approaches can enrich our work. We are not always in agreement, each of us defending their own view, but in the end, we can always respect one another and find a solution. In fact, these discussions assure me that our projects are carefully planned and I'm happy we can all engage in creative work that reflects our personalities. I see it as an advantage that we trained together at the conservatoire. We know every member's strengths and when it's time to create a certain part of a performance, we know who is the best person for the job.
ET: We are so well connected. And I think it's essential because we know what to expect from one another. We all share in developing creative ideas and shaping the material we bring in, and even though the process mind be lengthy, unlike working under one choreographer, it gives us so much freedom.
DK: It's a big issue of ours. We create democratically, it's great because each of us holds a slightly different vision which often results in a dialogue that pushes us further. But sometimes we have a hard time settling on things quickly.
AK: And in case we don't reach an agreement, Ester is the one who decides, because along with Žaneta they have the biggest share in founding and running our group. However, we all work hard and try to bring something new.
What do you think are the most important traits of an aspiring contemporary dance artist or dancemaker?
KJ: They should be aware of their strengths and work with them, be open to experiments, but respect their limits. They should stay true to themselves while accepting all the influences coming from outside.
ŽM: The first words that came to my mind were courage, desire and motivation. We all keep changing, evolving and progressing. At times we have to deal with tough decision which are key for this process. But if you believe in what's deep inside you, making decisions might be easier.
ET: I think they should be relentless, brave, humble, and open-minded and in love with every single part of the creative process and dance itself. Plus have a strong body and mind.
DK: Courage, humbleness and joy of movement.
AK: Every young artist or creator should give their project everything they have. It's also about stage presence stage, and original approach.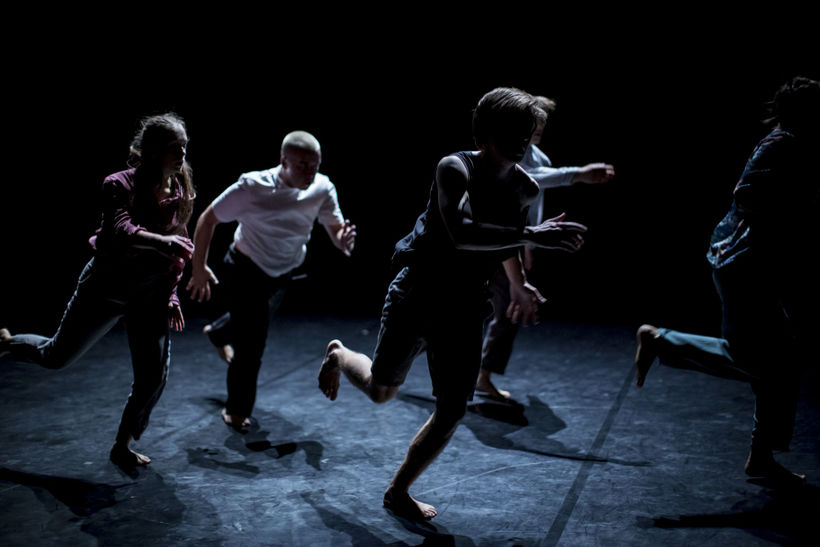 The first months of SPOLEK's existence were impacted by the pandemic and the related restrictions. How are you dealing with this situation?
ŽM: The physical preparations of the production of S dovolením! were not affected by the pandemic at first. We were working in the studio during the summer as part of the residency provided by Studio Alta. We also received a residency and support from the Ponec Theatre as we ended second in the competitions Divoká karta Tanečních aktualit. During the residency period we produced a work-in-progress piece. We are currently working of the choreographic side of the production as well as on others aspects, such as stage design. We were again supported by the Ponec Theatre which provided a rehearsal space and the opportunity to focus on lighting design.
ET: Thanks to the support and the residencies provided by Studio Alta and the Ponec Theatre, we were able to do the bulk of the work during the summer. And now when everything's closed and our artistic and school activities have been reduced or cancelled, we have more time to talk about things and try them out, if possible. Without the pandemic. the process would be quicker and more intense, but we have a great advantage as the Ponec Theatre is open and ready to meet all our needs. Thanks to its support we can collaborate with Tomáš Morávek on the lighting design and with many other inspiring people.
How are you doing under lockdown? Both on the personal and professional level?
ŽM: All activities shifted to the digital world. Based on my experience from the spring lockdown, I know how important it is to have a schedule. It keeps you going and ready to look for new solutions. In SPOLK, we started to search for options how to transfer our theme into an audio-visual form. This idea was suggested to us by Taneční aktuality who is also helping us to make this dance trailer.
ET: It's SPOLK which keeps me going. We are busy preparing the audio-visual piece.
AK: On the personal level, it nice to keep fit and active in this time. I go running to stay in shape.
What were your plans for the 2020/2021 season and how are you altering them with regard to the current situation? Do you stay optimistic?
ŽM: We had to reschedule the premiere of S dovolením! in the Ponec Theatre for the spring 2021. I stay optimistic because we've been given this second chance and I believe there's a right time for everything.
ET: Dance brings us optimism! However, I think that even though the premiere had to be rescheduled, it was for the better. We are not in a hurry, we have time to think it over and take it further.
KJ: We would like to premiere our piece in May 2021 in the Ponec Theatre within the Divoká karta tanečních aktualit.
ŽM: The premiere is essential for us at the moment, but we would like to present the piece in regional theatres. too. or as part of other cultural events.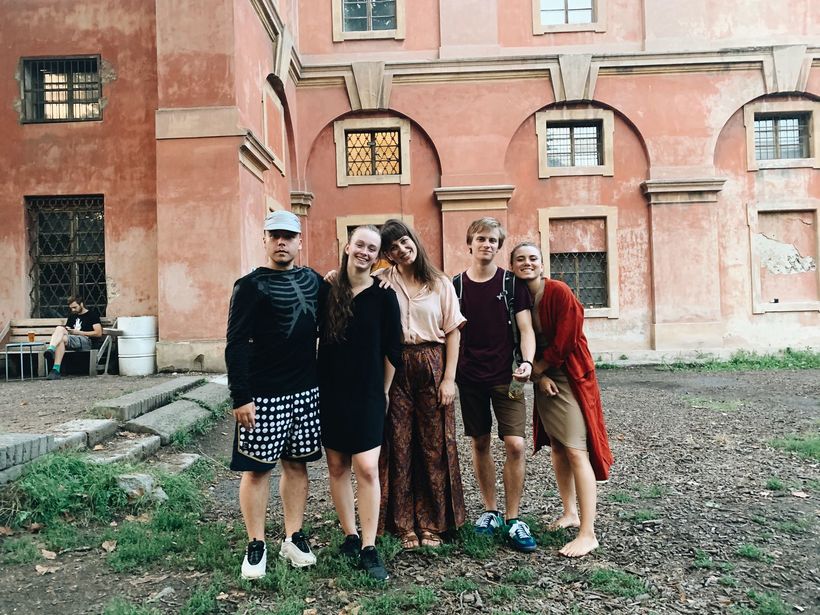 What do you wish your company for the future? Are there any dreams or goals you want to achieve?
KJ: I wish SPOLK loads of creative energy and amazing opportunities
ŽM: I wish we could be performing our first work for some time, and I hope we will create many more productions together.
ET: I wish we would keep our drive, joy and openness. We're surrounded by people who we would like to cooperate with on other projects. But we are also quite young and looking for opportunities both in the Czech Republic and abroad. I want to keep this in mind as the SPOLK members should be allowed to come and go, and always find a safe space for creation and support within the company.
DK: I wish SPOLK to keep the joy of working together. I would like it to be a place where we can bring our own artistic experience and inspiration and explore and develop them as a group.
AK: I wish SPOLK would become a renowned top-quality dance collective and produce original dance creations. Our goals are always the highest but it depends on our work how many of them we can achieve.
The members of SPOLK are Kateřina Jabůrková, Žaneta Musilová, Ester Trčková, David Králík and Adam Kmenta. The first production of this collective called S dovolením! premiered as a work-in-progress in the Disk Theatre in September 2020.
Translation: Tereza Cigánková.