Czech Dance News together with the Czech Dance Platform will organize a discussion Dance Art Reflection
Czech Dance News (Taneční actuality o.p.s.) in collaboration with the Czech Dance Platform will organize a discussion with international guests, bringing together dance critics and theorists with performing artists to dialogue about the conditions of the profession and other aspects of their work in the field. The discussion will take place on 1 April from 5 to 7 pm at the Unijazz Reading Room in Žižkov and will be open to the general public.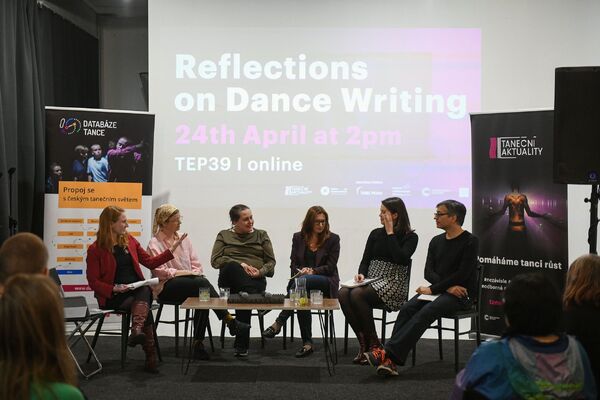 Czech Dance News together with the Czech Dance Platform will organize a discussion Dance Art Reflection
The panel will include publicist and cultural manager Lena Megyeri (HU), theatre and dance critic Anette Therese Pettersen (NO), choreographer, set designer and Parisian-born artist Marie Gourdain (FR/CZ) and two dance creators and performers based in the Czech Republic Sabina Bočková (CZ) and Viktor Černický (SK/CZ).

The debate will be moderated by dance theoretician, historian and critic Petra Dotlačilová, who will come to Prague from here research stay in Paris. "We want to encourage dialogue between artists and critics. The dance field in the Czech Republic is very small and there is a need for the world of performers and critics and theorists to communicate with each other. If we share the needs and conditions for doing our work, it will definitely help the field," says the moderator of the meeting. The discussion will be held in English.

The discussion will conclude the series of workshops for dance critics and publicists Dance Criticism in the European Context, which is also being held for selected participants within the framework of the CDP 2023 programme.
Entrance to the discussion is possible through the accreditation of the Czech Dance Platform. Those who do not have accreditation and wish to participate can contact Dance News.

The project is supported by the European Union through the National Recovery Plan.

Information about the access to the event: lucie.s@tanecniaktuality.cz
Lena Megyeri (HU) is a dance writer and cultural manager based in Budapest and Vienna. She has published reviews, essays and articles about dance for more than ten years in several Hungarian publications as well as on Springback Magazine, an initiative of Aerowaves. Over the past six years she managed her own theatre space in Budapest, and currently works as a freelance cultural manager.
Anette Therese Pettersen (NO) is a theatre, performance and dance researcher and critic, currently a PhD research fellow at the University of Agder in Norway / Kulturtanken – Arts for Young Audiences Norway. Co-founder of projects on criticism, such as Performing Criticism Globally, Solitude & Assembly, Writingshop, Critics in Conversation and Dansekritikerrørsla (Dance critic movement). Also writes in periodicals and newspapers, and member of the Norwegian performing arts podcast Scenesamtaler.
Marie Gourdain (FR/CZ) is a choreographer, set designer and visual artist originally from Paris, who has been living in Prague since 2010. She studied film animation at the École National Supérieure des Arts Décoratifs (ENSAD) in France and completed her Erasmus studies at the Academy of Fine Arts in Prague. She received the Frédéric de Carfort Paris Prize (2011) and the ENSAD Paris Sculptor's Prize (2009) for her artistic and sculptural work. As a scenographer, she has worked for many contemporary dance companies and choreographers such as Karine Ponties (2017), Rita Gobi (2018), Andrea Miltnerová, Barbora Látalová, Zdenka Svíteková (2016) and Lucia Kašiarová (2014), and on site-specific projects for the KoresponDance festival for Dominique Boivin and Jean Gaudin (2014-2018). Since 2015, she has been a member of tYhle, a collective dedicated to physical theatre and dance. In 2016, she choreographed her first production UN / One, in which she performs with Florent Golfier. In spring 2017 she choreographed the production LEGOrytmus, commissioned by Studio ALTA. In 2018, her third work Medusa premiered (Czech Dance Platform 2019). In 2021 she received the Caroline Neuber International Scholarship from the City of Leipzig.
Sabina Bočková (CZ) is a dancer and performer active in the Czech independent dance scene since 2017. In 2019, she created the performance Lion's Den with Johana Pocková, which was selected for the prestigious Aerowaves 21. As a performer, she has long collaborated with the groups Tantehorse and tYhle, and as a creator, she is engaged in original work in the POCKETART association and in collaboration with Slovak performer Tomáš Janypka.
Viktor Černický (SK/CZ) is an interdisciplinary artist working at the intersection of dance, performance art, circus and visual arts. He currently concentrates his work in Prague. His projects, awarded with the Main Prize and Audience Award of the Czech Dance Platform 2019, are repeatedly supported by Tanec Praha. He has been nominated for the Czech Dance Platform jury awards in the main category and the Dancer of the Year category, and in 2019 for the Divadelní noviny Award. His work is frequently presented on European and Asian stages and festivals, including Paris, London, Hong Kong, Barcelona, Helsinki and Rome. He has been among the artists supported by Dancenet Sweden, and is also part of the prestigious Aerowaves Twenty20 selection. Viktor works across artistic disciplines, with the physical representation of reflection and relationship to objects at the core of his work. As part of the two-year Shape It project, he is analysing the artistic process with (and for) young audiences in Finland, Italy, the Czech Republic and the UK. In PRIMA, a work for the general public, he invites local communities to take their place on stage in the process of creation and performance. The project was commissioned as a co-production within the Be SpectACTive network, which moderates dialogue between the public and artists across Europe. In addition to his own work, he has collaborated and performed with Dominique Boivin (FR), Daniel Gulko (FR), Sonja Pregrad (HR/DE), Cirque La Putyka (CZ) and Compagnie Mossoux-Bonté (BE). Since 2019, he has been a guest lecturer at the Academy of Performing Arts in Prague, where he supervises artistic processes in the international MA programme Directing of Devised and Object Theatre.
Petra Dotlačilová (CZ) is a dance writer and researcher, who regularly publishes reviews, articles and interviews on dance topics in Taneční aktuality, where she is the main editor of yearly Special Edition. She holds a BA in Italian Philology from the Charles University, a MA and a PhD from Dance Studies at the Academy of Performing Arts in Prague, and a PhD in Theatre Studies from Stockholm University.