Czech Dance News will organize workshops for Czech dance critics with authors from Norway, England and Hungary
Czech Dance News in cooperation with the Czech Dance Platform will organize workshops Dance Criticism in the European Context and a discussion focusing on the development of art criticism in the Czech Republic. The workshops will take place as part of the CDP programme, which this year runs from 30 March to 2 April. The lecturers are three established international artists and critics who will also take part in the final discussion on 1 April, entitled Reflections on Dance Art: A Dialogue Between Critics and Artists. The discussion will be open to general public.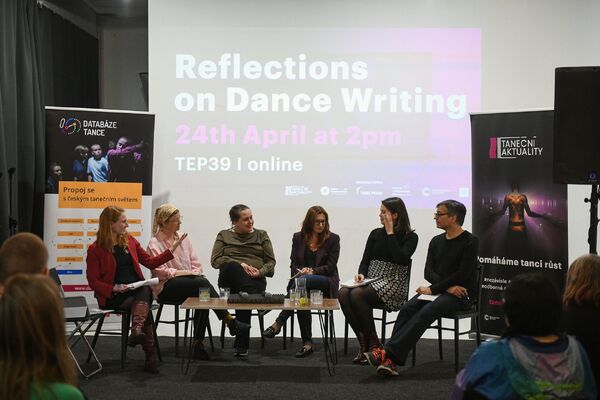 Czech Dance News will organize workshops for Czech dance critics with authors from Norway, England and Hungary
The seminars are intended especially for art critics and editors with a focus on dance, new circus and movement theatre. The content of the seminars will touch upon both practical issues of the profession and innovative practices in dance criticism. "Czech Dance News has recently celebrated its 15th anniversary, and during its existence it has developed from an industry medium into a broader platform dealing not only with dance criticism as such, but also with its development in the Czech and international context, the education of authors and the status of independent critics. Thanks to this, we know how important it is to support the development of art criticism outside the capital. If we look at dance, its scene is no longer limited to Prague, a lot of interesting things are happening in Jihlava, Ostrava, Plzeň and elsewhere, but there is a lack of authors who would report on it," explains Lucie Štádlerová, the project manager, explaining the effort to reach editors across the country with the seminar.

Two workshops will take place on Thursday 30 March at the Prague Creative Centre in Old Town Square. The first will be led by established critic and editor Emily May (GB/DE), who has worked in professional media across Europe and America, and the second by publicist and cultural manager Lena Megyeri (HU). The trio of workshops will be completed on Friday 31 March by lecturer Anette Therese Pettersen (NO), a theatre and dance critic who, among other things, focuses on the processes and politics of contemporary criticism in practice.
These three workshops will be concluded by an open discussion for the public Reflections of dance art: a dialogue between critics and artists, which will take place on 1 April from 5 to 7 pm at Unijazz in cooperation with the Czech Dance Platform. In addition to lecturers, artists and other actors in the field will be invited to participate in the panel discussion. The debate will be moderated by the dance theorist, historian and critic Petra Dotlačilová, who is coming to Prague from her research fellowship in Paris. "We want to encourage dialogue between artists and critics. The dance field in the Czech Republic is very small and there is a need for the world of performers and critics and theorists to communicate with each other. If we share the needs and conditions for doing our work, it will definitely help the field," says the moderator of the discussion.
The whole project of Czech Dance News Dance criticism in the European context has two parts. The second series of seminars and discussions will take place in July in cooperation with the KoresponDance festival. The project is supported by the European Union through the National Recovery Plan.
Emily May (GB/DE) is a British-born, Berlin-based arts writer and editor specialising in dance and performance. An alumna of Trinity Laban Conservatoire for Music and Dance and a member of the Dance Section of the U.K. Critics' Circle, she regularly contributes to publications including Dance Magazine, Art Review, Frieze, The Stage, Flash Art, The Brooklyn Rail, and Springback Magazine, as well as organisations such as The Royal Opera House. Since 2021, she has led editorial projects at COLORSxSTUDIOS, where she launched and continues to manage a new editorial platform exploring global culture. Alongside writing, Emily is experienced in hosting post-show talks and panel discussions digitally and in person. She has moderated interviews for a variety of festivals including Aerowaves Springforward, Soundance Festival Berlin, and Czech Dance Platform, and participated in talks on dance writing as a panellist.
Lena Megyeri (HU) is a publicist and cultural manager based in Budapest and Vienna. She has been publishing in the field of dance for more than ten years in a wide range of Hungarian media and also in Springback Magazine. For the past six years she has managed her own theatre space in Budapest, and currently works as an independent cultural manager.
Anette Therese Pettersen (NO) is a theatre and dance critic, curator, editor and publicist. She is currently pursuing a PhD in Theatre Studies at the University of Agder. She studied Theatre Studies at the University of Oslo (MA) and writes for Morgenbladet, Scenekunst.no, and Norsk Shakespeare- og teatertidsskrift. She has worked as a producer in the sphere of performing art and has long collaborated with choreographer Henriette Pedersen. She is co-founder of the Writingshop project, which explores the processes and politics of contemporary criticism in practice.