Ken Mai and His Blessing Butoh for NoD's Birthday: "In Helsinki, therapists wait in queues to attend my butoh lessons."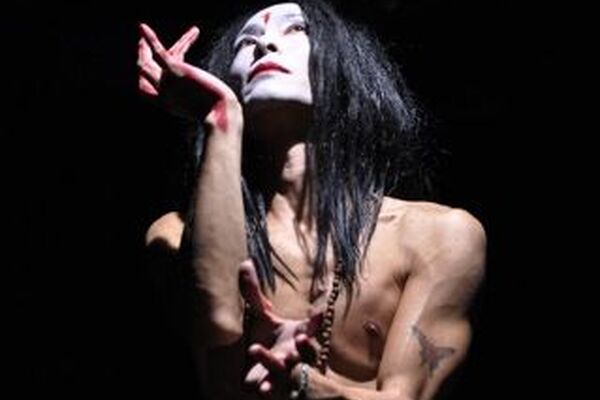 Ken Mai and His Blessing Butoh for NoD's Birthday: "In Helsinki, therapists wait in queues to attend my butoh lessons."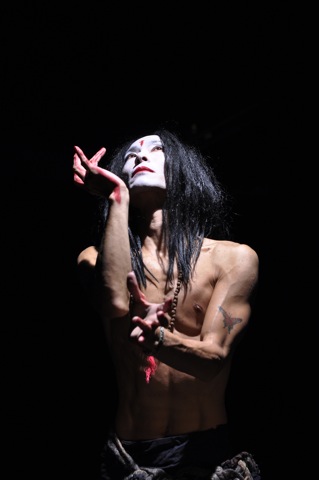 A meditative birthday present has been brought to the Experimental Space NoD by the Japanese dancer Ken Mai, one of the few representatives of butoh who returns regularly to the Czech Republic where he enjoys the positive response of the audiences.
His style builds upon the classical legacy of two leading founders of butoh, Tacumi Hijikata and Kazuo Óno, the latter being Mai's direct inspiration as well as muse. Ken Mai's butoh is, like Óno's, more meditative, dance-inspired, soft and religious, it deals with the concepts of love, good and deep inner experience rather than with shocking aggression and ostentatious expressionism. His dance is also inspired by contemporary European dance, music and theatre tendencies and is thus closer to European audiences with its modern way of expression. It is especially successful in Finland, where Ken Mai now resides
.
"I think the Finnish are a nation who really understands butoh. Their reclusiveness and reserve, innate sense of melancholy, depression and faith in true relations among people enable them to foster their own rich inner life that can be hardly shared with the others. It is the country of punk and heavy metal, gothic culture and sadomasochism, it is rough and cold – and its people search for warmth, light and love more persistently than anywhere else in the world. It is a country which understands my butoh.
The popularity of butoh is still increasing in Helsinki. When I came here, people knew almost nothing about butoh, and now they have to stand in queues to get to my workshops. And they are not dancers or actors - there are just a few of them - but mostly doctors, therapists, psychologists or managers and office workers who are interested in my classes. They compare my dance to some kind of therapy which helps them. The classes are taken by people of all ages, from 20 to 70."
"For me, love is the most important thing in the world…"
This time, Ken Mai brought to Prague a meditative piece called Dhyana, dedicated to the Indian holy woman Anandamaya Ma and inspired by Buddhist sutras. The dancer himself devoted sixteen years of his life to the quest for enlightenment in a Kyoto zen monastery. In his works, Buddha's paradise merges with the knowledge of absolute love that engulfs our soul and makes it shine with its light.
"It doesn't matter whether you reach the enlightenment through yoga, meditation or dance, it is the human element which really matters, because the human spirit springs from the human soul. Thanks to the dialogue with our own body we can open our soul to the quest for enlightenment even more easily and let it get imbued with love. And for me, love is the most important thing in the world."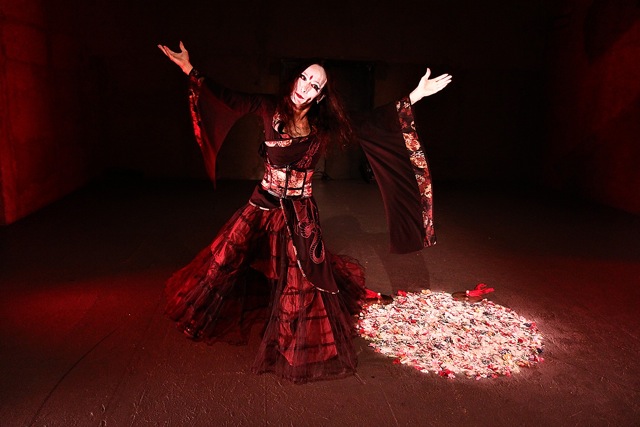 The audience had an opportunity to watch a magical emergence of a goddess, wearing a red gown, long black hair and golden mask. She stepped out of a dark silhouette to full glare and showed a slow ceremonial dance above a heap of leaves – symbol of the earth, clay and roots of our being. Putting down her mask, the goddess revealed the face of a demonic spirit who went on conjuring till he rea

ched ecstasy and disappeared in sudden darkness.

With new light, we could see a human embryo, a half-naked fragile creature, lying on its back on the heap of leaves, reaching all its limbs up to the sky. It was

impossible to turn your eyes away from the tiniest movement of the tender body, its silent spasms and beseeching desire to reach the unreachable gave you the chills. The beam of light, gradually meeting the dancer and letting him touch it, wrapped the human spirit in joy and humble self-giving.

The postscript of the whole performance was a blessing dance of a person in a white dress, symbolising atonement and forgiveness. The dazed-like dancer was throwing flower petals around the space and accompanying his euphoria with falsetto singing.

"I consider butoh as a ritual, communication with nature, it's not only about my ego, but about the things that happen on stage, that spring from myself. I believe the audience can feel that energy, I want them to feel what I feel. Sometimes people start to cry when seeing my performances, I understand it very well, I'd rather cry myself – and it occurs to me during a performance from time to time. When I saw Kazuo Óno dance, I always cried."

Written from the interview given on 19 October and performance held on 20 october 2014 in the NoD theatre.

Choreography and concept:

Ken Mai

Premiere:

May 2014, Paris

Translation: Tereza Cigánková