Provocation and Nudity or 4+4 Days in Motion Festival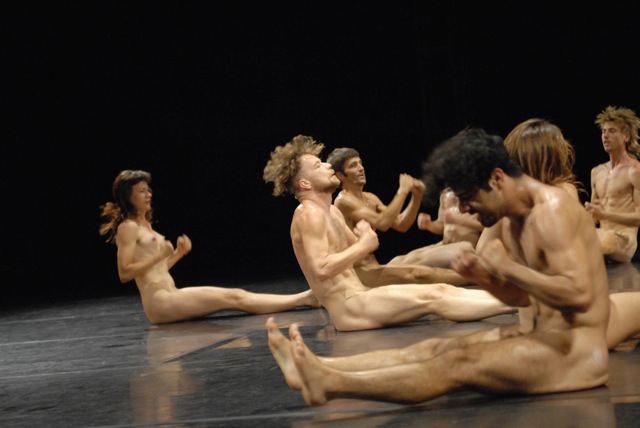 This year's 4+4 Days in Motion festival offered many dance and movement performances, even the premiere of Linda Kapetanea and Jozef Fruček's new piece created for the DOT504 dance company. One of the first dance productions the audience could see was a truly daring and highly provocative choreography called More than naked, by the Austrian choreographer Doris Uhlich.

Shock treatment

Onstage nudity is always a little bit shocking. But this piece rides roughshod over the audience – in the first seconds, twenty naked dancers of different shapes run onto stage. Body as a phenomenon, body as the most natural, movement-producing instrument. The fact that the dancers' figures were not covered with any piece of textile made us

perceive the human body as some kind of substance – bones, muscles, fat and sensuality of every movement. The dancers themselves try to explore all the possibilities of their bodies. The first fascinating thing, for them as w

ell as and for us, spectators, is 'shaking'. What can be shaking and how? Where to slap someone? How to carry someone? The performers work in pairs or in groups of three or five and their movements are synchronized but not in unison. The dynamics go up and down. Some phrases seem to be inspired by kámasútra but everything happens in an acceptable, even funny way. Nobody strives for fun and jokes. But working hard towards the clea

rly defined aim creates space for such a comic genre. Yet sometimes you cannot resist the common mainstream

view and see the naked bodies jig in a dance club.

Rhythm, energy and tempo is determined by the DJ, present r

ight on the stage – it is Doris, the choreographer, scantily clad, almost naked. Silver shoes and a short jacket, nothing more. But all this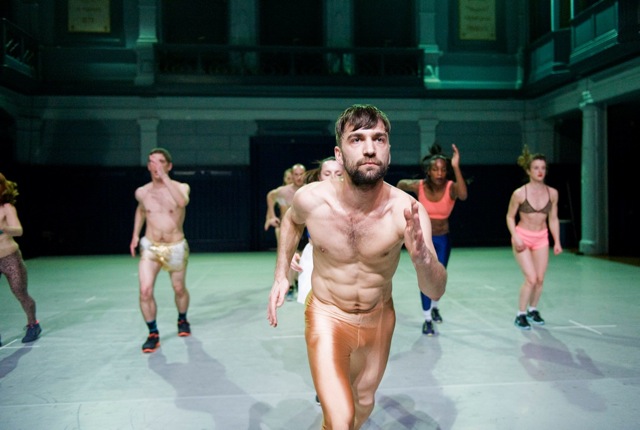 is revealed only when she leaves her spot at the mixing console to perform a short phrase and let the other dancers rest for a while. When they come back wearing shoes (a link between the dancers and their "boss"), Doris turns into an observer and conductor once again.
The choreographer's courage is admirable, as well as the dancers'. They go out on a limb. They are not ashamed of their imperfections, on the contrary, they emphasise them an
d build some humorous passages on them. Shock therapy, provocation and hard work paid off. In my opinion, the performance was an extraordinary.
Never-ending jumps
Another very important piece presented within the 4+4 Days in Motion festival was The Dog Days Are Over, in which the only element was jumping. Jumping to death. A break comes only after an hour of work. For the first fifteen minutes you can see nothing more but eight "dancers
", doing two-footed jumps without any sign of boredom. After five minutes you wish to cry out: 'What's that?' After ten minutes: 'ENOUGH!' and after fifteen minutes you want to leave. All you can do was to watch the dancer's unalterable facial expressions, brand shoes and sweating till they are soaking wet. The repetitive movement makes the audience dizzy and sick. And then – a change! Mathematic combinations and changing positions – interesting at first sight but not stunning. Still, it is a change, thanks God. The performers look less exhausted than the audience and to watch them for an hour, without even noticing that they are working incredibly hard, is actually very absorbing. We have to admire the jumping dancers. It is not until the show is over that we realise its ori
ginality. Choreographers and dancers have the power to decide what the spectator watches. When you buy a ticket for a performance, you have no other choice. What function does contemporary dance fulfil for today's audience? They want entertainment or art? Or both……?
Male element
The DOT504 dance company presented the world premiere of Jozef Fruček and Linda Kapetanea's piece entitled Collective Loss of Memory – it deals with male issues, especially fight, brutality and male power. The piece resembles a sad collage, for two reasons: because of its subject and its composition. It does not always make sense. Maybe just a few people have the idea what the ph
ysically challenging routine suggests. Is it the metaphor of aggression or display of male power? We all know men are stronger. But were they really made for fighting? For the eternal struggle with their partners, colleagues or pals? What does the piece want to point out? Is it violence in the world, men's unbalanced existence caused by the sudden need to look for their role in the modern era where a woman becomes an equal partner?
Many question but very few answers. The final video projection shows a man brutally attacked in the street. What the meaning of such a scene might be, especially if it is n
ot connected with the action on stage, remains one of the cloudy questions with no reply.
The choreography can boast of really great performances of all the five male dancers (Nathan Jardin, Joona Kaakinen, Knut Vikström Precht, Dano Raček a Tom Weksler). The basic element is 'contact' – physical as well as eye one. The dancers work in a group but also individually. The group phrases possess incredible energy as the male ego goes forward and makes it clear why
men were sent to the world. The fight, but also hints of embraces and consoling gives a new dimension to the message. Acrobatic elements refer to playfulness, courage, hard work, assiduity and mutual confidence.
If you do not insist on finding the true meaning of the choreography's message, you will enjoy beautiful masculine movements. And they have their meaning, too.
More than naked
Choreography: Doris Uhlich

Dramaturgic collaboration: Christine Standfest

Premiere: August 2013


The Dog Days Are Over

Author: Jan Martens
Light design: Jan Fedinger
Dramaturgy: Renée Copraij
Technical director: Michel Spang
Premiere: 20 March 2014

Collective Loss of Memory:
Concept and choreography:
Jozef Fruček & Linda Kapetanea (RootLessRoot Company)
Original music score: Vassilis Mantzoukis
Sets: Jozef Fruček
Light design: David Prokopič
Costume designer: Lenka Kovaříková
Costume concept: Linda Kapetanea
World premiere: 17 and 18 October 2014
Translation: Tereza Cigánková