Reflection on Dance Writing gave an insight into the profession of dance critics
Why and for whom do we write? What does theoretical reflection bring to the development of the art of dance? What are the conditions, obstacles and joys of writing about dance? These and other questions floated in the air of Prague's Tep39 studio, which hosted an international discussion entitled Reflections on Dance Writing at the opening of the 28th edition of the Czech Dance Platform festival. It was organised by Taneční aktuality and Performing Arts Hub Norway as part of the Reflection of Dance and Movement Criticism in Europe project in collaboration with Tanec Praha with the aim of creating a space for sharing the experiences of dance critics and lecturers of critical writing about dance from different parts of Europe.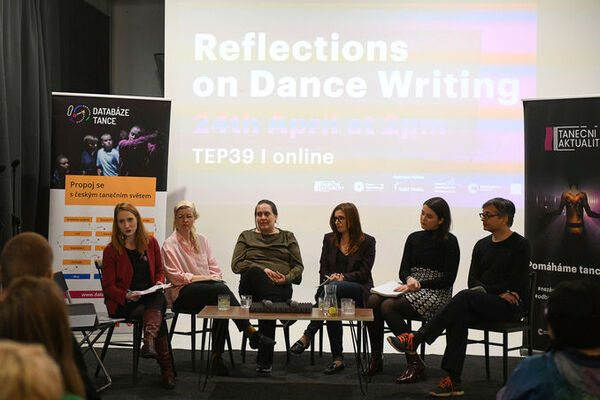 Debate Reflections on the Dance Writing (Lucie Hayashi, Anette Therese Pettersen, Hild Borchgrevink, Petra Dotlačilová, Emily May, Sanjoy Roy). Photo: Michal Hančovský.
The host Lucie Hayashi presented the topics related to the process of reflection production related to the economic status of critics to the five panelists. The dance historian and publicist Petra Dotlačilová, who thanks to her international research career has gained experience in Sweden and France, was accompanied by Emily May, a British critic currently based in Berlin. Anette Therese Pettersen and Hild Borchgrevink gave an overview of the working conditions of critics in Norway. The women's panel was rounded off by the respected British critic Sanjoy Roy.
The debate opened with the expected question of how the guests got into dance criticism in the first place and to what extent it is currently their main job. The paths to dance reflection led either logically through their own dance experience, or by detours from other related disciplines, such as literature or musicology. However, dance criticism turned out to be more of a hobby for many, economically speaking, which they pursued in their spare time. Their main source of income comes from other jobs, but they are often able to use their skills in journalism or financial support related to their doctoral studies or postdoctoral project.
The main part of the discussion then dealt with the obstacles and complexities that accompany the life of a critic. Do critics know who their readers are? Do they even have a chance to find it out? The publicists agreed that, while they have an idea of their "target audience", they always write the text in such a way as to benefit both the audience, who have not yet seen the work, and the creative team, to whom they can verbalize their impressions of the artistic experience. The audience was interested in how reviewers deal with negative reactions to their texts. Although some of the reactions of aggrieved artists accusing critics of misunderstanding artistic intent can temporarily demotivate them from writing, the publicists are usually thrilled by the controversy. They express their subjective opinion in their texts and welcome it if someone else comments. All agreed that it is good to complement journalism with discussions with the audience or artists, which allow people to think about the dance and artists to verbalize their thoughts.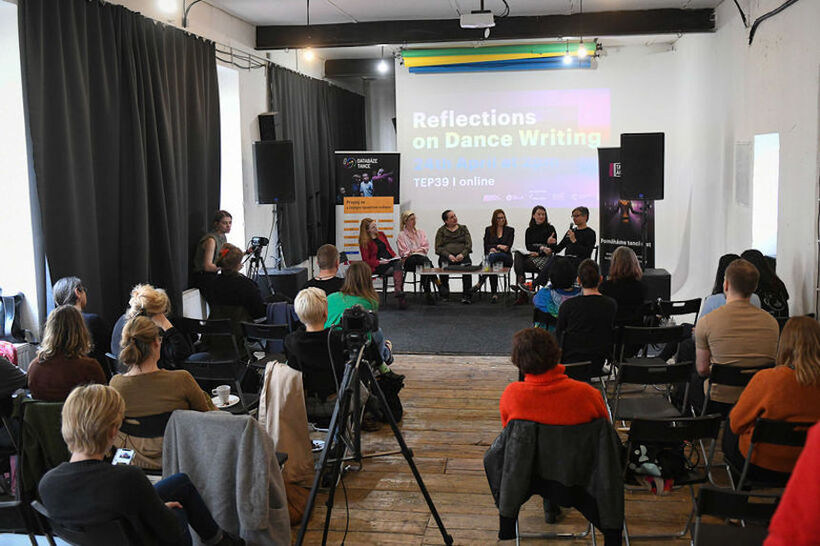 Petra Dotlačilová noted that, in contrast to the discussions, the written article is something that is preserved as evidence of the work's existence for years to come; as a historian, she has often drawn information about artistic events from contemporary reviews and criticism - and art that has not been written about does not seem to exist. In addition to a description of the production and the critic's opinion, the review also contains information about the context of the work, which is not easily revealed even if the production is preserved, for example, on video.
A good article takes several hours to write, in which even an experienced writer weighs every word and expression, creating a coherent work inspired by the performance he or she has seen. Sanjoy Roy confided that he writes a single piece for up to twelve hours, and Emily May confirmed that the shorter and more condensed the format has to be, the more challenging it is for her.
The demands of critical writing brought us to the question of valuing the work of the critic. Did you know that in Norway there is an association of critics from all artistic disciplines, which is behind the creation of a recommended price list for the work of publicists? Anette Therese Pettersen and Hild Borchgrevink highlighted the fact that the price list covers all art critics, from design to performing arts of all genres to literature and architecture. By putting all disciplines on an equal footing, the journals do not allow themselves to fall short of the association's set price. They also confirmed that in Norway, critics can apply for grants to support their work, just like artists. In France, too, there are certain tariffs according to which writers of different genres are remunerated. In Britain, on the other hand, some renowned critics write for online platforms for free, such is the overflow of those who want to reflect the arts despite minimal state support.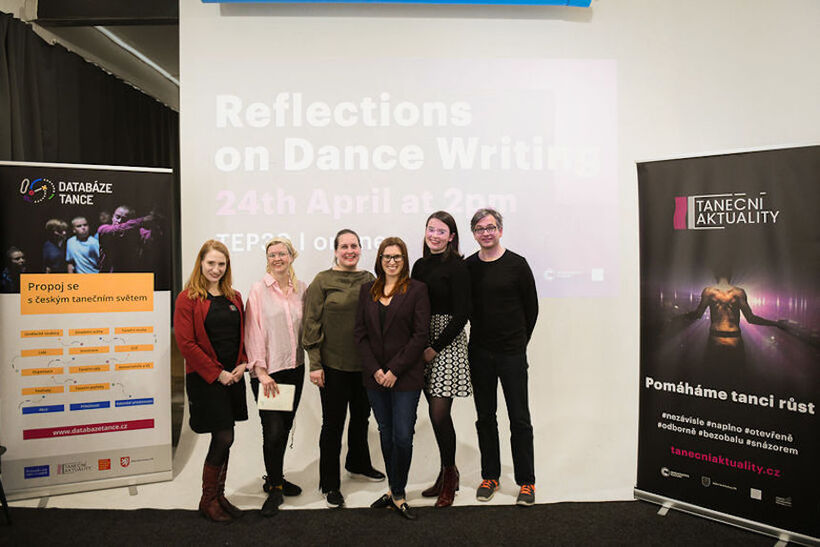 Although fees vary from country to country, the minimum should be at least ten times the minimum hourly wage in each country. In order to make a living from dance reflection, publicists would have to publish at least one article a day. And if writing were to account for at least a quarter of their income, that would mean writing about theatre at least twice a week for a whole year. Even if the artistic production in a given country and city were that rich, writing is such an authorial and creative process that such a setup is unthinkable. Just as artists cannot make a living by creating a certain number of minutes of new choreography each week. A good dance critic must also educate themselves, read about current events, attend performances of other genres, and keep up to date.
So the conditions are by no means ideal. Still, everyone feels that it makes sense. That's why all the panelists are united by their experience in conducting critical writing seminars on dance. The lecturers confirmed that there are still plenty of people interested in dance journalism. What makes many countries weep for the lack of good critical writers are the very conditions that discourage many talented writers. The only ones who remain are those for whom writing is such a passion that they find time and space for it outside their regular jobs, and even purposely seek part-time jobs in a related field so that they can continue to pursue their hobby. Recruiting young authors is therefore no problem. If the industry can find a way to pay them and keep them, dance criticism will flourish again in Europe.
Answers to other questions can be found on the recording of the discussion, which provided a unique space for the frank sharing of what has remained hidden, what has not yet been discussed, at least in the Czech context.