Tribute to Jiří Kylián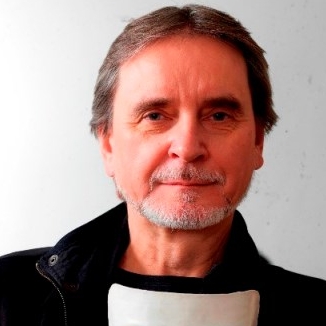 On October 2, 2015 there was a meeting with the prominent Czech choreographer Jiří Kylián at the New Stage of the National Theatre. It was held within the International Television Festival Golden Prague. The purpose of the evening, besides the actual meeting, was the premiere of the documentary Jiří Kylián created by the director Martin Kubala, and also screenings of the two short films Schwarzfahrer and Between Entrance and Exit, in which Jiří Kylián participated as for directing and choreography.
It was not possible to buy tickets for this evening in advance, so the visitors – for fear that they would not fit in the hall – began to meet in the foyer more than one hour before the beginning of the show. The crowd quickly grew and the mood of anticipation took many long minutes before the visitors entered the hall. Several courageous people passed the time taking pictures of the Bubeníček brothers, who also participated in the evening and who willingly posed for them.
After entering the crowded hall, in which some viewers did not even manage to find a place to sit, the presenter Jiří Vejvoda welcomed the guests and invited the authors of the film Jiří Kylián, Martin Kubala, Jaroslav Bouček and Jindřich Juna on stage. Then Jiří Kylián welcomed the audience, who appreciated the presence of the choreographer with applause and rejoicing.
The documentary Jiří Kylián deals with the last Kylián's premiere, the evening of the three choreographies Vanishing Twin (2008), Claude Pascal (2002) and Tar and Feathers (2006), which had been introduced separately in the Nederlands Dans Theater (NDT) before. However, this time it is Kylián's farewell to NDT, since his works will disappear from the repertoire of the theatre in Hague. The director Martin Kubala got a unique opportunity to closely monitor the preparation of the performance and the rehearsals both on stage and in the hall for two weeks. He also had a chance to observe Kylián's communication with the performers and ask him many questions. The documentary gave us insight into both Kylián's beginnings of his work and studies and his family background and views on dance, choreography and life in general. Numerous excerpts of the above-mentioned choreographies captured in the documentary are also of great value. Jiří Kylián reveals parallels of his work, based on duets, and relationships among performers – male and female elements. He deals with their mutual interactions, conflicts and dialogues, which he translates into an unlimited physical movement language.
The documentary got a huge applause and a standing ovation; people clapped their hands and who

oped. In the hall you could feel respect to the creator, who commented on the work with a few words and thanked all the people who participated. Then we could watch two short films – Between Entrance and Exit (2013) and Schwarzfahrer (2014). In both of them the dancer Sabine Kupferberg, Jiří Kylián's wife and muse, was introduced.

Although the audience expect

ed a promised discussion with the guests after that, the presenter ended the evening just with a brief summary. Yet, the chance to meet the eminent choreographer Jiří Kylián on the Czech soil was a great opportunity, for which all the people were really grateful.

Written from the performance o

n October 2nd, 2015, New Stage of the National Theatre.

Tribute to Jiří Kylián

Jiří Kylián

Director: Martin KubalaStory: Jaroslav Bouček
Editing: Jindřich Juna

Between Entrance and Exit

Director: Boris Paval Conen
Concept, choreography and stage design: Jiří Kylián

Schwarzfahrer

Director: Jiří Kylián
Cinematography: Jan Malíř Translation: Anna Würtherlová
DEJTE NÁM TIP NA PŘEDSTAVENÍ