A STREETCAR NAMED DESIRE – VACULÍK STAGES WILLIAMS FOR SOUTH-BOHEMIAN THEATRE BALLET
On 16 November 2018, the South-Bohemian Theatre in České Budějovice presented the first ballet premiere of the new season: A Streetcar Named Desire. Its choreographer and director, the experienced creator Libor Vaculík, rejoices in making theatre and cinema titles into "dance dramas", as he himself describes the new premiere in the programme booklet. This staging practice rooted in his work as early as in the 1990's and he has managed to build his own conceptual line of narrative ballets based on revealing multiple facets of human relations and portraying their controversy – or even pathology - in an almost naturalist way.
The new piece is in line with Vaculík's style, however, it does not stand out from his previous creations. It brings no surprises but one: Vaculík has yielded the desire to provide Tennessee Williams' play with a brand-new ending, in which Stella writes a goodbye letter to her husband and leaves him. But Vaculík's finale contradicts the famous American dramatist's original climax – Stella and Stanley are left to live together, their mutual erotic bound remaining untouched by Blanche's escort to the mental institution. I think in such a case Vaculík's dance drama should have been named otherwise. The audience is given no preliminary note, not even in the programme, about the author venturing so far from the original literary work whose title, plot and characters he uses. It would be desirable, though, since without explanation it might be considered a mystification.
Williams' A Streetcar Named Desire is an intimate drama about all kinds of addiction, not just the obvious ones, such as alcohol, smoking or sex addictions. Blanche, the protagonist of the story, is addicted - besides all the above mentioned - to the illusion that she belongs in high society, that she is an irresistible "femme fatale" who deserves to live in luxury and glamour. She believes all the people around her must respect this, especially her younger sister Stella whom she manipulates unscrupulously as well as her potential or real admirers. Blanche meets her brother-in-law Stanley, an "alpha male", who is not without addictions but lives entirely without illusions. Stanley cannot be manipulated, and he takes a cruel revenge for all the compromises Blanche pushes him to make.
Libor Vaculík develops the storyline chronologically, showing the key events and tragedies of Blanche's life in front of a curtain on the right side of the stage, as if her memories materialised. He has opted for a different approach than Neumeier who choreographed Williams' drama for the Stuttgart Ballet in 1983 to music by Sergey Prokofiev and Alfred Schnittke. Neumeier's ballet opens with Blanche's "terminal station", that is her bed in the mental hospital; he uses the theatrical method of retrospective and includes the protagonist's memories of losing the family mansion and mourning the death of her relatives. This version of A Streetcar Named Desire belongs to world's ballet repertory, last year it was restaged by the National Ballet of Canada. Even in this liberal country critics condemned the rape scene that the choreographer considered vital for understanding the total collapse of the Blanche's fragile psyche.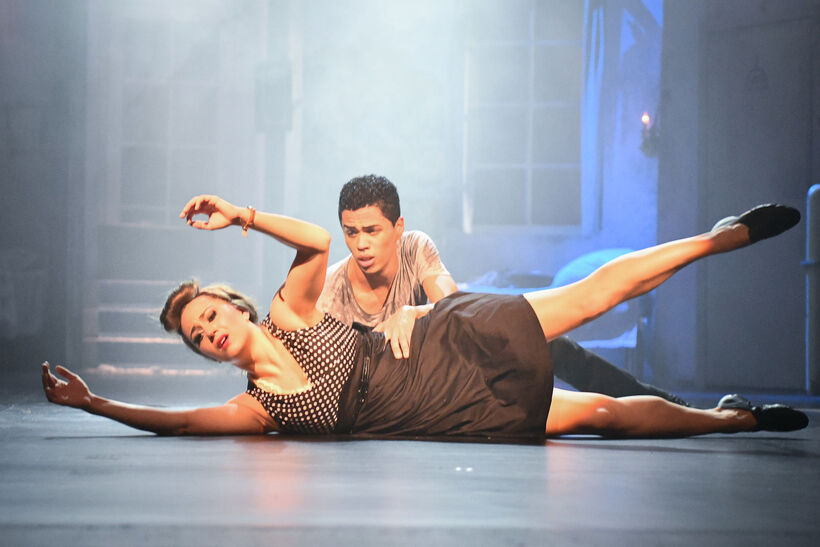 According to Tennessee Williams' notes, physical aggression is never shown on stage in front of the audience, it happens behind the scenes. As for presenting brutal scenes, the dramatist had the same opinion as authors of Ancient tragedies - he could do with allusions. Those who are familiar with Libor Vaculík's previous productions are not surprised this choreographer and director does not avoid exposing physical violence, including the sex act, on stage. In his version of the famous drama, he does not push it too far, though less would be more. I would appreciate less naturalism and more theatre semiotics, less explicitness and more poetics – after all, spectators are neither dummy nor emotionally numb.
It does not apply to violent scenes only, but to all movement actions. As if Vaculík did not trust his own medium – expressive possibilities of dance and gestures! He creates a sequence of movement passages that tell nothing and are based on shapes and physical actions, at times turning into empty body language and juggling with props that literally pollute the stage. The performers lack eye contact, real interaction, they often move without looking at each other. The dance drama, which should be based on human relationships, lacks any authentic emotional feedback. On top of that, the choreographer did not define movement styles of the individual characters. Blanche, embodied by Petronela Bogdan, has the same fierce and robust moves as her sister (Tereza Szentpéteryová) and other dancers. There are no nuances or dynamic changes.
The sets look authentic, but they frame the stage in such a manner that in fact prevents the dancers from travelling in space. The only solution is to be close contact in never-ending acrobatic duets and to lift Blanche in all possible (though inventive) ways. How to present a prop (a glass, cigarette, letter etc.) and turn a pirouette on spot without knocking down two tables, an armchair and several chairs? It is a shame but apart from the above-mentioned duets, we cannot see actual dancing. Only the "good boy" Mitch is given more space to dance out his desires and emotions. Zdeněk Mládek took full advantage of this opportunity and his character was the only one who seemed credible and in line with Williams's intention. On the contrary, Magnum Phillipy as Stanley Kowalski gave the worst impression as he was unable to handle his role. It is beyond doubt that Stanley's part better suits an experienced dancer who can express wider range of emotions, not just animalistic coarseness, verging on stupidity. It seems strange the choreographer did not cast Zdeněk Mládek as Stanley – swapping the parts would flatter Phillipy and do no harm to the multi-talented Mládek. Vaculík's psychodramas require certain types of performers. It would be interesting to see Julii de Meulenmeester as Blanche, but unfortunately, she has already left České Budějovice company.
The music score consists of compositions by Arvo Pärt, the popular contemporary composer who is much-loved by choreographers. The selection has been made by Libor Vaculík himself and his long-time collaborator Petr Malásek who took up the role of music director. He coloured the scenes with concrete sounds, such as a door bell ringing etc. Pärt's music in Malásek's arrangement is one of the positive aspects of the production, as well as American-style colourful costumes by Roman Šolc. They would be enough to define the environment, without bouncing off Radek Honc's scenography, cluttered with details, though certainly functional in a drama.
Overall, it may be said that Vaculík has presented his own take on the famous drama that will hopefully motivate audiences to read the original (if they have not done so yet) or go to see any of its dramatizations. However, I am not sure if those who are familiar with Williams' play or its film adaptation, can gain any added value from the new premiere of the South-Bohemian Theatre ballet, namely at the level of psychological and emotional insight. But who knows what the audience's reaction will be to the co-production premiere on 1 December 2018 at the Municipal Lower-Bavarian Theatre in Passau.
Written from the premiere held on 16 November 2018 at the South-Bohemian Theatre in České Budějovice.
A Streetcar Named Desire
Direction and choreography: Libor Vaculík
Scenography: Radek Honc
Music: Arvo Pärt
Costumes: Roman Šolc
Lighting Design: Libor Vaculík
Music Direction: Petr Malásek
Assistant choreographer: Béla Kéri Nagy, Lukáš Slavický
Dancers:
Blanche Dubois – Petronela Bogdan
Stella, Blanche's younger sister – Tereza Szentpéteryová
Stanley Kowalski, Stella's husband – Magnum Phillipy
Harold Mitchell "Mitch", Stanley's friend – Zdeněk Mládek
In episode roles: Rosa Maria Pace, Radka Hájková, István Varga, Sotirios Panagoulias, Aleš Hanzlík, Béla Kéri Nagy, Sebastiano Mazzia, Lukáš Slavický, Jiří Hájek
Premiere: 16 November, 2018