Alice Dancing in Live Relay from Covent Garden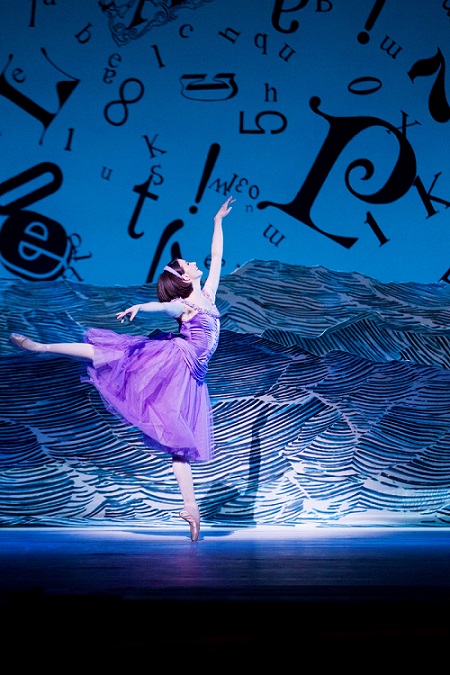 Christmas and pre-Christmas time is favourable to fairy tales of all kinds and most theatres bring to stage the much-loved Tchaikovsky's Nutcracker in miscellaneous libretto versions. The Royal Ballet has opted for a different path and after twenty years enriched its repertoire with a brand-new title – Alice's Adventures in Wonderland, based on the famous novel by Lewis Carroll (world premiere took place in 2011). This ballet has been included into the project 'Balet v kině' (Ballet in Cinema) and broadcast on 16 December 2014. In Prague, the screening was held in Bio Oko Cinema. The British like traditions (especially their own) and thus refine their sense of lasting values. Alice's Adventures in Wonderland, a new ballet with music score by Joby Talbot (*1971) and choreography by Christopher Wheeldon (*1973) is a good example of their ability to create new works building on traditions as well as developing them in a way which is no less valuable than the established "classics". The common brain-child of the two men in their forties, representing the middle-aged generation, is based on the libretto written by their colleague, who is a generation apart from them, the acclaimed British dramatist Nicholas Wright (*1940), member of the Royal National Theatre, who has adapted for stage Josef Škvorecký's short story (Omluvte slečnu Peškovou – Excuse Miss Pešková, 1993) and rewritten the play about Vaclav Nijinsky by Terence Rattigan (Rattigan's Nijinsky, 2011). The team includes the set designer Bob Crowley (*1952), theatre "magician", six-time Tony winner for designing theatre plays, operas or famous Broadway musicals. With their bright ideas, Wright and Crowley helped to find suitable stage designs for many intricate situations from Carroll's novel, but also the poetics of the piece – they devised the key motif of "transition", not only from reality to fantasy, but also as a process of growth and maturing: they used a tunnel, full of isolated letters, to symbolise sinking into another reality. I think you can remember the dreams in which you were sinking deeper and deeper down a bottomless tunnel…

The result is a piece which pays off the invested effort and expe

rience and, in addition to English tradition, it contains a strong contemporary accent because its theme corresponds with the popular genre of "fantasy". It is also packed with special visual effects and pregnant rhythms provided by the orchestra with a strong percussion section (15 different percussions played by five musicians!). At the same time, it keeps on building the English national ballet tradition, including accomplished direction and dancing and acting skills of the performers.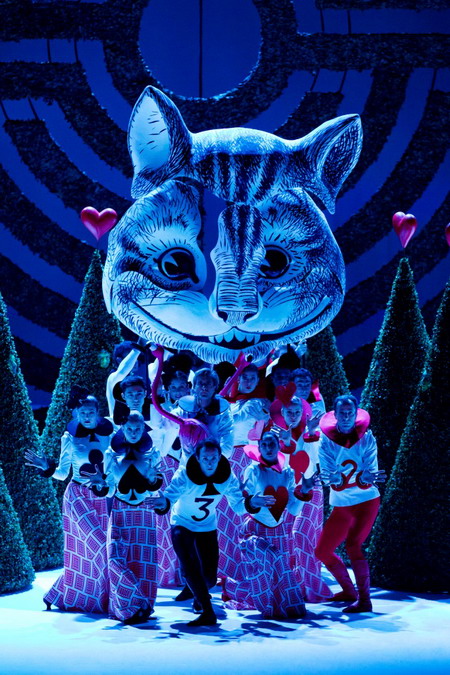 The live performance featured Sarah Lamb, cute and airy, in the principal and challenging role of Alice. In the double role of Jack/Knave of Hearts we could see Federico Bonelli. Alexander Campbell had to fill in for the injured Ricardo Cervera in the dual role of Lewise Carroll/White Rabbit. The well-deserved attention was drawn to Zenaida Yanowsky as the dominant Queen of Hearts; she managed to transform her role into a caricature though she could only express herself with her upper body in her heart-shaped crinoline costume. Many dancers had acting, rather than dancing, parts but they handled them excellently – for example Christopher Saunders as Alice's father/King of Hearts. The dancers' performance and the concert of all stage actions gave a spectacular impression.

This production underwent a certain evolution before the revie

wed live relay. The composer Joby Talbot had created a score for a true full-length ballet (circa 115 minutes) and originally divided it into two acts, the first one lasting for more than an hour. The Royal Ballet's management, that listens to the voice of its audiences, realised it was too much for an uninterrupted running time, especially for children the piece is destined to (though it is a truly "family" performance and adults will not get bored). Later on, Christopher Wheeldon revised the ballet, split it into three acts with two interacts, and with Talbot they added a duet of Alice and the Knave of Hearts to the last act, in order to reinforce the two characters' mutual affection which vanquishes the evil and envious court of the Queen of Hearts. The choice proved to be good as the duet now belongs among the choreographically most treasured parts of the ballet. Wheeldon, former brilliant dancer (in 1991 he won the Golden Medal in Lausanne), specialises in neoclassical style, but enriches his Alice with an excellent tap dance number (we could see the spontaneous yet virtuoso dancer Steven McRae) and he explored other movement aesthetics – particularly in the number with a giant Caterpillar - metaphor of orientalism - formed by an exotic dancer wearing a turban (physically expressive and charismatic Eric Underwood) and a group of ballerinas under a glittering cover. Although this scene is short, it demonstrates the perfect collaboration of the producers. It is, by the way, a great positive of this piece because it revives the harmony of creative theatre thinking as presented to the world of its time by Sergei Diaghilev's company. In many scenes, Wheeldon's choreographic work seems rather "submitted", unobtrusive, grown through other stage actions so that it loses its autonomy and succumbs to the direction. But that is what shows Wheeldon's choreographic skills, the ability to keep purposeless dance exhibitionism at a stay! Wheeldon can set in motion the individual groups of dancers in a polyrhythm of diverse actions to create a coherent theatre performance. The role of presenter who leads us throughout the piece was assumed by the former Royal Ballet principal dancer Darcey Bussell, a fact that sets another example of building a tradition. Her task was not easy as live relay is a live relay and experienced artists also suffer from stage fright. It happened that Bussell was so eager in explaining Wheeldon's intention to enrich the last act with a dance of the Queen of Hearts and Card Cavaliers - as a parodic reminiscence of the Rose Adagio from Sleeping Beauty - that she revealed completely that lovely and exquisitely performed "slapstick" and thus deprived the audience of its magic.

It was also rather imprudent of her to mention the financially and technically demanding fabrication of blue pointe shoes, embellished with crystals, and address the sponsors with a plea for some contribution, even though the pointe shoes appeared on stage for just a few seconds in the "caterpillar" scene described above. The audience – including the sponsors – are very watchful and often ultra-critical which was obvious from the "tweets" posted after the show. Why should they invest their

money into something that can be seen on stage for a moment or not at all from distance? Well, like dancing and choreographing, also presenting is sometimes far from being a piece of cake… What to say for conclusion? Those who missed Alice's Adventures in Wonderland, cannot but regret it. It is a very interesting theatrical production which demonstrates that it is not necessary to throw traditions away, but possible to draw upon them and still create something new and attractive. On the other hand, concerning the tradition and pointe shoes – in case of Alice it would not be bad to let her dance without them…

Written from the live relay held on 16 December 2014, Bio Oko Cinema.

Alice in Wonderland (live cinema relay)

Choreography

: Christopher Wheeldon

Music:

Joby Talbot

Sets:

Bob Crowley

Libretto:

Nicholas Wright

Light design:

Natasha Katz

Conductor:

Barry Wordsworth

Translation: Tereza Cigánková