Bon Appétit! : When tastes start to fade
The collaboration between Laterna magika and the Czech National Ballet can be regarded as a special event in the history of both ensembles. In the past, it was not uncommon for dancers to switch between the National Theatre and Laterna Magika, but they have never got together within one project. Their cooperation might enhance the quality of their performance but, in a sense, I find this joint project threatening for Laterna magika.
The well-established creative team, formed by the very popular duo of stage directors Martin Kukučka and Lukáš Trpišovský, the choreographer Jan Kodet, the costume designer Simona Rybáková and the set designer Jakub Kopecký, joined forces for the new dance-theatre show Bon Appétit. They have already created several productions together, such as The Sorcerer's Apprentice and The Little Mermaid (Czech National Ballet), or Human Locomotion which is still part of Laterna's repertoire.
Everyone expected the new piece to touch upon the key and vital theme – food. But although the authors may have found some inspiration in food, they further explored other forms of hedonism, the variety of tastes and flavours, and sensory pleasures. With the right amount of hyperbole and humour (but also super seriously and with a sense of the mysterious), they plunge into various situations.
The opening scene looks very promising. Dancers are standing on the stage in a closed semi-circle, and the group slowly disintegrates with improvised moves. A girl starts to play with an orange lying on the floor and admires its roundness, colour, smell, the structure of its peel. An orange hides a typical flavour and juicy pulp, which might be hard to get to. Peeling an orange can be a bit of a messy job, leaving your fingers sticky and wet. The solo with an orange was danced by Kristina Kornová, the protagonist of the ballet. In her role, she was all thrilled, playful, bursting with energy and dancing excellently. Her transition from a challenging dance variation to live singing was truly fascinating. It would be a big challenge for most musical actors, which makes it even more admirable for a classical-trained dancer.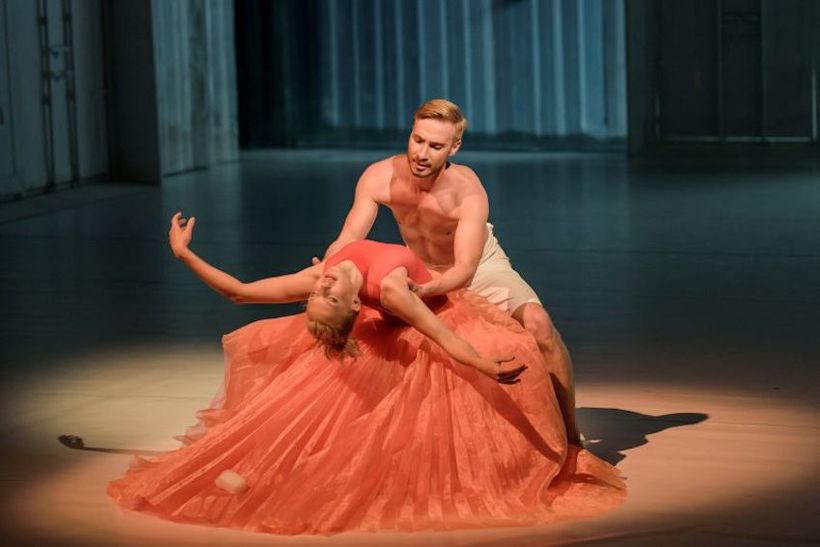 The stage is simple and coldly grey, with the typical hanging lamellas on the horizon and on the side walls (a feature that has been used since the era of the famous choreographer and Laterna magika's founder Josef Svoboda). They offer various possibilities of lighting and can be used as projection screens. The performers sometimes vanish mysteriously from the stage without making a noise and then reappear. And of course, there is the effect of coming out of the screen. The film loops are very dynamic throughout the whole performance, though they are abstract and do not provoke any particular desires or tastes. And what about the white fireplace with projected flames we see upstage? Does it represent a source of fantasy?
The dancers are dressed in greyish costumes - short light straight-cut dresses for girls and straight slim pants and shirts for boys. They all wear socks (so common in today's contemporary pieces and not looking great, I must say). Neither the scene nor the costumes in Bon Appétit complete the image of delusion and sensory experience. To put it another way, the piece relies entirely on choreography, ideas, and high-quality performances.
In a series of miscellaneous scenes, we meet the Animal. This man with a black mask (or maybe a balaclava) is portrayed by Patrik Čermák in his impressive solo dance. The strange roughness and clumsiness of his movements is, I assume, intentional. At one moment, he pushes a sort of janitor cart onto the stage, with a fountain attached to it. Instead of water, it pours hot chocolate and draws a whole bunch of curious dancers.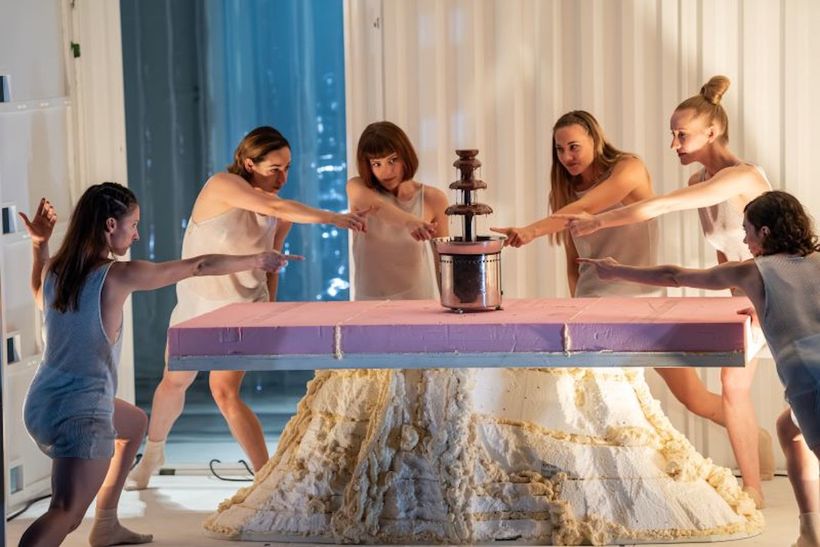 And then, there is the funny duet of Monsieur and Mademoiselle Crêpe, performed by the excellent dancer and comedian Mathias Deneux and the cute Lousie Corpechot. They are both French, so you do not need to worry about the recipe for les crêpes (pancakes). It is in good hands, handled with care, humour, and good French. The cooks demonstrate how to prepare this "goddess of French gastronomy." To make their circus-like number even more entertaining, the authors included two large inflatable swans, a white and a black one, which effortlessly floated onto the stage several times. There is no need to look for a deeper message, just like in the following scene, featuring Marek Svobodník (dressed in a white costume) who picks up a discarded plastic cup. He is joined by a girl (Mária Dorková) carrying garbage on her head, entangled into a high wig. It makes me think of environmental agitation. The dancer is taking on more and more cups and garbage with his entire body. He is playing a game, almost like contact improvisation with the garbage. A large table (or is it a cake?) with a chocolate/mousse au chocolat fountain appears in the rear part of the stage to tickle the sweet tooth of the dancers who flock to it like to a sweetshop.
The highlight of the performance is the entrance of a Japanese girl (first soloist Ay Watanabe) and her friends. A moonlit ritual begins - putting on a kimono made of two long stretches of black and white fabric. Watanabe performs a beautiful solo on the forementioned table on which she first emerged as Miss Origami. The fine details of her moves evoke the Japanese culture. From close proximity, we can see the play of her muscles, arms, legs and fingers, but also smell the breath and odour of this fantastic dancer. She represents the Japanese flavour also through the visuality.
In some passages, the entire cast of fourteen members dance in duets (for instance with huge gloves) or they all dance in unison. It is not clear what their tastes are, but they move very well. However, the choreography is dominated by Kristina Kornová (clad in an orange-skirt costume) who steps in and out of the show.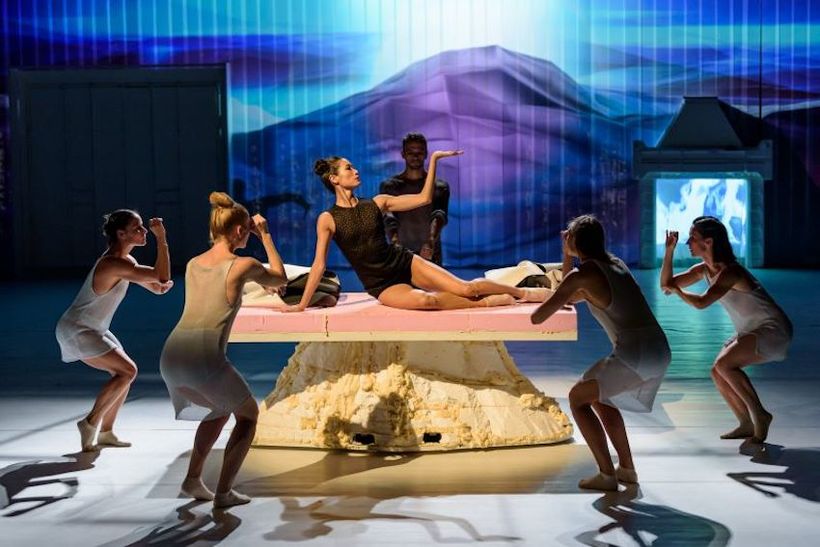 The series of juxtaposed dance numbers can be compared to a ballet divertissement, a display of all the good stuff à la carte. Many of them were tailor-made for the dancers. The choreographer Jan Kodet can work with dancers' characters and dispositions and he builds on close collaboration with the artists. His choreography is of a high quality, as well as his distinctive movement vocabulary. With the experienced composer Ivan Acher they found a common language - a melange of styles and diverse compositional ideas including singing and spoken word.
The result corresponds to the original intention: Everyone can choose what they fancy, or whatever they want. Sadly, despite the abundance of interesting ideas and impeccable performances, the piece brings no solution and has no lesson to teach. And the audience's tastes start to fade the moment they leave the theatre.
Written from the premiere held on 10 September 2020, at the New Stage of the National Theatre.
The Original text in Czech was published on 17 September 2020.
Bon Appétit!
Choreography: Jan Kodet
Direction: SKUTR (Martin Kukučka and Lukáš Trpišovský)
Music: Ivan Acher
Set design: Jakub Kopecký
Projections: Erik Bartoš, Jakub Kopecký
Costumes: Simona Rybáková
Premiere: 10 September 2020
Cast:
Girl with an orange: Kristina Kornová
Beast: Patrik Čermák
Mademoiselle Crêpe: Louise Corpechot
Monsieur La Crêpe: Mathias Deneux
Miss Origami: Aya Watanabe
Garbage man: Marek Svobodník
Garbage woman: Mária Dorková
Man with a Candleholder: Jonáš Dolník
Also dancing: Zuzana Herényiová, Pavla Červíčková, Tereza Hloušková, Tereza Kučerová, Viktor Svidró, Alexander Sadirov, Lukáš Nastišin
Translated by Tereza Cigánková.
Sun
Mon
Tue
Wed
Thu
Fri
Sat
31
1
2
3
4
5
8
9
10
11
12
13
14
15
16
17
18
19
20
21
22
23

24

DIS PLA Y předpremiéra

Jitka Čechová, Tereza Lenerová

Plzeň, Moving Station

25
26
27
28
29
30
1
2
3
DEJTE NÁM TIP NA PŘEDSTAVENÍ