Carmen or Who is the Animal Here?
The second premiere of this season for the ballet company of the National Moravian-Silesian Theatre was Carmen by Czech choreographer Jiří Pokorný. The Ostrava company has already worked with him on the mixed bill Rises and Falls in 2018-2020, in which Pokorný staged The Giant's Escape.
The choreographer, who has experience from NDT or Kidd Pivot Crystal Pite, chose a strictly narrative work with a familiar story, which was first adapted by Prosper Mérimée. The life story of the Spanish gypsy Carmen and her love escapades with Don José and toreador Escamillo have been adapted on stage by many authors, from Roland Petit (1949) to John Cranko (1971) to Mats Ek (1992). Alberto Alonso's production for the Bolshoi Theatre in Moscow has probably left the most visible trace as it starred Maya Plisetskaya with the music composed by her husband Rodion Shchedrin based on Georges Bizet's eponymous opera. His suite Carmen is a basis for Jiří Pokorný's work, which complements Bizet's and Shchedrin's pieces and puts them together thanks to Davidson Jaconello, whose adaptation provides the music with a more contemporary sound, deepens its rhythmic quality and is not afraid about electronics or purely acoustic parts. The result is extraordinarily interesting and perfectly functional music when the sequences of individual passages make natural sense and are not pushy with the desire for shallow effectiveness or fierce modernization, for which Jaconello is to be appreciated.
The choreographer decided to move the story from the sunny, southern part of Spain to an icily industrial underground of unknown time and space with four main actors: Carmen, José, Escamillo and Lady M (Micaela in the original). The club is covered in black, the side wraps along the stage are removed and costumes (Marek Cpin) of a small corps de ballet entice steampunk vibes with the artificial leather and design. Carmen (Natalia Adamska) has the simplest clothes – the uncovered back and long trousers in black and then in red are particularly interesting. Lady M (Shino Sakurado) seems to be from an outer world – a simple old rose dress with a round satin skirt provide her with innocence and naivety, although she is far from being a fragile doll; thus, the costume becomes a mask.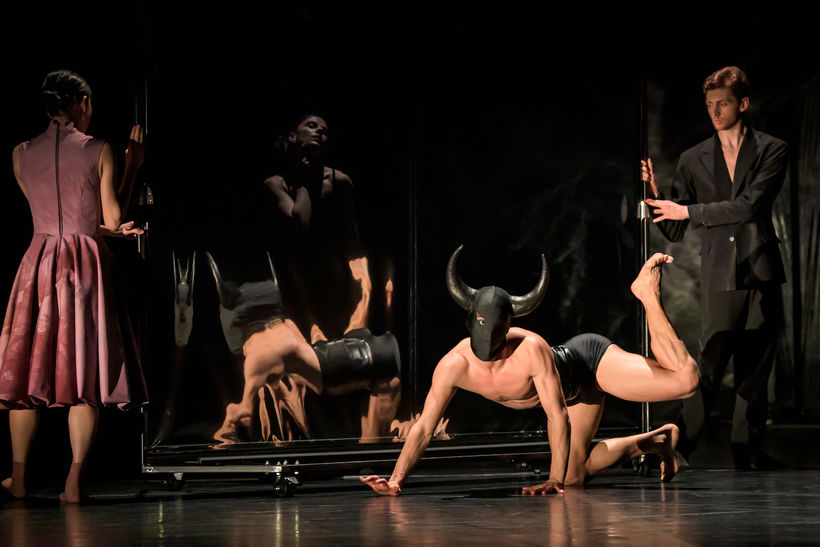 Pokorný intentionally avoids the cheap and shallow visual depiction of Spanish folklore, so we do not see any pleated skirts, castanets, or roses in the hair. The original setting of the drama is reflected only in fans used in a scene, where they carry a rather metaphorical meaning than illustrate a national tradition, as well as an allegorical character of a man with a bull's head. It appears in the rear stage behind semi-translucent mobile panels that work like semi-transparent mirrors thanks to variable lighting. According to the libretto, it is a depiction of Don José's animal self (Francesco Fasano), who is presented as a desperately infatuated and childishly naïve puppy (he somehow reminds us of Armand Duval from The Lady of the Camellias), yet he hides gradually surfacing possessive tendencies and oversimplification in the black-and-white interpretation of the world. The character reminded me of the mythical Minotaur (including his confinement in the labyrinth and consummation of the innocent victims) and embodied the independent spirit of Carmen, who lived according to her own rules even more in this show.
Her effervescence, self-confidence, and power are demonstrated by clear attitudes and profaned gestures (flexing the biceps, fingers showing the peace sign) that do not give the impression of fatigued cliches with their literariness; they seem to be lightly self-ironic and attractive. The girl dominates the space and people around her with complete ease and spontaneity; she sometimes seems to be bored with her power over the men.
The authors – the choreographer and his dramaturg Václav Janeček, who once again vindicates the key role in the half-forgotten job in dance – pay attention to Carmen's polyamorous understanding of love relationships (it is hard to say to which extent it is a conviction or a fashionable trend. They deprive her of a label of a volatile adulteress because Carmen sees the world and the relations with a clear prism, and they manage to communicate it successfully. She does not manipulate, or abuse, and she is not shallow: she simply authentically experiences.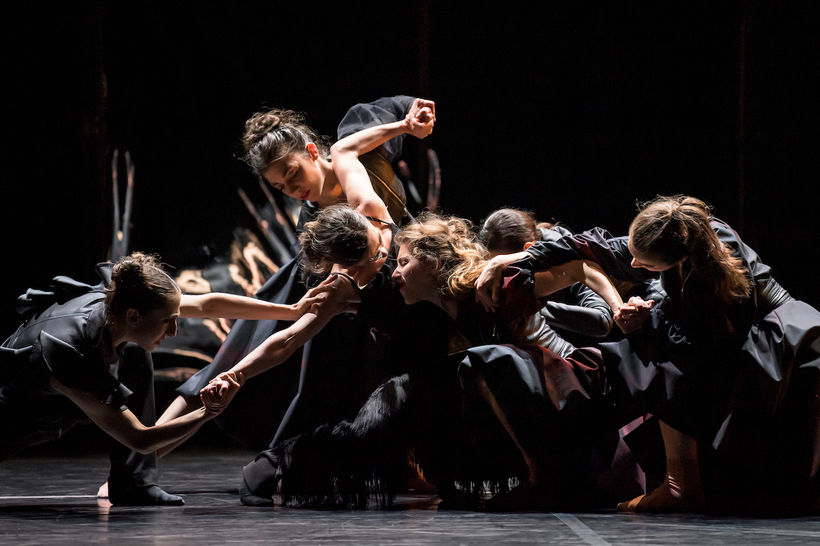 This may be the reason why her relationship with Escamillo (Rei Masatomi) appears to be stronger and more passionate. Escamillo is dressed in a short shiny jacket (another subtle wink towards the traditional Spanish culture and clothes for toreadors) because we can instinctively feel that he shares Carmen's worldview or, it seems, he does not see a problem in it.
You do not have to be a professional in polyamorous relationships (and the god knows I am not), it is perfectly fine to understand their principle at the elementary level to understand that they cannot work at the moment when one of the participants does not know about the participation. Drawing from this premise, we cannot wonder about Don José's expressive reaction after he sees Carmen (for the second time) in the amorous relationship with Escamillo shortly after she reassured him about genuine feelings she has for him and he allowed himself to be aware of the fluffy cloud from which he was pushed by Lady M out of a good will, yet mercilessly.
Each of the main characters follows their infallible moral compass which they are convinced is right and universally valid. However, there is a problem that the north to which the needles point is not really compatible with the others. Lady M sails through the story as a matte imprint that cannot be seen at the first sight with a naked eye, accompanies Don José and it seems she protects him. And she continues doing so in her own eyes because according to her rules and the value list, Carmen does not treat José "right". It is only perfectly fine with her ethical codex to draw attention to this fact and show how twisted Carmen really is. Needless to say that the unbridled altruism is distorted seriously when it is clear that Lady M's goal is her satisfaction and desire for the animality…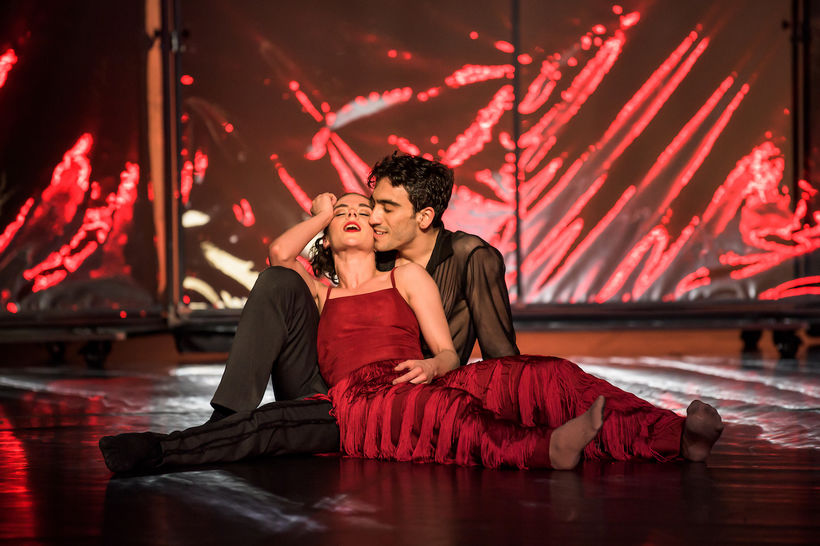 It was the first time in his career when Jiří Pokorný had decided to go for a dance version of a narrative work, yet it is not visible in the final version. His story is coherent, scenes logically follow, layer up but do not diverge, characters are clear and understandable, although they appear one by one and rather discreetly, and the narration proceeds with ease and clarity. The brochure features a carefully written libretto, which I consider an inseparable part of ballet with a plot, even though I think that a dance production should be understandable without prior research, which Pokorný's and Janeček's Carmen is.
The lightness permeates the whole show – the choreography is based on contemporary dance, thus it is plastic, flexible and dynamically propelled from a lowered center of dancers' bodies. It diverges only once at Escamillo's flamboyant entrance when Pokorný selected big jumps from the classical dance inventory, which is something I can understand regarding the nature of the character, yet I am not convinced that there is no other way to portray the same without disturbing the coherence of the dance aesthetics. The choreographer's style cannot hide his experience with the creative principles of Crystal Pite at some moments, but it remains original. It deftly works with the contrasts of strictly rhythmized and isolated motions (the very first scene in the ballet is rather primitively simple in the minimalist principle, thus completely brilliant), fluid grace of the unstoppable liquid magma and flirting with self-ironic humor, which is an aspect that is difficult to apply in motion.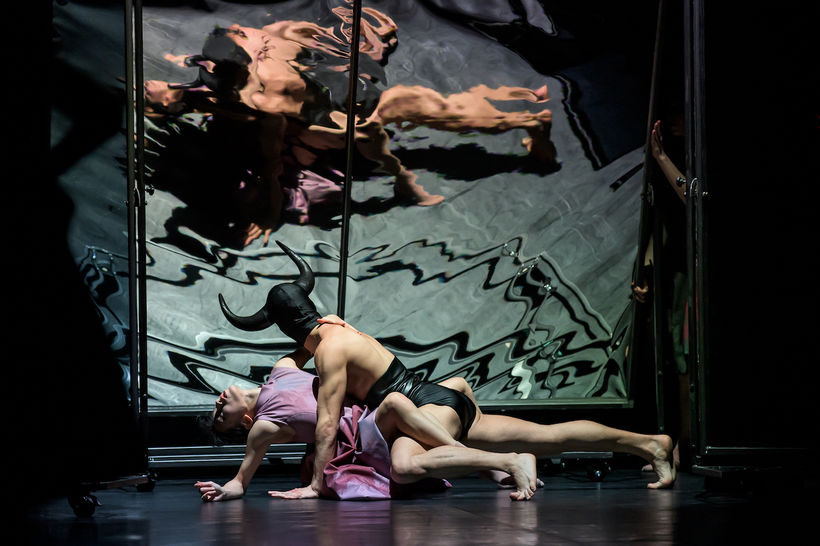 The new Carmen in Ostrava dexterously balances between metaphorical hints and physicality – whether it is a cutting with a fan swish or a finale of the last meeting of Carmen and José when it is not clear from the girl's bent back whether she experienced la petite mort or the real one. The only scene between Lady M and an allegorical animal is too descriptive when four seconds of copulatory movements seem to be superfluous. It is not a criticism of immorality, which would not make much sense in the story about Carmen, which should be a bit vulgar (yet not shallow and dirty) but of the method when we know that the choreographer can show the identical act just as eloquently in one second.
A one-hour show is developed brilliantly and provides the performers (not only the four central characters) with enough space to play, discover and communicate. The ballet company of the National Moravian-Silesian Theatre was in excellent shape and understood the choreographer and his requests. The vigor of the interpretation of the topic is one of the defining features of the piece that provides it with conclusiveness and it is proof (not necessarily the only one) that dance can still narrate in a relevant and contemporary way without pathos and kitsch.
Written at the second premiere on 14 May 2022, Jiří Myron Theatre, Ostrava.
Carmen
Choreography: Jiří Pokorný
Music: Georges Bizet, Rodion Shchedrin
Music arrangement: Davidson Jaconello
Dramaturgic cooperation: Václav Janeček
Costumes: Marek Cpin
Set and light design: Loes Schakenbos
Premiere: 12 May 2022, National Moravian-Silesian Theatre, Ostrava