Dark stories shaped to perfection – Nederlands Dans Theater in London
Nederlands Dans Theater (NDT 1), one of Europe's most prominent dance companies, paid a visit to London last April. Sadler's Wells theatre hosted their triple bill, featuring two newer works, premiered in The Hague last year, and one "classic" by the former longstanding director of the company Jiří Kylián. The evening presented a mix of choreographic and directorial styles, but they had in common a rather sombre atmosphere, heavy topics and strong visuality brought to perfection.
La Ruta by Argentinian choreographer Gabriela Carrizo took us, as the Spanish title suggests, to the side of an infrequented road in the middle of the night. There, a lonely bus stop became an epicentre of numerous situations, which were sometimes bizarre and sometimes even scary, as if they appeared in a horror story or in a nightmare. A woman in a short light nightgown lying on the road, a couple discussing in a foreign language, a dead deer hit by a car, a Kabuki character, another woman getting out of a car in anger and running away…
The fragmented narrativity, surreal images in a rather realistic setting and fluid movement material – all these signature features, but also the overall visuality of the piece, referred to the familiar universe of the Belgian company Peeping Tom, which Carrizo co-founded. On the other hand, the director (as she credits herself in the program) claimed that the piece was really co-created with the dancers of NDT; the movement material and also the situations or stories reportedly developed from their discussions and improvisations in the studio. In the choreography, we were able to recognise the process in its diversity, showing the imagination and abilities of each dancer. Woman in a nightgown seemed to have no bones and no control over her body, putting her limbs and head in the least probable positions as she was lifted and carried away by another character. Man in a brown shirt moved feverishly across the stage, as if he were swept away by an imaginary hand holding him by the head, while another dancer, dressed in a kimono and with a painted white face, performed pseudo-martial arts moves with a stick. The generally nightmarish atmosphere was occasionally broken by humorous or absurd episodes, and one scene even seemed to hint at the second act of Giselle when Albrecht brings flowers to her grave. But in La Ruta, there wasn't a clear ending to each situation, nor to the piece as a whole. Just like a bad dream, it dissolved without resolution, but left strong impressions in the viewer's memory.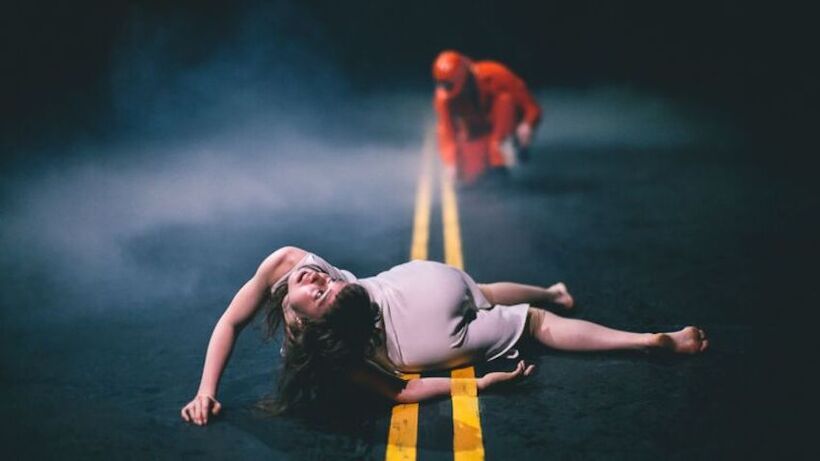 While also containing its own mystery, the next piece – Gods and Dogs by Jiří Kylián – contrasted with the previous in terms of concept and choreographic material. Here, nothing was random or improvised, each move was precisely shaped, demanding a high level of control from the dancers. In his 100th piece created for NDT, Kylián intended to explore the borders between normality and insanity, between health and sickness, and all the norms which determine them. Furthermore, labelling it "an unfinished work", the choreographer wanted to point out to the "beauty of what is left incomplete".
In general, beauty is a constant in Kylián's oeuvre, fabricated through symbiosis of music, dance and scenography, and Gods and Dogs is no exception. Here, four couples danced to the music of Beethoven's string quartet, dressed in white/greyish minimalist costumes that facilitated interesting plays of light and shade. The mesmerising picture was completed by a curtain of silver chains hanging in the back, animated by slight movement and lights. (I have to admit that this scenography sometimes drew my attention more than the choreography in front of it). As per usual in Kylián's works, the male-female duets were intertwined with each other, creeping in slowly and vanishing as someone else begins to take over. Similarly intertwined were the bodies of dancers in each couple, flowing together and passing through pointed or distorted, but always carefully crafted poses. Their controlled moves were occasionally disturbed by a shudder, a nervous tick or a silent scream, as if letting out the hidden madness. And thus, while the theme of the piece came through in a very subtle way, the imagery certainly impressed with its beauty.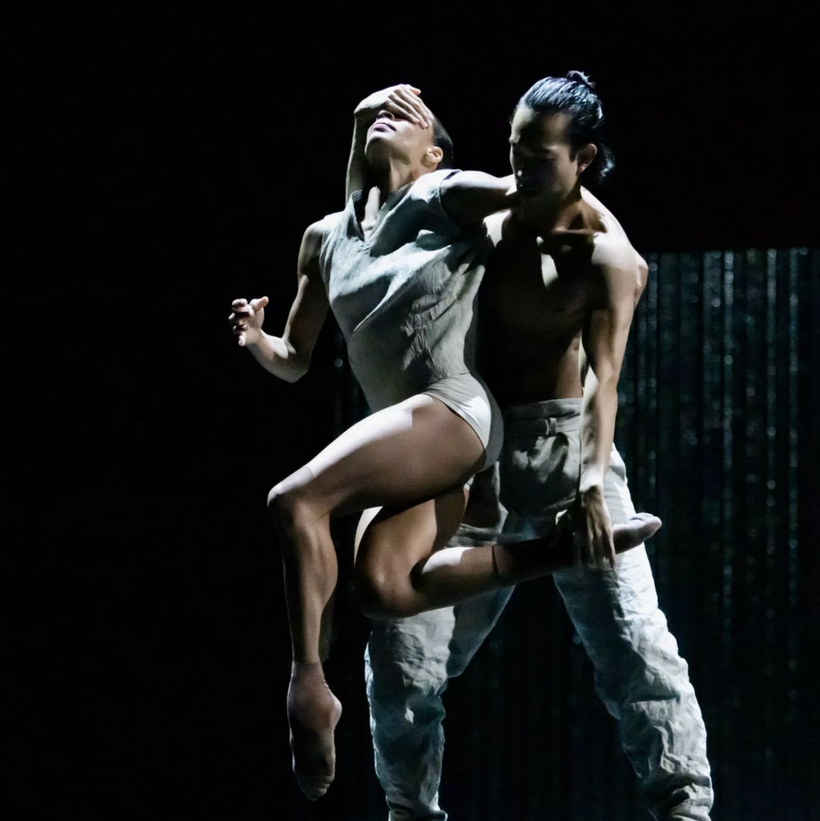 The NDT evening at Sadler's Wells culminated with the work of Canadian choreographer Crystal Pite, who recently teamed up with director and actor Simon McBurney and his company Complicité. Together, they set out to create a trilogy around the very current environmental theme – the extinction of animals caused by human activity. And already the first result – Figure in Extinction [1.0] – was fascinating and devastating at the same time. Immedietely successfull with the audience and critics, the piece received the Swan award for the most impressive dance production by the Dutch Association of Theatres and Concert Halls in September 2022.
The creators choose a simple but effective framework for the piece: selecting twelve animals, plants and natural forms (such as glaciers) described in the book Why Look at Animals? by John Berger. They draw their portraits through movement, sound and light, all of which were accompanied by Berger's text read by actors. Each tableau was introduced by the name of the species or phenomenon, and their numbering in the aforementioned book. In this way, we learnt that while we only see some examples, there are hundreds and hundreds of endangered or extinct creatures… Furthermore, the voice of McBurney's young daughter, asking whether the bird she's just seen in the garden will come back, added urgency to the current situation, which will mainly impact future generations. A "stand-up" scene with a climate-change denier, whose speech (brilliantly illustrated by a dancer) was recognisable in relation to current arguments of such people, represented the third devastating element of this depressing performance. Choreographically, Pite as usual, mastered the group work and embodied speech, creating vivid, eloquent and sometimes emotional images with dancer's bodies, but this time she also resorted to the use of huge props and puppets (e.g. a skeleton of a wild cat). We could see an entire school of fish created from dancers' hands, impressive flocks of birds flying towards us, or a single imposing ungulate.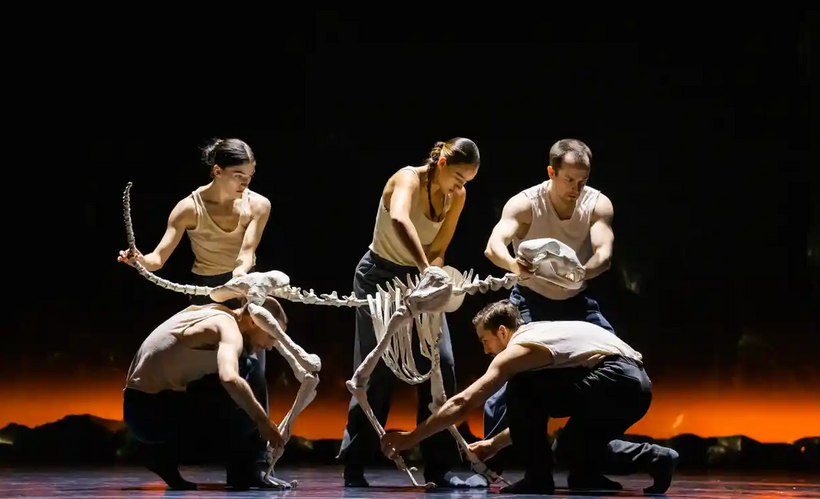 The work's beautiful form, in contrast to the gloomy message, created a strange cognitive confusion. But in result, it somehow created an opening for hope amongst all that mess we live in. After all, the climate-change denier is presented as one of the figures of extinction as well.
Written from the visiting performance of the Nederlands Dans Theatre on 19 April 2023, Sadler's Wells, London.
La Ruta
Direction: Gabriela Carrizo
Dancers: Alexander Andison, Thalia Crymble, Scott Fowler, Surimu Fukushi, Boston Gallacher, Nicole Ishimaru, Yukino
Takaura
Artistic assistant: Louis-Clement da Costa
Musical dramaturgy: Raphaëlle Latini
Music New composition: Raphaëlle Latin
Includes musical fragments of: Dmitri Shostakovich, Heinrich Ignaz Franz von Biber
Light design: Tom Visser
Set design: Amber Vandenhoeck
Costume design: Gabriela Carrizo, Yolanda Klompstra, Isabel Blokland
World premiere: 6 May 2022, The Hague
Gods and Dogs
Choreography: Jiří Kylián
Dancers: Pamela Campos, Cesar Faria Fernandes, Surimu Fukushi, Aram Hasler, Nicole Ishimaru, Chuck Jones, Tess Voelker, Jianhui Wang
Staged by: Urtzi Aranburu
Music concept: Jiří Kylián, composition by Dirk Haubrich
Includes musical fragments of Ludwig van Beethoven
Light: Kees Tjebbes
Décor: Jiří Kylián
Costumes: Joke Visser
Computer projection: Tatsuo Unemi, Dabuek Bisig
World premiere: 13 November 2008, The Hague
Figures in Extinction [1.0]
Concept, direction and choreography: Crystal Pite and Simon McBurney
Dancers: Alexander Andison, Fay van Baar, Anna Bekirova, Jon Bond, Conner Bormann, Emmitt Cawley, Isla Clarke, Thalia Crymble, Scott Fowler, Boston Gallacher, Aram Hasler, Nicole Ishimaru, Chuck Jones, Genevieve O'Keeffe, Kele Roberson, Yukino Takaura, Luca Tessarini, Lea Ved, Theophilus Vesely, Tess Voelker, Jianhui Wang, Nicole Ward
Music, new composition by: Owen Belton
Includes musical fragments by: Perfume Genius, Olama Blick Bassy
Sound design: Benjamin Grant
Text excerpts from: John Berger, Why Look at Animals? (2009)
Voices: Simon McBurney, Mamie McBurney, Max Casella, David Annen
Light design: Tom Visser
Scenic design: Jay Gower Taylor
Reflective light backdrop: Jay Gower Taylor and Tom Visser
Costume design: Nancy Bryant
Puppet direction: Toby Sedgwick
Puppet design and build: Jochen Lange
Video editor: Ennya Larmit
World premiere: 6 May 2022, The Hague
---