Don Quixote – After some time, Ostrava ballet stages a classical title again
Minkus's ballet Don Quixote has long been beating its path to Czech theatres. It was not until 1986 that it was staged at the National Theatre, one hundred and seventeen years after its Moscow premiere. Since then the title has enjoyed unceasing popularity. In Ostrava, it has already been staged three times. No surprise – Don Quixote offers light entertainment, simple but funny plot, catchy and danceable music, and impressive dancing, all that spiced by southern temperament and the well-known literary character who elegantly passes through the story. And why not to present in Ostrava a ballet set in Barcelona, when one fifth of the company members are Spanish?
Ostrava ballet company took the risk and invited Michal Štípa, first soloist of Prague National Ballet, to choreograph the full-length ballet. Štípa had had little experience with choreography and had never even danced in Don Quixote. He had often danced in other Petipa's classics, though.

Michal Štípa based his choreography on the widely used version by Marius Petipa and Alexander Gorsky. His own adjustments or innovations are scarce; bigger changes can be seen in the dramaturgy. Michal Štípa adds the symbolism of two flowers – the red rose refers to the lively Mercedes, white lily is the symbol Kitri's innocence and candour.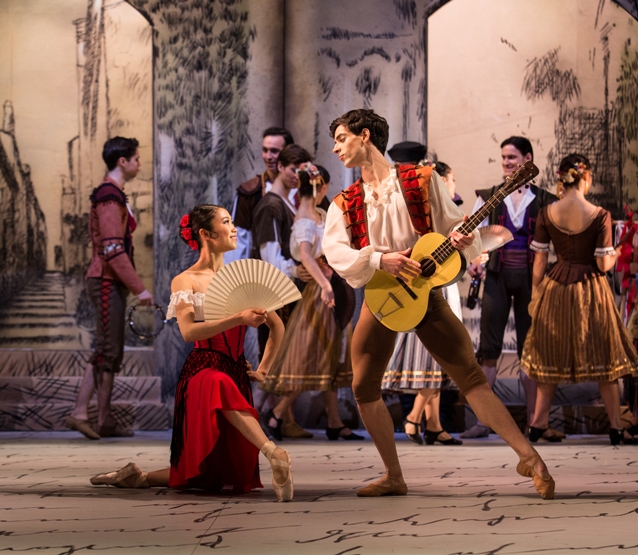 Emphasis is laid on the symbol of the lily. The reference to the lily frames the whole piece: it appears in the opening projection and in the bouquet Sancho Panza brings on stage and places on Quixote's table, and at the end of the ballet, Don Quixote puts a lily flower into the book as the reminiscence of the story just told. The dual-flower symbolism is most prominent in the dream scene, imagined as a dream garden. The vision of the unattainable Dulcinea and the characters of Amor and the Dryads are missing. Instead, there are the Lily, the Rose, the Flower Queen and the flower chorus. The choreography respects, except some details, the traditional version. The colours are bold - forest green dominates and is paired with bright red, pink and white on tutus. This extravagant combination of colours was designed by Roman Šolc. In acts one and three, costumes are also colourful and rich in decorative details, but the colours are in much better harmony.
Classical and entertaining ballet

The story is presented as a narrative taken from the book of memories of Don Quixote, which is smartly reflected in the scenography designed by Aleš Valášek. The side sets look like decorative shelf backs and the backdrop resembles a big open book with a motif characteristic of the given scene. From the open book emerge from time to time the protagonists of the story.

Besides the different conception of the dream scene, another alteration of the libretto concerns Basil's mock suicide, which is incorporated into the third act - this gag fits well into the pre-arranged wedding of Kitri and Gamache.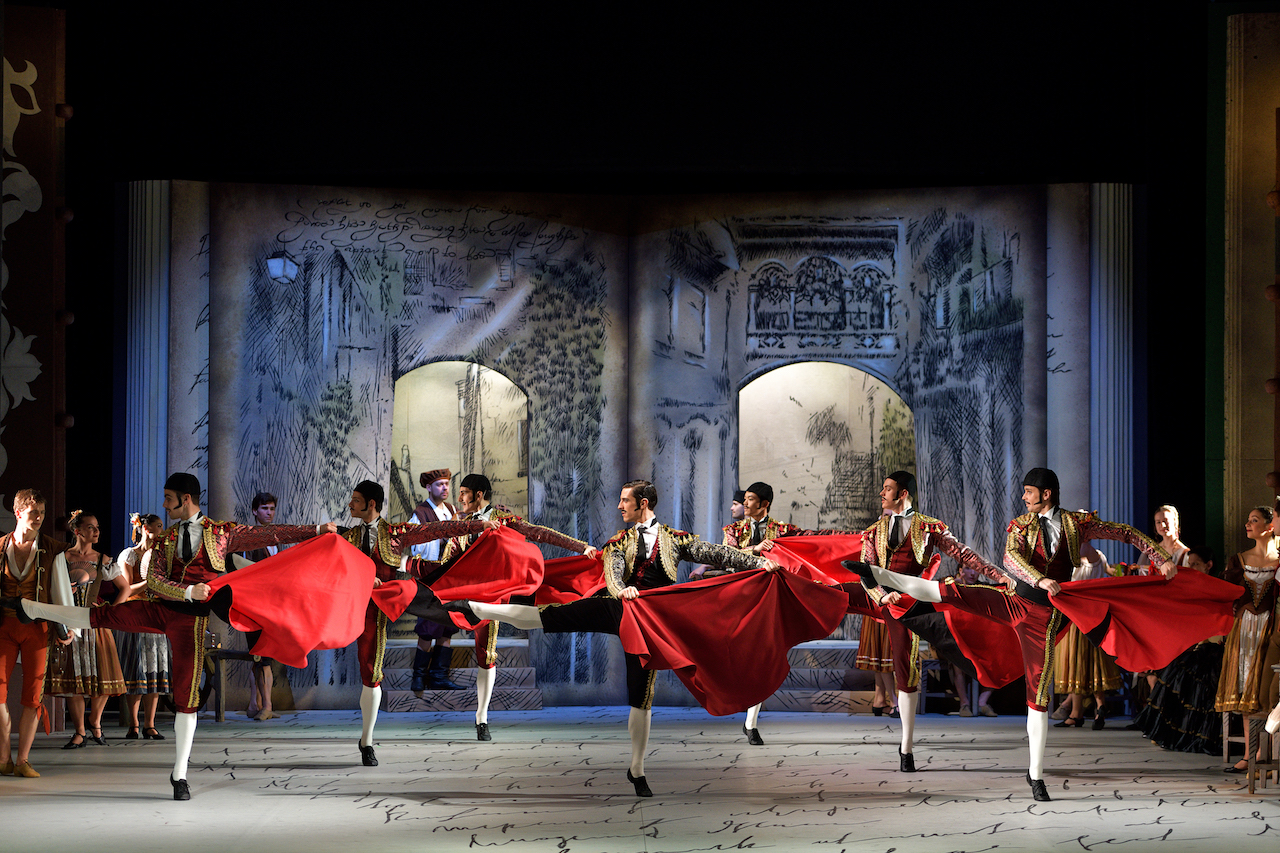 Although the choreography does not offer much new, Štípa's main contribution lies in the development of various acting scenes which underline the humorous character of the ballet. Many scenes become less serious and are crowned by grotesque points, including ass-kicking, clumsy manipulation with Gamache's litter and so on. The character of Sancho Panza also enjoys unusual attention – thanks to technically brilliant Rei Masatomi, Sancho Panza grew into one of the main characters. In the first act, Masatomi dances a big variation in which he displays his artistry, especially in rotations, and his natural comedy talents. Panza is no longer a fat glutton and drunkard, but rather a funny and cheeky giggle, and he is the very opposite of his would-be noble master. Stirring up the conflict between toreadors and local boys also works well in the first act. The fight is over with Quixote's entrance. Action takes place not only downstage, but the scene is coloured by many 'micro-actions' happening upstage (street vendors, playful flirting in the corps de ballet etc.).

Great performances of the company dancers

Don Quixote is not just entertaining, it is also based on impressive dance parts. Ostrava ballet company prove that they excel in modern repertory as well as in truly classical pieces. On both premieres, the central couple of Kitri and Basil was danced by Sawa Shiratsuki and Sergio Méndez Romero. They were a good match and radiated fresh energy. They teased each other, sometimes reacting to a fleeting touch or kiss. It is no longer true that Asian dancers have problems with acting, that their mime and gestures cannot convey deep emotions. The Japanese dancer Shiratsuki joined the company about a year ago, but in Don Quixote she could finally prove her talent. She executed technically challenging steps with admirable sovereignty.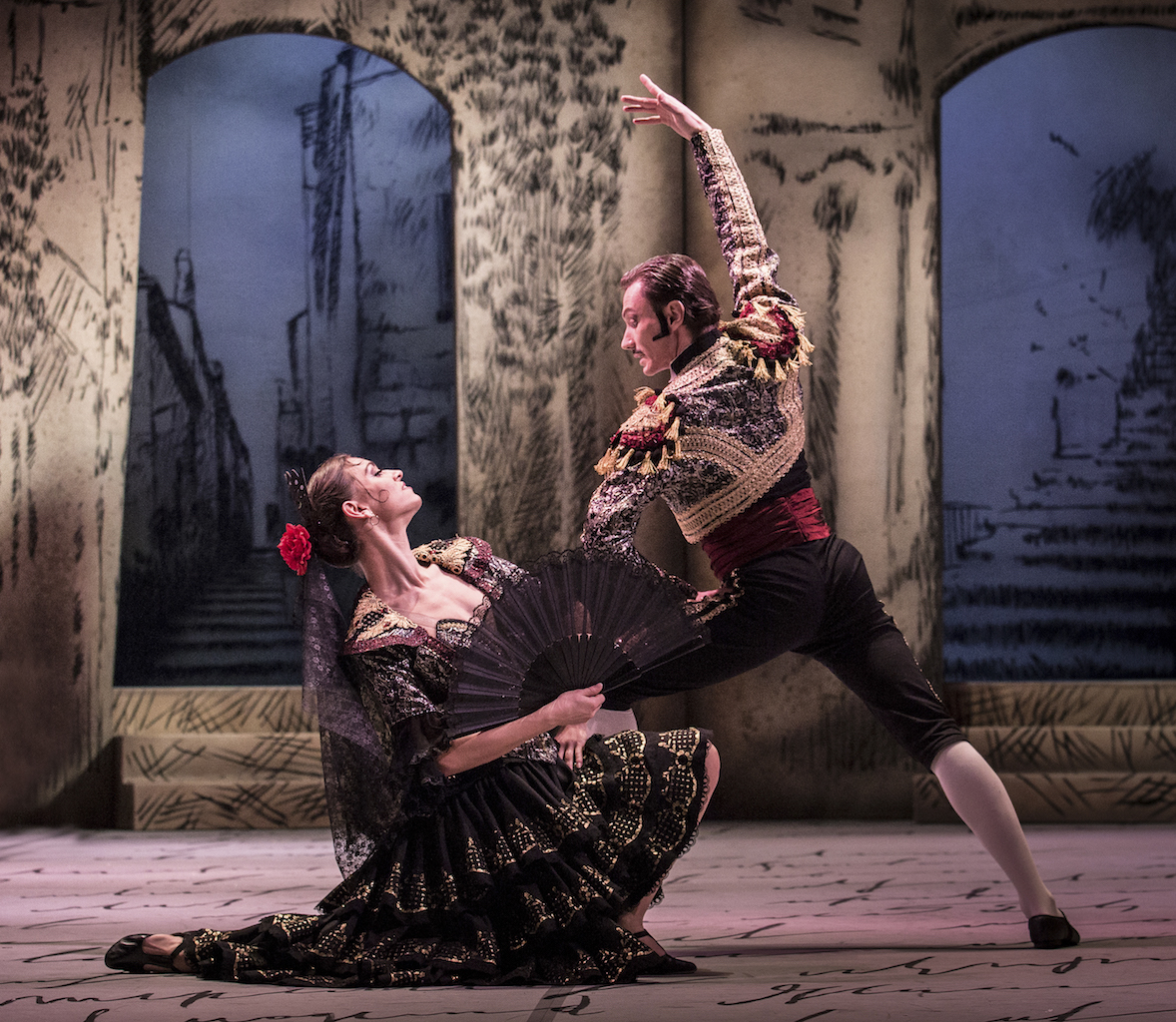 She showed exemplary aplomb and many multiple pirouettes. In the final act, she decided to defy physical laws when she interleaved her fouettés with some jaw-dropping moves, such as changing her arms in port de bras or doing multiple pirouettes. The Spanish dancer Romero is rather a character type of dancer. His Basil is more a cheerful, irresistible dandy than a strong-built, charismatic guy. In difficult ballet partnering, his medium height is no advantage, rather an obstacle that he overcomes without natural lightness, but still relatively well. But in variations, he goes all-in and amazes the audience with incredible dynamism, high jumps, and absolute control in multiple pirouettes. Other soloists show their qualities, too – sharp and precise movements of Stefano Pietragalla and his alternation Stéphane Aubry as Espado, Shio Sakurado as Mercedes, Yu Matsumoto in Juanita's variations, both impersonators of the Gipsy Yago Catalinas Heredia and Gerardo González Villaverde and others. Barbora Šulcová drew a lot of attention – her Gipsy dancer oozed temperament and sex-appeal.

Don Quixote, father Lorenzo and Gamache are based on expressive acting, and so it suited better the first cast of actors (Petr Sýkora, jovial Jiří Sedláček and David Janošek) than the second cast of dancers.

It will soon be five years since Lenka Dřímalová became director of the ballet company in Ostrava. Since then, the company, as well as its dramaturgy, has changed profoundly. The repertory has featured shorter choreographies by leading contemporary European creators as well as full-length neoclassical ballets. With Don Quixote. the repertory welcomes another genuine classic after a long pause. And Ostrava dancers show they are strong in this style too.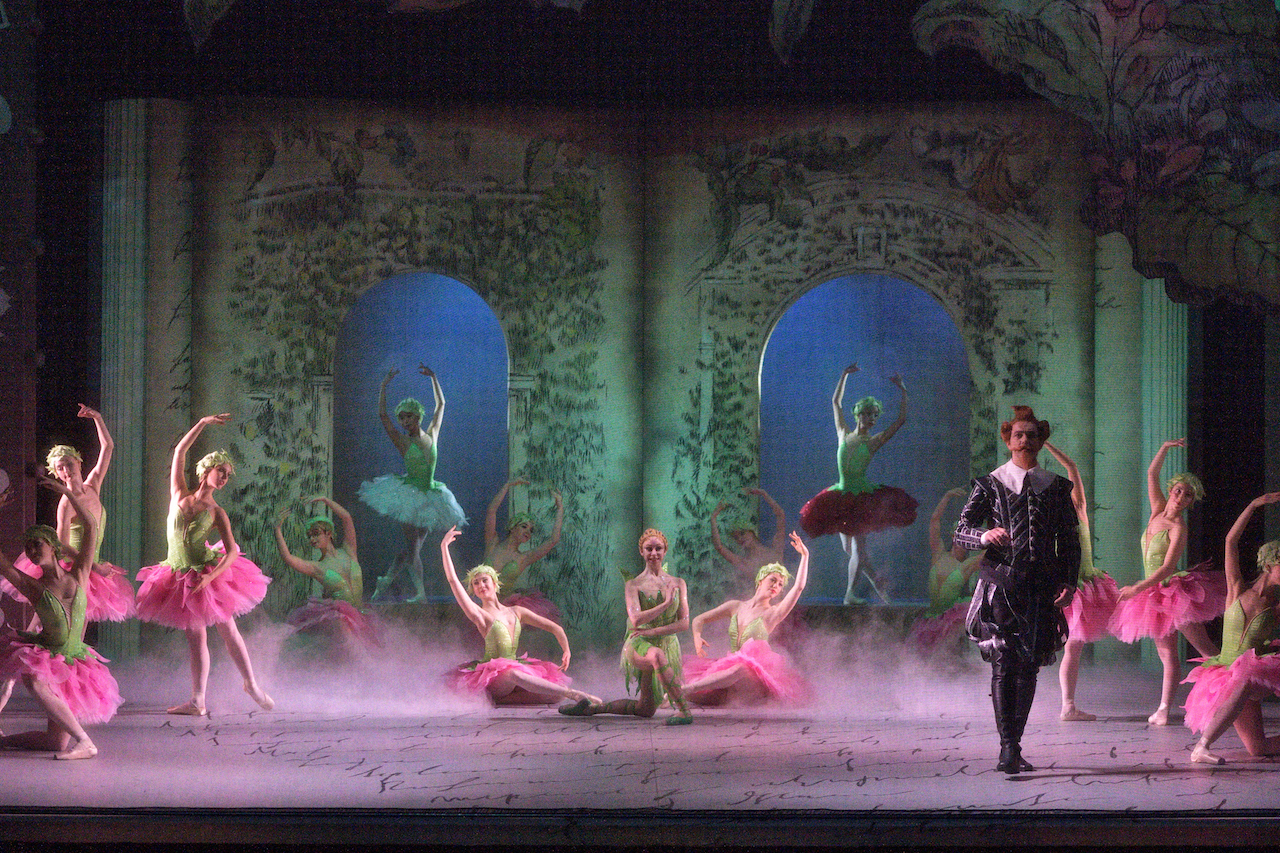 Written from the 1st and 2nd premieres held on 12 and 14 April 2018, in Antonín Dvořák Theatre.

DON QUIJOTE
Music: Ludwig Minkus
Libretto: Marius Petipa
Choreography: Michal Štípa after Marius Petipa and Alexander Gorsky
Direction: Michal Štípa
Assistant choreographer: Małgorzata Chojnacka
Scenography: Aleš Valášek
Costumes: Roman Šolc
Musical staging: Adam Sedlický
Premiere: 12 April 2018