Frida Kahlo in North Bohemian Theatre
The latest première of the North Bohemian Theatre ballet company (Ústí nad Labem) is the original full-length ballet Frida, created by the experienced dance maker Marika Hanousková Mikanová. She was strongly influenced by the unique style of Alena Pešková, as she had danced for several years under Pešková's leadership in the F X Šalda Theatre and later took over her position as artistic director. As it seems, this close collaboration has shaped Mikanová's sense for theatre, and her ability to translate dramatic situations into dance language. Her works have been mostly presented in her home theatre in Liberec, such as her full-length ballets Café Reichenberg (created together with Veronika Fišerová), The House of Bernarda Alba, and Jekyll & Hyde; for the ballet company in Ústí nad Labem, she has created pieces like The Snow Queen or The Taming of the Shrew.
There is no doubt Frida can be ranked among the Liberec company's top titles. The breath-taking story of one of the most famous female painters of the 20th century, Frida Kahlo, inspires artists across the world to create unique stage adaptations. The theme has been adapted for ballet several times. In the Czech Republic, it has been Jan Kodet with his short piece Povídání s Fridou (Talking to Frida) and Robert Balogh, who has also choreographed his version of Frida. Recently, it was the English National Ballet which presented a title inspired by the artist's life. Frida's life was very dramatic and full of pain. She painted in the style of the original Mexican culture which she mixed with elements of realism, symbolism and surrealism. Like many surrealists, she also supported communism.
Frida's life
The ballet opens with Frida's funeral, with a real coffin surrounded by her mourning friends. From the very beginning it is clear that the narrative scenes will be very descriptive, without ambitions for abstract expression. At the funeral appears the character of mature Frida (Elena Maranová) who becomes a guide to her "own" difficult life. As if writing in an imaginary journal, she comments on the scenes and a few times she encounters the young Frida. The key life events are accompanied by recordings of a woman's voice speaking in Spanish and Czech.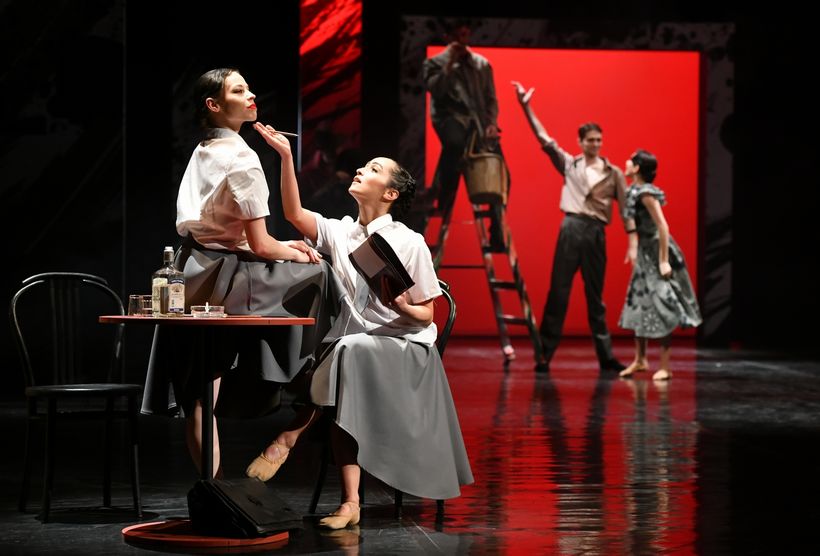 In the first tableaux, we see Frida grow up in side her family. Frida has a strong relationship with her father, a professional photographer of German origin, with her sister, and her schoolmates. She discovers in herself strong emotionality and ability to feel the world and people around her. She discovers her empathy, too. She experiences first love, has fun at celebrations, cheerful and carefree. Spontaneously and passionately, Frida falls in love with the painter Diego Rivera (Robert Király) in whom she sees, in her own words, "a child, a lover and the whole world.". The breaking point comes after a tragic bus accident which leaves her unable to live a normal life.
The accident can only be guessed from the presence of doctors in white coats, their comments and from X-ray pictures, documenting the diagnosis of serious injuries to the spine and limbs. We see Frida's body in a hint of a costume, bandaged and "bolted together". The doctors manipulate her, lift her and carry her across the stage. Following a long recovery, she stays in her bed, nursed by her family. At that time she decides to take up painting and capture the world around her in a way she would never be able to experience. In her bed, with a supporting stand, she immerses herself into intense creative work.
But that is the end of the tragedy, as the series of upcoming events unfolds in a full "dance" form and strength, beautifully danced by Frederika Kvačáková, a great impersonator of the famous painter in her best years. It is all danced and done in such a manner that it seems the protagonist did not suffer any injuries, which, honestly, is rather misleading. We know Frida was in horrible pain, so her everyday life must have been challenging. Here, the author and director stick to a certain artistic license and let Frida dance without any physical limitations throughout the ballet. During her wedding celebration and her stay in San Francisco, her movement vocabulary seems to be no different.
The crisis comes with her pregnancy, when Diego starts to cheat on her repeatedly and drink heavily. After a miscarriage, Frida throws Diego out of their house and they get a divorce. For a while, she lives on her own, for some time in a love relationship with the photographer Nickolas Muray, but soon she reunites with her ex-husband. And then her illness starts to manifest itself and continuous hardships escalate, heading towards the worst end.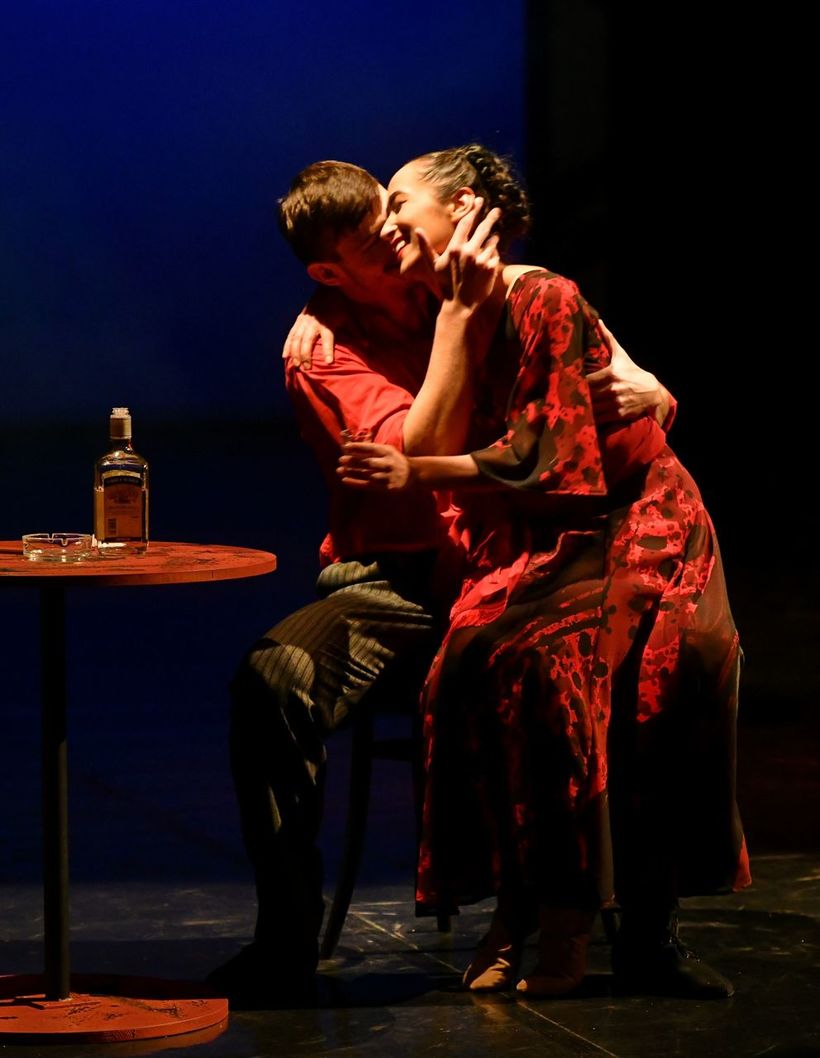 "I hope the exit is joyful and I hope never to return."
Although the dance language in Frida is dynamic and logically and spontaneously structured, the partner dance full of lifts, spiral rotations, falls and rolls, flows without stopping. It is the same in corps de ballet scenes, so the dynamicism seems to be overused. All is rushing forward at a rapid pace of dramatic events. It is obvious, however, that the steps in solo parts and duets are very danceable and tailor-made for the dancers. But there is no time for taking a pause, for thinking about the real pain, for any evolution in movement limitations or possibilities of the painter's own artistic work, especially her painting.
Kahlo's paintings, apart from two portraits of herself and Diego, are not referred to or used in any other way within the piece. It is interesting that rich colours, so typical of Frida Kahlo's works, appear neither in the sets, nor in the costumes created by the popular designer Aleš Valášek. The female dancers wear dresses of traditional cut, with knee-length circle skirts, the male costumes are more casual and simple. Of course, they are stylised, beyond any time period and far away from the typical Mexican setting, but I would expect the visual effect to be livelier.
Miloš Vondráček's music libretto, a compilation of pieces by Manuel de Falla, Joaquin Rodrigo, Francisco Tarrega and Elliot Goldenthal, matches the Spanish character of the ballet. The collage of compositions calms down in the final heart-wrenching song – Frida's monologue shortly before her death. The end comes slowly and quietly.
It is for sure Frida wanted to end her suffering because the vicious circle of surgeries, drugs and alcohol seemed to never end. Marika Mikanová lets the character of Death (Eliška Černohlávková) come and dance around. She wants to show her implacability, as there is no chance for happy ending. The epilogue also features the mature Frida. In the end, both Fridas become one.
The performance overflows with dance and action until the end. In corps de ballet scenes, the choreographer uses too many Spanish flamenco moves which distract us from the image of traditional Mexican dances. However, the audience always appreciate such material, as well as the ritual dance of masks (foreshadowing the upcoming death), or the world of dancing 'girls' and the swing scene of American dance clubs. The performances of all dancers were very good, dominated by the leading couple Frederika Kvačáková and Robert Király.
Written from the premiere held on 21 February 2020, North Bohemian Theatre in Ústí nad Labem.
Frida
Music: Elliot Goldenthal, Francisco Tárega, Manuel de Falla and others
Music collage: Miloš Vondráček
Libretto: Marika Mikanová
Choreography and direction: Marika Mikanová
Sets and costumes: Aleš Valášek
Lighting design: Vratislav Mikan
Assistant of the choreographer: Natália Vasina
Premiere: 21 February 2020
Translated by Tereza Cigánková.
DEJTE NÁM TIP NA PŘEDSTAVENÍ