I.A.M.A.I.: Confession of decadent dancers on a crossroad
When the promising company announced its closure early this year (probably due to a near-burnout experience), many fans shed a tear. People were lining to get tickets for the last Hornybach, a fun-filled show about the life of a band which Dekkadancers had been performing at Malostranská beseda. The spring covid crisis, though, changed the course of things for many people, including creative souls. Numerous artists found themselves confined within the four walls and had to answer the question "Who am I?". And so recently, Dekkadancers announced the company's restart on social media, as well as a call for choreographic inspiration for the new premiere. And here it comes.
Dekkadancers is a dance group which formed spontaneously inside the National Theatre ballet ensemble under the directorship of Petr Zuska, who often stated how much he encouraged his dancers to create and perform outside the ensemble's repertoire. The founding members of Dekkadancers were Viktor Konvalinka, Tomáš Rychetský and Pavel Hejný whose early creations (Dekka pod dekou, Kill de Bill, Caves and Creatures, Červenej čudlík – Red Button) were very well received. They later passed the torch to Štěpán Pechar, Ondřej Vinklát and Marek Svobodník who produced other successful works, for instance Přes Včas (Right on Time), Faunovo odpoledne (The Afternoon of Faun) and Proměna (Metamorphosis). The collaboration between a permanent team and several choreographers on each production naturally generates a multitude of themes and forms. Dekkadancers boldly work with humour and exaggeration, and even their less successful pieces are full of surprises. This year's premiere with a strangely ambiguous title I.A.M.A.I. indicates that the company is entering a new era. The choreographers are now freelance, not limited by their commitments in the National Theatre, and they have invited one of the founders – Viktor Konvalinka – to rejoin the company. They no longer need to look for vacancies in the theatre schedule to be able to put together some little dance pieces, helped by the director and dramaturge Štěpán Benyovszky. They have settled in a new rehearsal space at Jatka78 and are ready to present their new face.
The most striking change is the intimacy. Inside the small rehearsal space of Jatka78, seats are laid out along three sides of the stage and performers dance just a few centimetres from their audience. While spectators can admire the physical skills of the National Theatre soloists at close proximity, the latter are obviously not used to this kind of space. Sometimes, they project their emotions and dance expression over the heads of the audience, towards imaginary balconies and galleries, and they can hardly adapt to the tiny stage. This little imperfection, though, is compensated for by technical perfection and impeccable movement quality. We can only admire how the dancers respect their partners' dance space, how they breathe as one in contact sequences and do not move a muscle when a detail goes wrong or when too much sweat is dripping from their foreheads. Viktor Konvalinka looked relaxed, but Štěpán Pechar and Ondřej Vinklát's extreme concentration during the premiere seemed almost hypnotic. Hopefully, the upcoming performances will see them return to their riskier and open-to-improvisation selves and they will be able to break the imaginary wall between the stage and the auditorium. In fact, the script relies utterly on their acting skills.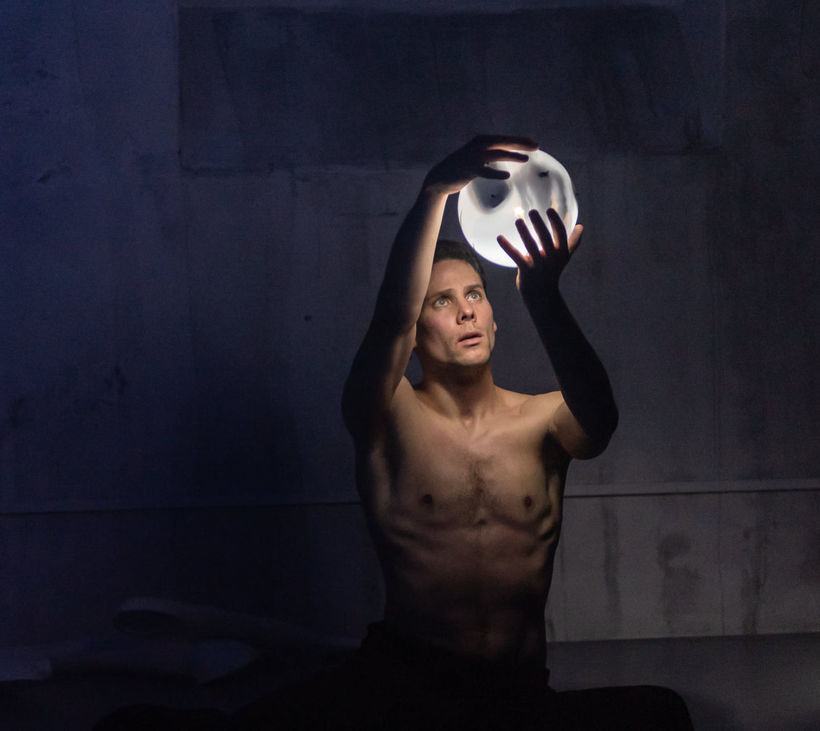 I.A.M.A.I also brings a more intimate and heavier theme – a confession about searching for one's identity and true self. Dreams and wishes from our early childhood (when we often escaped from reality to our mind) unconsciously determine our life journey. We project them into the actions of our dream heroes as we are switching between them and the persons we do not want to become. We play a game which might be a sci-fi for one and fate for another. I.A.M.A.I.'s subliminal theme is represented by the fascinating world of androids whose artificial intelligence and humanity seem so close to the real thing. The theme also allows to view dramatic twists from various perspectives and offers room for witty hyperbole ad self-irony. The snippets of the story are (in a slightly dumbed-down way) introduced by texts and visual or scenographic elements (Pavel Knolle, Karel Šimek). The surprisingly functional light design (consisting of one portable light tower and several lasers) evokes the atmosphere of action videogames. Robotic moves, puppet shadow games and RGB silhouettes match perfectly – beauty in simplicity, straightforwardness, and effect. The music score underlines the action and helps create many segues which - direction-wise - are not precise yet. The strong potential of autobiographical motifs is attractive for audience, but at the same time challenging for the dancers – they must switch from one role to another according to the script, but sometimes they forget to be themselves on stage.
All in all, I.A.M.A.I. is another successful piece by the "decadent" young Czech choreographers. The three creators share the stage and get sweaty when fighting for favour and attention. They prove teamwork means strength, inspiration, and motivation to create.
Written from the premiere held on 22 September 2020, at Jatka78.
The original version of this text in Czech was published on the 2 October 2020.
I.A.M.A.I.
Script and direction: Štěpán Benyovszký a Dekkadancers
Choreography, dance: Ondřej Vinklát, Viktor Konvalinka, Štěpán Pechar
Light design: Karel Šimek
Set design: Pavel Knolle
Music: Hauschka, Amon Tobin, Alva Noto, Dekkadancers
Premiere: 22 September 2020
Translated by Tereza Cigánková.
---