Lenka Vagnerová Celebrates Ten Years Of Her Company With Riders
Riders, Lenka Vagnerová's new show, is the "remake" of Jezdci that came to life ten years ago. The choreographer feels the work was a cornerstone for the establishment of her dance company and her major achievement as an author.
To the bone
Lenka Vagnerová has had a great career as a dancer and choreographer in the Czech Republic and on international stages. Only a few people manage to have the possibility of continuous creative activities since their studies at HAMU and Vagnerová has been influenced by a few outstanding teachers, mainly Ivanka Kubicová in modern and contemporary dance. She has received many awards for her work and enjoys a great reputation. She and her company are now truly lucky as they have the opportunity to be residential artists in the Komedie Theatre, which is part of the Prague City Theatres. Thus, her extensive repertoire can be regularly seen on this stage. Lenka Vagnerová & Company's venue is big halls in studios located in Libeň, where they often organize popular workshops and contemporary dance courses.
Vagnerová is a truly original choreographer with a strong feeling for theatre. Her topics include existential questions of life: she is occupied with human life and the related worries, fears, anxiety, relationships, conflicts, and the eternal struggle to survive to the bone. However, she has a sense of humor and she can soften and downplay the dramatic situation and comical solution. And only very few people can do it. She does not spare the dancers, yet it is visible how she sympathizes with them. Her choreographic methods are full of technically challenging obstacles, requiring artistry and the ability to take a risk, which is very close to physical theatre. Her style is truly easy to identify.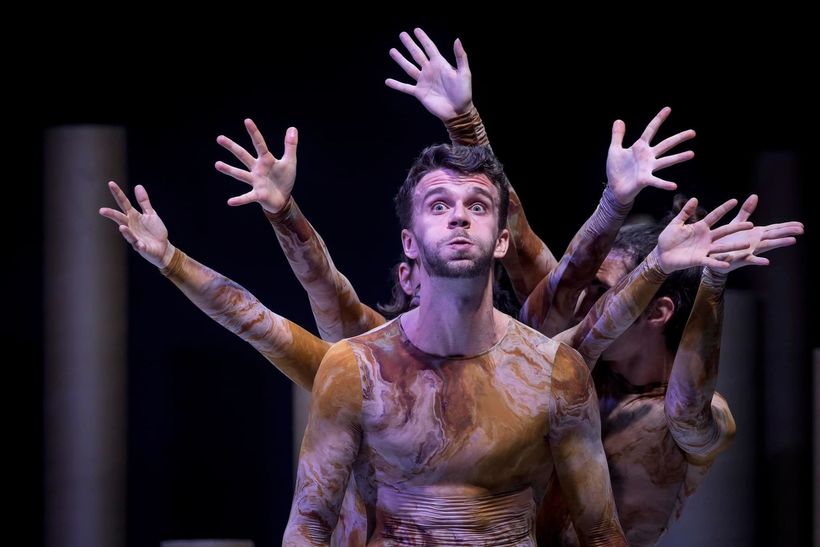 The current production has undergone several changes in choreography, stage design, and brand new cast. The dancers are Fanny Bašista, Monika Částková, Alex Sadirov, Adam Sojka and Florian Garcia. The pure dance scenes alter with acting ones and a few dramatic stories.
The power and strength of nature
The open stage shows dancers, who seem to be hidden and located on plinths, inconspicuously observing the surroundings. They are alert like animals, birds – Vagnerová, in her own words, watches human deeds through their eyes. The set is made from pipes and paper tubes of various sizes (like those for storing carpets), creating various patterns and representing building materials or trees in the wood. The central part of the stage is occupied by a transparent column, which a long light cable inside, which is used for dramatic action. The costume is made of flesh-color trousers and slightly colored tops and singlets. The set and costume designs were done by Eva Jiřikovská.
Dancers start moving, they attack and bump into each other, rotate and roll on the floor to jump in the air or on their partner. The dynamic part evokes animal movements and increases the tension of hearing, smell, and vision: the basic senses the "animals" are equipped with, followed by a scene of baby animals, maybe birds, which demand food with loud sounds, croaks, cries, and howling. They call for attention like little children. The caring parents seek food patiently and constantly feed the babies. Then they cuddle and want their mother's touch. The scene is very funny, almost grotesque.
Then the guys smoke a cigarette and girls whisper in the corner. They match and continue at a swifter pace in technically demanding duets. Lenka Vagnerová's choreography is famous for complicated lifts and risky throwing of the partners.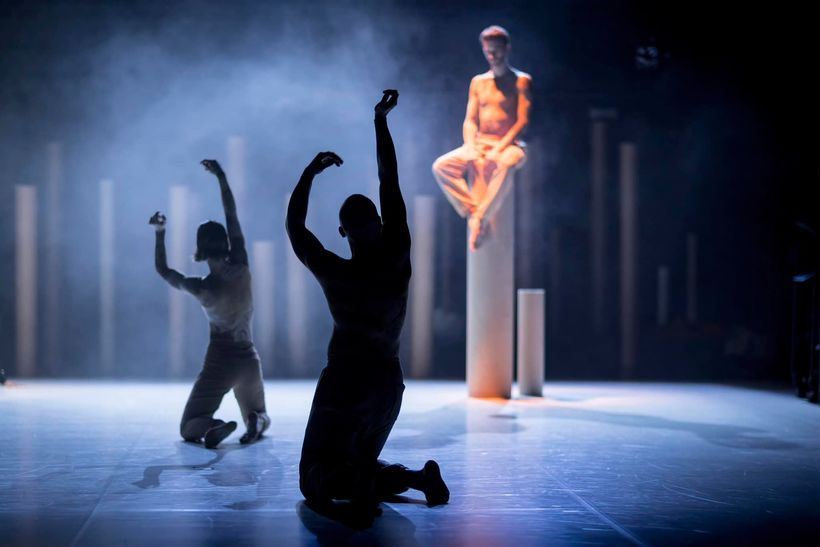 One of the girls has knees by her shoulders, hunched and imprisoned in a red costume. She looks like a dwarf or a freak with no legs, a runt. Youngsters in jackets manipulate, push, and nearly abuse the weird thing. The situation is quite comical, but it gives you goosebumps. There was more than enough humiliation.
Three guys emerge from the dark, they look like ostriches and imitate them. The bird gathering narrows down, there is only one left. Florian Garcia performs a comical bird scene with tiny detailed movements of legs – claws and a huge peacock-like tail. The good mood is over and the time of fight and torture comes again. The person in question is choked, dismembered, crucified, and impaled on a long pole. A clear cut in the plot Lenka Vagnerová is great in working with constantly brings our attention to the horrors of the world we live in.
Timeless parable
The ideas do not run short. The small red monster comes out of the wing and jokes with the audience. She takes out black stilettos from her costume and the dwarf in high heels gradually reveals herself to eventually stand up and leave. Monika Částková is both an excellent dancer and actress.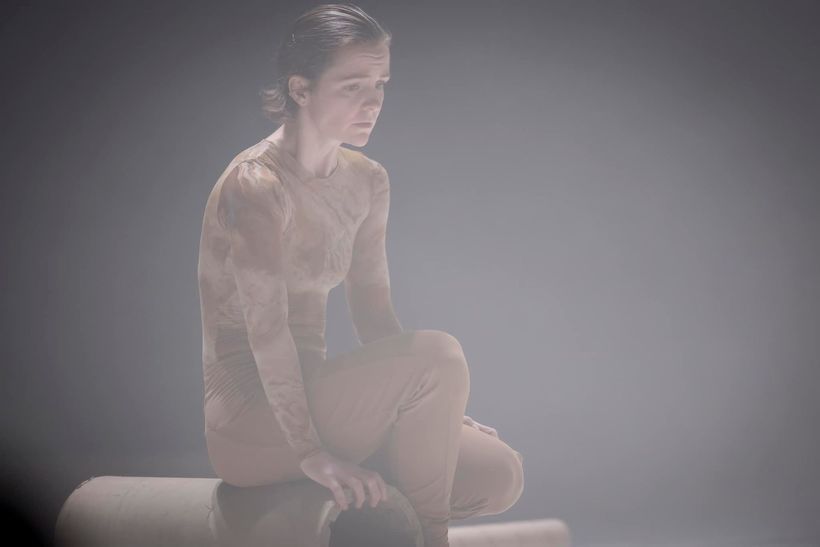 In the next parts, the cast manipulates objects – the poles or rolls. The men build a house to which they bring both girls in evening dresses. The girls have their eyes covered to be truly surprised by their new homes. Another beautiful dance sequence starts, full of crazy rotations and intriguing dance in pairs. In the end, the performers move and build poles and columns all around the space on an impressively lit stage – it may be an illusion of a new world. This can only end with destruction and downfall. Humans destroy what others have built laboriously. The parable is timeless and still valid. The decline and apocalypse await us. A crippled man emerges from the ruins and leans on a long pole.
Lenka Vagnerová's creative team is balanced. This concerns mainly Ivan Acher's music, which holds the piece together and entices real music architecture. I sometimes feel that I can see his music images in a rich, colorful and spacious way. Andrej Jurkovič's sound design greatly contributes to the enchantment. In Riders, we become "silent observers of our lives" which is what the author hoped for.
Written at the performance on 5 December 2022, Komedie theatre.
Riders
Director and choreographer: Lenka Vagnerová
Music: Ivan Acher
Set and costume design: Eva Jiřikovská
Light design: Jiří Šmirk
Sound design: Andrej Jurkovič
Premiere: 4 December 2022
Translation from the Czech original: Eliška Špilarová.