Odloučení: Accepting death on stage
In today's society, death is a taboo. It is marginalized. We pretend death does not exist, we cannot talk about it, and we do not want to admit it is a natural part of life. Until we have to face it. Markéta Vacovská has brought the themes of death and dying onto the stage in her new solo performance Odloučení (Separation). The motif is even more harrowing as it concerns death of children. As a mother of two, I can imagine nothing worse than parents outliving their children. Vacovská's testimonial, based on her personal experience, touched me deeply by its candour, authenticity, courage and openness.
The performer and author of the concept uses voice as a tool for delivering her message. She carefully measures the information to allow the audience to get a full picture out of clues and fragments. The piece opens with children's voices talking about death, disarmingly airy and innocent. They contrast sharply with a gray figure holding a still baby, lying with it on the floor and eventually abandoning it in a symbolic way. The mysterious woman comments on her mental states, she spills out unsolicited advice mourners usually get to overcome their grief. First, we can hear fragments of stories of people who have suffered the same fate. It is at the very end Markéta Vacovská opens up about her own painful experience.
Vacovská's dance and her casual moves illustrate her emotional state, while also referring to the flow of time. She is moving in cycles and sees no way out. She opts for minimalist arm gestures which she repeats to the point of exhaustion. Their quality and energy, though, is constantly transforming. At one point, she moves her right forearm horizontally, as if counting days in the belief that everything is going to be alright again. She runs in circles and tries to go on with her life, but the next moment she tries to reconnect with the universe in a zen-like state and fly away from all her hardships. She interacts with the audience, too, in the simplest way which, however, has a huge impact. A close look full of reconciliation and acceptance; a graze full of understanding; and above all, a self-explanatory sign on her forearm (which I do not want to reveal here) make for an unexpectedly strong catalyst. It is followed by Vacovská telling about her loss and her impossible crazy vision. Finally, hidden inside an inflatable dinosaur costume, she finds some safe space to cry out the grief over the loss of children.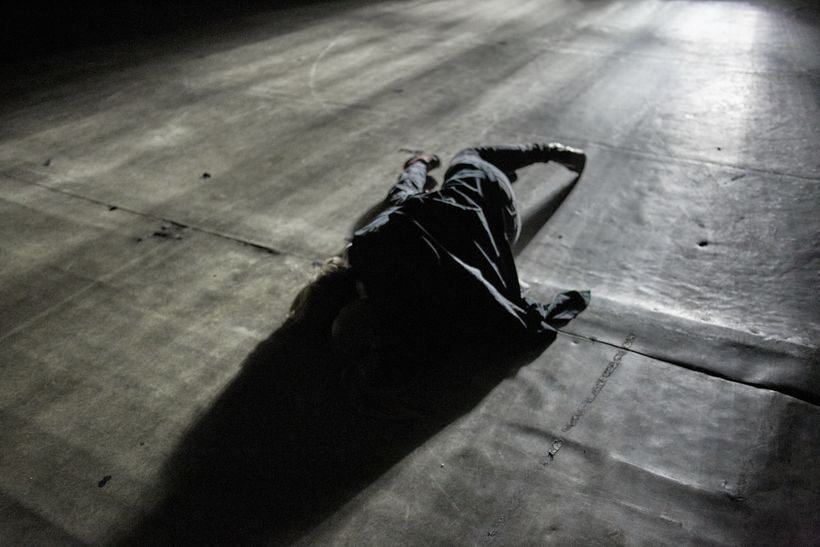 Sára Vondrášková (NEVER SOL) provides Vacovská with music accompaniment, as well as artistic and mental support. It is clear both artists work in symbiosis thanks to their previous joint project Constellation III: My Son is looking to the Sun (along with Miřenka Čechová and the Spitfire Company). This time, Vondrášková's compositions are calmer, darker, full of long tones. The stage of the Venuše ve Švehlovce theatre fits the concept of the work as the enlightened upstage space behind a glass door evokes the "other side".
Odloučení is a powerful performance which has a therapeutic effect on both the performers and the audience. This was reinforced by the post-performance discussion moderated by Alice Koubová and joined by Mahulena Exnerová, expert in children's palliative care. Odloučení can be seen as a springboard for sharing death experience and spreading awareness of palliative care. It was an important step towards talking about death and not blocking it out.
Written from the premiere held on 15 June 2020, in Venuše ve Švehlovce theatre.
The original Czech text was published on 23 June 2020.
Odloučení
Concept, performance: Markéta Vacovská
Music, performance: Sára Vondrášková
Dramaturgy: Jindřiška Křivánková and Aleš Čermák
Lighting design: Martin Špetlík
Premiere: 15 June 2020
Translated by Tereza Cigánková.
DEJTE NÁM TIP NA PŘEDSTAVENÍ