Panoptikum: Poignant morality about human dignity
Panoptikum (Freak Shows), a new addition to Lenka Vagnerová & company repertoire, is a picturesque noir piece staged as a lavish cabaret fresco. Its author, Lenka Vagnerová, has taken inspiration from the 19th-century travelling freak show owners who ran their businesses based on voyeurism and a specific sort of human curiosity. She could look much further into history as this kind of entertainment – disabled or physically unusual humans on display for a paying audience – has existed since time immemorial. The same as the human need to be amazed and to wonder, but also to show their superiority and disdain of those who are different - and to pay for this deviant pleasure.
Visually, the 19th-century aesthetics is easy to embrace. The tandem of stage designers Jakub Kopecký and Simona Rybáková put a lot of effort into allowing the 21st-century spectator (used to technologies and special effects), to enjoy and be taken away by the refined scenery, designed with attention to detail and craftwork finery. Lenka Vagnerová manages to create a magical atmosphere which, together with Ivan Acher's harrowing and sarcastic music and with other components, frames the lives of freak show exhibits who are driven from subjugation to rebellion by the cabaret libretto. Lenka is an optimist and I must thank her for her courage here.
The epic character of the show and the central visual reference concern especially the costumes. They created the illusion of deformed bodies and physical abnormalities, while offering 'visual pleasure' and never-before-seen effects. And so we could see, for example, pompous conjoined twin sisters (Andrea Opavská and Monika Částková) sharing one body clad in opulent Biedermeier-style dress with a skirt large like a Baroque dome; a lithe three-legged man (Filip Martinský), and a man with a gigantic head and an elephant foot (probably Patrik Čermák) – a walking advert for depression.
There are lots of costumes and costume changes in the show and each member of the cast switches between multiple roles. The numbers come one after another and the audience can take a peek into the inner world that would remain inaccessible in real life. Vagnerová elaborates on mini portraits or micro relationship stories to manifest the belief that every human being deserves respect. Once we get to know what we see as strange, bizarre and repulsing, and once we overcome our fear and pride, aversion turns into acceptance, dread into communication, and arrogance into tolerance, At least in the ideal world of an artistic vision.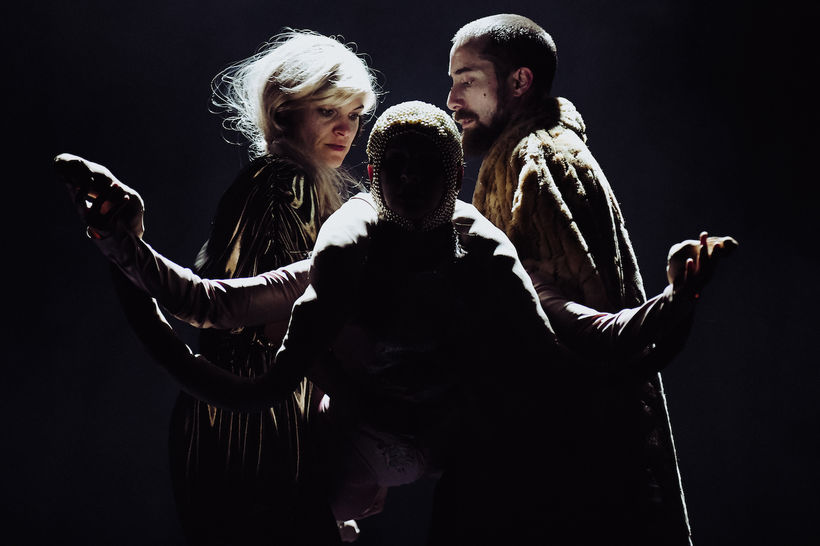 The audience witness the curse of the conjoined twins which lies in their diametrically opposed biorhythms – when one of the sisters is asleep, the other one is awake. Each of them has a different taste – one of them admires when someone cuts himself with a knife, the other one gets sick from such a view; one sister is foppish, while her sibling hates it. But both long for love. Another bizarre figure is a faceless woman who looks like a living female nosferatu, a walking mummy reacting to the director' wand. Her moves are stiff and – were it not an allusion to the 19th century, the time before Čapek and the lightbulb - we could say robotic or electric. Hidden in the costume was Zuzana Zizoe Veselá who perfectly controlled her body and isolated the individual parts of movement into fluid fractures. She was accurate, brisk and able to evoke a monster, but her reactions to the director's violent attacks definitely gained her the viewers' sympathy.
Vagnerová switches between the bright and dark side of a freak show. She gives the audience the purely entertaining part as well, such as stylised dance battles, magic tricks and high-class magic – such as a number with the singing head of Medusa (portrayed by the soprano singer Vanda Šípová). Several times a contortionist appears on stage (Michaela Kadlčíková). But almost all numbers go wrong and the direttore (Michal Heriban) must face a revolt which becomes a platform for group dances. Vagnerová is famous for choreographing such powerful scenes and Panoptikum seals her reputation. It is obvious that the (sort of emergency) cast is perfectly balanced. Though each of the performers has a different background, they appear compact in the choreographer's stylised portrayal. I appreciate that Lenka Vagnerová picks artists and talents from various fields and disciplines and thar she can handle the diversity.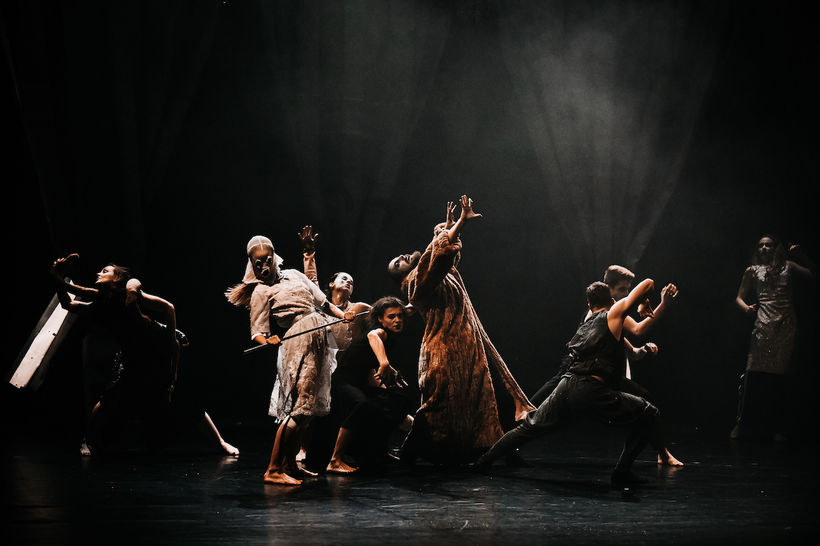 Vagnerová subjects her choreography to the theme and knows what she wants to communicate. Clearly not a fan of the devised theatre method, she does not search for ideas in the studio, although in principle, she likes to develop some themes together with her dancers. In terms of genre, Panoptikum is closest to theatre, at least from what I have seen in Lenka Vagnerová's repertoire. She mixes nonverbal physicality, strong poignant music, and the imagination of her stage designers. Each element follows a particular direction and enjoys enough space within the production. In many respects, Panoptikum stands out on the Czech independent dance scene - it blends circus, pantomime, visual theatre and that is why it needs be thought of in more general terms. The impression from the première was not flawless, anyway, as some scenes were poorly linked, which was a bit confusing. These objections, however, might evaporate with the upcoming performances and Panoptikum might be seen as a powerful production which entertains, scares and educates the esteemed audience.
Written from the première held on 7 December 2019, in the Komedie Theatre.
Panoptikum (Freak Shows)
Choreography and direction: Lenka Vagnerová
Music: Ivan Acher
Stage design: Jakub Kopecký
Costume design: Jakub Kopecký, Simona Rybáková
Lighting design: Michal Kříž, Jakub Kopecký
Illusions dramaturgy: Jiří Marek
Sound design: Petr Taclík
Cast: Andrea Opavská, Monika Částková, Vanda Šípová, Zuzana Veselá, Michaela Kadlčíková, Patrik Čermák, Michal Heriban, Filip Martinský
Première: 7 Nov 2019
The Czech version of this text was published on 13 December 2019.
Translated by Tereza Cigánková.
DEJTE NÁM TIP NA PŘEDSTAVENÍ