Peeping Tom Brought Fresh Breeze from Brussels or Dance Theatre as It Should Be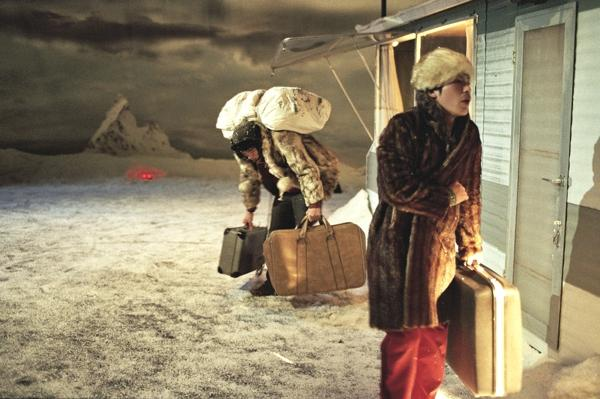 The choice of productions for this year'

s Tanec Praha has been an exceptional success

. The production

32 Rue Vandenbranden

by Belgian company

Peeping Tom

lived up to expectations and indeed became the highlight of the season. After a long time Prague audiences had an opportunity to see a high quality piece of dance theatre in

its pure essence – impressive, meaningful, entertaining and unforgettable.



The

audiences are welcomed by a scene with a snowy plain and two camp trailers, homes of the protagonists of the story. Through the windows one can watch the action both inside and outside and have thus

an insight into private lives of the residents. Beautiful, slim and exceptionally flexible Caroline comes to this bleak landscape and immediately falls in love with Jose, a local "stud" and self-proclaimed ruler of the community. Their passionate dancing in the form of gymnastic/acrobatic somersaults resemble the unbelievable Kamasutra positions. However, the noisy love of the young couple is driving crazy Mary, an occupant of the opposite camp trailer who is expecting a baby. Unless someone comes to see her, she spends most of the time sadly sitting at the window and watching the bleak landscape. The person that comes to see her most often is the younger of the Korean brothers, a shy boy in love who is reluctant to leave the protective wing of his mother and pays court to Mary, who, however, is clearly not interested in his heart a bit as much as she is in muscles of other young men. His self-confident older brother is obsessed with his own body and we can see through the trailer window how he caresses his long hair over and over again. Duets of both brothers are full of laughter and playfulness and not only astonish the audiences with the movement creations of both Asians, but tell of unspoken love and loyalty, mutual rivalry and support as well. The six living caricatures are joined by their "mama wolf", an elderly woman with graying hair, who also acts as a kind of stable, yet feared symbol of the community. Her singing accompanies tense moments in the story. In the scene, when she stands on the roof of one of the trailers with just caught bird on her shoulders, looking down at her son's broken heart and singing a wistful song into the night, her gray hair flowing, she looks like an old Native American woman.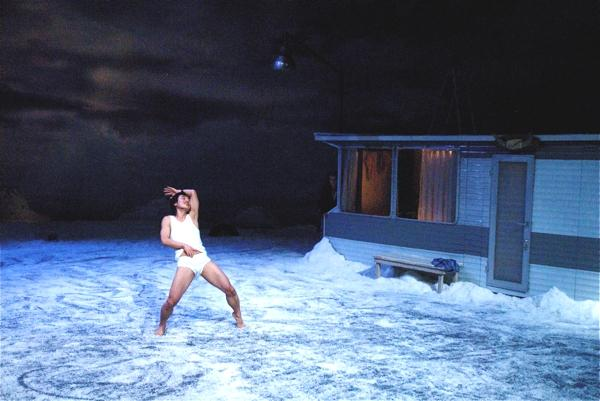 Reclusive

community is undermined by minor conflicts and quarrels, anyway, changes in weather reflect in the mood of the residents too. They are able to team up in happy moments, such as the

excitement about fresh snow, slide a snowball fight, but also to carry out the punishment of a marauder, when necessary. Sudden gusts of wind, snowstorms and rain, all these things occur on the stage in such a realistic way that the audiences cannot be bothered to think, "How on earth are they doing this? '

Although we can feel from the very start that this is

not just an entertainment show, in the first half of the production we cannot help laughing at the funny gags that

individuals make just by who they really are. The harsh living conditions unveil their childlike souls, their joys and fears, games and fights. The real joy of little things brings a plethora of masterful dance ideas, accentuated by the functional stage design. The story gathers momentum, when Mary tells her persistent suitor to his face that the baby she is expecting is not his. The plain simplicity and obviousness of pronouncing what the audiences long suspected turns the scene in a raw wasteland of human sorrow. After a short solo of Jose, who, despite the cirumstances, cannot suppress the self-conceited excitement of being a father the whole plot is uncovered and a problem how to deal with these complications arises within the community. On one particularly lonely evening the vengeful ghost of Mary comes to destroy the happiness of the young couple and comedy suddenly changes into a dramatic thriller with horror overtones. A chase by an invisible woman, wobbling trailers, banging doors and windows that deliberately shut the owners inside or keep them from returning home, all of that accompanied by a snowstorm. Fear of the possessed woman eventually leads to a mass punishment by "the street" – the death of her fetus. The burden that this deed casts on all is too unbearable for Caroline, who decides to leave Jose. Dismal emptiness in the hearts of all the others falls on the audiences too, who long after the show is over cannot bring themselves to applause.

A simple story that moved all hearts was performed in a masterful, thrilling way with a large dose of humour and hyperbole, in a similar way to a short story or a camera sketch from a movie. Apart from The Ballad of Narayama, which served as an inspiration for the show one could also recall Dogville or other Trier's movies. To those who created the subject, dramaturgy and choreography, but also the impressive stage design and all stage and lighting effects, and, last but not least, to the outstanding dancers whose physical and acting abilities were put to test – to all these three times a heartfelt BRAVO.

Written about the performance on June 19th, 2013 at the Karlin Musical Theatre.


32 Rue Vandenbranden
Concept, directed by: Gabriela Carrizo, Franck Chartier
Creation and interpretation: Seoljin Kim, Hun-Mok Jung, Marie Gyselbrecht, Jos Baker, Sabine Molenaar / Maria Carolina Vieira, Eurudike De Beul
Dramaturgy: Nico Leunen, Hildegard De Vuyst
Assistant of rehearsal: Diane Fourdrignier
Sound composition: Juan Carlos Tolosa, Glenn Vervliet
Stage design: Peeping Tom, Nele Dirckx, Yves Leirs, Frederik Liekens
Stage construction: KVS-atelier, Frederik Liekens
Lighting design: Filip Timmerman, Yves Leirs
Costumes: Diane Fourdrignier, Hyo Jung Jang
Technical director: Filip Timmerman
Production: Peeping Tom, Quentin Legran (company manager), Anastasia Tchernokondratenko (production and tour manager)
Co-production: KVS Brussels, Künstlerhaus Mousonturm Frankfurt Am Main, Le Rive Gauche Saint-Etienne-du-Rouvray, La Rose des Vents Villeneuve D'Ascq, Theaterfestival Boulevard in samenwerking met Theater aan de Parade en de Verkadefabriek 's-Hertogenbosch, Theaterhaus Gessnerallee Zürich, Cankarjev Dom in Ljubljana, Charleroi/Danses
Acknowledgements: Maria Otal, Caroline Wagner, Samuel Lefeuvre, Nicolas Olivier, Alain Szlendak, André De Tremerie, Christophe De Tremerie, Pol Heyvaert, Gregory Grosjean, Théâtre de la Ville-Paris, Les Brigittines, Joel Griffith
The production was supported by the Flemish Government
Distribution, sale: Frans Brood Productions
Length: 80 min.
Performance Calendar
| Sun | Mon | Tue | Wed | Thu | Fri | Sat |
| --- | --- | --- | --- | --- | --- | --- |
| 29 | 30 | 1 | 2 | 3 | 4 | 5 |
| 6 | 7 | 8 | 9 | 10 | 11 | 12 |
| 13 | 14 | 15 | 16 | 17 | 18 | 19 |
| 20 | 21 | 22 | 23 | 24 | 25 | 26 |
| 27 | 28 | 29 | 30 | 31 | 1 | 2 |
DEJTE NÁM TIP NA PŘEDSTAVENÍ