Pink Samurai: Fresh wind of the new season
Heroes. We all love them, need them, and worship them. In these difficult times even more than ever. They tend to reflect our desires, dreams, and wishes, they accompany us on our journey, just like light or love, naively unconditional but devoted and brave like legendary warriors. Such as the Pink Samurai – the hero in each of us.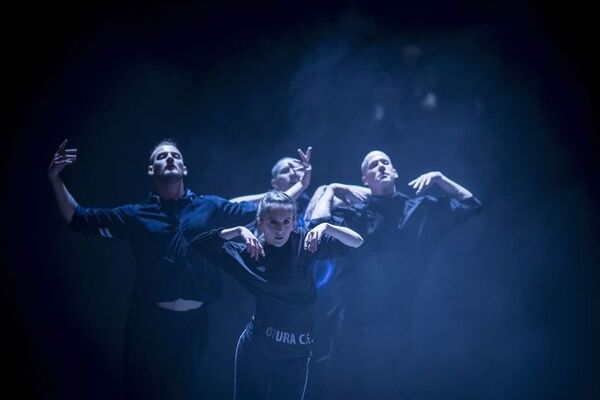 Pink Samurai (Hanna Nussbaumer, Viktor Konvalinka, Michal Toman, Adam Eduard Orszulik). Photo: Vojtěch Brtnický.
Jana Burkiewiczová's new creation opens with Jiří Konvalinka drum solo played at the rear of the stage and with a melancholic text about a flock of birds projected on a semi-transparent screen which separates the drummer from the rest of the stage. One by one, the "Fantastic Four" (as we can read on the screen) enter the stage dressed in sweatpants and sweatshirts. The opening scene resembles a street dance battle and video game characters. The action heroes play tough guys: Viktor Konvalinka is the boss, Adam Eduard Orszulik radiates peaceful energy without shedding out a single drop of sweat, Michal Toman jumps fearlessly into every movement. But all these machos are overshadowed by a much shorter ad seemingly fragile Hanna Nussbaumer. On stage, she gives the impression of a tough girl who is not to be messed with. In the chapter On a Giant, she rests on the shoulders of her fellow dancers like a queen, strong and abominable, yet calm and tranquil. The third part entitled The Dream opens with a soft piano tune and the four protagonists meeting their role models. They instantly transmit the joy and happiness from having someone in their life to the audience.
Inevitably, the spectators must start thinking about their heroes, their deeds, and the power of love. After Dominik Zezula's singing intermezzos, the live music accompaniment comes to a breaking point: the opera singer Libor Kasík comes upstage wearing a shining chandelier on his head to perform a music tale about Shavarsh Karapetyan – an Armenian swimmer who saved the lives of many people. This music number is a powerful moment of stillness, both in terms of its content and form.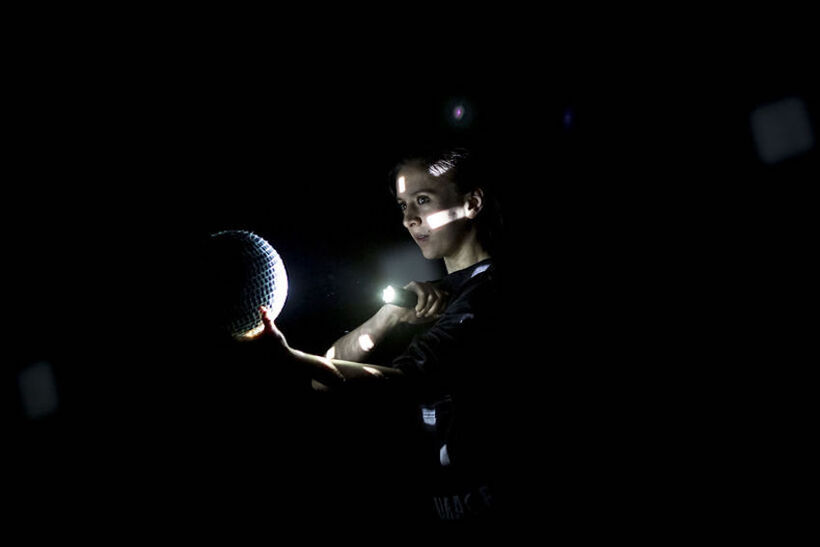 Supernatural powers and the force of the ferocious wind can be experienced in the following sequence A Force Is Coming in which dancers dodge a spinning sphere. Their extreme concentration, power, and trust in their physical skills seem almost hypnotic. A dance with cymbals, resembling the meditative Asian martial arts, reverberates with the power of precision, extreme concentration, and determination of the moment – key qualities of real heroes. Excerpts from video footage of children talking about their heroes show how much we value the physical as well as ethical aspects of our idols. We could be enumerating them forever – and the infinity of the universe is, in a sense, the message the piece wants to convey.
Burki&com brings a dance and music concert in which individual themes are grounded in a thorough exploration of content and form – in movement, text, scenography, and dramaturgy. After a lengthy opening part, the performance speeds up a little and starts layering unexpected and new elements, and so it does not matter the end dissolves in some sort of cosmic void.
The many stereotypes and clichés featured in Pink Samurai do not lack wit and lightness, which makes the piece a perfect entertainment for adolescents and adults. The most important contribution, though, is the exquisite performances the dancers deliver on stage. They make a great team and must be an immense inspiration for the choreographer. The petite Australian Hanna Nussbaumer, specifically, can be considered as one of the most promising talents on the Czech dance scene.
Written from the performance held on 7 September 2020, at La Fabrika, Prague.
The Original of the review in Czech was published on 12 September 2020.
Pink Samurai/The Force of Ferocious Wind
Theme, choreography, direction: Jana Burkiewiczová
Collaboration on the script: Jiří Macek
Cast: Hanna Nussbaumer, Viktor Konvalinka, Michal Toman, Adam Eduard Orszulik, Michal Budinský, Dominik Zezula
Production: Petra Hanzlíková
Acrobatic collaboration : Jindřich Panský
Set design: Maxim Velčovský
Costumes: Petra Ptáčková
Lighting design: Robert Palkovič
Photography, videos: Vojtěch Veškrna
Graphic design: Martina Černá / Imagery
Music: Jiří Konvalinka (Mutanti hledaj východisko, Vložte Kočku)
Songs: Dominik Zezula
Premiere: 7 September 2020
Translated by Tereza Cigánková.
---
DEJTE NÁM TIP NA PŘEDSTAVENÍ