Pura Danza – Full-time neoclassicism with a touch of irony
At the beginning of October, the Teatro Real in Madrid hosted a premiere called Pura Danza (Pure Dance) put together by Spain's leading ensemble Compañía Nacional de Danza and its director Joaquín de Luz. The programme was presented in honour of the Czech choreographer Jiří Kylián, whose world-famous piece Bella Figura opened the same evening. In addition, the audience witnessed choreographies by Nacho Duato, Andrea Schermola and the creative duo Sol Leon and Paul Lightfoot, all with links to the famous Dutch company Nederlands Dans Theater.
Bella Figura (1995) falls into the so-called black and white period of Jiří Kylián, characterised by minimalist design, a black and white (more often black) colour scheme, with an occasional striking element – in the case of this piece, the red-coloured skirts – which disrupts the otherwise visual unisono. Kylián is known for the boundlessness of his movement invention and imagination, the absolute harmony of choreography and music, his meticulously detailed chorographical work, and the constant flow that gives a sense of smooth, endless dance. Moreover, Kylián's dramaturgical work is in many ways ingenious. He manages to create a magnetising silence as well as to mesmerise with a massive wave of energy. The combination of these elements, however, places great emphasis on dance interpretation, which can very easily slip into focus in the technical aspects of the choreography. The Spanish company, at least from my point of view, teetered on the edge. The group parts in particular almost felt like an exercise at times. The rigid precision lacked the delicacy and fragility that would have breathed some life into otherwise excellent performers. On the other hand, some of the duos and trios did contain this quality and allowed one to delve deeper into the layers of meaning that this piece of choreography conceals. Therefore, Bella Figura performed by the Spanish company, needs more time to get under a dancer's skin.
The first part of the evening was concluded by the five-minute-long piece of choreography Kübler-Ross (2014) by the South African choreographer Andrea Schermoly. After studying at Rambert Ballet School and the Royal Ballet School, she worked as a dancer at Nederlands Dans Theater. Nonetheless, she soon turned to choreography due to an injury. Her piece refers to the name of a famous psychologist Elisabeth Kübler-Ross who defined the five stages of coping with the loss of a loved one. The most interesting aspect was definitely the cast: the company leader Joaquín de Luz himself, together with prima ballerina Maria Kochetkova. The ambitious theme, however, goes far beyond the five-minute territory. It not only merits a deeper dive into the different stages of loss, but also a variety of movement qualities. Schermoly's choreography is limited to merely superficial aspects, emphasising the brilliant dance technique of both performers. The work was far from a deep reflection, which the psychological themes deserved, required even. Although the interpretation was excellent, Kübler-Ross is a perfect piece for any ballet gala; it impresses the audiences for a while and then vanishes from one's memory.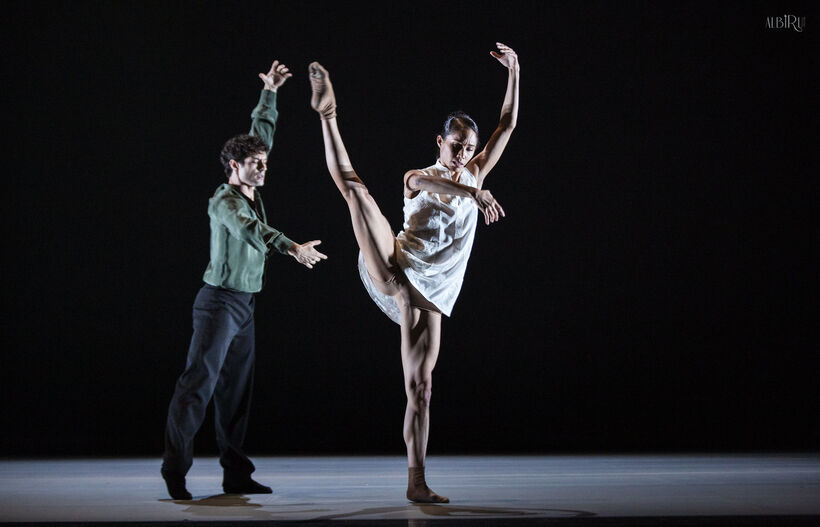 The most anticipated piece on the programme was a new offering by Spanish choreographer Nacho Duato called Morgen (2022). Having led the Compañía Nacional de Danza himself between 1990 and 2010, his return to the company was widely discussed in the local press. Duato left suddenly twelve years ago, since the Ministry of Culture at the time decided to completely overhaul the direction towards a more classical repertoire. Nevertheless, Duato was always loved by Spaniards, meaning his newly staged premiere was highly anticipated. Duato chose a compelling theme for his comeback. Although it may seem that the pandemic is gone, we are still dealing with some of the less visible consequences. These include the high suicide rates among young people who, for different reasons and in different ways, decide to take their own lives due to severe depression, social isolation etc.
The main character in Morgen is a man in a black balaclava, black stud trousers and a chain around his neck, who brings a variety of suicidal tools to the stage. Whether it be a long, sharp knife or an elongated white hose that makes an unpleasantly raw sound when moved. His dance has a curiously jerky feel, as long lines are often interspersed with staccato movements, giving the impression of a sharpened dynamics. Apart from this figure, however, the group parts are particularly prominent, which is characteristic of Duato's creative style. The sections with multiple dancers, who might have represented society itself or even the evil spirits which we encounter during dark periods of our lives, are characterised by a frequent spillover of movement energy from one side to another, always acting as a perfectly synergistic organism whose inner order plays as its sense of existence. Duato's vocabulary is evident in the choreography and in many ways is similar to that of Kylián – working with long body lines, be it limb extensions or torsos, its distinctive nature, resulting in visually pleasing body folds and swirls, spatially precise twisting elements, and long, expressive leaps and jumps.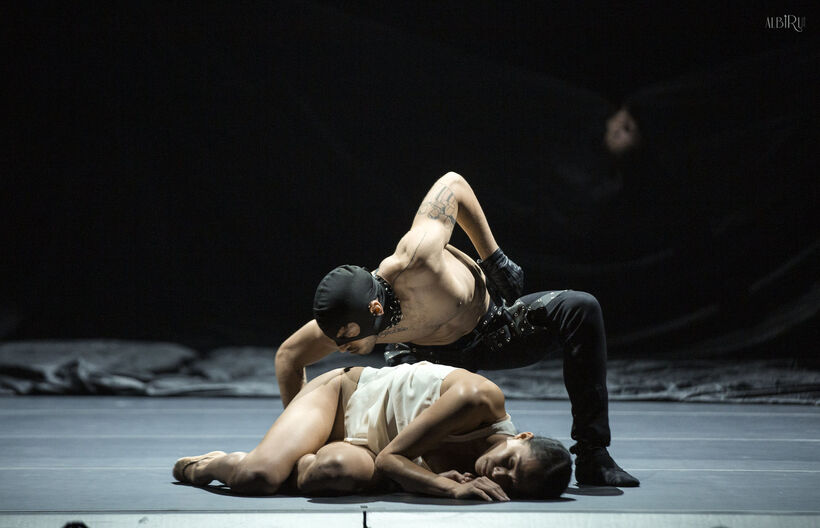 Morgen's gloomy theme is complemented by a visually dark and cold set design by the creator himself, as well as a depressingly atmospheric music score by Pedro Alcalde. The choreographer does not focus so much on telling a specific story, but rather on the depressive mood and collateral emotions; at times it seems as if the main character is inciting others to commit suicide, at other times as if large groups are chasing the man during his darkest moments. This new piece is definitely not an experiment or something completely unexpected. Quite the opposite, in fact: it is good old Nacho Duato. One can observe a choreographic structure, interwoven with decades of experience, with the potential to appeal especially to audiences in large theatres. However, for me the theme itself did not come through via the dancing. The harsh facts seem to have been wrapped and silenced by in a cloak of dance. As such, it caresses the soul rather than provoking it into action, which is what the chosen theme could have offered.
The whole programme was rounded off by Sad Case (1998) by the creative duo of Sol León and Paul Lightfoot. Despite its title, there is not a hint of sadness to be found in this piece. On the contrary, it made for an ironic conclusion to the whole evening. The dancers, dressed in 'dirty' white leotards, perform a breezy, ironic dance. Their bodies are often in unnatural positions, accentuating small and unexpected dynamic and choreographic turns, and this creates just the right comic atmosphere. What's more, they are as precise as clockwork, as they literally dance every note of the Mexican mambo played. At times, the action on stage reminded me of old black and white movies with speeded up footage, only with a touch of that Latin American dynamism and a certain dose of eroticism. Perhaps the characters are indeed lost cases who are sad deep down, but don't show it outwardly. This leads me to two hypotheses: either they depict the modern 'sad' world in which we are not yet aware of this deep-seated grief, or Sad Case is an expression of a certain playfulness, the comicality and irony hidden within ourselves. Whichever way you interpret this piece, it can undoubtedly be considered the best of Pura Danza's programme.
Written from the performance of the 5th October 2022 in Teatro Real, Madrid, Spain.
Bella Figura
Choreography and staging: Jiří Kylián
Music: Lukas Foss, Giovanni Battista Pergolesi, Alessandro Marcello, Antonio Vivaldi, Giuseppe Torelli
Assistants to the choreographer: Ken Ossola, Elke Schepers
Costume design: Joke Visser
Lighting design: Kees Tjebbes
Kübler-Ross
Choreography: Andrea Schermoly
Music: Antonio Vivaldi
Morgen
Choreography, Costume and Set design: Nacho Duato
Music: Pedro Alcalde
Lighting design: Nicolás Fischtel
Sad Case
Choreography, Costume and Set Design: Sol León, Paul Lightfoot
Assistant to the choreographers: Menghan Lou
Music: Dámaso Pérez Prado, Alberto Domínguez, Ernesto Lecuona , Ray Barretto, Trío Los Panchos
Lighting design: Tom Bevoort
---