Radio and Juliet or What if Juliet did not die?
Shortly before the start of the new season, the National Ballet Brno premiered the ballet Radio and Juliet by the renowned Romanian choreographer Edward Clug. His creations are in great demand in Europe, where he collaborates with companies such as the Bolshoi Ballet in Moscow, Wiener Staatsballett in Vienna, NDT 1 and 2 in Haag and ballet ensembles in Dortmund, Essen and Lisbon, but also at international dance festivals all around the globe.
In 1998, he created his first independent project Tango along with the costume designer Leo Kulaš and set designer Marko Japelj who have both become his constant collaborators. The Slovenian composer Milko Lazar joined the team later in 2008in creating of the project Prêt-à-porter project). In 2003, Clug was appointed as artistic director of the Slovenian company Ballet Maribor in Slovenia. Performed by Ballet Maribor, Radio and Juliet (premiered 2005) became an international hit and a turning point in Clug's choreographic career. The creator is also highly regarded by the Stuttgarter Ballett and Ballett Zürich for which he choreographed the full-length ballet Faust in 2018. In the Bolshoi Theatre in Moscow he is preparing the premiere of The Master and Margarita.
The name of Clug's ballet can be a bit confusing. Why Radio, when in fact the title paraphrases William Shakespeare's immortal story about the lovers of Verona? Clug was inspired by the music of the alternative British rock band Radiohead and so he made this pun. Radiohead had previously wrote songs for Baz Luhmann's movie Romeo and Juliet (starring Leonardo di Caprio and Claire Danes) and Clug was enthralled by their music.
The songs and some of the compositions used in the score are really beautiful and set the story in the present. Radiohead are unique in that they often address current social and political issues. Their colourful music world draws inspiration from fiction as well as everyday life and relationships. It is not without interest that some of the musicians have a degree in English literature.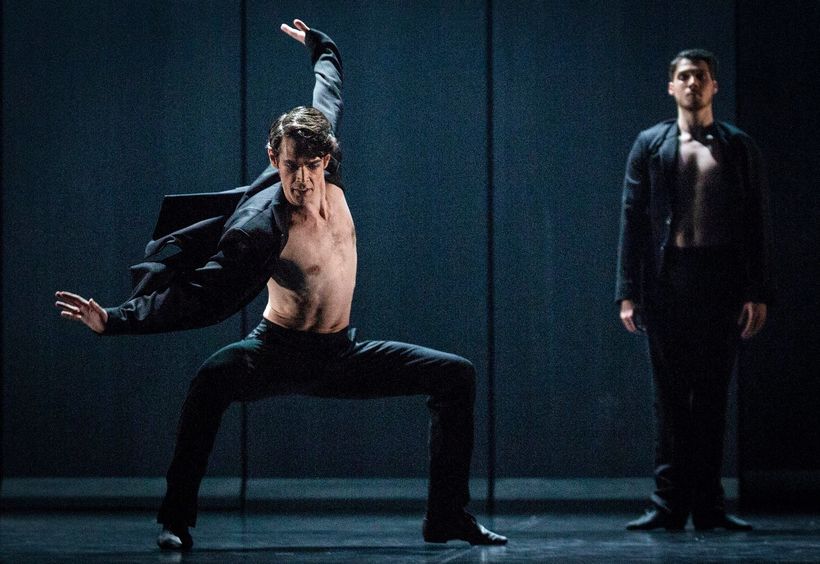 Their effort and engagement imbues their music with growing tension and inner strength. Marrying lyrics, rhythm and melody, they want to express the discontentment, loneliness and certain spiritual anxiety many people experience today. Radiohead are of course interested in love, an almost fanatic relationship to a woman as well as personal hardships and pain. Love and hate, grudge, evil and death are indispensable elements of life, so there is a clear parallel with Shakespeare's timeless narrative.
As Clug states: "It's possible to say our performance starts the moment Juliet beholds Romeo lying dead next to her. To be precise, we in fact tell the story backwards, almost like a retrospect of an unfulfilled love. However, all characters and situations in our ballet are fictitious and any resemblance with Shakespeare's Romeo and Juliet is pure… intention, not coincidence…"
The choreography requires a very limited cast: one female dancer and six male dancers. Each of the men portrays all the central characters – they all become Romeos, Montagues and Capulets. During fights and quarrels they play Mercutios, Tybalts and Friar Laurences. The story is only implied. We can understand individual love scenes and dramatic situations but there is no linear narrative (certainly the creators did not wish to make it linear). Emotions are hidden behind dance bravura and performance virtuosity.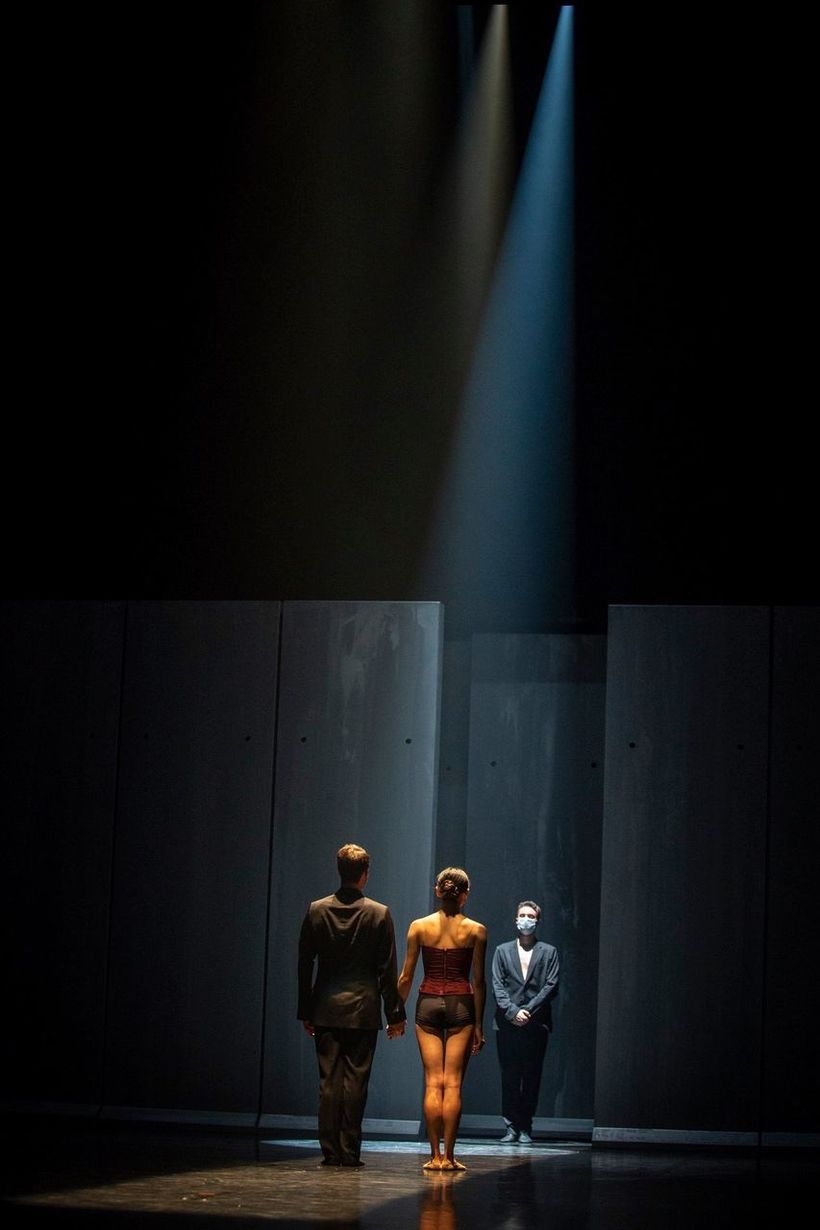 In great duets of Romeo and Juliet, the affection and chemistry between the two lovers becomes more apparent. The dance itself, though, hardly reveals it. The choreography is rather neoclassical, the movement is organic and fluid but feels cold. The male pas de six unveils the structure of the movement canon – dance phrases come one after another, then they start to overlap only to be reunited in the final unison. This scheme recurs several times in the male group. The most powerful scenes are probably the fights.
The sets are simple, consisting of greyish, colourless panels on the horizon. This "screen" is used for video projections throughout the performance, showing the inside of an old house, long mysterious corridors which lead us to Juliet's bedroom. Juliet is lying on her bed, alone. Other times, the video features loops of the choreography, or zooms in for the close-ups of the dancers' faces. In another sequence we see Juliet lying in a bath as if she has just attempted a suicide. The film loops make us look at the story from a different perspective. The Brno version uses projections featuring the original Maribor cast which unfortunately undermines the impression from the performance.
The costumes are simple, too. Juliet sports a light, corset-like tank top, her legs are bare. The male cast dance in light black suits – tight pants and jackets worn on naked bodied. By coincidence (funny enough these days), Edward Clug and Leo Kulaš used medical face masks instead of domino masks for ball scenes and social gatherings.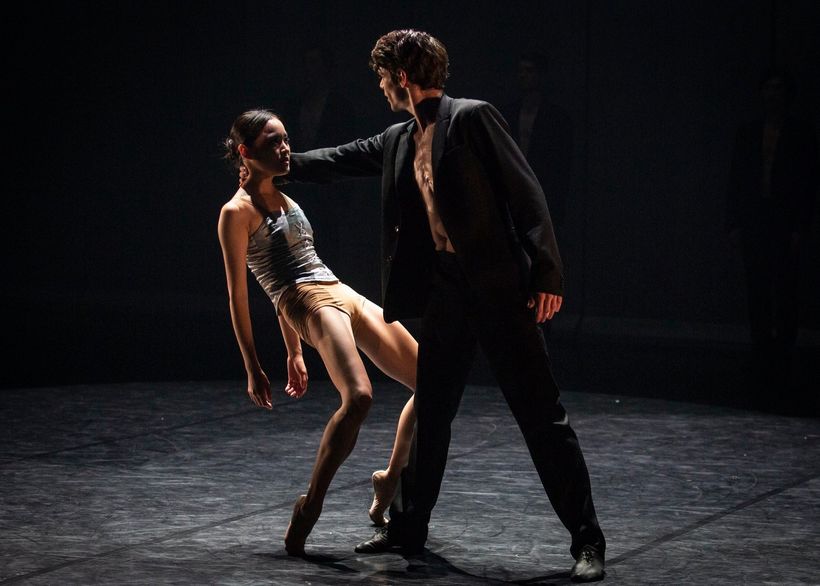 In Clug's ballet, Juliet is a solitary girl, lost among all the men. The unease and spiritual anxiety which appear in Radiohead songs seems to affect her portrayal too. The burden of the drama is on Juliet's shoulders. Edward Clug was interested from the very beginning in the scenario where Juliet did not die… this interesting concept is also sketched out and suggested in the film, but it seems incomplete.
In the finale, Romeo is carrying Juliet in his arms in flashy contra light, and after an abrupt light change he is lying dead next to her. Juliet drinks a potion, but it is not obvious what kind of potion. Should she fall asleep or die? She stays alive. Done. Blackout. No climax. The audience must figure out what happened. The end comes so fast there is no room for sorrow. In any case, it was obvious how much the dancers enjoyd performing live after the long, involuntary break. And Clug's choreography suits the company very well.
Juliet was portrayed by the young and fragile dancer Se Hyun An. Arthur Abram danced the "main" Romeo. The male cast (Shoma Ogasawara, Quinn Roy, Manuele Bolzonello, Peter Vassili and Peter Lerant) gave a balanced, solid and technically strong performance, in which Lerant's dancing clearly stood out. It is generally known that Prokofiev's famous ballet premiered in Brno in 1938 (choreographed by Ivo Váňa Psoty, with Zora Šemberová as Juliet) and that the piece regularly returns to Brno. Last season, the city saw a new version of the ballet choreographed by Mario Radačovský and directed by Martin Glaser, and earlier that year the Brno Exhibition Grounds hosted Leonard Bernstein's famous musical West Side Story. The ballet company in Brno thus remains closely linked to Romeo and Juliet's tragic love story.
Written from the premiere held on 8 August 2020, at the Mahen Theatre, Brno.
The original review in Czech was published on 20 August 2020.
Radio and Juliet
Music: Radiohead
Direction and choreography: Edward Clug
Set design: Marko Japelj
Costume design: Leo Kulaš
Lighting design: Tomaž Premzl
Projections: Janja Glogovac
Staging: Matjaž Marin
Czech premiere: 8 August  2020
World premiere: 23 April 2005
Translated by Tereza Cigánková.
Sun
Mon
Tue
Wed
Thu
Fri
Sat
31
1
2
3
4
5
8
9
10
11
12
13
14
15
16
17
18
19
20
21
22
23

24

DIS PLA Y předpremiéra

Jitka Čechová, Tereza Lenerová

Plzeň, Moving Station

25
26
27
28
29
30
1
2
3
DEJTE NÁM TIP NA PŘEDSTAVENÍ