Romeo and Juliet - Verona Lovers Back At The National Theatre
After a relatively long hiatus, one of the most popular titles, Romeo and Juliet, returns to the repertoire of our leading ballet company this year. The theme of tragic love has already been treated by many choreographers who have been enchanted not only by the powerful Shakespearean story but also by the monumental music of the Russian composer Sergei Prokofiev. The current head of the Czech National Ballet, Filip Barankiewicz, is almost umbilically connected to the Stuttgart company, the home of the famous choreographer John Cranko. That is why we cannot be surprised that he has reached for Cranko's version, which premiered in Stuttgart 60 years ago.
Several authors have already written about the various versions of this ballet on the pages of Czech Dance News. I recommend for example the text by Lucie Dercsényiová reviewing the Brno production in 2019 (Czech version only here). The last lovers' lark on the National Theatre's stage in 2013 was specific in that it brought an original concept by a Czech choreographer, namely Petr Zuska. Now the company has a different director, has undergone many changes in personnel and has many new faces who are getting a chance to compete with the demands of dramatic ballet. Dance technique is not the main requirement, it is something we don't even want to perceive. The viewer should be swept away by the telling of the story, by the experience of those familiar characters with whom fate so tragically plays.
John Cranko's version of the ballet Romeo and Juliet is a famous production that has been tried and tested by many companies over the years. It is therefore not surprising, but rather a kind of golden fund of world choreography. The original set and costumes, created by the choreographer's long-time collaborator Jürgen Rose, have also been transferred to Prague. In their collaboration, Renaissance Verona comes alive with lavish costumes of noble families and colourful revelry in the street. The high-functioning set helps the clarity of the action on stage, with crowd scenes typical of Shakespearean drama interspersed with intimate moments.
Cranko's corps de ballet/ensemble work is impressive. He sets the company as one mass in opposition to the solo escapades of Romeo and his friends or as the embodiment of grandeur in the ball scene. The latter is also memorable for the movement characteristics of the dancing ladies. Their strongly arched backs and heads with combed-back hair bear the stamp not only of nobility but also of a certain innate submissiveness expected of women at court, which is why Juliet, the Capulet's daughter, gives such a fresh impression when, in her eager youth, she refuses to admit that perhaps she should as well belong to a man. On opening night on February 10, Ayaka Fujii, the company's principal dancer since last year, was given a bit of a last-minute opportunity. Due to several cast members falling ill, she unexpectedly found herself in the glare of opening night. However, she was able to build on her experience with Cranko's style, having herself been a member of the Stuttgart Ballet for three years before her time in Prague.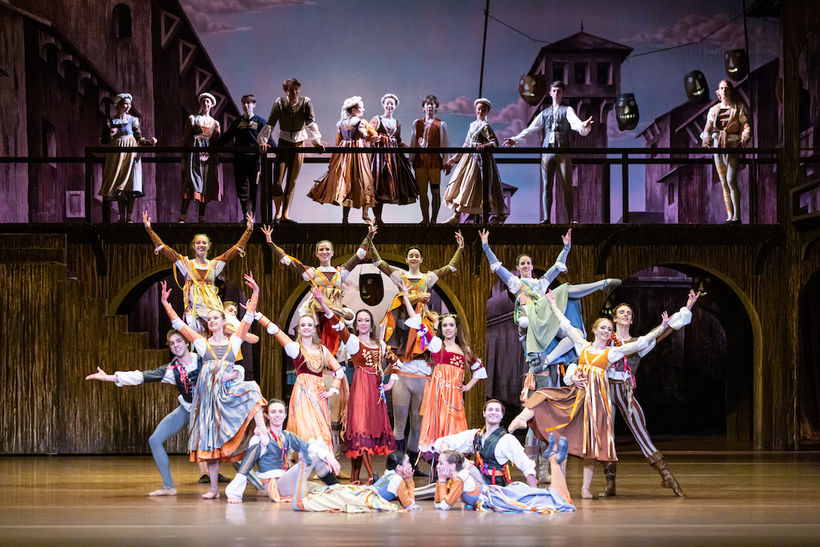 Fujii's Juliet in her opening scenes is the naive and immediate girl who plays games with her nurse (the experienced Nelly Danko in her element) and has no interest in courting the dull young men. She is all the more surprised to meet Romeo, to whom she immediately falls for. We don't blame her - in Paul Irmatov, the character of Romeo has acquired an almost ideal representative. He brings youthful indiscretion, cheerfulness, but also courage, all backed by a secure technique that sovereignly underlines his performance. A lover with a tragic fate, this is probably his greatest opportunity yet on the stage of the National Theatre, and he accepts this thrown gauntlet with a conviction worthy of the rank of principal that he gained immediately after the performance. The mutual dance chemistry with Ayaka Fujii works quite well, with only the main duet occasionally showing hiccups that could have stood more rehearsal. There was no room for that though, as Irmatov was originally intended to form the opening night couple with Alina Nanu.
The second act relies almost entirely on Romeo and his friends Mercutio and Benvolio, who make good use of their space and try to create character. It's easier for the experienced Matěj Šust, whose cheerful Mercutio is the light-hearted daredevil we expect. His demise, however, isn't portrayed entirely naturally, with Tybalt's cord running through him quite arranged and the whole dying scene a little overwrought. Still, Mercutio leaves an impression and Matěj Šust has become another new principal dancer of the company. It's as if Filip Barankiewicz has been waiting with the promotions for this Shakespearean baptism by fire. Benvolio, played by Giacomo De Leidi, of course doesn't have as much space as his cronies, but it just wouldn't be the same without him, and even he can't be denied his youthful enthusiasm and verve.
After the death of Tybalt (a mesmerizing Paul Tudor Moldoveanu), a new reality dawns for Juliet and her performer goes deeper as she dramatically grapples with Juliet's grief, which mingles in her chest with the love of her life. Ayaka Fujii lives the role dramatically and communicates quite successfully through her expression Julia's transformation into a woman and her subsequent fateful decision. Long-time members of the company shine in character roles, especially Tereza Podařilová as Lady Capulet and Jiří Kodym as her husband.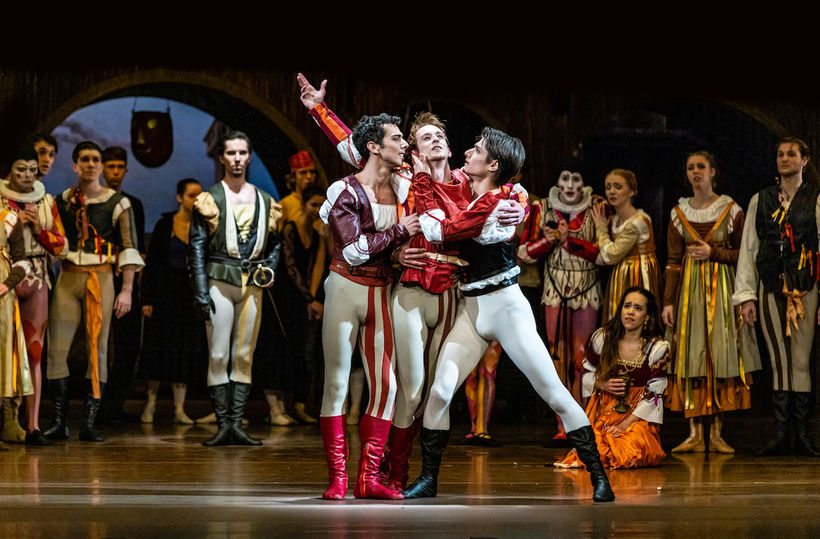 All the dancers' actions are supported by Prokofiev's extremely emotional music. Tones that stir intimate experiences and draw the viewer into the story with captivating and original motifs composed for each character. The music of Romeo and Juliet is one of the most legendary compositions, possessing both power and subtlety, tragedy and hilarity. What a pity that the State Opera Orchestra did not pick up on those traditional flies, inaccuracies and flaws of beauty, often caused by the incongruity of the various instrumental sections. The two musical numbers also make use of several soloists playing from a box above the orchestra pit, but conductor Václav Zahradník did not quite succeed in coaxing the two groups to play together. It is a pity that my colleague Petra Dotlačilová also complained about the inaccuracies in the orchestra in her 2013 review of Petr Zuska's version of Romeo and Julier for Czech Dance News (here). This performance was musically led by the same conductor.
It is a positive thing that Romeo and Juliet in John Cranko's version is in the repertoire of our leading ballet company. A work of high quality, even if traditional in conception, it can still speak to many audiences. Unfortunately, this doesn't address the question of where our largest ballet company is going when it keeps taking titles from Stuttgart instead of providing strong material for, say, an exciting new work by a Czech creator. In the case of the title dedicated to the love and death of the Verona lovers, I do not protest; in my opinion it is good for the company to dance such a piece. However, I do expect a more colourful dramaturgy from the Czech National Ballet.
Written from the premiere on 10th February 2022 at the State Opera Prague.
Romeo and Juliet
Music: Sergei Prokofiev
Choreography: John Cranko
Set and costumes: Jürgen Rose
Choreography and staging: Jane Bourne
Staging: Filip Barankiewicz
Lighting design: Jürgen Rose, Valentin Däumler
Costume Supervision: Diana Eckmann
Stage design reconstruction: Martin Černý
Musical staging and conductor: Václav Zahradník
Translation: Kristina Soukupová