Christian Spuck commenting on Czech premiere of Leonce & Lena: "I changed myself and that is why my point of view of the piece changed too."
Ballet company of the National Theatre in Prague prepared two premieres in one month. After the renewed composed programme Kylián – Bridges of Time, the dramaturgy came up with Czech premiere of ballet Leonce & Lena by Christian Spuck, German choreographer and at the moment director of Zurich Ballet. The original first night was showcased in 2008 for Aalto Ballett Theater Essen and nowadays it is on repertoire of major world ensembles like Les Grands Ballets Canadiens or Stuttgart Ballet. We interviewed choreographer about his inspiration but also about his work with Czech ensemble.
How do you feel right before Czech premiere of Leonce & Lena?
Great, but we still have work to do. The Estates Theatre is too small and we have to adjust some parts. But the piece itself is getting new qualities and I think it works well.
Why did you choose this piece by Georg Büchner? Is there anything special about the plot of Leonce and Lena?
In 2008 the director of the Aalto Ballett Theatre Essen Martin Puttke asked me to create a humorous ballet. But if you think about it, hardly nobody creates funny pieces. Of course, we have The Taming of the Shrew, La fille mal gardée and more, but those are just exceptions. And back then I remembered I saw the play of Leonce and Lena. Büchner pretends to talk about comical love story, but in fact it is satire and caricature of the then society and functioning of Germany in 19th century. Büchner was politically very active, he was in jail too, and that was also the source of his urge to write critical plays. The story itself has a touch of romantism but is in contrast with period reality. And that seems fascinating to me.
Is your piece politically engaged also within contemporary society?
Yes, I think it is. But it is the libretto, the play by Büchner, which is timeless. It is about the governing class, nevertheless if those are kings and queens or presidents. A farce and caricature about the Absolutism. They all behave in the same manner. It comes from the power, which they possess thanks to their social role. Only few of them knows, what goes on in the everyday life of their nations.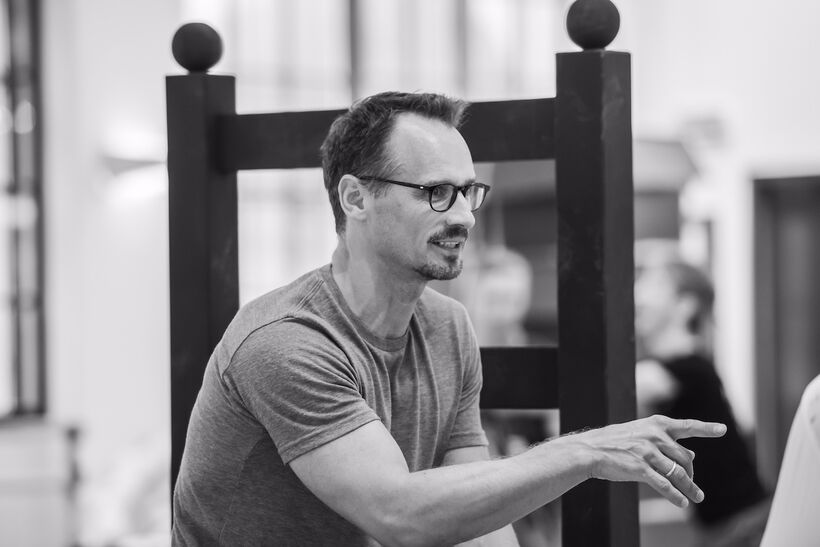 This piece was premiered in 2008. How did your point of view change? Have you changed any parts or the meaning of them?
Of course. I changed myself and that is why my point of view of the piece changed too. Futhermore, Leonce & Lena is on repertoire of many companies. And to restage it again, it makes me to think over and over my own work. It is also a test, if my choreography still works.
To me, the most important is that dancers understand, which character they depict. This ballet is not about beautiful pirouettes and high développés. The aim is to transfer the story by Büchner in all its humour and seriousness, mere show of technique is worthless for me. And it is neither about pure classical ballet technique, but about different styles, which might be labelled as dance.
Is the original play different from your ballet?
The plot is the same. The difference is that originally Leonce and Lena is a play, we do not use spoken word. And words are of course very important for Büchner, in fact he included many ideas and fragments from other authors into his comedy, for example Shakespeare or scenes from Italian commedia del'arte. And we did the same – in the ballet, you may recognize chorographical parts from John Cranko, Kenneth McMillan, Maurice Béjart and others.
There are many ballets in your biography based on literary art.
For big productions, I always search for something stable to stand on. And that is what I find in literature. I am not a big fan of those pieces, where body aesthetics and beauty are the most important elements. And I do not find that interesting.
How do you choose music to accompany your pieces?
The choice is always very difficult and takes lot of time. In case of Leonce & Lena it took me two years until I found the right music. Leonce and Lena are very melancholic characters, they are bored and they have nothing to do, no life goal and everything turns around themselves. This was the reason why we decided to use music to contrast this – very quick and exciting dance music based on waltzes and polkas by Strauss, Schnittke, Zimmerman and others.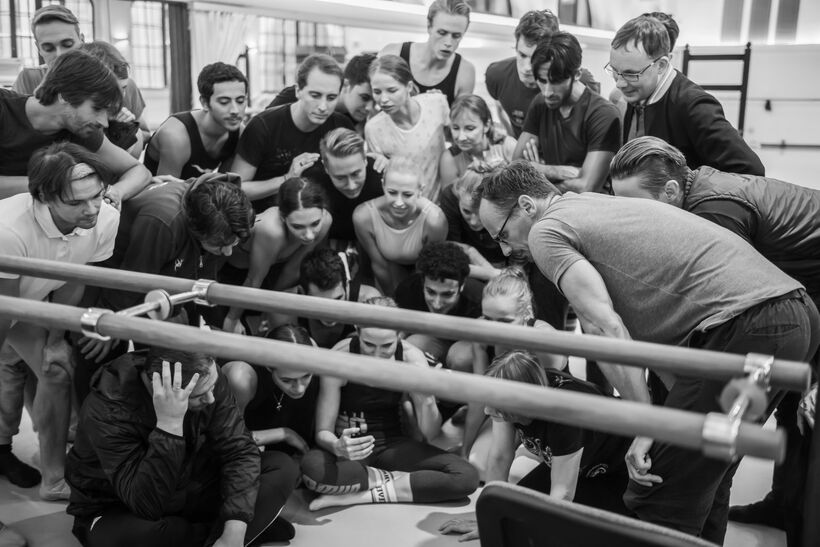 How was it to work with ballet company of Czech National Theatre?
Collaboration was just great. At first, dancers surprised me a lot, they are very open-minded and curious. They try to understand, what they are doing and listen to everything, what is offered to them. All of them work to their limits, regardless they are principals or members of the corps de ballet.
Czech ballet company is undoubtedly one of the leading European ensembles. In Zurich we have junior company and many of them come and ask me for information about Czech company. And that is always a good sign, when young dancers pay attention to your existence.
You danced in ballet companies, but also in contemporary dance troupes. How these experiences display in your movement vocabulary?
When I was in Rosas, Anna Teresa de Keersmaeker wanted us to choreograph. There started my interest in creating and I learned a lot. Having been working in contemporary and classical companies opened my mind to be interested in all possible dance forms and performing arts.
If you have a possibility to advise anything to your audience before they see Leonce & Lena – what is it?
Come and have fun!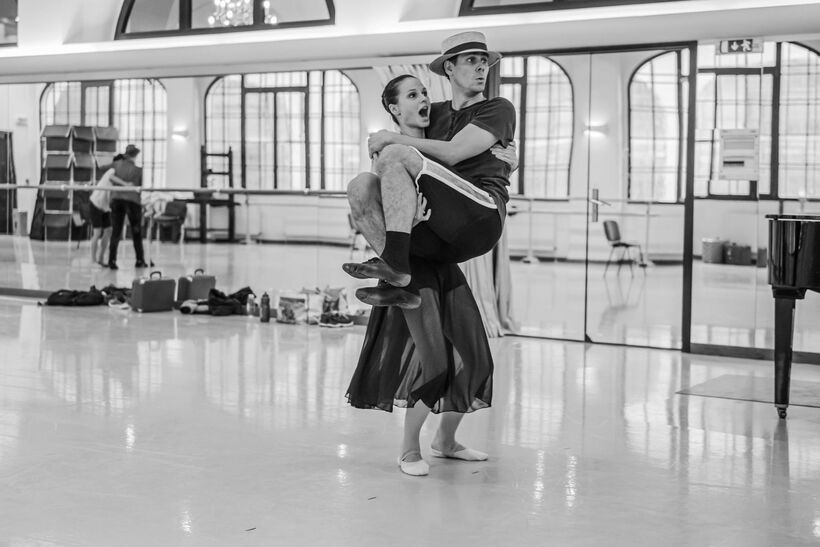 Christian Spuck (1969)
Christian Spuck comes from Marburg and was trained at the John Cranko School in Stuttgart. He began his dance career with Jan Lauwers' Needcompany and Anne Teresa de Keersmaeker's Ensemble Rosas. In 1995 he became a member of the Stuttgart Ballet and served as the company's resident choreographer from 2001 to 2012. In Stuttgart he created fifteen world premieres, including the story ballet Lulu. Eine Monstretragödie after Frank Wedekind, Der Sandmann and Das Fräulein von S. after E.T.A. Hoffmann.
Christian Spuck has also worked with numerous renowned ballet companies in Europe and the USA. The Return of Ulysses (guest performance at the Edinburgh Festival) was created for the Royal Ballet of Flanders, and Woyzeck (after Georg Büchner) was premiered at the Norwegian National Ballet Oslo. The ballet Die Kinder, premiered at the Aalto Ballett Theater Essen, was nominated for the «Prix Benois de la Danse». His ballet Leonce und Lena (also after Georg Büchner) likewise premiered in Essen and subsequently was taken over by the Grands Ballets Canadiens de Montreal and the Stuttgart Ballet. The world premiere of Poppea//Poppea for Gauthier Dance at the Theaterhaus Stuttgart was voted one of the ten most successful dance productions worldwide by the magazine Dance Europe in 2010 and was awarded the German Theatre Prize Der Faust in 2011 as well as the Italian Danza/Danza Award. Christian Spuck is also active in the field of opera. Gluck's Orphée et Euridice at the Staatsoper Stuttgart (2009) was followed by Verdi's Falstaff at the Staatstheater Wiesbaden (2010), Berlioz's La Damnation de Faust (2014) and Wagner's Der fliegende Holländer (2017) at the Deutsche Oper Berlin.
Since the 2012/13 season, Christian Spuck has been director of Ballett Zürich. Thus far, his Romeo und Julia, Leonce und Lena, Woyzeck, Der Sandmann, Messa da Requiem (a co-production of the Oper and Ballett Zürich) and Nussknacker und Mausekönig have been shown here. The ballet Anna Karenina after Lew Tolstoy, which premiered in Zurich in 2014, was taken over by the Norwegian National Ballet Oslo and the Stanislavski Theatre in Moscow in 2016, as well as by the Korean National Ballet in Seoul, and the Bavarian State Ballet in 2017. For Winterreise, which premiered in October 2018 in Zurich, he was awarded with the «Prix Benois de la Danse 2019». In autumn 2019, he staged the musical theatre Das Mädchen mit den Schwefelhölzern (The Little Match Girl) by Helmut Lachenmann with Ballett Zürich.
Source: Ballett Zürich
---
DEJTE NÁM TIP NA PŘEDSTAVENÍ