Thalia Award Winner Alina Nanu: "Any ballerina who has experienced the spark phase can dance Lise."
Alina and I met in a café near the National Theatre last autumn. During our conversation, she laughed after every other sentence, using wild gestures and carefully checking her pronunciation and the correct meaning of her words. No surprise, as one of the Thalia Award winner's main hobbies is writing dictations.
Congratulations on your first Thalia that you have won for the role of Lise in La Fille mal gardée. How did it feel to be nominated and eventually earn such an accolade?
I was really happy. The nomination came in a moment when I wasn't ready for it at all, as the date of announcement had been postponed. I had to wait for the results to be published at a press conference. I couldn't wait to tell my friends and colleagues, so at least I called my mom (laughter).
How did you feel as Lise? Your interpretation seemed very natural to me.
I will share one story from the rehearsal. We were in the studio rehearsing the first act. I had a bag with ribbons next to me on a bench and somebody said we would do the pantomime with a churn. And I cried out: "Let's go!" and tossed the bag behind me. The assistant of the choreographer started laughing and told me I shouldn't have changed anything and be exactly like that.
Lise is a character that every ballerina can dance because they all have experienced the 'spark phase', falling in love, hiding, feeling shy around a boyfriend. I didn't think about what the character would have done, but what I would have done. When we were doing the scene where Lise imagined she would have kids one day, everybody laughed, but I said to myself: "I do this at home, too." Ok, maybe not exactly that but the awkward feeling when you are imagining something, and you get caught...so relatable!
Did you expect to be awarded for the role of Lise?
After the première, I thought it would be possible, but it was long before the nominations were announced. On the gala night, I had mixed feelings. I went to my dressing room in the theatre, but I was in a very different position. It was a big unknown for me. If I win, what will I say? Not that I prepared a speech… But what if I really win? When the first award was being presented, my heart was beating so fast and I couldn't imagine what would happen when our category would come. But these are nice feelings.
This year's production of Swan Lake choreographed by John Cranko is also closely watched, especially the lead ballerina who dances the dual role of Odette/Odile. In his version, Cranko works with the music score in a way that is much different from what we are used to. What was it like for you as a dancer?
I got used to it quite quickly. During the rehearsals, I danced at a ballet gala where I did yet another version. When I heard the music for the male variation, I was a bit confused that I wasn't dancing (laughter). I like Cranko's Swan Lake, though, for example the entrance, and the duets in the fourth act. He uses specific port de bras, the movements are smaller, coming more from the wrists, up to the fingertips. For me it was the first ballet by John Cranko I'd ever done, and now I'm looking forward to his Onegin.
You dance almost all principal roles in the Czech National Ballet repertory. In which role do you feel best?
I don't have just one role in which I feel best, but there are roles that are closer to my heart. And it doesn't matter if I feel good in them since the very beginning. Sometimes it takes longer before it all clicks, but then the role becomes my heart thing. It also depends on how much you get along and synchronize with your partner.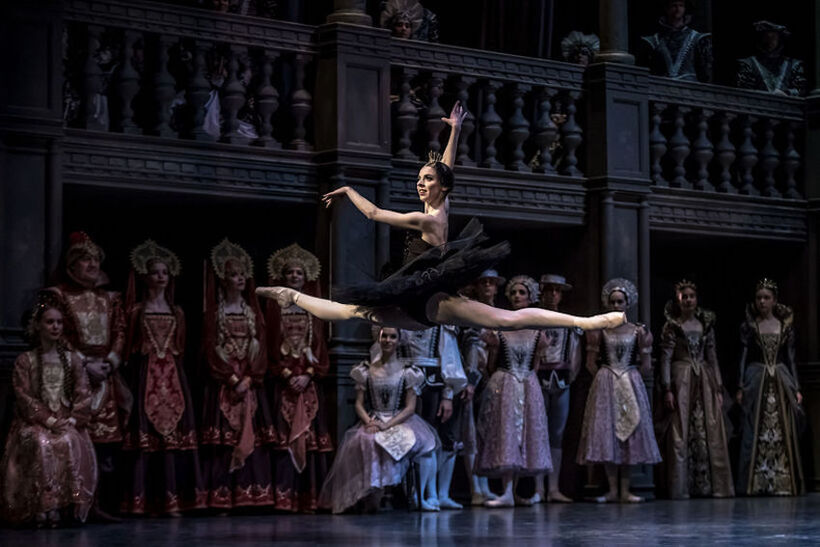 What are the most challenging roles?
I don't know if it was challenging, but I had to work hard on Marquise de Merteuil in Valmont, there was a lot of acting. When I started rehearsing Juliet, I wasn't sure if I was tender enough for the role because I had danced very lively characters before. Under Tereza Podařilová's sensitive supervision I began to discover nuances and places inside of me I hadn't known before.
How do you prepare for such a role?
I get inspired, read books, watch movies that are somehow related to the theme…
Do you read reviews?
I do, but I don't let them affect me or hurt me, I look for constructive criticism.
When and where did you start dancing?
My parents were looking for a music school for me and my sister and they found out there were dance lessons too. I suffered from scoliosis and so they told me it could fix my back. The dance lessons were more about having fun and learning some steps, but the entrance exams at the conservatoire were tough. The conservatoire in Moldavia focuses on classical ballet. Throughout our studies we had a teacher who was very strict, but she was like a grandma to us. In Moldavia, there's only one conservatoire and only one theatre, so the school is not so big. Twenty-four students were admitted to our class and nine of us graduated.
You joined the Prague State Opera ballet company right after finishing school. Did you try other auditions?
I did auditions in Munich, I also auditioned for a job with the Czech National Ballet. But...Firstly, I dyed my hair blond and it really, really didn't suit me, and secondly, I was a bit 'bigger'. Fortunately, I lost some weight during my first season. I remember the beginning of my career at the Opera and I must smile. My first solo role was in pas de trois in Swan Lake, shortly after came Odette/Odile. And then other roles kept coming, such as Myrtha, Giselle, Kitri…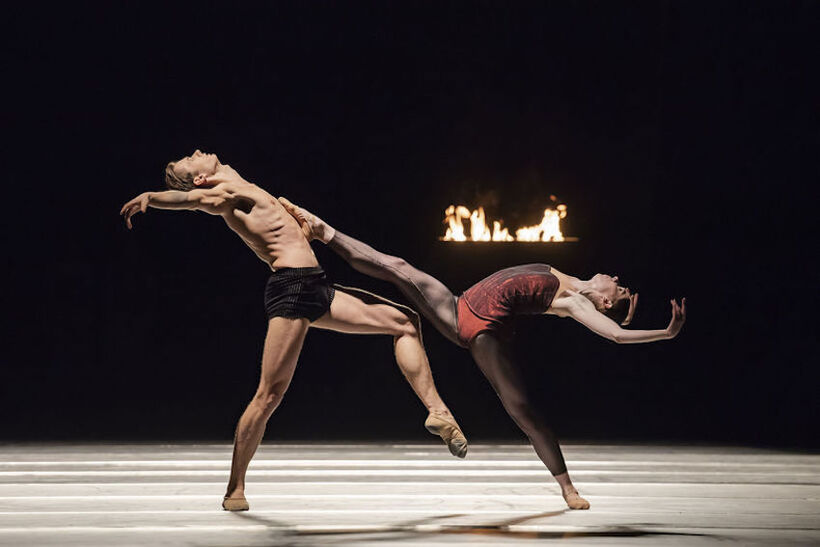 Having such a hard job, what do you do to unwind?
Usually I spend time with my friends, sometimes I travel to Brussels to see my sister. She's in IT and she has beautiful arches that would be a big plus in my job, but not in hers (laughter).
And I like sawing. I'm not particularly handy, but the leotards I make for myself are the most comfortable, because I know what I need. I have a guitar and ukulele at home, I got them as as a 'break a leg' gift. I can't play, but sometimes I strum through the strings, then I get angry and stop it.
But what I really enjoy is writing dictations. I've taken the Czech language exam twice, and on the internet you can find model tests which I like to complete, I choose various levels of exams. I don't write much because it's not necessary for my profession, but I like practicing it.
Do you have a dream role?
Yes, I do. But I can't tell. I'm superstitious. Not much, but what if there's something true about the superstition? So I'm not telling a word. (laughter)
Alina Nanu was born on 23 August 1990 in Kishinev, where she studied at the State Dance Conservatory of Moldova. Subsequently, she attended the Prague Dance Conservatory. As a member of the school's company, she made tours all over the world, performing in Spain, Germany, the USA, etc. While still a student, she garnered accolades at dance contests, with the most significant being second prize at the International Ballet Competition in Brno (2009) and first prize at the International Ballet Competition in Romania (2009).
In 2010, she launched her professional career as a member of the ballet company of the State Opera Prague, where a year later she was appointed a soloist. The audience could see her in the lead role of Odette/Odile in Tchaikovsky's Swan Lake, as Kitri in Don Quixote and Myrtha in Giselle.
In 2012/13 season, she was engaged as a soloist at the Czech National Ballet, where in 2015 she was named a first soloist.
Alina is agifted young artist, an ebullient, technically brilliant dancer, capable of singularly expressive rendition of the psychology of the characters.
At the National Theatre in Prague, she has appeared in anumber of major roles. She has performed Clara in a Dream, Clara Cratchit and the Chinese Dance in The Nutcracker – A Christmas Carol, the Ugly Sister in Cinderella, Kitri in Don Quixote, Myrtha in Giselle, Odette / Odile in Swan Lake, Carabosse – the Wicked Fairy and Volante – the Fairy of Courage in The Sleeping Beauty, Juliet and the Juggler in Romeo and Juliet, the Marquise de Merteuil in Valmont, Nikya and Gamzatti in La Bayadère, the Mother in The Nutcracker and the Cuddly Mouse, the title roles in The Snow Queen and The Little Mermaid, and Lise in La Fille mal gardée.
Alina has also excelled in modern ballet productions, including in Americana III, Czech Ballet Symphony II, Symphony No. 7 in A major (Uwe Scholze), Rain (Radu Poklitaru), Vertigo (Mauro Bigonzetti), Solo for the Two of Us (Petr Zuska), Serenade (George Balanchine), Bella Figura (Jiří Kylián), Aspects (Katarzyna Kozielska), Dumka (Ondřej Vinklát), Perfect Example (Andrej Kajdanovskij).
In 2015, she received the Director of the National Theatre Prize for young artists up to the age of 35 and she was nominated as Dancer of the 2018 year in the magazine Dance Europe.
In 2015, she received the Director of the National Theatre Prize for young artists up to the age of 35. He successfully represented the Czech National Ballet in the Bavarian State Ballet in Munich and in the Stuttgarter Ballett at the prestigious Ballet Gala and also in Košice and Bratislava at Gala of Modern Dance (all together with Giovanni Rotolo - 2016, 2018).
Translated by Tereza Cigánková.
DEJTE NÁM TIP NA PŘEDSTAVENÍ