Circus behind glass: Juggling and acrobatics within reach
The second week of February saw the 8th edition of Prague's Cirkopolis festival, an international showcase of circus art organised by Cirqueon - centre for contemporary circus and Akropolis Palace. The event started off with the online premiere of Filip Zahradnický's Collection of Sceptical Pleasures. This year's line-up was split into two parts. The winter edition (February 8-10), aptly named Circus behind glass, put artists behind the giant glass window of the cubicle (Cell n. 10) used by the (A)void Floating Gallery at Prague's Náplavka. The summer edition is set to take place in July 2021 (Karlín Barracks) and welcome international guests.
Cirkopolis focuses on innovative physical theatre projects, with a special emphasis on small-scale new circus productions bordering between dance theatre, clownery and audio-visual art. This long-term trend was confirmed by Filip Zahradnický's much-anticipated full-length project Collection of Sceptical Pleasures, which mixes top-level juggling with an original approach to the performativity of objects. Zahradnický extended his artistic vision to various objects which were part of the stage sets – a composition consisting of three colour shades, a loose allusion to surrealist works. For instance, the scene with heads (busts) covered in indigo fabric evoked René Magritte's famous paintings. The performer interacted with the sets throughout the piece, at one point he even became an object himself, using the other props as masks to cover various parts of his body.
The first thing we could see on the stage was a high four-walled fabric fence and leaves of reed sticking out above its top edge. A grass mask wrapped around the performer's head elongated his body and made us ask first associative questions: Is he a beautiful flower in a decorated interior or a grass-covered collector who has grown into his own composition? Or is he just having fun hiding behind props and exploring the space with other receptors and senses, seeing the world from the perspective of an object? From playing with a plant, Zahradnický moved to pot juggling, a technique inspired by an old Chinese artistic discipline which he developed not only as a way of object manipulation, but also as a way of head covering. Shortly, he found other "camouflage" materials, such as hats and a rotating cube. It should be noted that Zahradnický managed to maintain the right balance between his original ideas, such as manipulation with a head of a mannequin or balancing tricks with a pole and balls (a tasteful demonstration of the art of juggling). Manipulation and juggling sequences alternated with motivated alterations of the setting - Zahradický used poles and soft fabric to miniaturise the space.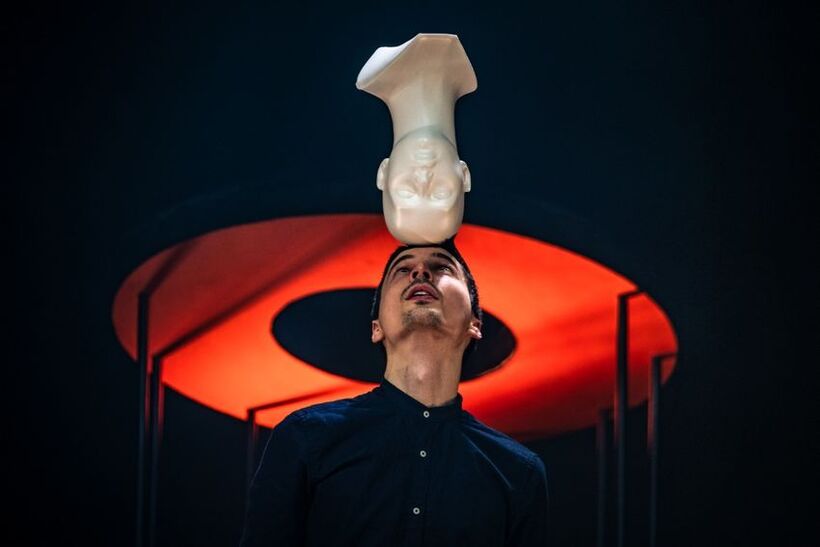 The sequence of sketches and the order of individual objects were unpredictable and surprising moments occurred even within the short etudes. Thanks to these surprises, the audience remained curious and concentrated even during lengthy scene changes, waiting for what is to come next. The unobtrusive narrative was accompanied by music which helped draw attention to what was happening on the stage, to the choreography and the symbolism of gestures and positions in the space. The small-scale project Collection of Sceptical Pleasures is free from the pressure of "wow" effects, and still can be seen as a full-fledged artwork thanks to the expressive tools of new circus. Filip Zahradnický is one of the few young artists who do not settle for superficial projected aesthetics, but who apparently work with craft precision as well as a uniting framework concept.
Fortunately, the organisers and live culture lovers did not let themselves be discouraged by the restrictive sanitary measures and freezing weather, even though all live performances took place behind the glass in 15-20 minute long blocks of time. The atypical space of the cubicle on the Vtava embankment allowed all the three artists to modify the stage for their own site-specific performances. Only the last of the four scheduled evening loops, that by Cécile Da Costa, had to be cancelled due to bad weather conditions.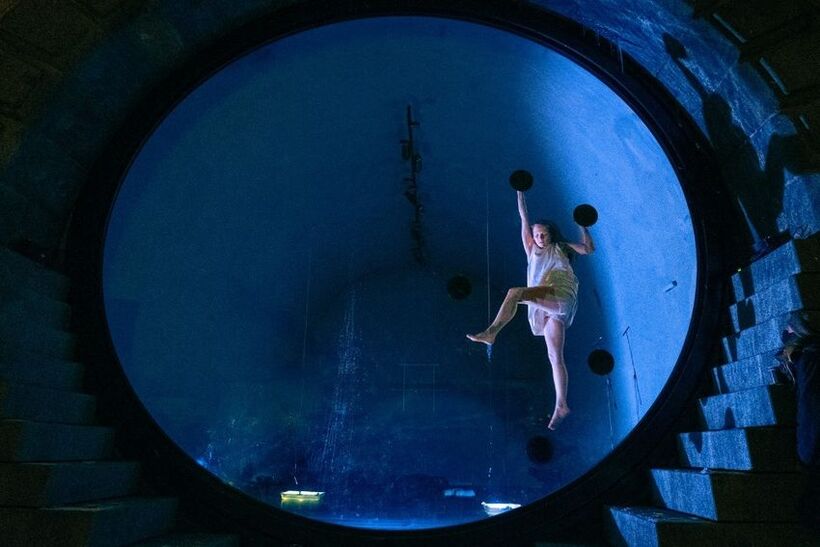 In her work called Fish Eye, the aerialist Eliška Brtnická builds on one of her previous productions called Opticon. She completed the white sets with a white bathing cap and a long pliable tube with joints, made for flexible moves and attached to the shoulders. Brtická's body, incredibly plastic and bendy, filled the whole space. Through playing with the object, she twisted her body into unusual sculpture-like shapes (suggesting, for instance, sea animals or other fantastic creatures). She was moving on the floor, hanging from a trapeze attached to the back wall, at one point she also "attacked" the solid glass wall, and moved across in an upright position, using many holds. Fish Eye successfully combined the very essence of site-specific art (as it took place on the Vltava embankment), an exquisite physical performance and sensitive music by Stanislav Abrhám.
The second evening belonged to Lukáš Karásek and his clown show. Entering the outdoor space despite sub-zero temperatures, he fearlessly opened his 20-minute furniture sketch standing on the stairs leading from the Rašín Embankment. When he finally nested in the cubicle, he surrounded himself with a two-door wardrobe, a drawer (on his head), a chair and a three-legged table. Another play with objects – this time pieces of furniture – which could possibly evoke the year-long lockdown, frustration from home confinement (or home office) but also a much larger perspective pointing to loneliness in general spacetime. The third artist occupying the cubicle was Filip Zahradnický who performed a few excerpts from his live-streamed performance of Collection of Sceptical Pleasures.
This year's winter edition of the Circopolis festival proved that supporting Czech performers on their way to circus is worth the struggle. By presenting Filip Zahradnický's world première (Zahradnický is the first Czech artist who not only made it to the international competition Cirque de Demain in Paris, but also received a special jury prize and the special prize of L'Académie Fratellini), the festival gently lifted the heavy blanket of cultural shutdown. After months of separation, seeing the work of our leading circus performers must have been extremely uplifting for both artists and their audiences.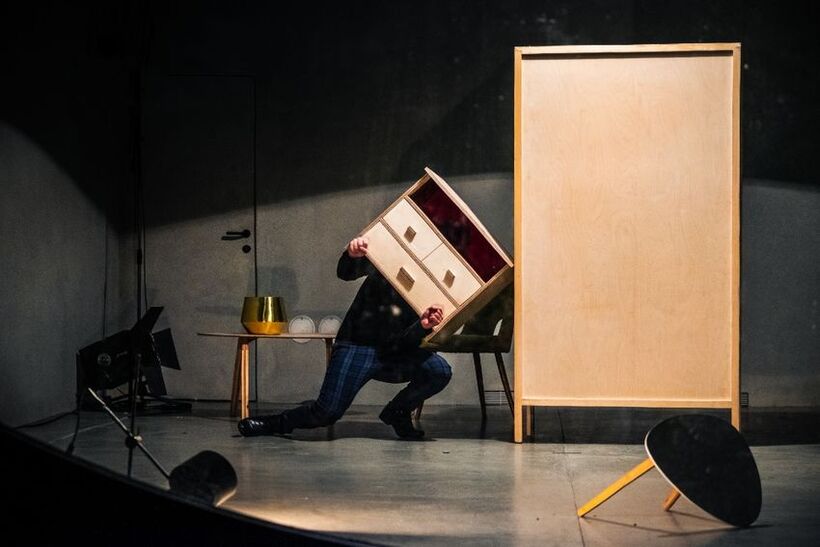 Written from the Cirkopolis festival, held on 8 -10 February 2021.
Collection of Sceptical Pleasures
Theme, direction, stage design: Filip Zahradnický
Supervision: Petter Wadsten
Movement collaboration: Michaela Stará
Lighting design: Karel Šimek
Music: Vojtěch Bor
Technical collaboration: Olin Procházka
Co-production: CIRQUEON – Centrum pro nový cirkus / Cirkopolis
Supported by: Ministry of Culture of the Czech Republic
Premiere: 8 Feb 2021, Palác Akropolis (online event)
Fish Eye
Concept, performing: Eliška Brtnická
Sound design: Stanislav Abrahám
Lighting design, technical support: Vlado Peleta, Prokop Vondruška
Premiere: 9 Feb 2021
Obývací pokoj v Kobce
Author, performer: Lukáš Karásek
Dramaturgy: Viktor Černický
Stage design, make-up: Lukáš Urbanec
Lighting design: Zuzana Režná
Costumes: Hynek Petrželka
Production: tYhle, Studio ALTA
Partners: Terén, Cooltour, CIRQUEON, Kredance, Tanec Praha / PONEC – divadlo pro tanec
Premiere: 10 Feb 2021
Translation: Tereza Cigánková.