The dreams of Czech contemporary circus at Letná
In the edition celebrating its maturity, the Letní Letná festival was generously dedicated to Czech contemporary circus productions. Not that the Czech tent was sold out daily but once viewers sat on the bench, they showed their excitement or liking. Losers Cirque Company had truly high attendance. The huge fan base supported the reruns of Heroes, Konkurz (The Audition), MiMJOVÉ (MiMJAS), and Losers – Special Edition. Cirkus Tety's Voyerky (Peeping Janes) and mixed programs, such as Žonglérská galashow (Juggling Gala) by Bratři v tricku and their guests. Czech outdoor productions were greatly popular with families with kids. The chamber production Čekání na… (Waiting for…) had a special place among all the others.
Play with chairs and a trolley
Have you ever confused a dream and reality? This question arose when I watch the first public production of Cirkus TeTy's Narušení (Disturbance) in stage lights. It is an intro line from James Mangold's eponymous movie with star actors, which uses the clients of a psychiatric retreat to observe the altered perception of reality. The duet of Pavla Rožníčková and Veronika Smolková did not directly refer to the movie or the famous theatre piece Šašek a královna (The Jester and the Queen), yet it generated the links through associations. The absurd framework and inner (lack of) logic made it possible not to strive for unequivocal understanding, be led, and observe the series of actions. Chairs were support and a reason to quarrel, provoke and implement the authority, and the only one was hanging in the space. The metal construction allowed innovative aerial variations that enticed "dreamy" surreal moments of aesthetic bliss in the haze full of light. Narušení (Disturbance) seemed to respectfully trigger naivety and playfulness, which has been typical for TeTy since the establishment of their company ten years ago.
Having been inspired by Havel's poem Vpřed (Straight Forward) and, Žongléros Ansámbl from Plzeň transformed dreams as wishes and desires into a motion performance with circus acts on consumerism. Five performers, who were originally athletes and teachers, truly moved straight forward under the supervision of Markéta Vacovská and Roman Černík. The coherent work was held together by physical dramaturgy and two basic pillars – Jana Hugo Hejzlar's light compositions and Ema Brabcová's music mixed live. Actions were triggered by competitiveness, provocation, and pressure on performance. Whereas a chair was a typical object in Narušení (Disturbance), the performance Vpřed (Straight Forward) featured a trolley. The guys from Plzeň spread out the world of consumerism, in which they seemed to conquer floors of a shopping spree in a board game. Apart from dance parts, they also made use of acrobat skills, mostly ground acrobatics, and elements of strength and gymnastics. The presence of Žongléros Ansámbl at Letná was a nice diversion from the Prague-oriented program when every gust of wind from the regions is a promise for further development and layering of contemporary circus in the common knowledge.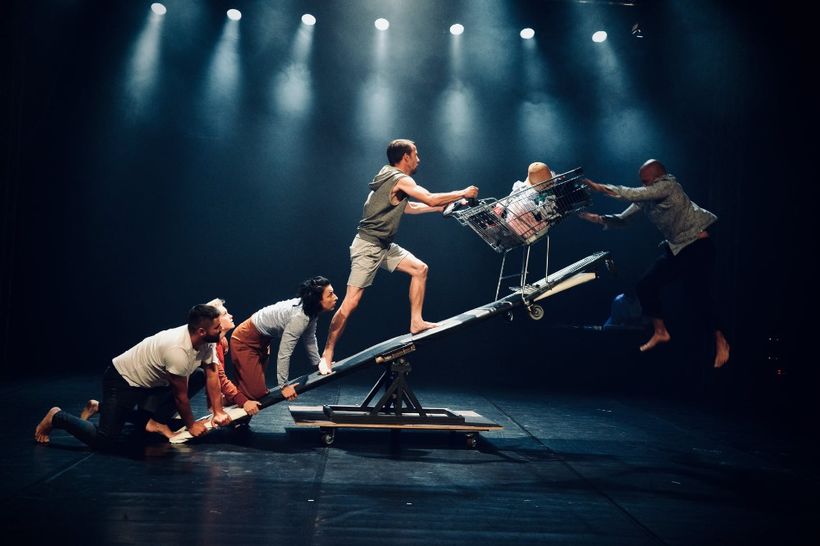 Aerial acrobatics and juggling
Hotel Laputa was another Letná project inspired by a dream: the legend about the mythical island in the sky. AirGym Art Company with director Ondřej Holba and guest artists built an imaginary world inspired by classical ballet. And it was an aerial variety show, in which the ensemble led by Tomáš Pintér could fully develop in aerial acrobatics without the result being affected by unfulfilled theatre demands. The true circus show presented high quality in "flying" disciplines. The duo Pintér–Bartoňová foreshadowed high acrobatic ambitions in their number on the trapeze. Pavlína Podzimková experimented with hanging with three beer kegs, Martina Illichová tested the scarf and hula hoop. Although we did not follow Jonathan Swift's Gulliver's Travels, where the castle in the sky was mentioned for the first time, or we did not even come close to Hayao Miyazaki's sentimental action animated movie Laputa: Castle in the Sky, the name itself prepared our imagination for looking up. And AirGym can really fly aesthetically.
Hotel Laputa was a mixed program with prevailing aerial acrobatics and provided a glimpse of the diversity of approaches to aerial acrobatics, Žonglérská galashow (Juggling Gala) challenged the representatives of various forms of manipulations with objects. The traditional foundation was laid by Bratři v tricku (Adam Jarchovský and Václav Jelínek), their classical clubs and spicy humor. The diabolo wizard and experienced juggler Kašpar Klepal was challenged to balance on a high one-wheel. Another guest astonished the audiences with ostensible simplicity: holding a circle on a forehead perpendicularly to the ground. German juggler Kathrin Wagner managed to enhance her number to the attractive way of communicating with the audience. Žongléros Ansámbl from Plzeň brought an absolutely different attitude, an exercise with clubs enriched by relationships, a story, and acrobatics. Aliatrix ensemble specializing in light shows arrived with cutting-edge technology, hyped-up set design, and costumes inspired by a science fiction computer game. The peak of the evening was Filip Zahradnický, who revives the spirit of the traditional circus juggling with his creative attitude to manipulating the objects and has a punk approach to the technicist methods of contemporary circus.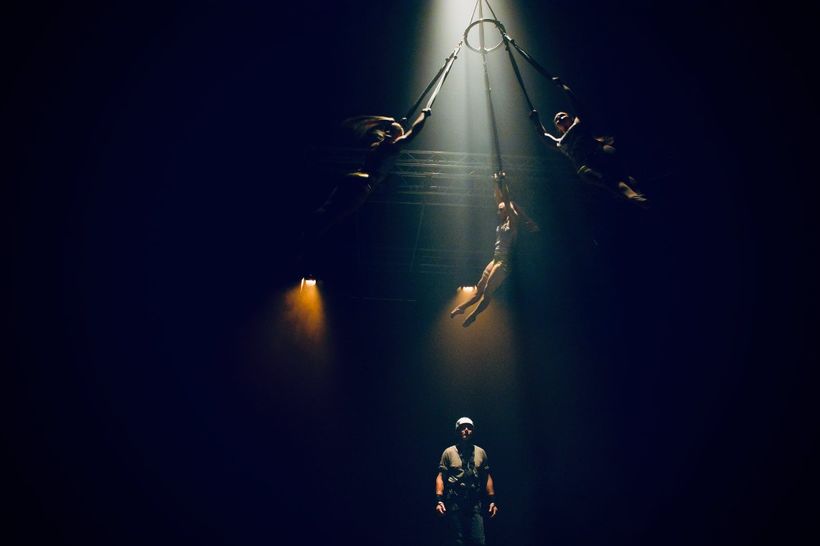 Since it was founded, the Letní Letná program skillfully combines new projects and important encounters with legends. It does not forget about pantomime, clowns with rich history, and artists without whom the next generation of motion art might have formed differently. The ensembles like Bilbo Compagnie, people like Martin Sochor, Václav Strasser, and Ctibor Turba have been associated with the non-verbal scene ever since. This hall of memories is not a gallery of a time stopped by as Tonda Novotný's and Zoja Mikotová's Čekání na… (Waiting for) showed, but it is a constantly developing (and not historically pathetic) line. The silent landscape with a char and two chairs on the stage was brought to life with moderate gestures and facial expressions. There was no nostalgic burden, but a peppered sentiment led by the grotesque style and the sense of hyperbole. The pantomimic etudes were moderate in expression, yet you could feel energy and tension as if you gathered a purebred. Čekání na… (Waiting for…) offered an absurd encounter to viewers who longed to slow down in the sound and fury, as well as the immersion in the essence of mime and an ordinary person.
The 18th edition of Letní Letná got back on its feet after pandemic restrictions. Let's hope that the 2020 Light moniker remains in the box of experience and the festival will grow again and offer the widest scale of arts and fun possible.
Vpřed (Straight Forward)
Director: Žongléros Ansámbl
Cast: Jan Brand, Jiří Hlaváč, Jiří Misař, Lucie Misařová, Martina Vaněčková
Music: Ema Brabcová
Light design: Jan Hugo Hejzlar
Costume design: Lucie Bartošová
Motion supervision: Markéta Vacovská
Theater supervision: Roman Černík
Letní Letná Festival, premiere in Prague 15 August 2021
Zoja Mikotová & Tonda Novotný: Čekání na… (Waiting for…)
Cast: Zoja Mikotová & Tonda Novotný
Letní Letná Festival, premiere in Prague 19 August 2021
Žonglérská galashow (Juggling Gala)
Cast: Adam Jarchovský, Václav Jelínek, Kašpar Klepal, Žongléros Ansámbl, Kathrin Wagner, Aliatrix, Filip Zahradnický.
Letní Letná Festival, 23 August 2021
AirGym Art Company: Hotel Laputa
Director: Ondřej Holba
Screenwriters: Jaroslav Dolejší and Bára Bartoňová
Light design: Vojtěch Brtnický
Technician and rigging: Tomáš Pintér
Acrobats: Bára Bartoňová, Martina Illichová, Adéla Míšková, Pavlína Podzimková, Jaroslav Dolejší, Tomáš Pintér, Tomáš Pražák
Letní Letná Festival, premiere in Prague 25 August 2021
Cirkus TeTy: Narušení (Disturbance)
Director and dramaturg: Ondřej Holba
Cast: Pavla Rožníčková, Veronika Smolková
Motion supervision: Cécile da Costa
Acrobatic supervision: Stéphanie N'Duhirahe
Light design: Jiří (Pírko) Šmirk
Costumes: Daniela Klimešová
Music motive: Roman Zabelov
Chair: Prokop Vondruška.
Letní Letná Festival, "indoor" premiere in Prague 29 August 2021
Translation: Eliška Hulcová.