Dance News' European breakthrough – first year of international project Dance and Performing Arts Criticism in Europe
Having received funding from the EEA and Norway Grants 2014-2021 in 2020, Dance News was able to launch its first international project called Dance and Performing Arts Criticism in Europe earlier this year. It kick-started a two-year collaboration with the Norwegian platform Performing Criticism Globally, run by Performing Arts Hub Norway, which aims to facilitate the exchange of experience and exemplary practice in dance criticism, and strengthen the status and expertise of European dance critics.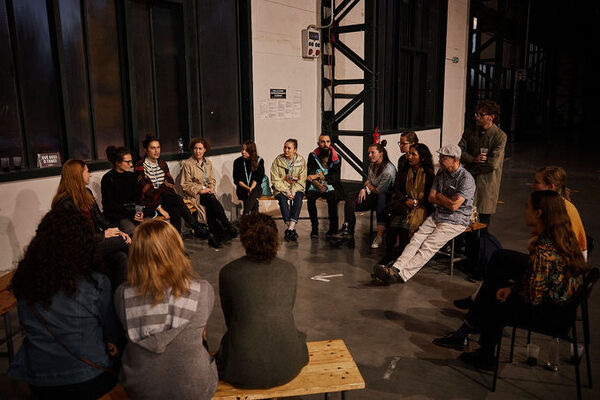 Dance News' European breakthrough – first year of international project Dance and Performing Arts Criticism in Europe
Due to the ongoing coronavirus pandemic, the international project focused on live art has suffered many setbacks. But thanks to joint efforts, all events scheduled could take place during the first year, though not always in the same format as planned.
The first dance criticism workshop for emerging authors, originally scheduled to take place during the Ravnedans festival in the Norwegian city of Kristiansand, was held virtually in early July 2021. The theme of the pandemic was reflected in its content: the workshop entitled "Dance Criticism in the Time of Corona" was dedicated not only to the practice in dance criticism in general, but also to some new aspects generated by the global crisis, e.g. new formats of dance performances critics need to deal with – various forms of screen dance, stage-to-screen adaptions of theatre performances, hybrid forms etc. The four-day seminar was conducted by Dance News critics Petra Dotlačilová and Josef Bartoš. Anette Therese Pettersen (Performing Criticism Globally) contributed with a lecture.
Given that the participants were not able to attend festival performances in person, it was necessary to choose other pieces for them to practice critical writing. The selection included Czech, Norwegian and other international works, adapted more or less for the camera. Despite the impossibility of physical meetings - or maybe because of it – the interest in attending the workshop was really high. The total of thirty candidates exceeded the capacity of the seminar and it was necessary to make a selection.
Petra Dotlačilová commented on the workshop as follows: "We had eight super interesting personalities from all across the globe, including Australia and Columbia. However, they were all based in Europe. The group included active artists, critics, production managers, philosophers and a dance anthropologist – such a diversity allowed for vivid discussions and brought a variety of viewpoints. I found the event really stimulating and enriching." All the young writers appreciated the experience, including the quality of the lectures, openness of the debates and perfect organisation (more information here). You can read their written outputs on the Dance News English website, in the Emerging critics section. The workshop was preceded by a panel discussion featuring five European critics – Sanjoy Roy (UK), Marisa Hayes (FR), Josef Bartoš (CZ), Hilda Borchgrevink (NO) and Anette Therese Pettersen – who shared their experience and feelings from reviewing "pandemic" performances.
You can watch the recording of the debate, moderated by Petra Dotlačilová, here.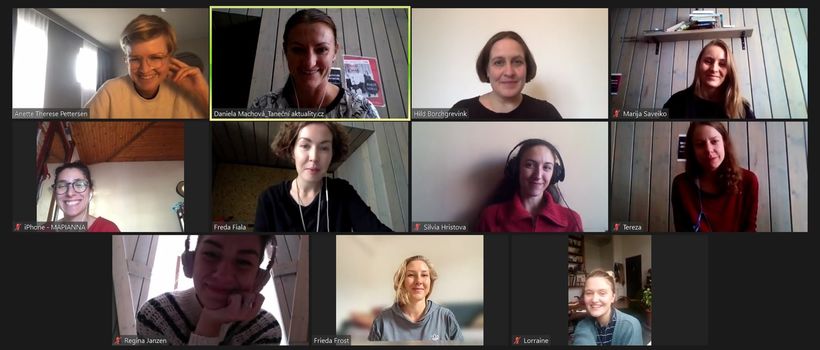 The second writing workshop and second discussion, organised by the Norwegian partners and presented in collaboration with MOVE Fest Ostrava, took place in autumn 2021. While lasting restrictions prevented some of the participants from travelling, others could attend both events in person – the workshop thus acquired a new, hybrid version. As if the alternative setting reflected the actual subject of the seminar and debate – Alternative formats. The opening panel discussion was focusing closely on alternative formats of performance and text, and it also addressed the relationship between dance and words. Can a performance be a series of letters? Can dance criticism happen as collective reading? Can losing the track of time and experiencing mutual alienation result in new forms of mutual exchange and collaboration under quarantine? The Norwegian dance critic Hild Borchgrevink, member of the project and moderator of this panel, was joined in the discussion by the Czech dance critic Lucie Hayashi, choreographer and dramaturge Jana Ryšlavá, British dance critic Ka Bradley and Norwegian choreographer and performer Mette Edvardsen. The recording is to be found here.
The follow-up workshop, led by Hild Borchgrevink and Anette Therese Pettersen, aimed to explore alternative formats of texts which could reflect alternative formats of performances and site-specific projects. From applications received in the open call, the organisers chose eight participants from all around Europe - one half joined the workshop online, the other half arrived in Ostrava where they attended festival performances and post-show discussions between artists and audience members organised by Taneční aktuality (represented at the festival by Lucie Hayashi and Daniela Machová).
Freda Fiala, who arrived from Vienna, described the workshop atmosphere: "Combining the experience of visiting a town and attending an online workshop was new for me, but the organisers prepared a detailed programme for this kind of distance format and made us feel like having something real, valuable and physical. This opportunity definitely benefited my writing – I enjoyed travelling, meeting new people, sharing and having some space to think in between."
Hild Borchgrevink said about the participants: "The authors really impressed me, especially because we gave them very little time to write in ways that were completely new to them." Anette Therese Pettersen added that she found their texts incredibly interesting and inspiring. Jana Ryšlavá, director of the MOVE Fest festival, also appreciated the alternative formats of performance reviews. "New artistic approaches require new ways of criticism, and that's what Dance News managed to achieve." You can read the reviews here.
At the moment, Dance and Performing Arts Criticism in Europe (Reflection of Dance and Movement Art in Europe) is getting a second breath and preparing for the year 2022 in which it will be possible to enjoy both workshops scheduled for this period – in Bergen (Oktoberdans) and Žďár nad Sázavou (KoresponDance) – as live events, without hybrid and other emergency solutions.